Optimum Nutrition is one of the leading sports and dietary supplement companies, and our team at Total Shape regularly uses many of its products. But when it comes to pre-workout supplements, we're a lot more careful with what we recommend.
We had heard a few clients mention mixed results with the Gold Standard pre-workout, so we decided to test it out with our team and 11 clients.
I also pulled in my dietitian to review the nutritional label and provide some feedback on the ingredient choices.
Here's what we found for this Optimum Nutrition Gold Standard pre-workout review.
What Is Gold Standard Pre-Workout?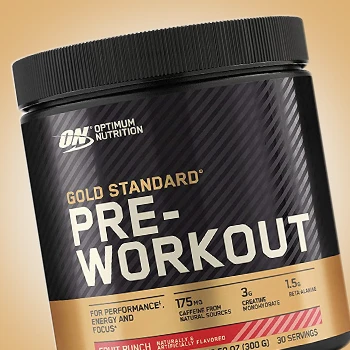 Optimum Nutrition Gold Standard Pre-Workout is a fitness supplement aimed at bodybuilders and athletes who want to get more out of every training session.
The company has combined amino acids, vitamins, herbs, and caffeine and claims that the dosage is scientifically proven.
More on this shortly.
Like most other popular pre-workouts, this one comes in a powder form that you mix with cold water. It's available in a few different flavors, including Blueberry Lemonade, Watermelon Candy, and Green Apple.
Optimum Nutrition first launched this product in 2017, and the formula hasn't changed significantly since then.
Tailored for Men and Women
Gold Standard Pre-Workout
Check Current Price

Gold Standard Benefits
We went through our usual trial process to assess how much of a benefit you get from taking Optimum Nutrition Gold Standard pre-workout. That meant training for one week with no pre-workout to set a baseline.
Then we did the same training for another three weeks, but this time taking one scoop before each trip to the gym.
Boosted Strength
Our training data with Optimum Nutrition Gold Standard pre-workout did show that we had better performance levels. Studies have shown that creatine monohydrate can boost muscle strength in resistance training, and the dose per serving looks good as well [1].
Reduced Fatigue
Optimum Nutrition Gold Standard pre-workout also seemed to work well for reduced fatigue. This pre-workout supplement contains 1.5 grams of beta-alanine, which has been linked to reduced fatigue during endurance training [2].
I just think there could be a bit more of this amino acid to make a bigger difference.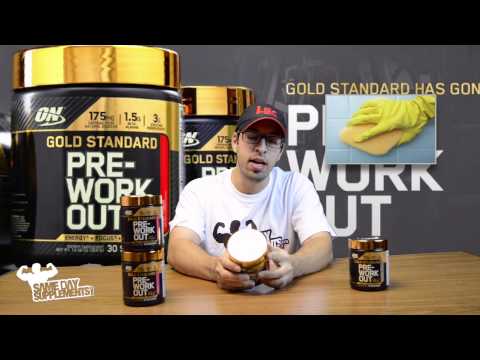 Muscle Pumps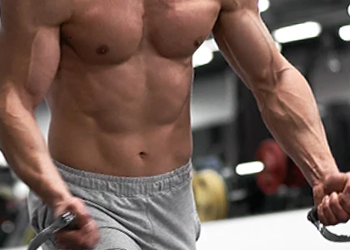 Unlike other excellent pre-workouts for pump & vascularity, Optimum Nutrition Gold Standard falls a bit short.
Even the partial proprietary blend doesn't seem to contain any ingredients that significantly boost nitric oxide levels and blood flow to gain better pumps and vascularity.
Dosage
Optimum Nutrition Gold Standard pre-workout comes as a powder, and it mixes easily with cold water in a shaker.
However, the flavors leave a lot to wish for. The one we thought didn't taste as artificial as the rest was the fruit punch flavor.
Some online reviewers have commented that they couldn't even finish the other flavors.
Check out our article on the different flavors of Optimum Nutrition Gold Standard here.
Does It Have Downsides?
Yes, Optimum Nutrition Gold Standard pre-workout has a few downsides, and the first one to mention is the flavor. The Green Apple is very artificial tasting, and we had a few clients say that they had to mix one scoop of another supplement to make it taste a bit better.
The other issue we found is that it under delivers for muscle pumps. The Muscle Matrix has a good dose of creatine, and the Performance Composite provides some beta-alanine to reduce fatigue [3].
But there's just nothing proven for pumps and vascularity, which is a bit of a shame for a product in this price range.
"The primary benefit of creatine is an improvement in strength and power output during resistance exercise. Creatine is well researched for this purpose, and the effects are quite notable for a supplement."

- Antonis Damianou, Personal Trainer & Fitness Writer at Examine.com
How Does It Compare To Other Products?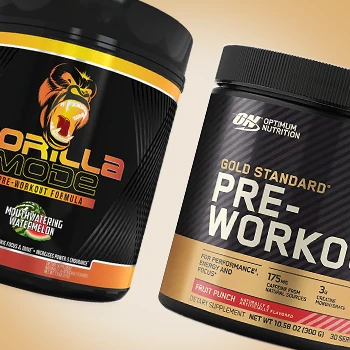 Here at Total Shape, we have tested some of the best pre-workout supplements for men, and we keep all the data to later compare it to other products.
There are three products that we generally recommend to clients and readers, and here's what we found when we compared those test results to Optimum Nutrition Gold Standard pre-workout.
First of all, there's Gorilla Mode. With a strong dose of 4.5 grams of L-citrulline, the thing that stood out the most is that it delivers very noticeable muscle pumps [4].
And the overall strength increases were notably higher as well.
Then there's 4 Gauge, which is popular with our bodybuilding clients.
The combination of caffeine and the amino acid theanine seems to work particularly well for both mental focus and improved endurance at the gym [5].
And the third pre-workout supplement we recommend is Transparent Labs Preseries.
It has more than twice as much beta-alanine, which is a sought-after ingredient in sports nutrition due to its proven ability to improve endurance [6].
Who Should Take Gold Standard Pre-Workout?
Amateur athletes who are only looking for a small improvement in endurance could consider taking Optimum Nutrition Gold Standard pre-workout.
It does provide a decent strength boost and some extra endurance, but not enough for high-performance athletes.
It might also be a good option for anyone who is sensitive to caffeine, as the dose in this Gold Standard product is moderate to avoid making you jittery.
Who Shouldn't Take Gold Standard Pre-Workout?
Anyone with an underlying heart or other medical condition shouldn't take Optimum Nutrition Gold Standard pre-workout.
Some of the ingredients could impact your blood pressure and heart rate, and that's something you'd first need to discuss with your doctor.
I would also say that any athlete looking for maximum pumps and performance should take this Gold Standard pre-workout.
It just doesn't have the right ingredients and dosage to make a significant impact.
Other pre-workouts reviewed:
Where Can You Buy It?
You can buy Optimum Nutrition Gold Standard pre-workout directly on the official website. And this is generally the only place I would recommend that people buy any kind of supplement.
Even the products from trusted brands can end up on dodgy online stores where you end up getting a counterfeit product that could make you sick.
When we ordered directly, the delivery time was about three days, which is a decent turnaround time.
Pros
The muscle matrix's creatine dose is pretty good and delivers boosted strength
Reasonably good results for reducing fatigue during training
It doesn't contain too much caffeine to make you jittery
Cons
Contains artificial flavors and sweeteners that could upset your gut flora
It doesn't boost blood flow enough to make a difference in muscle pumps
Tailored for Men and Women
Gold Standard Pre-Workout
Check Current Price

Other User Reviews
We also looked at Gold Standard pre-workout review comments on the company's website to see how other people rated it.
"My husband and I have been using this for a couple of years. Just recently discovered that I could order this directly from ON. We love the fruit punch, and it does add a kick to our workout."

- Braden Whaley, The Official Website
"I got the blue flavor, and it tasted terrible I couldn't finish the bottle without gagging just been dry scooping it but it works well just the worst flavor I've ever had"

- Ethan Mead, The Official Website
FAQs
Can You Take Optimum Nutrition Gold Standard Pre-workout Every Day?
Yes, you can take Optimum Nutrition Gold Standard pre-workout every day.
It contains only natural ingredients that should cause issues, but I would recommend you save some money by not unnecessarily taking it on rest days.
Does Gold Standard Pre-workout Contain Stimulants?
Yes, Gold Standard pre-workout contains stimulants in the form of caffeine. However, the dosage per serving isn't too strong to mess up your sleep and recovery phase.
Should You Buy Gold Standard Pre-Workout?
Based on our research, feedback from a dietitian, and test results with clients, we're not advising clients and readers to take this supplement.
A lot of the ingredients aren't in a strong enough dose, and the flavors leave a lot to wish for.
Most healthy adults will get a lot more benefits from taking Gorilla Mode, which combines better ingredients with reliable scientific evidence and supplies them with a stronger dose to make a real difference in your training performance.
Between boosted energy, less fatigue, and better pumps, it's a better product for most athletes.
We Recommend This Instead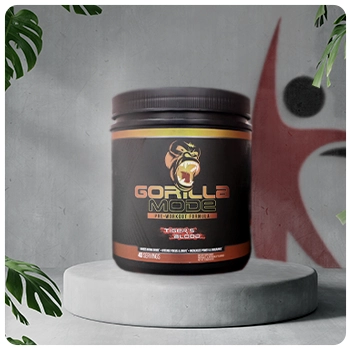 Click For Best Price

Pros
Contains nitric oxide for insane pumps
Many positive comments about good endurance and energy boost
High dose of caffeine may help with mental focus and fat burning
Tastes good
Get 10% off using code:

TOTALSHAPE
Cons
Does not list calorie count
Was this article helpful?