I've been taking turmeric supplements for about two years when a nutritionist suggested it after I started having issues with the cartilage in my knees.
She totally convinced me when the soreness disappeared after about two weeks while still training as normal. There just didn't seem to be any way to deny the anti-inflammatory properties.
But, I have had a few hit and miss experiences with different products. Apparently, turmeric with curcumin in the right concentration is not as common as you might think.
But after some extensive research and testing out over 50 curcumin supplements, we did come up with a list of recommendations.
Our Top Curcumin Recommendations
1 - Flex Performance Lab
This supplement form has been designed to provide specific health benefits for joints through a unique formula. According to the company, all the ingredients have been chosen based on scientific research.
One other bonus benefit is that it may help with strengthening your bone tissue, which could help athletes and elderly people.
Pros
Specifically designed to help with joint pain after weight training
May also help to improve bone density
Free from the most common allergens
Available with good bulk order discounts
Cons
Some minor gas has been reported
We found it wasn't too strong to cause stomach issues, but you may find it initially results in some gas.
2 - Transparent Labs Rawseries Turmeric 95% Curcuminoids
This turmeric supplement has one of the stronger doses we found without it causing any significant side effects like bloating or cramps.
We had some positive feedback from a lot of clients who noticed that they didn't feel the achy joints after a tough gym session.
And it should be easy enough to absorb due to the added pepper extract.
Pros
One of the stronger doses available
Should work well as an anti-inflammatory
Includes some added black pepper fruit extract for easier absorption
Cons
Might leave a slightly spicy aftertaste
We did find that the turmeric capsules tend to give a slight aftertaste if you don't take them on an empty stomach.
Get 10% off using coupon code:  TOTALSHAPE
3 - Organixx Turmeric 3D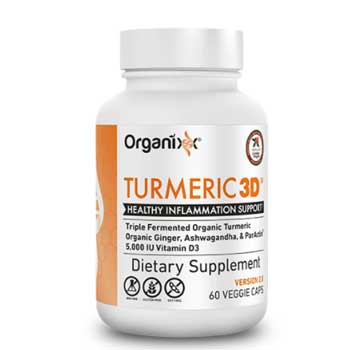 Many people prefer taking organic supplements, like these natural preworkouts to avoid some of the common pesticides and herbicides that could accumulate.
Organixx is one of the trusted brands in this space, and they have managed to create a strong formula. It's based on fermented turmeric, which apparently is easier to absorb.
We also liked the added vitamin D3, which might mean that you can avoid the expense of other supplements.
If you want more of this vitamin, check out the benefits of taking Vitamin D3 and K2 together.
Curcumin amount: 1,000 mg
Pros
Provides an organic formula for added peace of mind
Contains an added dose of vitamin D3
Claims to use fermented turmeric root for easier absorption
Cons
It's one of the more expensive turmeric supplements
Just keep in mind that the strength and organic source does make this one of the more expensive options available.
4 - Sculpt Nation's Tumeric Black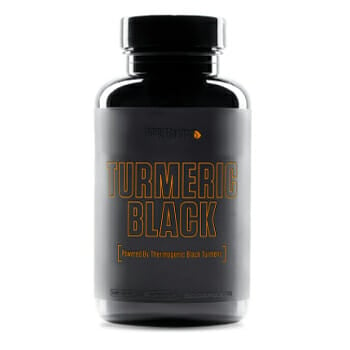 This product is much like the others in the sense it helps with reducing inflammation and boosting energy levels.
However, the intriguing thing about Turmeric Black is that it's claimed to burn fat. The fat-burning effect is achieved by improving insulin sensitivity and utilizing fat cells.
Many reviews praise the anti-inflammatory effects, but we have yet to see how much it helps with appetite suppression.
Pros
Works well at reducing inflammation
Includes Bioperine which improved turmeric absorption
Reduces fatigue
Cons
Unable to see the amounts of ingredients since it is a proprietary blend
5 - MegaFood Turmeric Strength for Whole Body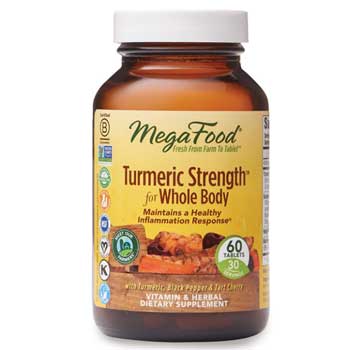 Here's another one that has a lot of positive comments from people who needed some help with inflammation response and even heart disease.
There are also very few comments about it causing any stomach issues like gas, so it could be an option to take on an empty stomach.
Pros
Many positive reports that it seems to help with inflammation
May be easy enough on the stomach to not require taking with food
Comes with added vitamin C for an immune boost
Cons
The tablets might be a bit large for some people to swallow
Just keep in mind that the tablets might be bit big to swallow, which some people have difficulty with.
6 - Qunol Turmeric Curcumin Softgels
This one stood out because the company claims that the way they prepare the turmeric and curcumin might make it 40 times faster to absorb than just a standard turmeric powder.
We didn't find a way to test this, but people did find that it may be easy on the stomach.
Pros
Claims to be 40 times easier to absorb than normal turmeric powder
Many positive reports about it dealing with joint pain
Quite an affordable option especially in the larger bottles
Cons
The softgel capsules are an inch long which might not suit everyone
This turmeric supplement comes in softgels, which are quite long and not the easiest to swallow down.
7 - ORGANIC INDIA Turmeric Curcumin
Here's another certified organic option, and this time it's at a bit more of an affordable price range.
It has also been certified as not containing some of the most common allergens, so more people should be able to take it without having to worry about sudden negative effects.
We also saw a few comments from athletes who had joint issues after training where those problems seemed to go away.
Pros
Certified organic for a higher quality turmeric powder
Free of the most common allergens for less risk of reactions
Seems to help athletes with cartilage issues after exercising
Cons
Doesn't seem to be as easy on the stomach as other options
The only thing we found with this one is that you may need to take it with food to avoid some gas and bloating.
8 - Youtheory Turmeric Advanced With Black Pepper Bioperine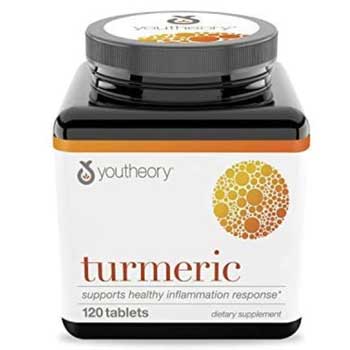 Here's another one with a stronger dose per serving and one that claims to be using a more purified form of curcumin.
We also liked that you may be able to spread the dose throughout the day as it comes in smaller tablets.
This one also has one of the stronger doses of black pepper extract, which should mean that the active ingredients are absorbed faster.
Pros
Seems to be one of the purer forms of curcumin
Dosage can be easily spread throughout the day
Has a good amount of black pepper to help with effective absorption
Cons
Some people reported side effects like gas
Just keep in mind that some people reported it might cause some gas and bloating, which may not suit people who have a sensitive stomach.
9 - Oregon's Wild Harvest Turmeric Curcumin Supplement
We noticed a few people reviewing this one for benefits with more severe inflammation, and they mentioned it seemed to help them a lot with bowel issues.
This might be down to the fact that it claims to be a highly purified form in a stronger dose that could bring more health benefits.
Pros
One of the strongest doses of curcuminoids available
Seems to settle bowel inflammation effectively
Includes 9 mg of Bioperine for faster absorption
Cons
The full dose might be a bit too strong in one go
Some people might find it's too strong, and it would be difficult to reduce the dosage as it comes as one capsule.
10 - Solgar Standardized Turmeric Root Extract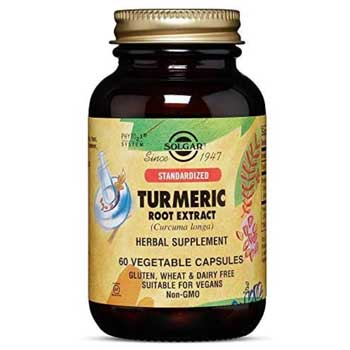 One thing we noticed in quite a few comments online is that this Solgar product seems to work well for brain function and overall mood. And it also may tackle common bowel health conditions like cramping.
There are also plenty of certifications from vegan to kosher and gluten-free, which should cover most dietary requirements.
And the capsules seem to be nice and small to make swallowing a bit easier.
Pros
Positive reviews about it helping with your overall mood
Certified vegan, kosher, and gluten-free
Capsules seem to be easy enough to swallow
Cons
You might want to take this curcumin supplement just before eating
Maybe consider taking them with food when you first start using it, as some gas is possible.
Buyer's Guide

As I mentioned above, not all turmeric supplements are what they claim to be. I've switched to different products over the years and got very different results.
So, here's what you need to keep in mind before making a decision.
1 - Curcumin Source
If you like cooking curries, then you've probably encountered turmeric, which is a ground up root that has a yellow color.
It also has quite a distinctive smell to it.
"Curcumin belongs to a family of chemicals that are known as curcuminoid and which have a bright yellow color. It is this compound that lends the distinctive color to the spice."

- NDTV Food
It's not too spicy and is very commonly used in Indian dishes, but the magic lies in a micronutrient that it contains.
Depending on the growing conditions, turmeric root should contain anywhere between 2% and 5% of curcumin, which makes it one of the best sources [1].
2 - Amount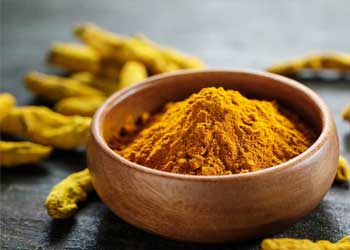 There are two things to keep in mind when comparing the dosage of curcumin supplements.
Most of them are marketed as turmeric, and that's completely fine.
But just looking at the amount of turmeric may not give you an accurate enough comparison between supplements.
Depending on how well it was refined and possibly fermented, the curcuminoid content would be quite different.
So, look at both the turmeric content and the number of curcuminoids to get a full picture of how different products compare.
I would generally recommend looking at the curcumin values on the nutrition label, rather than anything else [2].
So, look at both the turmeric content and the number of curcuminoids to get a full picture of how different products compare.
3 - Superior Quality
This is where I seem to have run into issues.
If the turmeric root was not grown under ideal conditions, and if it wasn't dried and prepared properly, then you could lose a lot of the anti-inflammatory properties. 
Slow drying seems to be an important factor as well. And some companies seem to just get the cheapest sources of turmeric, which may have cut some corners during the process.
Another good option to look out for is whether the turmeric has been fermented or not. One study, in particular, found that fermented turmeric might be one of the better choices to make [3].
4 - Additional Ingredients
This is where you could end up saving yourself some money.
We found a few products that contained some added vitamins, which should help to boost your immune system and also help with some added detox.
But the most important ingredient I would look for is black pepper extract.
In small doses, black pepper extract has been shown to support digestive functions and the absorption of curcumin [4].
Related Articles: 
FAQs
Is Curcumin Safe to Take Daily?
Yes, curcumin is safe to take daily as long as you keep to small enough doses. In very large amounts, it can cause some upset stomach and cramping, and this isn't advisable in the short or long term.
When Should You Take Curcumin?
You should take curcumin just before a meal. Ideally, that meal should contain some fat, as curcumin is fat-soluble and wouldn't be as easily absorbed when taken with just water.
What Is The Best Turmeric Supplement?
For anyone planning to take turmeric supplements for benefits it may provide on joint health and better digestion, we would recommend Flex Performance Lab.
It seems to have the right combination of herbs along with an easily absorbed dose of curcumin that doesn't seem to cause any side effects.
I've been relying on it for about a year to help deal with some knee issues and would recommend it to athletes of all fitness levels.
Order yours today and then report back to us how well it worked for you.
Our #1 Recommendation
Click For Best Price

Pros
Specifically designed to help with joint pain after weight training
May also help to improve bone density
Free from the most common allergens
Available with good bulk order discounts
Cons
Some minor gas has been reported
About the author
You may also like