In my experience as a fitness trainer, I've learned that pre-workout supplements are simply a prerequisite for achieving maximum results from every training session.
And Cellucor C4 Ultimate Shred is one product we saw heavily advertised recently.
The problem is that, despite what the flashy ad says, you could waste a lot of time and money unless you have the right ingredients and the ideal dosage.
So, our team got five clients to help out with testing C4 Shred for three weeks with detailed before and after performance comparisons to see if we can recommend it.
What Is C4 Ultimate Shred Pre-Workout?
C4 Ultimate Shred is a dietary supplement that promises to deliver a performance boost and reduce fatigue during cardio and resistance training.
It has a formula with different amino acids, minerals, and herbs and comes in powder form.
What you do is mix a scoop with water and drink it for about 20 to 30 minutes before you hit the gym.
The formula hasn't changed much since it was first introduced, but the company has refined the flavors and concentrated on a few that seemed to be the most favored.
What Are the C4 Ultimate Shred Ingredients?
The C4 Ultimate shred ingredients are l-Citrulline, beta-alanine, caffeine, cayenne fruit extract, and ginger root extract.
Here is some information that my nutritionist highlighted about some of the key ingredients: 
L-citrulline: This amino acid is known to improve blood flow and provide bodybuilders with better pumps during resistance training [1].
Beta-alanine: Here's another good amino acid with known benefits for exercise performance [2]. However, my nutritionist pointed out that most studies used a higher dose to achieve the best results.
Caffeine: While caffeine can help with exercise performance, fat burning, and focus, having such a high dose like C4 Ultimate Shred can make you jittery [3].
Cayenne fruit extract: The advantage of this plant extract is that it has been shown to promote lower body fat, but it won't improve your workout performance [4].
Ginger Root Extract: Ginger is also a proven ingredient for weight loss, which can be good for cutting phases, but not that effective for performance [5].
"Overall, it [the study] found ginger intake reduced the participants' body weight, waist-to-hip ratio, and some markers that reflected blood glucose metabolism."

- Grant Tinsley, PhD
Is C4 Ultimate Shred Good For Weight Loss?
Yes, C4 Ultimate Shred is good for weight loss as it contains quite a few ingredients that can boost your metabolism and burn off extra fat.
And the flavors and texture are great. You won't need a shaker, just stir one scoop in water, and you're ready to go.
The downside is that this product focuses too much on fat burning.
As a result, our before-and-after performance tests showed only a 5% increase in stamina and a 3% increase in strength.
Is C4 Ultimate Shred Safe?
Yes, C4 Ultimate Shred is safe as none of our testing team said that they had any major side effects like stomach upset or a skin-tingling sensation.
However, you have to keep in mind that it has a lot of caffeine.
With 300 mg of caffeine, it has as much as three cups of coffee.
And that doesn't make it suitable for evening training sessions or for people who get jittery.
Pros
Good results for burning off fat during cutting phases
Available with a good discount on a subscription service
Comes in tasty flavors, and the powder mixes easily
Cons
Not all the ingredients provide benefits for workout performance and endurance
There are no bulk-order tubs available at the moment
Who Should Take C4 Ultimate Shred Pre-Workout?
People who want to burn off fat and have a slight performance improvement for workouts should consider take C4 Ultimate Shred Pre-Workout.
It can deliver some positive results through increased fat metabolism, which could be important in a cutting phase or weight loss journey.
Who Shouldn't Take C4 Ultimate Shred Pre-Workout?
Athletes who are looking for maximum performance with much better endurance shouldn't take C4 Ultimate Shred Pre-Workout.
When compared to other pre-workout supplements like 4 Gauge and Gorilla Mode, C4 Ultimate Shred fell short.
Where Can You Buy It?
The only place where it's currently available for purchase is directly from the company's official website.
But that is generally a good thing as it helps you avoid ending up with a counterfeit product from dodgy online resellers.
We ordered two tubs on separate occasions, and it took about four to five days to deliver.
That's about average and something you need to keep in mind if you start running low.
But there is a subscription option available that will send you a new tub once a month.
Other User Reviews
Here are some reviews we found interesting on the official website.
"Great great work out Goes to work fast paste is a little too tart and very bland."

- Daniel A. from the USA
"Flavor was very tasty, started feeling the tingling from the preworkout within 10 minutes of taking it. I noticed sweating more during my workout from the fat burner."

- Tom from Michigan
Comparison With Other Products
Next, we compared our test results to three of the supplements that we know have good effects on training.
First off, looking at the endurance data for cardio and strength training, 4 Gauge delivered better results.
This is mainly due to a good dose of creatine and a higher dose of citrulline than C4 Ultimate Shred has.
Gorilla Mode delivered the overall best results for training performance, which is primarily down to it having one of the highest doses of creatine and betaine, which C4 doesn't include in the formula [6].
We also compared C4 Ultimate Shred with Transparent Labs PreSeries BULK. The latter contains 8 grams of citrulline, as opposed to C4's 6 grams. A few of our bodybuilders reported experiencing better pumps with Transparent Labs, as evidenced by a 10% increase in muscle fullness during workouts.
Other pre-workout supplements we've reviewed:
FAQs
Does C4 Ultimate Shred Help You Lose Weight?
Yes, C4 Ultimate Shred can help you lose weight. It contains some proven ingredients for weight loss that have an impact on thermogenic metabolism that targets fat reserves for energy.
Does C4 Pre-Workout Actually Work?
Yes, C4 Pre Workout does work for improving a lean physique. But it's not as effective as other supplements when it comes to delivering overall strength and endurance improvements.
Should You Buy C4 Ultimate Shred?
Our overall recommendation is not to buy this pre-workout supplement. Our test results are okay, but considering the price you pay, you're better off with other products.
In a side-by-side comparison, Gorilla Mode outperformed C4 Ultimate Shred in every category—effectiveness, ingredient quality, and even flavor.
And on top of this, it doesn't have a very high dose of caffeine that can make people quite jittery, so make sure to check out how well it works by ordering your first supply.
Our #1 Recommendation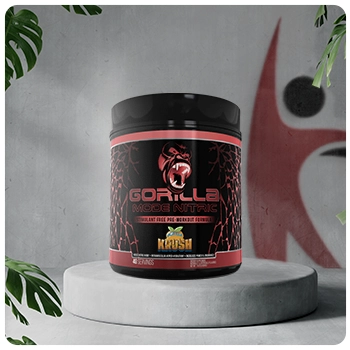 Was this article helpful?