Mixing protein powder without a shaker bottle can be a challenge, especially if you're looking to avoid creating a monumental clumped-up mess.
Based on our years of mixing up protein powder, we've quickly discovered the do's and don'ts behind how to create a silky-smooth protein shake.
Quick Summary
A whisk, a travel coffee mug, adding ice, using a blender, a spoon, or a fork are some things you can use to mix protein powder without a shaker.
The best ingredients you can mix protein powder with are fruits, leafy greens, almond milk, seeds, yogurt, and soy milk.
To prevent climbing on your protein powder, store it in a cold and dry place.
6 Ways To Mix Protein Powder Without A Shaker
1. A Spoon, Fork, Or Butter Knife
The old-school way to get a clump-free protein shake is by using a spoon, fork, or butter knife. These tools are handy for when you're on the go, especially if you find yourself traveling.
Note that some powders will dissolve at faster rates than others, so make sure to keep that in mind while mixing up your protein shake.
It may also be advisable to use room temperature water, as it will make your work easier due to the ease at which warm liquids combine with whey protein to form a solution.
2. A Whisk
Using a whisk is one of the most tiring options you can try, as the consistency and texture of the result will be determined by how well and how long you've been whisking.
However, it also means it's one of the best types of tools if you're looking for manual control, as you can easily add or remove ingredients as necessary to ensure your smoothie turns out well.
You can also mash up any remaining clumps that you see afterward to ensure your drink turns out well.
To start, you'll want to start by whisking in small amounts of your powder alongside half your liquid. As time goes on and the mixture smooths out, you can mix chia seeds, blend baby spinach, and even throw in some maca powder.
Make sure to stir vigorously throughout the entire process to create an even texture.
3. A Travel Coffee Mug
If you've ever been to a bar and seen a cocktail shaker in action, you know it's an impressive sight to behold. All you need is a spill-proof to-go coffee mug to add your protein powder into and a bit of creativity with the kind of smoothie you'd like.
To get the best out of your to-go coffee cup, first get a good cup and add some ice to it to keep your smoothie cool, then add your choice of drink. Next, add the protein powder to the mix and close the lid firmly.
From here, we recommend you simply shake the entire cup vigorously for a minimum of 10 seconds for a silky-smooth protein shake.
Note that if you want to prevent clumping, you'll want to add any liquids first and have the powder in last.
You can also break down any clumps beforehand and place the mixture in a cool, dry place afterward.
4. Adding Ice
Don't underestimate the importance of using ice.
Not only does it help to chill your protein shakes, but it also plays a key role in affecting the overall texture of your drink.
The reason for this is because ice helps to break up any clumps while it's being tossed around.
Additionally, the ice cools down the powder, making it more compact and less likely to stick together in your mixing cup.
5. Adding Dry Ingredients To The Wet Ones
To prevent clumping, it's important to make sure you add dry ingredients to wet ingredients and not the other way around.
If you add wet to dry, you're basically dumping a small amount of liquid into a large volume of dry ingredients. As a result, the dry ingredients are all going to fight with one another to absorb as much of the liquid as possible, which results in clumping.
To avoid this, use your tool of choice to mix the protein powder in a smoothie bowl while adding other ingredients such as plant-based milk or raw treats.
6. A Blender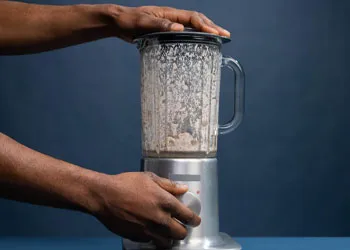 The best part about using a high-speed blender - if you have one handy is that it ensures the end result will have no clumps leftover, compared to mixing manually.
Most nutritious foods, such as fruit, pre-workout powders, and cacao powder, are also great choices to add to the mix to provide your body with an extra boost in vitamins and minerals.
The best protein powders we've reviewed:
The Best Ingredients To Mix Protein Powders With
Most protein powders also go great with many other healthy ingredients. These include:
Leafy greens
Seeds
Fruits like banana, strawberry, mango, and kiwi
Yogurt
Almond milk
Soy milk
If you're looking to create a completely clump-free drink, you'll want to avoid certain ingredients that will make your protein powder clump. This includes ingredients with fats or oils such as peanut butter and coconut oil, which can change the consistency of your powder and cause it to clump.
Additionally, note that certain ingredients will pair better than others. Adding ingredients like yogurt or banana can help create a creamier mix, which helps to counteract gritty or chalky textures from your protein powder.
Fruits like bananas also help add more nutrition to your smoothie, as "bananas are nutritious and [even carry the title of the first superfood]  [1]."
We also have an article on the best foods to mix your protein powder with.
FAQs
How Do You MIX Protein Powder Without Clumping?
Protein powder contains fat molecules, which attract water and cause it to clump up. To prevent clumping, keep your protein powder in a cool, dry place alongside the little silica packet found at the bottom of the powder container for maximum moisture absorption.
You can also add anti-clumping additives to the protein powder to prevent clumps and ensure a smooth texture.
Get Creative and Mix Up Your Protein Powder Today
It's not the end of the world if you find yourself without a protein shaker bottle. Instead, simply view it as an opportunity to get creative and maybe even discover some new ways to prepare your protein shakes.
For a silky smooth shake every single day, make sure to add dry ingredients to wet ingredients, keep your powder dry, and opt for warmer temperature liquids to prevent clumps from forming.
Try using these methods to prepare your protein shake and see what kind of result you'll get. Here are some protein powders that you can try it out:
---
References:
https://www.hsph.harvard.edu/nutritionsource/food-features/bananas/
Was this article helpful?