Over the last couple of years, we have researched and reviewed dozens of pre-workout supplements. And that experience has shown us that most of these products are hyped up with limited benefits.
But some of our clients were talking about a product called Outlift, which apparently has a high dose of some great ingredients.
So I got together with my dietitian to research and test this product for a full Nutrex Research Outlift pre-workout review.
Here's what we found.
What Is Outlift Pre-Workout?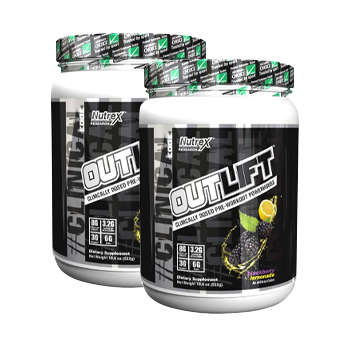 Outlift pre-workout supplement is a product created to help users maximize muscle pumps, limit muscle fatigue, and reduce muscle breakdown during and after training.
It supplies natural ingredients, including branched-chain amino acids, beta-alanine, and citrulline, in effective doses up to the maximum daily value.
The product has been around for quite a few years, and Nutrex has stuck with the same formula and dosage.
It comes in a powder form and is available in several different flavors like fruit punch and gummy bear that you mix with cold water just before you start training.
Benefits Of Outlift Pre-Workout
The first thing I noticed with Nutrex Research Outlift is that it has a very high dose of citrulline malate with 8g. That would be in the high range even if you picked a standalone supplement for pumps.
According to research studies, that boosts your nitric oxide, which should improve blood flow to muscles [1].
The high doses also extend to beta-alanine, which should result in less fatigue [2]. What you might find then is that you can push one extra rep or load up a bar with a few more pounds.
There are also BCAAs, which could help with strength gains and are included in the recommended dose and ratio. As a result, some of our clients did report a faster recovery time than usual.
Does Nutrex Outlift Have Shortfalls?
Nutrex Outfit has a few shortfalls, including its excessive caffeine content, which is equivalent to about two cups of coffee. If you head to the gym later in the day, taking this pre-workout will likely mess up your sleep and recovery time.
And then there are quite a few artificial flavors and sweeteners included. This could have quite a negative effect on your gut bacteria, and we generally tell people to avoid these unnatural flavors as much as possible [3].
"Artificial sweeteners can potentially turn healthy bacteria in the gut microbiome into harmful microbes and potentially cause serious health issues such as blood poisoning, scientists have said."

- ScienceFocus.com
Pros
Outlift provides a strong dose of most ingredients
Positive reviews about great pumps during strength training
Added BCAAs may help during and after training to support muscle synthesis
Added black pepper extract might help speed up absorption
Cons
Outlift has a very high dose of caffeine, making it unsuitable for evening trips to the gym
There are a lot of artificial flavors and sweeteners that could impact your gut health
Outlift Pre-Workout Ingredients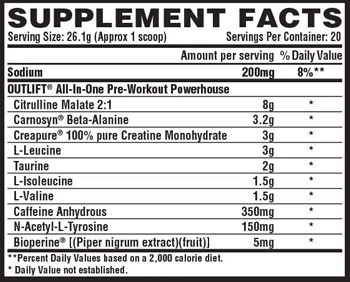 Here are the main active ingredients.
Branched Chain Amino Acids
I like seeing this in pre-workout supplements, and it seems like the 6g in a 2:1:1 ratio are clinically dosed based on research [4]. Some people think it may help their exercise performance, but we would suggest you look at this as a way of kick-starting your recovery.
Creatine Monohydrate
Creatine monohydrate supplement has been tied to muscle performance and contributes to building muscle mass [5]. What I would say, though, is that at 3 grams of creatine per serving, it seems like Nutrex Research hasn't boosted this as high as other pre-workouts.
Beta-Alanine
This is another positive ingredient, and we've had a lot of good experiences with beta-alanine. At 3.2 grams, it's about what you would expect from pre-workouts, and anything higher might make you tingle too much [6].
Citrulline Malate
Citrulline malate is tied to blood flow, which may give you better pumps. Personally, I prefer seeing L-citrulline as it tends to work better at lower doses [7]. And a half serving of Outlift probably wouldn't do the job.
N-Acetyl L-Tyrosine
Studies have shown a link to mental focus and stamina [8]. Personally, I haven't noticed a major impact with Outlift, as it's probably masked by a low dose and the high caffeine amount.
Caffeine
This is more common in fat burners, but these stimulants could help focus your brain and motivate you [9]. However, our recommended dosage would be about half of what Nutrex Research has formulated.
Taurine (100 mg)
This is another reason why this is a high-stim supplement. Taurine is common in energy drink products like Red Bull and Monster [7]. While it might be one of the more interesting ingredients, it's tough to say how well it works because you're getting such a massive boost of caffeine.
Vitamin B12 (100 mcg)
And finally, there's some vitamin B12 that should help keep your red blood cell count up [8]. That, in turn, should deliver more energy and oxygen to muscles. But I'm not sure I'm convinced of the "eternal endurance" claim that DAS Labs make about it.
Where Can You Buy It?
You can buy Outlift on Amazon and other online retailers, but I generally advise you to stick with trusted online stores for supplements.
We ordered it from Amazon using a Prime account, and it took about three days for the tub to arrive, which is a bit slow for Prime. The other problem we noticed is that it's often listed as currently unavailable.
That makes restocking your supply difficult, and you could risk running out.
How Does It Compare To Other Products?
We compared Outlift to other products we recommend, like 4 Gauge, Gorilla Mode, and Transparent Labs. Here's how they stacked up against each other.
The one our clients have had the most success with is 4 Gauge. It seems like L-carnitine and L-theanine are more advanced ingredients for mental and physical endurance [10].
Gorilla Mode is another pre-workout that we recommend with a longer list of clinically proven ingredients. It also has a low dose of caffeine to not mess with your recovery sleep.
And then, there are the pre-workouts from Transparent Labs. It's similar to 4 Gauge but also includes some important vitamins and minerals that you might be lacking after a tough workout.
Other Pre-Workouts We Have Reviewed:
Outlift Pre-Workout User Reviews
For the final part of this Outlift pre-workout review, we looked at some online comments from people who had used it.
"I'm not sure just yet. I typically feel giving any product about 90 days is appropriate amount of time to justify whether it's right for you.

But WTH here goes, product personally flavor isn't bad at all. I think I take it more of habitual? I don't feel it gives me "the get up jump out of bed" kind of jump. However, I do feel it's been good for me so far. It's foamy at the top I could do without. Lol, I mix and transfer to a glass." 

- Candice R. 
"This product helps me wake up in the morning or after work for a lift. Keeps me focused for the whole workout and does not leave me drained after. My only complaint is that it takes about 30 minutes to kick in."

- Mathew B.
FAQs
Does Outlift Pre-Workout Contain Stimulants?
Yes, Outlift Pre-Workout contains stimulants in the form of caffeine and taurine. It's also important to note that it has the same caffeine as two cups of coffee, which could make you jittery.
How Long Does Outlift Pre-Workout Last?
Outlift Pre-Workout's effects last for about two hours. But some of the ingredients, like caffeine, may take up to 10 hours to fully flush out of your body.
Should You Invest In Outlift By Nutrex?
Our conclusion for this Outlift pre-workout review is that we wouldn't recommend it to our readers and clients. If you're heading into tough workouts, you really don't want those jitters and sleepless nights that you might get from it.
We have had a lot better results from one scoop of Gorilla Mode, which has a more balanced combination with other ingredients that seem to provide higher energy levels along with less fatigue.
We Recommend This Instead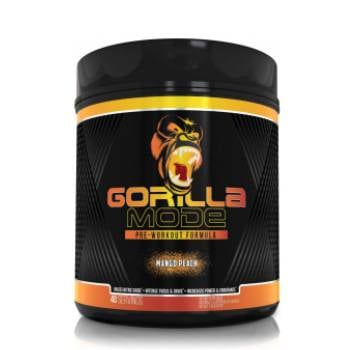 Click For Best Price

Pros
Contains nitric oxide for insane pumps
Many positive comments about good endurance and energy boost
High dose of caffeine may help with mental focus and fat burning
Tastes good
Get 10% off using code:

TOTALSHAPE
Cons
Does not list calorie count
Was this article helpful?