From my own experience as a personal trainer and holistic nutritionist, I've always leaned heavily on pasta for my carb intake. Sure, rice and sweet potatoes are in the mix, but nothing beats the convenience and carb-packed punch of a good pasta meal.
The big question is whether this is the right kind of source to choose for training purposes so that you have more energy available for your workouts.
And then there's the question of timing. So I got together with my dietitian to find out what the scientific literature has to say about it.
Quick Summary
Consuming pasta as a pre-workout meal provides a significant carbohydrate boost, essential for fueling high-intensity workouts.
The timing of pasta consumption is crucial, with recommendations suggesting eating it 30 to 60 minutes before exercise for optimal energy utilization.
Over 80% of the calories in pasta come from carbohydrates, making it a highly efficient energy source for athletes and fitness enthusiasts.
Personally, I find that incorporating whole-wheat pasta into my pre-workout meal offers a sustained energy release, enhancing my overall workout performance.
Is It Better To Eat Pasta Before Or After A Workout?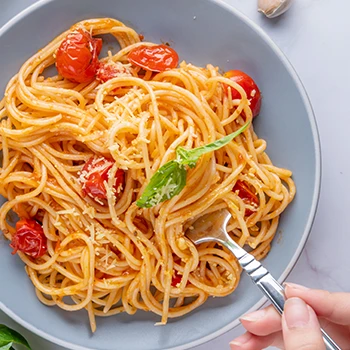 Per the article published in Nutritionix, it's better to eat pasta before a workout. The main reason is that over 80% of the calories in pasta come from carbs [1]. Whole-wheat pasta, packed with double the fiber, magnesium, and potassium than regular pasta, is your best bet.
But, here's the catch: this advice suits certain athletes at specific times. According to information found in FatSecret, a cup of pasta packs over 220 calories [2], so it's crucial to consider its impact on your body shape.
Speaking from my own journey, when I was in my bulking phase, loading up on carbs with pasta before training was a game-changer. But if you're trying to lose unwanted fat or you're in a cutting phase for bodybuilding, then such a carb load could be a bad idea.
Based on the article published in the Harvard T.H. Chan School of Public Health, low-carb diets have a positive effect on metabolic rates and weight loss, so keep that in mind when planning to eat pasta before a workout [3].
Read More: Are Potatoes a Good Pre-Workout Snack?
What Are The Benefits?
I've found that fueling up with pasta pre-workout is a game-changer. It's like a direct carb hotline for your body – perfect for an energy surge before intense exercise. Sure, refined carbs often get a bad rap, but they're just the ticket for quick energy.
Here's the deal: when you need a rapid energy boost, easily digestible carbs are key. They quickly convert to blood glucose, something our bodies excel at with starches.
Munching on pasta 30 to 60 minutes before hitting the gym ensures you've got a solid energy reserve to power through your workout.
"Think of starch as a time-release type of energy. When you consume starchy foods, you'll have a sustained energy level over a period of several hours."

- Melodie Anne, Writer at healthyeating.sfgate.com 
How Much Pasta Should You Eat?
FAQs
How Long Before Workouts Should You Eat Pasta?
You should eat pasta at least 40 minutes before workouts. You don't want to start your training with a full belly, and it could even be more suitable to eat an hour before to give your stomach some time to start digesting.
Should You Eat Pasta Before Every Workout?
No, you shouldn't eat pasta before every workout. The main reason to do this is to gain maximum energy from carbs for very intense workouts where you need a lot of energy.
---
References:
https://www.nutritionix.com/food/uncooked-pasta/100-g

https://www.fatsecret.com/calories-nutrition/food/pasta

https://www.hsph.harvard.edu/nutritionsource/2018/11/27/effects-of-varying-amounts-of-carbohydrate-on-metabolism-after-weight-loss/

https://www.fatsecret.com/calories-nutrition/generic/spaghetti-cooked?portionid=53104&portionamount=100.000
Was this article helpful?