Here at Total Shape, our team is constantly looking for new supplements to improve our clients' and readers' overall health. And sometimes, we find supplements that are committed to improving one issue that can also have an impact elsewhere.
When we heard a few clients talk about RAE In The Mood and how it had improved their sex life and athletic performance, we were curious.
So we teamed up with a nutritionist and a few clients to thoroughly research and test this supplement for a few weeks.
Here's what we found for this In The Mood review.
What Is In The Mood?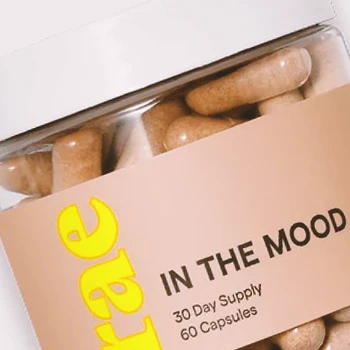 RAE In The Mood is a sexual health supplement that aims to help men and women to improve their libido and sexual satisfaction.
RAE wellness has a long list of supplements, from skincare to digestion, and they have a good reputation for positive impacts on wellness.
While In The Mood has the goal of triggering sexual desire and stamina, the effects it brings, like improved blood flow and testosterone production, could also help with athletic performance.
This seems to mainly come down to the combination of Ashwagandha and caffeine, which have been used in traditional medicine to treat reduced libido and fertility [1].
In addition to its potential sexual health and athletic performance benefits, RAE In The Mood's formula also incorporates other key ingredients that contribute to its overall effectiveness.
Notably, the supplement contains Maca root, a renowned adaptogenic herb known for its libido-boosting properties and potential to manage stress and anxiety. By addressing these factors, Maca root further supports a healthy and satisfying sexual experience.
RAE In The Mood is enriched with potent antioxidants, such as vitamin C and E, which play a crucial role in protecting the body from oxidative stress and promoting overall well-being.
These antioxidants may also contribute to improved circulation, benefiting blood flow not only for sexual health but also for general cardiovascular health.
With its well-rounded approach to supporting various aspects of vitality and wellness, these mood dietary supplement capsules are a promising dietary supplement choice for individuals seeking to enhance their intimate relationships and overall quality of life.
RAE In The Mood Benefits
To test RAE In The Mood, we had five female and four male clients help us out with a testing phase that lasted a month. We all took the pills once a day and recorded how we felt the supplement impacted our life and training.
Increased Libido And Sexual Satisfaction
The first thing we asked our testing team to comment on is the main intended use for RAE In The Mood. About half of the team reported a modest improvement in sexual appetite after two weeks.
It seems like it worked better for women than for men, and it wouldn't be strong enough to treat a medical condition like erectile dysfunction.
Mental Impact
We all found that RAE In The Mood had a decent effect on focus and motivation. And this was not just tied to bedroom activities.
It seemed to improve levels of stress, and the caffeine helped with overall alertness as well.
Boost More Energy
We also noted a slight improvement in physical stamina with RAE In The Mood after a two-week period. My nutritionist pointed to the included L-arginine, which helps to improve blood flow and deliver oxygen to muscles [2].
Testosterone Boosting
We got the men in our test group to do a before and after testosterone level test. After four weeks of taking RAE In The Mood, all of them showed a modest increase in T-levels, and this is most likely tied to the Ashwagandha [3].
Dosage
RAE In The Mood comes in small capsules, and you take two of them each day. The mood capsules also have a minty flavor to them, which leaves a fresh-smelling breath as well.
We found them easy to swallow, and the mint is a nice touch.
8 Science-Backed Ingredients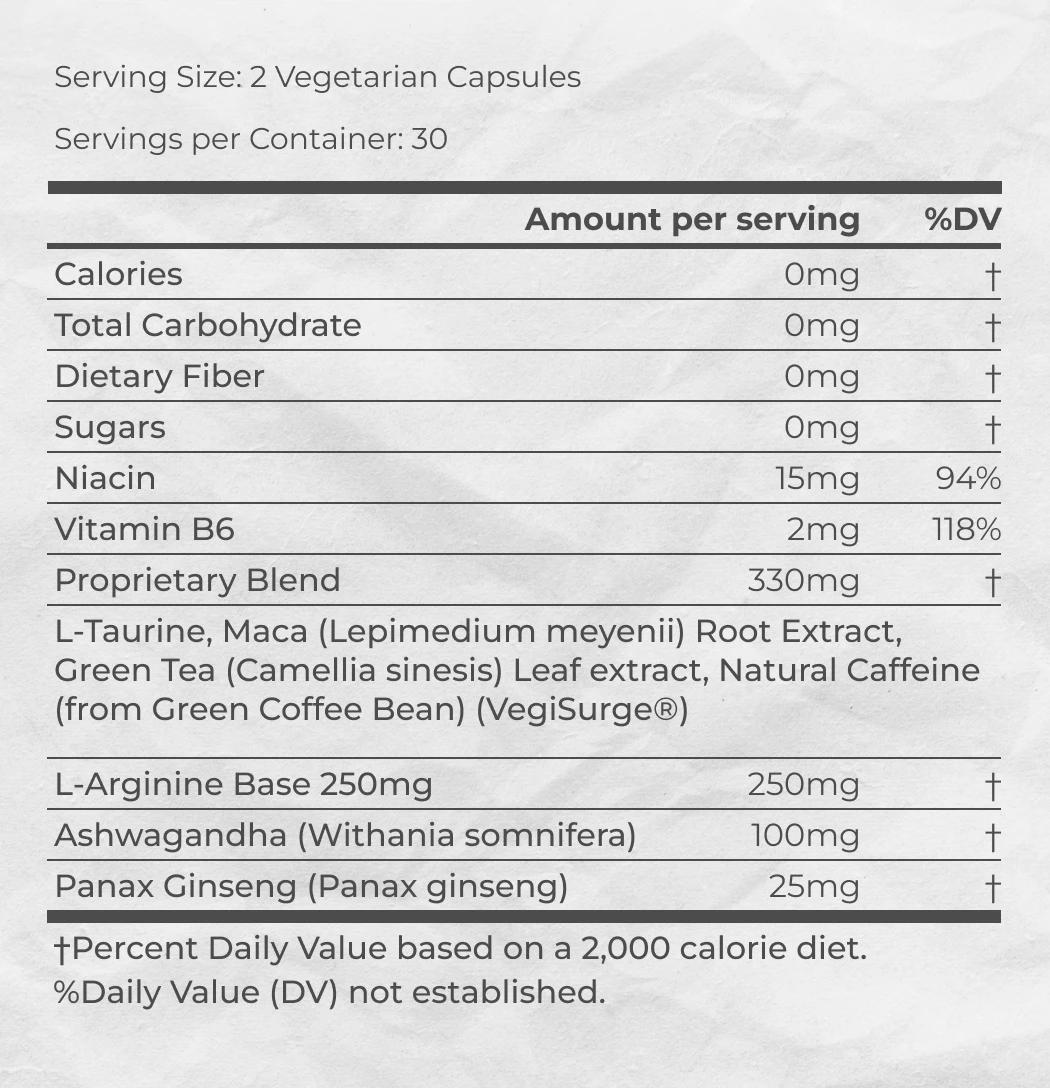 Here are the key ingredients that RAE Wellness has chosen for this gluten-free formula and what science says about its impact on the body and overall wellness.
1 - L-Arginine
This is an amino acid that can improve blood flow [4]. And that may help men with difficulties maintaining an erection.
It's also often a healthcare provider-recommended supplement for cardiovascular disease symptoms.
2 - Ginseng
RAE In The Mood also includes ginseng, which has been used for centuries in traditional medicine to improve fertility. Modern science has also shown a link to improved fertility, but this is mainly related to male sperm quality [5].
3 - Maca
Scientists are not in agreement when it comes to the benefits of Maca for either women or men. A meta-analysis of studies found that the evidence tends more towards it not doing much for sex drive [6].
4 - Ashwagandha
This is a great ingredient where scientists have shown a lot of evidence to support its use in a blend to help with sexual desire.
In men, it has been tied to improvements in testosterone production, but studies have also shown a positive impact on libido for females [7].
It would explain the improved T-levels the men in our test team had, but I think a higher dose would be helpful.
"At least one clinical study indicates Ashwagandha can benefit women experiencing sexual dysfunction. The administration of Ashwagandha resulted in significant improvements in arousal, lubrication, orgasm and satisfaction, as self-reported by the participants."

- Bindiya Gandhi, M.D, Forbes.com
5 - L-Taurine
Taurine can have a stimulating effect, but studies so far have not been able to conclusively show that it has an impact on fertility. Some resources point to animal studies, but scientists have not yet been able to replicate those results in humans [8].
6 - Green Tea Extract
I'm in favor of people taking green tea extract to deal with many health issues. And many fat burners and pre-workout supplements include it. But we couldn't find reliable human studies that showed that it worked as an aphrodisiac.
7 - Caffeine
Caffeine can certainly help with mental alertness, but when it comes to improving bedroom activities, there is no conclusive evidence. Animal studies have made this link, but that doesn't make it a strong enough case for humans [9].
8 - Vitamins
It also contains B3 and B6, which have been tied to improved physical endurance [10]. You could argue that this endurance applies to sexual activity as well, but this is not something fully backed by trials.
Pros
Claims to be suitable for both women and men
It has a nice mint taste with a refreshing smell
Includes only natural ingredients that don't seem to have side effects
Cons
The company hides some of the ingredient amounts behind a proprietary label
Does It Have Downsides?
Yes, RAE In The Mood has some downsides when it comes to effectiveness for male and female users.
First of all, the supplement does contain some good ingredients. But some of those are not in a strong enough dose to make a significant difference, especially in testosterone production in men.
Secondly, the company hides behind a partial proprietary blend, which means you don't know exactly what the amounts for certain ingredients are.
And without that information, it's impossible to confirm if the supplement dosage is high enough. It's especially the case when determining whether the caffeine contained within is enough to make you feel jittery or sleepless. That's why it's best to avoid drinking a cup of coffee when taking RAE.
How RAE In the Mood Compares to Other Testosterone Boosters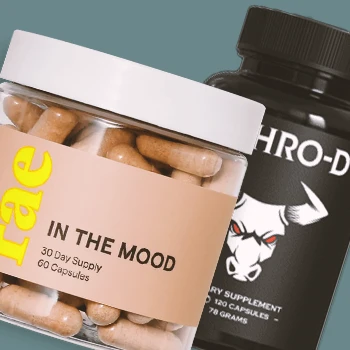 We compared our RAE In The Mood testing results against three popular testosterone boosters we put through the same testing. Here's what we found.
Aphro-D
Dr. Farhan claims to have a scientifically proven proprietary blend of natural ingredients to improve performance in both the gym and the bedroom in testosterone booster, Aphro-D.
The four-ingredient blend consists of Schisandra berry, which reduces fatigue and boosts nitric oxide synthesis for better blood circulation. Our test group reported feeling calm and grounded, which after consulting our dietitians, I learned was likely due to the pearl powder.
Notably, Tongkat Ali and He Shou Wu have been recognized for their numerous benefits, including improved mood, confidence, brain function, and anti-agin effects. [11]
I tested out Aphro-D alongside our volunteers and experienced the same benefits to mood, and my stress level dropped significantly.
Both Aphro-D and RAE offer a vegan/vegetarian-friendly solution for individuals struggling with low testosterone levels.
Testofuel
TestoFuel combines several key ingredients that have been scientifically proven to increase testosterone production. These include Fenugreek, vitamin D, and zinc, all of which work together to maximize your body's natural testosterone production [12].
I also liked seeing the 2000 mg of D-aspartic acid, which I believe is necessary for any effective testosterone booster. Also, Testofuel contains 10 mg of zinc, a critical nutrient that can impact testosterone levels and an ingredient that RAE In The Mood omits.
Our test group participants, including myself, experienced some fantastic benefits while using Testofuel for several weeks. While results varied for everyone, some noticed gains in muscle mass while others saw mood improvements.
I saw a significant increase in my energy levels.
TestoPrime
TestoPrime, created by well-known supplement manufacturer Wolfson Brands Limited, is a go-to brand for those looking for a testosterone boost.
One of the critical ingredients is ashwagandha extract, which beats out RAE In The Mood's 100 mg.
What sets TestoPrime apart from RAE is its inclusion of D-aspartic acid, a particular ingredient our dietitians told me is known for the stimulating hormone released in both the brain and testes.
Our testing showed good muscle gain by some in our volunteer group, but as with any supplement, results varied. All agreed, however, that they experienced some level of energy boost.
In my experience and research, TestoPrime stacks up well against other boosters, such as In The Mood, regarding ingredients. Moreover, our testing found TestoPrime to be quite reliably effective, though results varied among users.
Who Should Take RAE In The Mood?
Based on our testing results, we think that some females might gain benefits from RAE In The Mood.
Our testing team did report an improvement in sexual desire and satisfaction after taking it consistently for a two-week period.
It also may also provide some benefits for men, but we found the improvements were more limited with this supplement.
So, if you're looking for a significant boost to improve all types of hormone and performance levels, then this probably won't be the right choice for you.
Who Shouldn't Take RAE In The Mood?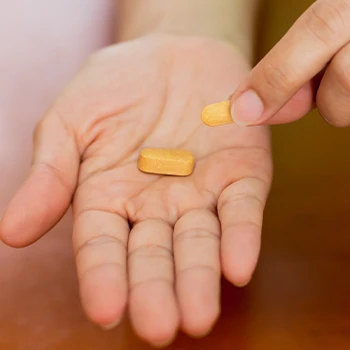 Anyone with a significant underlying medical condition shouldn't take RAE In The Mood.
In such cases, it's important to talk to a healthcare provider about the impact of the ingredients on the specific health condition before they take any kind of health supplement.
We also think that men who are looking for a consistent and sustainable improvement in testosterone levels shouldn't take this product.
The results are a bit limited, and it's not intended to diagnose, treat, cure or prevent hormonal deficiencies.
For significant hormonal issues, it's still best to talk to a doctor first, as the cause might require further testing.
Where Can You Buy RAE In The Mood?
You can buy RAE In The Mood on the official website. It's generally the safest place to buy health supplements and avoid ending up with a counterfeit product from a dodgy retailer.
One thing I did notice when I ordered these is that the delivery time fluctuates a lot.
The first order arrived after three days, but the two other orders took over a week. That can be very annoying if you're running low on a supplement and don't want to end up going through an off-cycle.
Other User Reviews
Here are some user reviews from the official RAE website.
"I started taking In The Mood recently. Nothing bad has come from it, but I have also had no changes in my "mood". So nothing bad, but also nothing good. I will keep taking it and see if anything changes."

- Anonymous, Company Website
"I have been using these for a month and haven't had any affect that I can tell, going to replace it with something different maybe."

- Anonymous, Company Website
"3 stars for now! I've noticed my mood improving a little but this might be a product I have take for a while longer before feeling the full benefits."

- Anonymous, Company Website
"I really wish this formula could be made without caffeine. I've taken it for a month, and the only thing I've noticed so far is the jitters. Seems like an ingredient they could do without?"

- Anonymous, Company Website
FAQs
Can You Take Rae in the Mood Every Day?
Yes, you can take RAE In The Mood every day. The ingredients are classed as generally safe to take and common in these types of mood enhancers. Just check for any ingredients that you might be allergic to before you start taking it on a regular basis.
How Fast Does Rae in the Mood Work?
RAE In The Mood seems to work within about two to three weeks. It's different from person to person, but that's the average that our testing showed. This would also require taking it every day and not skipping days in between.
Should You Buy RAE In The Mood?
Based on our research, testing, and feedback from a nutritionist, we wouldn't recommend RAE In The Mood to our clients and readers. It does provide some benefits, but they are not significant enough to make a big difference.
For our male readers, we still think the right product is Testogen.
It has proved to have a considerable impact on stress and testosterone for our clients, which ultimately translates to better performance in the bedroom and at the gym.
Order your first supply today to find out how much of a difference it can make in your life.
We Recommend This Instead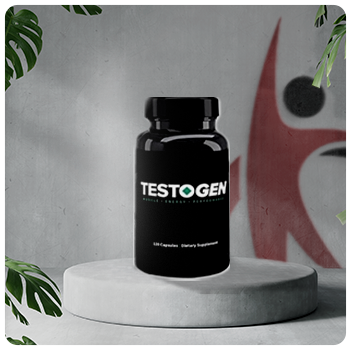 Click For Best Price

Pros
May work well as a natural testosterone booster
Positive reviews about improved physical and mental energy
Seems to boost confidence levels
100% money-back guarantee if you're not satisfied
Get the BEST PRICE until the end of September
Cons
You can only buy it on their website
Was this article helpful?