Red powder superfood supplements are becoming increasingly popular these days and are very similar to greens powders.
However, some unique aspects of red powders will boost your general health and improve some other things too.
As a health practitioner and certified nutritionist, I have created a complete review of the Red Tonik supplement and why someone should consider buying it in the first place.
It took me over 25 hours to research and several weeks to test the Red Tonik, and all my observations are below.
What Is Red Tonik?
Red Tonik is a red superfood supplement from Human Tonik containing specific ingredients that benefit endurance, heart health, and energy levels and reduce inflammation.
This supplement has a distinct and fully transparent formula containing 13 raw ingredients, all listed on the label. Those ingredients include different adaptogens, superfood fruits, herbs, and antioxidants.
According to a study published in the National Library of Medicine, these ingredients exhibit neuroprotective, anti-fatigue, and antidepressive benefits [1].
In addition, the most important ingredients found in Red Tonik include cordyceps mushroom, beetroot, and antioxidant-rich berries. According to other studies found in the National Library of Medicine, these ingredients increase antioxidant activity and provide several other benefits [2] [3].
The Red Tonik was initially designed as a convenient drink for daily consumption to improve overall heart health, endurance, strength, antioxidant protection, vibrant skin, and anti-inflammation.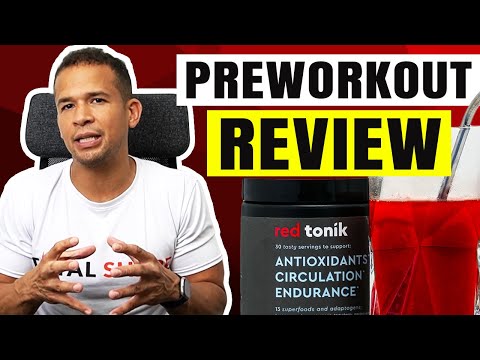 The team behind Red Tonik kept improving the product's ingredients, effectiveness, and overall taste upon its release. I can freely state that the product has changed significantly over time, and now it offers more than its initial release.
Lastly, the Red Tonik's taste is something you won't have to worry about since it contains a blend of mixed berries, cranberries, and other natural flavors.
"Adaptogens are the wellness trend that have caught the attention of bendy yogis and functional medicine guru's… but now Olympians and strength athletes may be hitting up their spice racks, too. Using herbs as performance enhancers in sports isn't as out there as it may seem."

- Gabrielle Kassel, Certified Personal Trainer
How Does Red Tonik Work?
Red Tonik works by reducing the debilitating effects of inflammation in the body, allowing you to recover faster from intense workouts.
After incorporating Red Tonik into my daily routine, I noticed faster recovery time from my intense training sessions, and I felt more equipped to handle my day-to-day activities with ease.
Many people have diets lacking enough antioxidants, which increases the risk of many health outcomes.
However, Red Tonik contains sufficient levels of antioxidants coming from the superfoods and berries in their formula.
These antioxidants come with multiple health benefits and will protect you against certain diseases, such as Alzheimer's or heart disease, while effectively boosting your current energy levels and blood flow. 
In addition, Red Tonik works by supporting your blood pressure (decreases high blood pressure), cardiovascular health, and overall heart health and improving your circulation. This is important because heart diseases are the number one killer in modern society worldwide.
Lastly, Red Tonik works by improving stamina in athletes due to having ingredients such as beetroot, pomegranate, and cordyceps.
Red Tonik Ingredients

Red Tonik Benefits

All the ingredients mentioned above will work together to produce important health benefits.
Each ingredient alone helps a specific mechanism and part of your system, but when they work together, that effect is magnified, and potential health benefits increase.
Here are the most important benefits of the Red Tonik supplement.
Heart and Circulation Support
My clients say that after consistently taking Red Tonik, they felt a noticeable improvement in my cardiovascular health. The blend of beetroot, grape seed extract, and resveratrol seems to have made a real difference in how they feel during cardio workouts.
When working together, these ingredients will likely increase NO2 production, which will further support your circulation, blood flow, and some additional cardiovascular markers.
In addition, ingredients such as pomegranate, turmeric, and ginger root may be useful in fighting against cardiovascular diseases by lowering bad cholesterol levels.
Antioxidant Protection
Since I started using Red Tonik, the boost in antioxidants in my diet has been noticeable. I feel more energized and less bogged down by oxidative stress, which I attribute to the rich polyphenol and antioxidant content of Red Tonik.
These superfoods and berries are rich in micronutrients that will support your overall health and metabolism at the cellular level.
Antioxidant-rich ingredients contained in Red Tonik include resveratrol, blueberries, strawberries, raspberries, goji berries, and pomegranate.
These ingredients are everything you need to reduce oxidative stress, energize your body, and boost your energy levels.
Enhanced Strength and Endurance
Having used Red Tonik for several months now, I can attest to the adaptogenic properties of its ingredients.
This is important for elite athletes and regular people battling daily stress since these adaptogenic ingredients will benefit you.
The most important adaptogenic ingredients found in this reds powder supplement include beetroot, cordyceps, pomegranate powder, and goji berries.
Reduced Inflammation
Pain and chronic diseases are almost always due to chronically high inflammation, meaning natural anti-inflammatory ingredients will likely help you battle that.
The most important anti-inflammatory components found in Red Tonik are beetroot, tart cherry extract, cranberry extract, pomegranate, resveratrol, and turmeric.
Improved Skin Health
My client says that since incorporating Red Tonik into her routine, she noticed her skin is more resilient to environmental stressors like sunlight.
Several ingredients, particularly goji berries, are excellent for nourishing the skin. The vitamin A found in these ingredients will improve your skin tone and barrier function.
In addition, these ingredients also contain vitamin C, which promotes collagen production.
Pros
Boost cardiovascular health with Red Tonik's circulation and blood flow enhancing abilities
Provide antioxidant protection against oxidative stress leading to chronic diseases
Enhance strength and endurance while managing daily stress through adaptogenic ingredients
Improve skin health by promoting collagen production and providing protection against sunlight and environmental toxins
Cons
Risk over-reliance on Red Tonik, potentially overshadowing the need for a balanced diet and regular exercise
"We've all had ice cream for dinner (because I'm a grown up and I can if I want to, damnit!), but we all know that performing well in and out of the gym requires actual nutrition. To properly adult, we must eat our vegetables."

- Mike Dewar, Certified Personal Trainer
Red Tonik Side Effects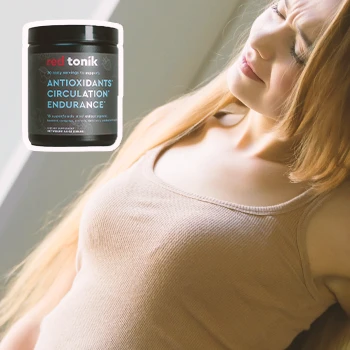 It is important to mention that all the ingredients found in the Red Tonik supplement are natural and recognized as safe.
However, there might be some potential side effects with this supplement, but they are usually general ones.
These side effects may include headaches, allergic reactions, and some form of digestive symptoms such as bloating.
It is important to always consult your doctor before taking any supplement, especially if you are already taking medications or you are carrying a child or breastfeeding.
How to Use Red Tonik?
To use Red Tonik, take one scoop daily with a 12-16 oz beverage.
I've found using Red Tonik to be incredibly easy and convenient. Just one scoop in my morning smoothie or water, and I'm set for the day. It's a simple addition to my routine that has made a significant difference.
In addition, you may add Red Tonik to water, nutrient-dense smoothies, and fruit juice.
Each package or container of Red Tonik contains 30 servings, each weighing around 9 grams. It is advised to take one scoop a day. 
Keep in mind that some other brands promoting the same reds supplements suggest taking 2 to 3 scoops a day, which is completely different from this one.
If you have a Supergreen Tonik, you may also combine it since there aren't any side effects or negative effects from taking both supplements simultaneously.
Lifestyle Integration
Red Tonik, with its blend of natural ingredients, offers a versatile solution that caters to various lifestyles, from the highly active athlete to the busy professional.
For athletes: Red Tonik's composition, rich in antioxidants and natural energy boosters, can be an excellent addition to an athlete's regimen. It can be consumed as a pre-workout drink to enhance energy levels or post-workout to aid in recovery and reduce inflammation.
Busy professionals: A quick Red Tonik smoothie in the morning can be an efficient way to ensure you're getting essential nutrients without compromising on your busy schedule.
Dietary preferences: For vegans, Red Tonik offers a plant-based source of vital nutrients that might be harder to obtain from a vegan diet alone. Similarly, for those following a ketogenic diet, Red Tonik can be a great addition, given its low carbohydrate content and natural ingredients.
Who Should Take Red Tonik?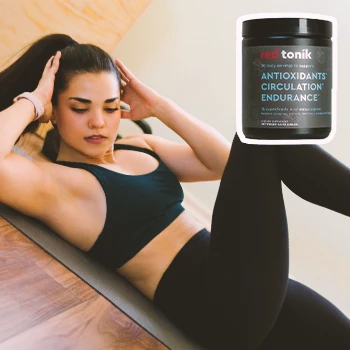 Health-conscious individuals, athletes, fitness enthusiasts, busy professionals, people with cardiovascular concerns, individuals seeking anti-aging benefits, and people with inflammatory conditions should all take Red Tonik.
In addition, people looking to boost their skin health should also consider taking the Red Tonik supplement due to its effective ingredients containing powerful vitamins responsible for skin nourishment.
Who Shouldn't Take Red Tonik?
People with extreme allergic reactions and sensitive metabolism shouldn't take Red Tonik.
In addition, if your diet has enough antioxidants and other micro and macronutrients, you may consider not buying this supplement.
However, it is very rare to have a diet full of everything since those are very expensive and demand foods from different parts of the world, which are not always available in local stores.
This is why supplementation is useful for avoiding insufficiencies tied to your regular diet.
What Is the Price of Red Tonik and Where Can I Buy It?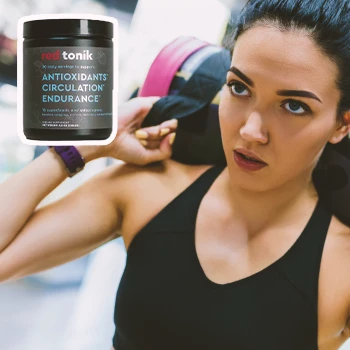 The price of the Red Tonik is based on the package you choose, and you can buy it on Red Tonik's official website.
There may be some other places where you can buy Red Tonik, but it is advisable to buy their products from their official website for the most cost-effective option and to avoid being scammed online.
Here are the three options and packages you get offered when purchasing the Red Tonik supplement:
1-month supply - This one-month supply package costs around $77, meaning a serving comes at the price of $2.56. This is not the most cost-effective packaging but the cheapest one containing a small amount of servings.
3-month supply - The three-month supply costs around $197, meaning a serving comes at the price of $2.18. This is the most popular packaging option amongst customers since you will save up to $34 on your purchase compared to the first option. In addition, free US shipping is offered with a three-month supply Red Tonik package.
6-month supply - The six-month supply costs around $337, meaning a serving comes at the price of $1.85. This is the most cost-effective package of all three but requires a larger upfront investment. It is the best value for longer-term fitness and cardiovascular health benefits and comes with free US shipping.
Red Tonik Shipping and Delivery
Red Tonik strives to ship every order within a few business days with FedEx, UPS, and USPS.
From our experience, we received the package of our choice in one business day, which is exactly what they claim on their website, even though sometimes two or three days are necessary for delivery.
Red Tonik will send you an automated shipping notification in your email once the product has been shipped so that you can track your order.
People living in the continental US can expect to see their order in 3-7 business days, primarily depending on your location. If you opted for international shipping orders, you could expect the package to arrive within 10 to 21 business days, depending on the country you reside.
If you wish to return the product, you can contact the Red Tonik team, who will provide further instructions on the return process. However, this return policy only applies to the first order you make.
Lastly, Human Tonik LLC, a company owning the Red Tonik, claims a 365-day money-back guarantee on your first Red Tonik order.
Testimonials
"I have a pretty busy schedule, and handling all the heart-health-related things in one or two scoops a day sounds like a dream come true."

- Adam from Boston
"Since I started taking Red Tonik, my days have been much more energized, and I can accomplish and finish tasks that previously I couldn't due to my low energy."

- Nicole from Miami
"It's not just good for your health, but the taste of it is something I never thought would live up to my expectations. So glad I was wrong about it!"

- Mark from Houston
Comparison to Other Products

Even though Red Tonik may be the only supplement you need for improved cardiovascular health and endurance, you may consider some alternatives.
Below you can find the most reputable Red Tonik alternatives to consider.
Learn More: Best Green Superfood Powders (2023 Updated)
Organifi Green Juice
Organifi Green Juice is an excellent blend of 11 detoxifying superfoods promoting balanced cortisol and stress levels, helping you with weight management, and allowing for body detoxification of harmful toxins.
With a single serving of this supplement, you can instantly get rid of stress levels in the morning and set yourself up for success for the rest of the day.
However, if I compare the number of effective ingredients and the diversity of health benefits, I would still need to stick with the Red Tonik supplement.
It has two more active ingredients and is better at improving athletic performance and regulating your blood pressure.
Live Conscious Beyond Greens™
Live Conscious Beyond Greens™ is the perfect mix of echinacea, Rhodiola, milk thistle, probiotics, and four powerful mushroom varieties, yielding many health benefits.
These benefits include a healthy immune system, excellent gut health, detoxifying the whole body, and raising energy levels.
These benefits are mainly due to the powerful mushroom ingredients called Lion's Mane and Reishi. It is a solid alternative to the Red Tonik.
However, I must add that the Red Tonik is still better for improving your circulation and cardiovascular endurance due to its specific ingredients and unique formulation.
Learn More: Beyond Greens Review: 2023 Updated
Plantrise Pre-workout Fuel
Countless customers evaluated Plantrise pre-workout fuel supplement, and many say it can effectively raise your energy levels before the workout.
This supplement is third-party tested, non-GMO, and dairy-free, which is excellent for those with sensitive digestion systems and different forms of allergies.
The product is also very tasty and mixes well with water.
However, even though this pre-workout can easily yield the same benefits as the Red Tonik for athletic performance, I would still choose Red Tonik because the mix of its ingredients has a larger impact on the body as a whole.
On the contrary, Plantrise pre-workout is only effective for people seeking to get energized before workouts.
It is not the best choice for those wanting to reduce stress, improve circulation and cardiovascular health.
FAQs
Does Red Tonik Help With Diabetes?
Yes, Red Tonik helps with diabetes. Red Tonik can effectively lower your blood sugar and insulin levels, which is excellent for people with type 2 diabetes.
Super reds are superfoods known for their distinctive red color. The most common super reds are red beets, berries, and tropical red fruits, and these vegetables and fruits are packed with essential macronutrients to provide many health benefits.
What Is the Difference Between Super Reds vs Super Greens?
The difference between the super reds and super greens is in the nutrients they contain. It is well known that super greens include higher amounts of vitamins A and C, magnesium, iron, and calcium, which support vital body functions.
Our Verdict on Red Tonik
After thoroughly testing Red Tonik, I'm genuinely impressed with its impact on my overall health and fitness routine.
Its blend of antioxidants and anti-inflammatory ingredients noticeably improved my recovery time post-workout and enhanced my energy levels throughout the day.
The cardiovascular benefits were an added bonus, as my clients felt a marked improvement in their endurance during high-intensity sessions.
Plus, our tests showed it's extremely easy to use. It's just a one-scoop addition to your morning routine that packs a powerful punch.
Overall, Red Tonik is a valuable supplement to any health-conscious individual's regimen.
Our Rating
Pros
Boost cardiovascular health with Red Tonik's circulation and blood flow enhancing abilities
Provide antioxidant protection against oxidative stress leading to chronic diseases
Enhance strength and endurance while managing daily stress through adaptogenic ingredients
Improve skin health by promoting collagen production and providing protection against sunlight and environmental toxins
Get the BEST PRICE until the end of December
Cons
Risk over-reliance on Red Tonik, potentially overshadowing the need for a balanced diet and regular exercise
Was this article helpful?