You aren't getting your needed intake of green vegetables every day, so you're thinking about turning to green superfood powders?
You aren't the only one; sometimes, people just don't have enough time or energy to chop vegetables after a long day.
Beyond Greens formula is claimed to provide tons of health benefits for your immune system and gut health.
After a doctor warned me I should pay more attention to my nutrition, I decided to look into greens supplements.
I tried this product myself, so today, I'll talk about the Beyond Greens benefits, shortfalls, and everything else you should know about the Beyond Greens supplement.
Here's my Beyond Greens review.
What is Beyond Greens?
Beyond Greens is a greens powder nutritional supplement manufactured by a company called Live Conscious.
Live Conscious was founded in 2014 with the goal to improve the quality of people's lives. In all their products, the company uses organic greens and ingredients from the natural world proven to improve health.
"Our mission is simple, our approach: holistic. We want you to show up in the world as your truest self, which can only be done amidst true health. We are here to support you on your path to health-lightenment – mind, body, and spirit."  -Well Live Mission Statement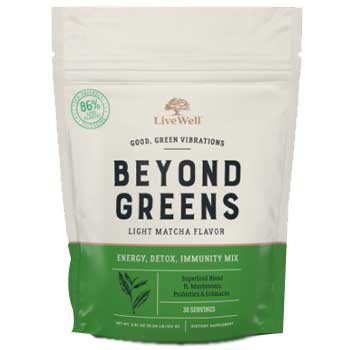 Live Conscious manufactures a range of supplements for digestive health, heart health, and more.
I especially like that Live Conscious partnered with the Eden Reforestation Project.
They pledged to plant a million trees in one year. Moreover, they use 86% less plastic packaging in their products, which shows they're environmentally conscious.
Beyond Greens is their most popular product. It contains 14 ingredients that provide the user with enough daily energy and give a full-body detox.
According to the nutrition label, Beyond Greens protein powder is dairy-free, vegan-friendly, gluten-free, non-GMO, soy-free, keto-friendly, shellfish-free, preservative-free, and paleo-friendly.
I'll admit, on paper, it looks really good. I didn't find any issues with the claims and information they have on their website.
Let's go deeper into the Beyond Greens review.
Beyond Greens Benefits
Here're all the main benefits of this greens powder.
Ingredients
The main benefit of Beyond Greens is, without a doubt, the ingredients.
First of all, I loved that this green powder doesn't have a proprietary blend. Instead, all ingredients are accounted for on the label, including the dosage. This means you are aware of everything that's going into your body and each ingredient's amount.
Beyond Greens is made right in the USA under GMP guidelines. Compared to other greens powders, Beyond Greens isn't full of vitamins but contains ingredients that improve different health areas and impact the whole body.
Here's exactly what super greens this greens powder contains.
Similar product: Ghost Greens Review
Milk Thistle
Milk thistle, also called Silybum Marianum, is a plant with purple flowers that's been used since 40 AD.
It's important for liver health and helps prevent gallbladder diseases. Also, it protects the liver from toxins and has detoxifying effects.
It also has antioxidant properties, and it's anti-inflammatory.
Milk thistle has been scientifically proven to:
Rhodiola Rosea
Rhodiola Rosea grows in cold areas of Europe and Asia. The most important part of the plant is the roots, which are considered adaptogens. This means they can help your body deal with stress.
It has a range of benefits:
Reduces stress and anxiety
Helps with depression
Improves mental clarity
Reduces fatigue
Helps control diabetes
Has anti-cancer properties.
If you're an athlete, you'll love this - since it reduces stress and fatigue, it's been proven to help improve exercise performance in just over a week of use. [3]
Rhodiola Rosea has no known side effects, so it's completely safe to consume.
Chlorella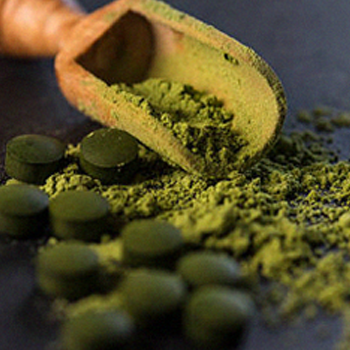 Chlorella is found in many super green foods mixes.
This algae is a complete source of proteins, which means it has every essential amino acid.
This single-cell freshwater green algae usually comes from Japan and Taiwan. This algae has to be taken as a supplement because the human body can't digest its hard cell.
Here are chlorella benefits:
It's extremely nutritious, so it's also called a superfood
50% to 60% of chlorella is made of protein
Contains Vitamin B12
Binds to heavy metals, which aids detox
Enhances the immune system
Improves cholesterol
Regulates blood sugar levels and blood pressure
Chlorella is recognized as safe by the FDA, so you can use it without worrying about side effects.
Echinacea
Echinacea, or purple coneflower, comes from the daisy family. It's one of the most popular herbs worldwide. It's been used by Native Americans for a long time.
Its main function is aiding the body's immune system. It can boost immunity by reducing anxiety and stress levels and also aids with mental clarity.
Echinacea is rich in antioxidants and has anti-cancer properties.
Lactospore (Bacillus Coagulans)
Yes, lactospore is a bacteria, but it's a good bacteria.
Lactospore is naturally made in food sources, such as kimchi and yogurt. It's very robust and can survive extreme environments. This is why it's great if you suffer from stomach distress.
Lactospore improves gut health and the digestive system and helps with immune systems by providing the gut with probiotic bacteria.
Matcha Powder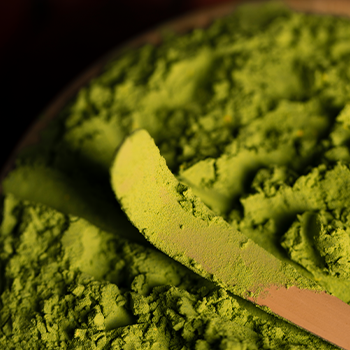 Matcha powder comes from the same plant as green teas, but it's grown differently.
The number of catechins in matcha powder is 137, which is higher than in other green teas.
Here are the main matcha benefits:
High in antioxidants
Protects the liver by flushing out the toxins
Improves brain function
Has anti-cancer properties
Helps concentration because it contains caffeine
Helps lose weight
A lot of green stuff tastes nasty. That's not the case with Beyond Greens. Thanks to matcha, it tastes great.
FOS & XOS (Fructo- And Xylo-Oligosaccharides)
Both FOS and XOS act as prebiotics. They are found in fruits such as bananas, and some vegetables, including garlic and onions.
Often, they're used as a sugar alternative.
FOS and XOS support the healthy bacteria that grow in the gut and suppress harmful bacteria.
Ceylon Cinnamon
Cinnamon is a spice that's been used in medicinal properties for thousands of years.
It comes from the inner bark of the Cinnamomum verum tree.
Its main benefit is that it's an excellent source of antioxidants. It can also reduce inflammation and stress, the risk of heart disease, and Alzheimer's.
Acacia Gum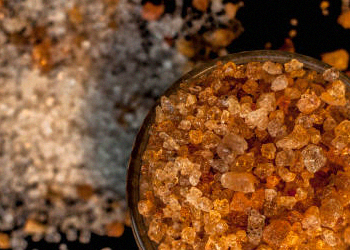 Acacia has been used in Australia and Egypt since ancient times, both for baking and as a medicine.
Acacia gum benefits include:
Helps wounds heal quicker
Helps lose weight
Relieves pain
Soothes sore throat
Improves digestion
Source of fiber
Improves mood
Other Ingredients
Beyond Greens supplement contains several more ingredients, such as:
Organic Reishi mushroom
Organic lion's mane mushroom
Organic turkey tail mushroom
Organic cordyceps
Mushrooms have been gaining popularity and can often be found in a greens supplement.
These keep the body healthy by influencing energy levels, improving cognitive function, calming down the upset stomach, and fighting inflammation and ulcers in the digestive tract.
Beyond Greens Shortfalls

Beyond Greens formula is rich in some of the best greens ingredients out there. All of them have been carefully chosen to help with the body's microbiome and have a better digestive system. This, in turn, supports the entire body.
While the ingredients are Beyond Green's main highlight, they are also the main shortfall.
This is because of the greens' dosage.
The higher the amount of superfoods, the higher the beneficial effects. I'm not sure the amount of greens that Beyond Greens contains will be enough for everyone.
Beyond Greens has 2,650mg of superfoods per one serving size, which isn't that much. Unless you're also eating healthy, chances are you may not have noticeable benefits.
Live Conscious Beyond Greens doesn't have a super-strong green punch that some other super greens powders have.
On the other hand, because the amount of superfoods isn't too high, you also won't have any side effects.
Greens supplements contain only organic, natural ingredients. However, it's still possible for them to cause side effects, such as upset stomach, headaches, or anxiety. This can happen until your body gets used to super greens.
With Beyond Greens, you don't have to fear these side effects because of the low amount of superfoods.
Pros
All-natural high-quality ingredients
Natural flavors
A third-party tests every batch
Money-back guarantee
Cons
Extremely small ingredient dosages
Small energy boost because of low caffeine amount
My Personal Experience With Beyond Greens

Here's my Beyond Greens review based on my personal experience.
I'll admit, I was a little disappointed when I first saw the jar. I expected a larger one. However, I soon realized it goes a long way because the prescribed daily dose is small.
The dose is so small because the supplement is ultra condensed. I use a shaker with a watertight seal to mix it when I intend to drink it throughout the day.
When it settles, just give it a shake, and you're ready to take a sip. I also make a smoothie every morning or add a dose to my green tea. The morning dose ensures I don't forget it, especially even when I'm having a busy day ahead.
As soon as I started using it, I noticed that I had more energy, better clarity, focus, cognitive function, and better overall health. Simply put, Beyond Greens raised my energy levels and put me in a good mood.
To test if this was really because of Beyond Greens, I skipped it one morning and noticed the difference straight away.
Note: I combined the supplement with healthy eating habits. If you want the best results, you'll need to have a balanced diet.
If you're like me, you're probably tired of other nasty-tasting stuff. I'm happy to report that Beyond Greens has a light matcha flavor on the sweet rather than on the bitter side, which is the case with many other super greens drinks.
Comparison to Other Green Supplements

I've used and done a fair number of greens reviews. In comparison to other green drinks, Beyond Greens stands out with its ingredients and taste.
Other supper greens taste bitter, such as Bitter Greens Capsules, while Live Conscious Beyond Greens flavor takes sweet notes.
The ingredients are all healthy and improve general well-being.
However, many other powders have a higher dosage of super greens, such as WelleCo Natural Super Elixir Greens.
If you're only looking to boost your immune system, Beyond Greens could be enough for you.
However, I believe that if you're suffering from serious health issues, such as a leaky gut or fatty liver, this may not be the case.
In these situations, I feel that other super greens, such as Garden of Life Superfood Juiced Greens Powder, could be a better choice because of the higher greens doses they have.
Where to Buy Live Conscious Beyond Greens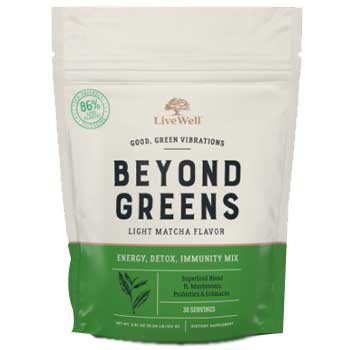 You can buy Live Conscious Beyond Greens on the official Live Conscious website.
There are several price options to choose from. Here are the prices of one-time purchases:
1 jar - $39.99
2 jars - $36.99
4 jars - $31.99
Here are the prices for a subscription:
1 jar every month - $31.99
2 jars every 2 months - $28.99
4 jars every 4 months - $24.99
Pro tip: The more you subscribe, the more you'll save.
You can pause or cancel your subscription any time you want.
Live Conscious Beyond Greens manufacturers claim it's refundable, and you'll get your money back even a year after purchase, as long as the product hasn't been opened.
I didn't have any issues with the delivery; it was prompt. However, I did try to return one bag that came open, and the company didn't accept it. I'm not a fan of the return policy.
Other Users' Experience
I've talked about my experience with Beyond Greens, but here are other Beyond Greens reviews:
"This is by far my favorite. Noticeable improvement in just over a week with gut health, hydration, energy, and mental clarity. But as I said, don't drink this and then go to BK or Golden Arches the next day and expect a miracle. This mix is great if you are already eating healthy and looking for something to take you further." -Dr. Fizzlehopper, verified Amazon purchase
"Before I bought it, I remembered one of the reviews somebody stated how shocked they were at the small amount inside the bags. I wish I had paid attention to that review. It's true. When I opened up the bag, I too was shocked at the small amount inside the bag. And how much I paid for that small amount." -V-Kat, verified Amazon purchase
"I spent hours researching the product ingredients against other leading/best selling green powders out there. With the COVID19 pandemic (as well as other viruses and diseases), I believe my immune system needs a boost!! In order to protect itself against infection/inflammation, I believe my body needs a diet that's rich in fresh foods: fruits/veggies/smaller portioned meats. This green drink has amazing ingredients that will assist that goal! It tastes good, and it mixes well with the protein powder I use." -JCR, verified Amazon purchase
FAQs
What's the Live Conscious beyond Greens Serving Size?
Live Conscious Beyond Greens' serving size is 3.7 g.
Should I keep Beyond Greens in my fridge?
No, there's no need to keep Beyond Greens in the fridge. Store it in a cool and dry place.
Does beyond Greens Contain Probiotics?
Yes, Beyond Greens contains probiotics. These will help your gut and digestive health.
Should You Use Beyond Greens?
I hope you found this Beyond Greens review helpful. I've had a positive experience with Beyond Greens, and I believe you will too.
It's a great product that will improve your overall health and make you feel positive.
While the dosage of ingredients could be higher, you can rest assured knowing you won't experience any side effects.
Make sure to eat healthy, so you can reap all the Beyond Greens benefits.
We Recommend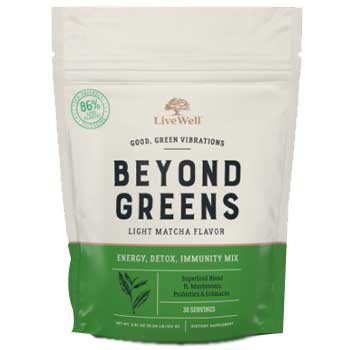 Pros
All-natural high-quality ingredients
Natural flavors
A third-party tests every batch
Money-back guarantee
Get the BEST PRICE until the end of February
Cons
Extremely small ingredient dosages
Was this article helpful?