As a fitness trainer with more than a decade of experience, one of the first things I tell new clients is to get more vegetables on their plate, but because of their busy schedules, that is usually an inconvenience.
So, I spent a few weeks looking for an effective vegetable supplement to recommend and soon after came across Ghost Greens.
After speaking with a dietician about the product, I tested it out with my clients to see if the product did what it claimed, and I've compiled all of my data in this  Ghost Greens review.
Let's dive in.
What is Ghost Greens?
Ghost Greens is a powdered fruit and greens supplement created by the company Ghost.
Ghost has developed greatly over time, evolving through reformulations, new products, partnerships, and new flavors.
Ghost is known for putting out some powerful supplements on the market, one of which is this potent greens supplement.
This product delivers a potent blend of 19 greens (vegetables) and reds (fruits) along with prebiotics, probiotics, fiber, and digestive enzymes.
It is designed to supplement your meals with the nutrition that you'd normally get from consuming a healthy portion of fruits and vegetables.
According to many users, it supplements your body with everything it needs for gut health and overall wellness at the ground level.
Our own clients took this product for about a month, and some of them claim to have experienced some of the purported health benefits. Let's take a look at what it did for them.
Benefits of Using Ghost Greens
Here are some of the main benefits clients experienced after three weeks of taking this supplement.
They reported a slightly improved gut health and that it prompted them to stick to a healthy diet overall.
They also said that the good flavor made it all the more palatable and, therefore, easy to take regularly.
Some of the clients reported increased stamina during heavy workout sessions, but that effect was also not too prominent.
This product, however, remains a convenient way to take veggies and fruits on the go, in my opinion, as the benefits of that are much more nuanced and take much more time to show.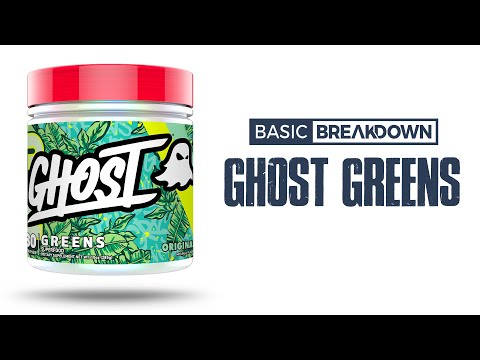 Ghost Greens Ingredients
This product contains two proprietary blends: Ghost Fruits X Vegetables Blend and Ghost Gut Health. Let's take a look at a breakdown of how these blends can improve your nutrition.
Ghost Fruits X Vegetables Blend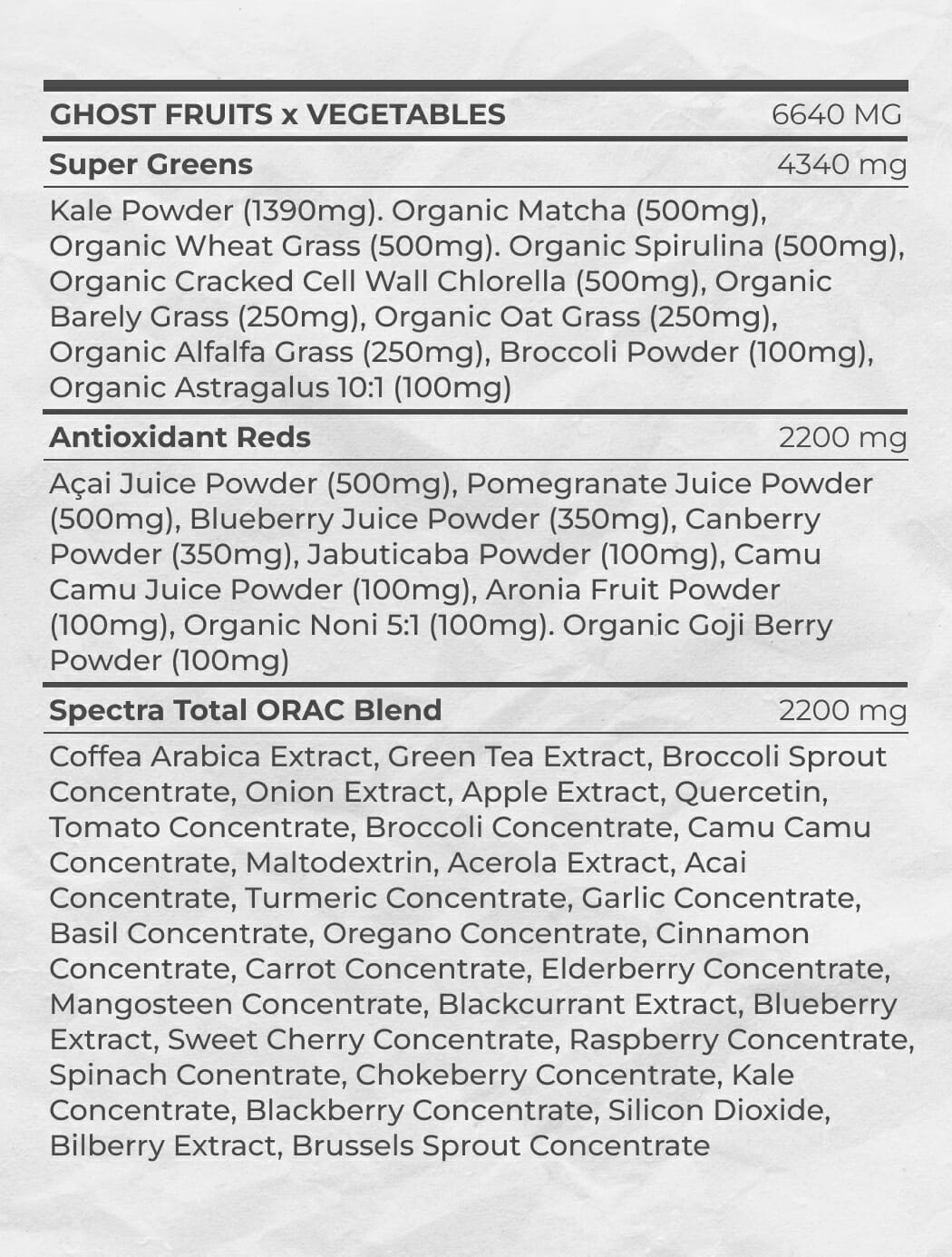 This blend is further broken down into these three separate blends.
Super Greens Blend
As the name suggests, this blend consists of various greens: kale, spirulina, organic wheat grass, chlorella, barley grass, and many others.
It also gives you a generous dose of vitamin A, vitamin C, and vitamin K.
Spirulina in this blend is an excellent antioxidant that may improve heart health [1].
Antioxidant Reds Blend
This fruit blend (as the name red suggests) consists of a broad range of antioxidants. It contains nine premium superfoods such as jabuticaba, camu camu, and organic goji berry.
Consuming a wide range of fruits can have anti-inflammatory effects, alongside many other health benefits [2].
Spectra Total ORAC Blend
Spectra is a trademarked blend that contains 29 ingredients, including fruits, vegetables, and herbs. All these beneficial ingredients are packed into a 100 mg serving.
According to the product website, Spectra may increase nitric oxide levels, improve cellular metabolic activity, and inhibit free radical production.
Ghost Gut Health Blend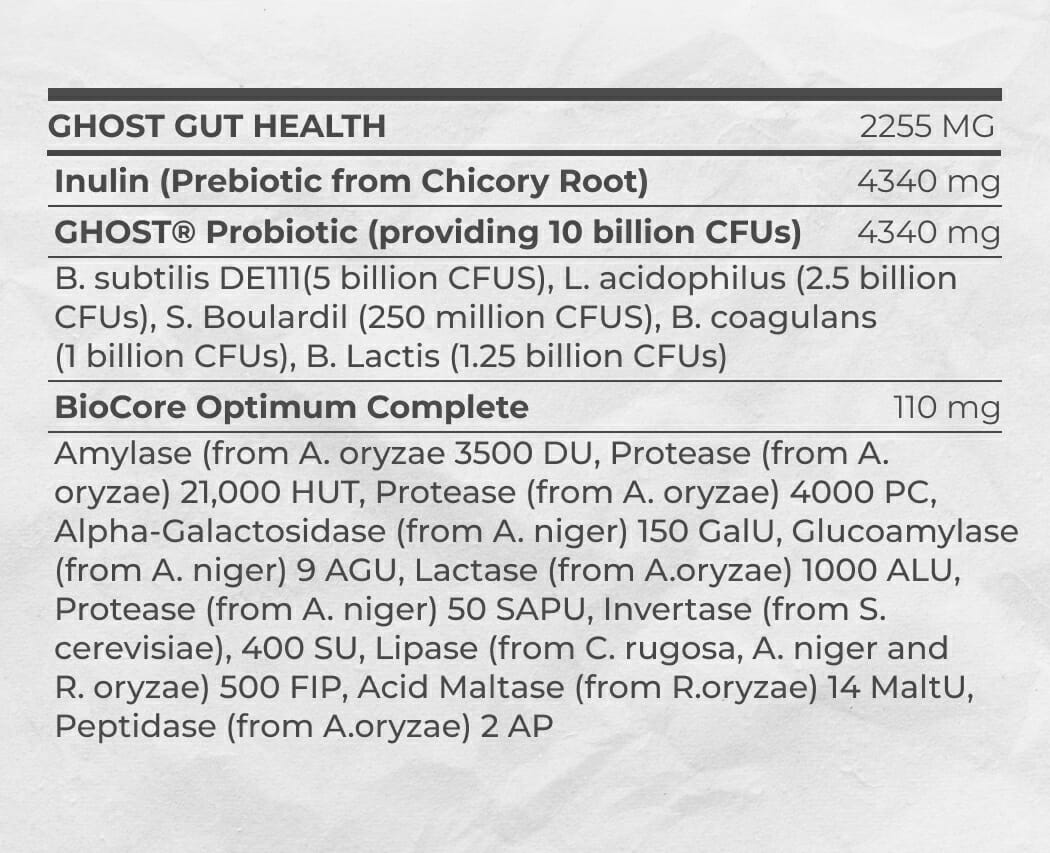 The Ghost Gut Health Blend is also composed of three different ingredient blends.
Inulin (Chicory Root)
Inulin is a popular prebiotic fiber that comes from the chicory root source. Research has linked inulin to many benefits, like improved digestive health, diabetes control, and weight loss [3].
Ghost Probiotic Blend
Ghost's own probiotic blend provides a whopping 10 billion CFUs (CFU is the number of live cells per serving). It contains a variety of probiotics with fully disclosed dosages.
Probiotics are healthy bacteria that are found in the digestive tract. They allow the body to effectively digest any nutrients you consume.
A high-quality strain of good probiotic supplements can help improve your gastrointestinal health and digestion.
BioCore Optimum Complete
BioCore is a trademarked blend made up of 11 digestive enzymes. Digestive enzymes are similar to probiotics in that they're designed to aid digestion and absorption of nutrients.
With this blend, you may experience improved digestion and less digestive stress after meals.
"Prebiotics are non-digestible dietary fibres that promote growth of beneficial microorganisms in the intestine … and aid the bacteria — naturally found in the intestines — to flourish,"

- Dr. Vikramjeet Singh, Senior Consultant, Internal Medicine, Aakash Healthcare Super Speciality Hospital
Pros
Contains a good antioxidant profile (like organic spirulina)
Excellent sources of probiotics, prebiotics, digestive enzymes, and fiber
Not all blends are proprietary blends, so you know how much of ingredients you consume
Comes in various flavors that make it more palatable for consumers picky about taste
Cons
Some flavors are known to be overbearing
Does not contain 100% natural ingredients
Some ingredient dosages are still not disclosed
Are There Any Shortfalls?
Yes, our users have experienced some shortfalls when consuming Ghost Greens.
The major pain point we noticed among clients who took the product was that they mistook it for a meal replacement. So, many of them would skip essential foods in their nutritional plan.
This didn't seem to significantly affect their workout performance or strength, but then again, neither did this product make any significant and noticeable impact overall during the testing period, which is the biggest shortfall, in my opinion.
We found ourselves having to remind clients not to skip meals, which is why we had clients who were more interested in fat burning take PhenQ.
The idea of taking a supplement in pill form didn't have them believe they were replacing a meal.
How Ghost Greens Compares to Similar Products

We compared Ghost Greens to three premium competitors. Here's what we found.
Organifi Green Juice
Organifi Green Juice is one of the most popular organic greens powder available.
This superfood-packed powder has 100% organic greens, making it perfect for those with food intolerances such as gluten and soy. Just like Ghost greens powder, it contains high-quality ingredients like spirulina and chlorella, ensuring you get all the benefits of these superfoods in one tasty package.
But what sets Organifi apart is its mild yet flavorful taste, making it the top choice among our test group Plus, I liked that Organifi is certified 100% organic, so I don't have to worry about any harmful chemicals or pesticides.
For optimal results, our test participants took Organifi Green Juice in the morning as recommended by the manufacturer to help reset cortisol levels. Many reported significantly reduced sugar cravings and afternoon crashes during the testing phase.
PlantRise Supergreens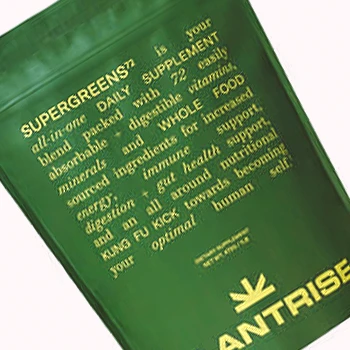 PlantRise Supergreens is an affordable, all-in-one daily superfood that is free from artificial flavors and common allergens and a top favorite among our clients at Total Shape.
This nutrient-packed supplement blend contains 72 easily absorbable vitamins, minerals, and whole food-sourced ingredients, making it one of the most comprehensive superfoods available.
The daily antioxidant equivalent of 12 servings of raw vegetables and fruits in one scoop provides naturally-occurring enzymes that enhance nutrient absorption and support a healthy digestive process.
While it doesn't contain a prebiotic blend, it has probiotics to aid gut health. Users in our test group reported noticeable improvements in that area but also reported it's not the best-tasting supplement.
I tested PlantRise Supergreens with our volunteers and agree it's not that tasty, but I did feel completely energized all day.
Live Conscious Beyond Greens
Live Conscious, formerly known as Livewell, offers a greens powder with a blend of superfoods like milk thistle, mushrooms, and probiotics.
Like Ghost greens powder, Beyond Greens also supports gut health and immune function.
But what sets it apart is its claim to be free of any additives. Its formula includes echinacea, Rhodiola, and four varieties of powerful mushrooms, such as Lion's Mane and Reishi, providing whole-body detoxification and clean energy.
Our test group reported a couple of disappointments with this supplement. First, most felt this did not mix well at all. Additionally, they didn't love the taste. However, they reported better gut health and an overall sense of feeling better.
Like most supplements, I found a mixed bag of reviews online, but what I like about Live Conscious is that it stands behind its product with a 365-day rock-sold guarantee, making it a risk-free purchase.
Where Can You Buy Ghost Greens?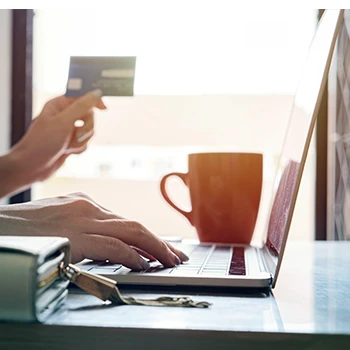 You can buy Ghost Greens from Amazon or their website, and various online retailers.
You can even purchase this product from certain brick-and-mortar stores.
According to our clients, the only drawback is that it's not available in a number of physical stores.
But, from our experience, you can get a much better deal buying it online (make use of coupon codes offered in different online retailers). However, it's best to be discerning of the platform you're buying from. Doing so ensures you don't end up getting counterfeit products.
Who Should Take It?
People who don't have enough time to plan out their daily nutrition should take this supplement.
Also, people who want to get the nutritional benefits of fruits and vegetables quickly and conveniently can take this product.
It's a fast and effective way to get essential nutrients and improve digestion.
Who Should Avoid Ghost Greens?
People who suffer from any pre-existing medical condition or are allergic to one of its ingredients should not take Ghost Greens.
We highly recommend you speak to your dietician or physician before taking it (or any supplement for that matter).
Related article: Can You Take Probiotics with Vitamins? 
What Users Have to Say
We looked through various reviews on the product, and the results seemed to be pretty mixed. Some people love the product for its flavor and effects; others complain about its texture and flavor.
"I've started taking this product recently and I love it!! Guava berry is a pretty good flavor."

- Cole from YouTube
"I'm going to be honest this is gritty and does not taste good at all. That said, for the price it has some of the best ingredients for greens for the price. So if you can choke it down, it's worth it."

- Killian W., GNC Website
"It does not mix with water very well, had a chalky texture and tasted very earthy, with a little bit of lime flavor to try and cover it up. I gave it two shots and did not like it either time. The rest of it is still sitting on my counter and will soon be thrown away unless I can find someone to pawn it off on."

- Kristyn S., GNC Website
FAQs
Does Ghost Greens Contain Artificial Ingredients?
Yes, Ghost Greens powder might contain some artificial ingredients, as the company does not explicitly claim that the product is made from all-natural ingredients nor that it doesn't contain artificial ingredients.
How Do You Take Ghost Greens?
Take Ghost greens powder by mixing one serving (one scoop) with 8–10 ounces of water or a beverage of your choice. You can increase or decrease the strength of the flavor by varying the amount of liquid (more liquid, less flavor).
Is Ghost Greens Worth Taking?
Although some of our clients liked taking Ghost Greens, in my experience, everyone always gets better results from taking 100% organic supplements.
So, I make sure to recommend a product like Organifi Green Juice to most of my clients.
So far, it has provided almost all the benefits the manufacturer claims, with the assurance of consuming completely natural ingredients.
It's not a magic powder or meal replacement, but it will supply your body with the right nutrition to support your fitness goals.
We Recommend This Instead
Click For Best Price

Pros
Non-GMO, gluten-free, soy-free, and dairy-free to help avoid food intolerances
100% organic and plant based certified for best quality ingredients
Very easy to mix so you don't need a blender
Tastes good with no synthetic or artificial sweeteners
Get the BEST PRICE until the end of September
Cons
No other flavored options available
Was this article helpful?