Meal replacements can be a good substitute for regular food when there's no time to prepare food, but unfortunately, many of these products are loaded with sugar and additives, as well as sorely lacking in real nutrition.
I've dedicated months of research and testing to find a good option I can recommend to my clients with a clear conscience, and at some point in that quest, I stumbled upon Huel.
The brand claims to offer a line of nutritionally complete and affordable meal replacements that contains all 27 vitamins and minerals.
In this Huel review, I'll let you know if this nutritionally complete meal product is really all it's cracked up to be.
Let's dig into my data.
What is Huel?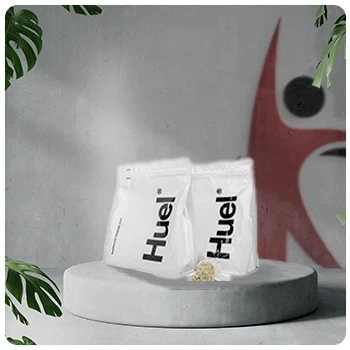 Huel (Human + Fuel) is a brand founded by Julian Hearn in June 2015 with the mission of providing nutritionally complete, convenient, and affordable meals. The company's products are advertised as "real food" with "real nutrition." Every meal delivers 27 essential vitamins and minerals.
The Huel Complete Protein, a meal replacement shake, provides a convenient and nutritious option packed with essential vitamins and minerals. It offers a plant-based alternative to traditional whey protein, and for those seeking more variety, there is also the Huel Black Edition.
Each nutritionally complete replacement takes less than two minutes to prepare, so it could be the perfect substitute for when you're in a rush or simply want to save time.
Plus a good balance of protein, essential fats, carbohydrates, fiber, and phytonutrients per serving. This claim is very similar to its rival brand, Soylent.
Huel powder is vegan and is made from a wide variety of healthy plant-based ingredients, including oats, peas, rice, flaxseed, coconut, and sunflower oil powder.
The brand's most popular variant is Huel Powder, which is basically a meal replacement shake made from rice and pea protein, but their other offerings—Huel Hot & Savory, Ready-to-Drink, and Bars—are also worth trying.
A detailed comparison of these types below. In keeping with its philosophy of minimizing carbon footprint, all Huel powder products have a long shelf life and use very little packaging, which means there's less waste.
All Huel vegan products are formulated by Registered Nutritionist and Dietitian James Collier and has gained the approval of several dietitians and nutritionists worldwide.
This complete nutritionally balanced meal replacement product is low in sugar and free of lactose, soy protein, palm oil, and GMOs. The brand also offers gluten-free options.
Huel Ingredients
Huel powder comes in a range of four products, but each of them contains pretty much the same key ingredients.
Let's break them down below.
Oats
These grains are rich in vitamins, minerals, fiber, and antioxidants, making them one of the most nutrient-dense foods you can ever eat [1].  They can reduce your cholesterol, lower the levels of sugar in your blood, relieve constipation, and promote healthy gut bacteria.
These are also very filling, which means they may help you eat fewer calories and aid in weight loss.
Peas
Peas contain a high concentration of vitamins, minerals, antioxidants, and phytonutrients [2]. They can protect your eyes from chronic diseases, promote a healthy digestive system, and boost your immunity.
Brown rice protein
The fiber in this whole grain can help lower cholesterol levels, move waste through the digestive tract more easily, increase feelings of fullness, and may even prevent the formation of blood clots.
It's also considered a low "glycemic index" food, which means it won't raise your blood sugar as much [3].
See our list of the best brown rice protein powders here.
Flaxseed
Flaxseed is a rich source of healthy fat, antioxidants, protein, and fiber [4]. It is known to prevent conditions such as constipation, diabetes, high cholesterol, heart disease, and cancer.
Medium-chain triglyceride oil (from coconut)
This ingredient is popular among athletes and bodybuilders for its purported health benefits.  MCT oil may help with weight loss as it helps promote a feeling of fullness, therefore helping you eat less food.
It's also transported and absorbed throughout your body quickly and can be used as an instant source of energy.
A study has shown that taking MCT oil before exercising may help you use more fat instead of carbohydrates for energy, which explains why this supplement has become a favorite among active people [5].
Sunflower
These seeds contain healthy fat and several minerals and vitamins [6]. They're especially abundant in vitamin E and selenium, two nutrients that function as antioxidants that can protect your body against free radical damage.
A Comparison Of Their Products
Powder

This variant comes in nine all-natural flavors: banana, vanilla, peanut butter, salted caramel, caffé latte, chocolate, berry, original, and unflavored & unsweetened.
Out of all these Huel shake options, my personal favorite would have to be the classic vanilla flavor, which has the kind of sweet taste that I like.
This one has the same components as the v3.0, except that it contains 50% less carbohydrates, 33% more protein, no artificial sweeteners, and zero gluten.
The brand also added green tea extract to its formula, which is a great source of natural antioxidants called polyphenols.
The flavor choices are peanut butter, vanilla, coffee caramel, chocolate, and unflavored & unsweetened.
Hot & Savory
This newly-introduced solid food meal replacement is packed with all the goodness of whole foods, grains, and vegetables.
It comes in three incredible variants—Mexican Chilli, Tomato & Herb, and Thai Green Curry—flavored with real herbs and spices, which give it a burst of flavor while you lose weight.
Ready-to-drink Huel
If you absolutely have no time to prepare your food, this variant might be the perfect meal replacement option for you.
This drink comes in three flavors—vanilla, berry, and chocolate—packaged in a handy bottle. They taste best when chilled, so be sure to keep the bottles in the fridge so they're ready when you need them.
Huel powders are a great alternative for those seeking a balanced diet and a convenient meal replacement option. With all the nutrients you need in one shake, it serves as a satisfying and nourishing plant-based protein source. Whether you're looking to lose weight or simply enhance your body's nutritional intake, Huel powders offer a slightly sweet and refreshing experience when mixed with cold water.
Bars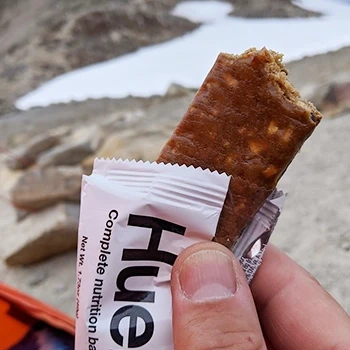 Instead of snacking on oily chips and fast food, grabbing a Huel Bar is something that your body will surely thank you for.
Huel Bars come in raspberry & white chocolate, peanut butter, salted caramel, chocolate, coffee caramel, and chocolate orange flavors.
These protein bars are just so tasty that they've been my favorite go-to snack for the past few weeks.
I love that each flavor contains vegan chocolate chips that give it an extra kick of sweetness, while the brown rice syrup and grape juice make them oh so soft and chewy.
See our list of the best meal replacement bars.
Pros
Each product contains a balanced macronutrient split to provide optimum nutrition
Formulated by a registered nutritionist and dietitian
Comes in a wide range of delicious, all-natural flavors
Each meal provides complete nutrition at an affordable price
The powder can be used to make recipes such as Butternut Squash Pizza, Pumpkin Tart, etc.
Cons
Some users experienced stomach issues and heartburn while taking these products
The powder is grainy and doesn't dissolve well
Any Side Effects?
Huel meal replacement products might cause side effects such as flatulence and discomfort when taken excessively. Each meal is nutrient-dense, and if you attempt to fulfill the recommended 2000 kcal daily food intake using Huel powder alone, you're bound to face some stomach troubles.
Doing so would give you 38.3g of fiber in a day. And if you're someone who isn't used to consuming so much fiber in your regular solid food diet, you would probably experience these symptoms.
"Nutrition should be the primary purpose of food, not texture and taste." - Julian Hearn
To avoid this, I would suggest using Huel only occasionally and not as a frequent replacement for cooked food.
The ideal range would be to use it for up to one or two meals a day, and only a few times a week. If you can use it less than this number, that would be better.
Where to Buy?
You can buy Huel meal replacement products from the brand's official website. The minimum required order for the Powder is two bags (34 meals), which is quite affordable considering it claims to be a full meal.
There's also the Black Edition, which is slightly more expensive. The brand says the Black Edition is a much healthier option.
You can buy three bags (21 meals) of the Hot & Savory option. This one, as well as the Ready-to-drink bottles, are way more expensive than the Powder and Black Edition.
The Huel Bar also requires a minimum purchase of two boxes (30 bars). The bars are more expensive than your regular protein bar, which is common in the meal replacement industry.
You can get 10% off the total price if you avail of a subscription, which you can edit and cancel anytime.
What Do Customers Say About Huel?

Here's what some customers say about Huel meal replacement products:
"I just received my first order yesterday. I bought the vanilla, strawberry, and chocolate flavors of the shakes. So far, I can say I like Huel. It's actually one of the best meal replacement shakes I've ever had. I'm very pleased!" - Ginger S.
"My wife is a registered dietitian and I'm in the military. We have three children, which means we are a BUSY couple. We thought we'd be hungry, but it's surprisingly filling that we even forget about food. A few of my colleagues have now placed their orders because of my glowing recommendation!" - John T.
"I love Huel! As an endurance athlete, their products help me stay fueled. I drink it in the morning and take it as a snack or post-workout meal later in the day." - Gary R.
How Does Huel Compare To Alternatives
Instant Knockout
Instant Knockout is a cutting-edge weight loss pill created by Roar Ambition. This substance may aid athletes in reducing fat, gaining muscle, and losing weight.
Both Instant Knockout and Huel feature a promising ingredient list that includes all 27 important micronutrients and a healthy serving of carbs, protein, vital fats, and fiber.
Huel only provides daily micronutrient levels as low as 17%, with many falling in the late teens to low twenties range. In comparison, Instant Knockout gives a considerably better minimum of 30% each, with the majority at 50% or more.
They are both dairy-free and nut-free, while Huel is also soy-free and gluten-free.
Garden of Life: Raw Organic Meal
Garden of Life Raw Organic Meal has around 20 grams of protein per serving. They employ an organic plant protein combination that includes pea protein, chia seed protein, and brown rice protein. Huel Powder, on the other hand, has around 25 grams of protein per serving, formed by a mix of pea, sunflower, and rice protein.
Garden of Life and Huel both provide a diverse range of minerals and vitamins in their products. Garden of Life meal replacement drinks provide critical vitamins and minerals like vitamin D, B, and C, and calcium, magnesium, and zinc. Similarly, Huel Powder is high in vital vitamins and minerals like vitamins A and K, iron, and iodine.
Garden of Life's Raw Organic Meal shake comes in several flavors: vanilla, chocolate, and gently sweet. These tastes come from natural sources and are made using organic ingredients. Huel Powder, on the other hand, comes in various tastes, including vanilla, coffee, chocolate, and berry.
Orgain Organic Meal
Orgain's vegan Organic Meal nutrition powder is made with all-natural ingredients and has approximately 20g of high-quality pea, chia seed, and brown rice protein in a single serving. Orgain does not utilize artificial flavors or preservatives; their meal replacement shake is GMO and gluten-free.
Compared to Huel, which comes with 17 servings per container and recommends a serving size of 2 scoops (100 g), Orgain Organic Meal comes with 16 servings per container and recommends a serving size of 2 scoops (57 g).
Both Huel and Orgain are high in protein content and are made of organic ingredients. However, Orgain is low in sugar and fat content, whereas Huel is high in carbohydrates and fats. Also, Orgain is low in fiber, while Huel is high in fiber.
FAQs
Is Huel Good for Losing Weight?
Yes, Huel is good for losing weight because it leaves you feeling fuller for longer, helping you eat less food. It's also low in sugar.
This product may also help you maintain and even gain weight.
Since every Huel calorie is already worked out, you'll surely find it easier to track your calorie intake and reach your target weight.
Can Huel Replace Every Meal?
No, Huel can't replace every meal. Although packed with essential vitamins and minerals, it's not designed to replace all meals since people need to consume various food types for their bodies to thrive.
Does Huel Really Work?
Unlike most meal replacement drinks, I was surprised to discover that Huel shakes actually tasted like real food.
And as we've demonstrated in this Huel review, each portion provides complete nutrition. It's packed with carbs, protein, fats, fiber, and all the essential micronutrients, which is everything that your body needs from the food you eat.
I always feel full after consuming their products, and the best part about that is knowing that I'm satisfied because I ate something healthy instead of junk.
If you're tired of the usual protein shakes that don't quite hit the spot, I believe Huel's product range might just be worth a try.
Huel powder is a versatile option that allows you to control exactly how many calories you consume while enjoying a range of Huel foods. Whether you're eating Huel in powdered form or opting for the convenience of Huel Ready-to-Drink, you can rest assured knowing that Huel is suitable for a vegan diet and contributes to a balanced diet. Additionally, adding ground flaxseed to your Huel meals can enhance their nutritional value.
WE APPROVE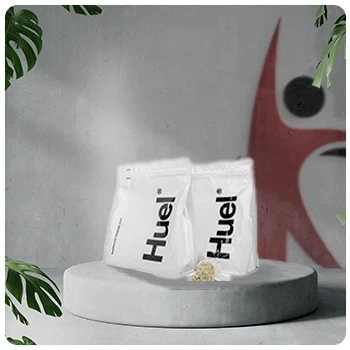 Pros
Each product contains a balanced macronutrient split to provide optimum nutrition
Formulated by a registered nutritionist and dietitian
Comes in a wide range of delicious, all-natural flavors
Each meal provides complete nutrition at an affordable price
Cons
Some users experienced stomach issues and heartburn while taking these products
Was this article helpful?