My dietitian always reminds me of the health benefits of spirulina powder -- it boosts your immune system and helps your body remove free radicals and heavy metals.
However, there are too many products available that might contain toxins or use processes that damage the nutrients.
So, we set out to do some research to find the best and safest options available.
Let's get to it.
Editor's Choice
Transparent Labs Prebiotic Greens
Click For Best Price
#2nd Best Choice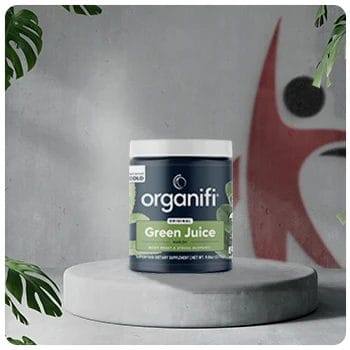 Organifi Green Juice
Click For Best Price
#3rd Best Choice
Pure Hawaiian Spirulina
Check Current Price
Our Top Products (May 2023)
1 - Transparent Labs Prebiotic Greens
Transparent Labs is possibly our favorite supplements company because they are completely open and honest about the ingredients.
And based on the combination of spirulina, chlorella, and prebiotics, our team came to the conclusion that this may be one of the best spirulina supplements.
It claims to be low in toxins and has no artificial additives that could cause gut flora problems.
Pros
Combines quality spirulina with chlorella for better detox
Provides a blend of 8g prebiotic fibers to help digestive health
Claims to improve gut flora to help with nutrient absorption
Contains no artificial ingredients or flavors
Cons
It has a slightly sweet flavor
Just try to water it down a bit as some people find the flavor to be a bit sweet.
2 - Organifi Green Juice
This is the first pure organic spirulina supplement on our list, where the entire product is sourced organically.
But it also goes beyond just spirulina.
With added plant super greens from many different sources [1], it claims to provide the right nutrition levels for a better heart, brain, and immune health.
That was quite a convincing bonus for us.
Pros
All ingredients are from organic sources for higher quality
Combines a long list of other plant super greens for an immune boost
Great discounts when signing up for a spirulina supplement subscription
Cons
You need to shake it for a bit longer to get it fully mixed
One thing we did notice is that it might be a bit stubborn to fully mix, so you may want a shaker handy.
3 - Pure Hawaiian Spirulina Powder
This organic spirulina is grown and packaged in the USA with the aim to give people the added peace of mind that it's not exposed to toxins.
We also tried mixing it with fruit salad and cereal, which seemed to work pretty well. Just take it easy at first to make sure you don't get too much of the algae taste.
Pros
High-quality spirulina from blue-green algae made in the USA
Suitable for mixing into morning cereals
Also available as spirulina tablets if you're not a fan of the powder
Cons
It does have a slight aftertaste
Compared to the above option, we did find that there is a bit of an aftertaste, but you could water it down a bit more.
4 - BN Organic Spirulina Powder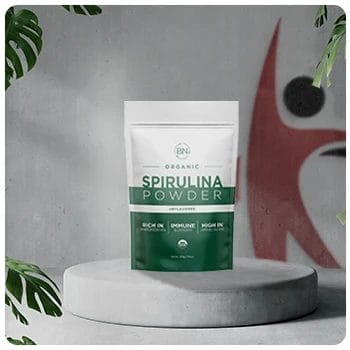 We're on a roll with organic spirulina powder, and what stood out for us with this product is the low heat processing [2].
This also seems to be a solid option for people looking for some mental energy, which we saw highlighted in several reviews.
Pros
Claims to use a low heat process to maintain nutritional benefits
Many reports that it may also promote mental alertness and focus
Also available as spirulina tablets which could be more convenient
Cons
It's not the best tasting product
The only thing we found is that the taste could be improved as you do tend to get the sense you're drinking algae.
But, you could always order this in tablet form instead.
5 - NOW Certified Organic Spirulina Powder
This USDA certified organic spirulina powder comes from a company that claims it's entirely sourced from sustainable production facilities.
This may also explain why they highlight it as pure spirulina with some added vitamins like A and B12 for heart and immune health.
Pros
Certified USDA organic sources of ingredients for added peace of mind
Claims to be one of the most sustainably sourced spirulina supplements
Good source of vitamin A and B12
Cons
You'll need to shake it a lot to fully mix
Unlike some of the other brand options, we found that it wouldn't just stir into the water but mixed well in a shaker.
6 - Sari Foods Organic Spirulina Powder
Sari Foods brings us this quality spirulina product where the content is sourced from freshwater lakes with optimum conditions for low toxicity.
There seems to be a lot of research and information on toxic substances in algae, which could pose significant health risks [3].
This may also be one of the better spirulina supplements to boost your amino acid intake due to the rich protein content.
Pros
Claims to be harvested from freshwater lakes for lowest levels of pollutants
Provides a good boost of protein
Good source of vitamins A, B12, and K
Cons
The full dose may taste a bit intense
One thing I would suggest is to mix the powder with quite a bit more water as this green superfood tastes quite intense at full dosage.
7 - Bulksupplements Spirulina Supplement
This is another supplement company that we have quite a bit of experience with, and it could be a great choice for athletes who need something rich in protein.
It covers quite a wide range of amino acids with some pretty good savings available if you buy one of the larger bulk order bags.
Pros
Uses organic spirulina powder for higher quality
Available in a bulk order container for some good savings
A good dose of essential and non-essential amino acids
Cons
Some reports about the bags not sealing properly after a while
One thing we did find with the seal on the bags is that it's sometimes a bit difficult to properly seal.
So, you might want to source a different type of container.
8 - LuRoot Organic Spirulina Supplement
If you're aiming for a higher dosage, then powder might become the less favored option. LuRoot solves this with organic spirulina capsules that seem to be easy to swallow.
This way, you could take more capsules to get more of the energy boost reported by quite a few users.
We should also mention that it's one of the cheaper options if you're on a budget.
Pros
Comes in convenient capsules that seem easy to swallow
Positive comments about the boost in athletic energy
Pretty good value for money
Cons
Tends to leave a slightly fishy smell
Despite being a capsule form, we did find that you eventually get a bit of fishy smell.
The solution?
Take it before a meal, which seems to avoid this.
9 - Natural Nutra Organic Spirulina Supplement
These vegan tablets contain a rich dose of organic spirulina, which has the advantage of being able to carry them with you to take at different times of the day.
Releasing the superfood in this way could help sustain your energy levels throughout the day.
It's also nice to see a money-back guarantee, so if you don't like the results, you don't have anything to lose.
Pros
Vegan tablets to make timing your intake easier
Available in a large bottle with bulk order discounts
Comes with a 30-day money-back guarantee
Cons
For the full dosage, you'll need to swallow six tablets daily
To get the full serving, you'll need to take quite a few tablets, which may be a bit much in one go.
10 - Dr. Mercola Spiru-Blue
The final spirulina supplement on our list also has a certified organic label for a more natural source of nutrients without common toxic stuff.
It also doesn't contain some of the allergens that many people suffer from, like soy and gluten.
Pros
Uses only organic ingredients to limit harmful heavy metals
90-day money-back guarantee for added peace of mind
Free of gluten, soy, and GMO ingredients
Cons
You need to remember to space out four tablets daily
Now, to get the full health benefit of the nutrients, you'll need to take four tablets. That might be best to do at different times, as some people might struggle to swallow them all in a row.
Buyer's Guide - Best Spirulina Supplement
When you're looking at different spirulina products, there are a few things that might ultimately make up your mind.
Here are four important things.
1. Check For Certified Organic Labels

If possible, choose certified organic spirulina.
Not because it has some magically high nutrition content, but it could ensure that you're exposed to fewer toxic materials.
The algae that are harvested would also be dried, purified, and concentrated, so any toxins could be further concentrated as well.
Organically grown gets a big thumbs up from us.
"Spirulina can be digested easily because of its structure where the cells do not have tough, fibrous walls."

- Katherine Marengo, Registered Dietitian
Related Articles:
2 - Avoid Artificial Additives
Try and get a pure spirulina powder so that your body only gets natural nutrients.
We saw it in quite a few products where food coloring, flavors, and sweeteners were added.
These have no benefit from a nutrition perspective and could potentially upset your healthy gut bacteria [4].
3. Potential Side Effects
If you don't buy organic spirulina, then taking large doses in the long term could potentially put you at risk of being exposed to heavy metals.
Even if the risk isn't high, it's best to avoid such products.
In rare instances, people could develop allergic reactions, and if that happens, then you may want to talk to your doctor.
Overall, though, you'll probably find that the health benefits far outweigh any possible side effects.
"Doses up to 19 grams per day have been used safely for up to 2 months. Lower doses of 10 grams per day have been used safely for up to 6 months. "

- WebMD.com
4 - Compare The Macros Per Serving
Believe it or not, but we found more than one company that added quite a high amount of sugar to each serving.
Doesn't sound like the nutrition your body would need to boost immunity, right?
So, always check the label for all nutrients, and not just protein. If it has a lot of carbs, then it might not be as pure as you'd want it to be.
FAQs
Is it safe to take spirulina every day?
Yes, it's safe to take spirulina every day as long as you stick to the recommended serving size of the product. If you aim for 10 grams of spirulina powder per day, then you should be safe for longer periods.
Who should not take spirulina?
Anyone with allergies to seafood, seaweed, algae, or chlorella should not take spirulina. Even in a pure form, this could trigger allergic reactions along with an upset stomach and nausea.
What does spirulina do to the body?
Spirulina has been shown to help the body improve its immune responses, which could help at different times of the year to fight disease. There is also increasing information from studies that it's rich in antioxidants, which could help detoxify your blood and organs.
Is spirulina safe for kidneys?
Yes, spirulina is generally considered safe for kidneys. With some studies showing that it could reduce blood pressure, this could even have a positive effect. However, if you have some sort of kidney disease, then it's always best to consult your doctor first.
Which One Of These Best Spirulina Supplements Will You Choose?
Of all the spirulina supplements we tested out, it came down to two products for the top spot.
Ultimately, only a vote was able to settle the debate, and we put Transparent Labs Prebiotic Greens in the top spot.
The combination of spirulina and prebiotics just seems to give it the edge when it comes to digestive, immune, and heart health.
Order yours today, and see how your physical and mental energy might change within a few weeks.
And don't forget to report back to us!
Our #1 Recommendation
Transparent Labs Prebiotic Greens
Click For Best Price
Pros
Combines quality spirulina with chlorella for better detox
Provides a blend of 8g prebiotic fibers to help digestive health
Claims to improve gut flora to help with nutrient absorption
Contains no artificial ingredients or flavors
Get the BEST PRICE until the end of May
Cons
It has a slightly sweet flavor
Was this article helpful?