As an experienced health and fitness professional, I understand the importance of quality nutrition for overall well-being.
Over the years, I've tried and tested numerous dietary supplements, and today, I'm excited to share my experience with one of them.
Supergreen Tonik is unique in its ability to fill nutritional gaps and provide numerous health benefits.
It has a powerful formula with organic ingredients that sets it apart from the competition and two flavored presentations.
Whether you're a fitness fanatic or someone seeking optimal health, this super greens powder stands out.
I'm committed to sharing my genuine insights on Supergreen Tonik's performance so you can improve your life ASAP.
What is Supergreen Tonik?
Supergreen Tonik is a comprehensive green powder formulated by ex-triathlete Adam Wright.
It includes a unique blend of 38 superfoods, adaptogens, and essential vitamins, designed to combat chronic fatigue syndrome symptoms, promote overall health, enhance mental clarity, and bolster the immune system.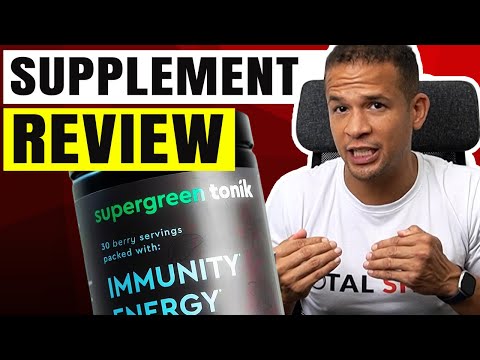 Our Rating
How Does It Work?
Supergreen Tonik works by delivering a mix of nutrients and superfoods that your body needs.
This blend enhances the immune system, boosts energy levels, supports cognitive function, improves sleep quality, and helps manage stress and anxiety.
After a few weeks of taking the powder, I've noticed a significant improvement in several aspects.
Here is my detailed analysis:
I noticed an energy level boost when testing it. This can be attributed to the potent vitamins and minerals in the formula, such as spirulina and kale, which are nutrient-dense superfoods.
I got reduced fatigue thanks to the ashwagandha and rhodiola components. These ingredients assisted in maintaining a sustained level of focus and mental clarity throughout the day.
It reduced my anxiety levels. The calming components, like lemon balm, join forces with ashwagandha to provide a soothing effect that lowers stress levels.
It improved my sleep. The formula's adaptogens also regulate stress hormones, leading to deeper, more restorative sleep.
"Kale should be promoted as a super food in all segments, particularly among the younger, lower-income, and less-educated sections of the population."

- Hanan A Alfawaz, Ph.D. Professor
Supergreen Tonik Ingredients
The Supergreen Tonik ingredients include organic greens blend, a nootropic blend, and an immune blend.
They boost heart health, brain function and can regulate blood glucose levels.
Check these scientifically proven ingredients you're ingesting when your drink Supergreen Tonik:
Garlic bulb extract (250 mg) [1]
Black pepper fruit extract (24 mg) [2]
Kale (2000 mg) [3]
Organic spirulina powder (2000 mg)
Organic collards leaf powder (2000mg)
Organic spinach leaf powder (1000 mg)
Organic barley grass powder (1000 mg)
Organic chlorella cracked cell wall powder (1000 mg)
Organic horseradish tree leaf powder (500mg)
Ashwagandha root extract (500 mg)
Ginkgo leaf powder (250 mg)
Bacopa leaf powder (500 mg)
Rhodiola root powder (500 mg)
Organic moringa oleifera (500 mg)
Dandelion leaf extract (500 mg)
Olive leaf extract (250 mg)
L-theanine (250 mg)
Stevia leaf extract (100mg)
Over the years, the non-essential amino acids and other organic ingredients have passed through exhaustive processes and controlled randomized clinical trials to refine the Supergreen Tonik formula.
For example, I didn't like the berry flavor in this super green drink and only drank mint. But I recently got a couple of berry-flavored Toniks, and they are great.
Supergreen Tonik Benefits
Supergreen Tonik allows you to stay free from radical damage, can reduce blood sugar levels, and has a detoxifying effect of keeping your body cleaner.
Taking Supergreen Tonik also brings other benefits. Here's what I've noticed since I started using it:
Potential reduction in cholesterol levels [4].
Energy level improvement that boosts revitalization throughout the day.
High contribution to digestive health.
Enhanced cognitive function and better stress management.
Focus and mental clarity improvement, thanks to ginkgo leaf.
Immune system and skin health improvement.
Overall productivity improvement when used in a balanced diet.
Antioxidant properties that improve mental clarity and lower blood sugar levels.
Learn More: Multivitamins Benefits For Bodybuilders
Pros
Supports immunity, energy, mental performance, sleep, stress reduction, and overall health
Includes clear information about the exact ingredient dosage​
One-year warranty
Uses only high-quality ingredients
Cons
Its effectiveness may vary according to the person using it
Are There Side Effects?
There haven't been any side effects since I started drinking Supergreen Tonik.
Most people generally tolerate ingredients like spirulina, chlorella, or ashwagandha.
Yet, here are some considerations when consuming this powder:
Spirulina and Chlorella: Some users may experience mild stomach discomfort.
Garlic Bulb: It might cause a mild body odor on rare occasions.
Black Pepper: Vast amounts might cause a slight stomach upset, but the quantity in Supergreen Tonik is within the safe range.
Ashwagandha: It could lead to drowsiness in very high doses.
Let me highlight that these side effects are infrequent. Moreover, the carefully calibrated blend in Supergreen Tonik is designed to maximize benefits while minimizing potential side effects.
How to Use This Superfood?
You can use the Supergreen Tonik by mixing a scoop with 12 oz (340 gr) in cold water.
This will provide you with all the nutrients you need.
And from my experience as a user, I've developed a routine to exploit its benefits fully and have a better lifestyle.
Here's how I usually incorporate this potent supplement into my day:
The first thing I do after waking up is to prepare a Supergreen Tonik mix. I add it to my morning smoothie. It enhances the taste and packs more nutrients than I need.
I take it daily to maintain a consistent supply for long-term benefits.
While some prefer taking it with their meals, I've found that consuming Supergreen Tonik before breakfast works best for me. It ensures maximum nutrient absorption, giving a kick-start to my metabolism for the day.
Remember that this is my personal routine, which I found effective in enhancing cognition, reducing anxiety, and boosting my immunity.
However, you should stick to the manufacturer's instructions and adjust your superfood intake based on your health requirements and preferences [5].
"The term "superfood" is linked to food that is beneficial to health. However, there is no legal or clear scientific definition, and little is known about individual perceptions of this food group."

- Gaby-Fleur Böl, Head of the Department for Risk Assessment
Who Should Take Supergreen Tonik?

The people who want to supplement their diet, improve their overall health, and have nutrient deficiencies are the ones who should take Supergreen Tonik.
Adam Wright also suggests that this powder could benefit people with chronic fatigue.
Here's more detailed information about the individuals that should take Supergreen Tonik:
Health-conscious People: Supergreen Tonik offers a convenient way to boost daily nutrient intake, particularly for those mindful of their health.
Busy Individuals: When time is scarce, nutrition suffers. Supergreen Tonik provides a quick, nutrient-dense solution for those with packed schedules.
Fitness Enthusiasts: Supergreen Tonik's natural energy boost makes it an excellent choice whether you hit the gym casually or are a dedicated athlete. Ingredients like ashwagandha and L-theanine help in post-workout recovery.
Stress and Fatigue Fighters: Supergreen Tonik's blend of adaptogens, such as rhodiola root extract and bacopa herb extract, is perfect for combating chronic fatigue, managing stress, and improving focus.
Immunity Seekers: Supergreen Tonik is the right pick for those aiming to fortify their immune system. Immune-enhancing ingredients like garlic bulb and olive leaf extract, along with the detoxifying benefits of dandelion leaf extract, make this an essential tool to fight viruses and diseases.
Who Shouldn't Buy It?
You shouldn't buy Supergreen Tonik if you're allergic to any ingredient or have medical conditions or dietary restrictions.
Here are other groups of people that shouldn't take the powder:
Pregnant or nursing women must speak to healthcare professionals before adding this to their regime due to potential side effects.
People with pre-existing medical conditions, especially related to liver or kidney health, should seek medical advice before incorporating this supplement. Certain ingredients might react with specific medications.
People under 18 need to consult a healthcare doctor. This is because most supplements are not evaluated for safety and efficacy in this age group.
Where to Buy Supergreen Tonik?
You can purchase Supergreen Tonik on their official website.
I found their page the best place to get one (or two). It's not just about authenticity but also the exclusive offers that come with buying this highly rated greens powder directly.
Here's a breakdown of their pricing to give you a clearer idea:
A one-month supply costs $87, which is around $2.85 per serving.
Opting for a three-month supply costs $227, making it approximately $2.52 per serving.
The six-month supply at $377 is the best value, reducing the cost to just $2.09 per serving.
When purchasing from their official site, you have a one-year guarantee, which gave me added assurance in my purchase.
You can also get it on Amazon and other stores. However, I can't give a vote of confidence about the product's quality or process if you get the Tonik in other stores.
I've seen that people usually complain when purchasing from other places rather than the main site.
Still, always compare prices and deals on all platforms before finalizing your purchase.
Our Rating
Shipping and Delivery Details
Supergreen Tonik dispatches orders within one business day through trusted carriers like FedEx, UPS, or USPS.
Once shipped, you receive an automated shipping notification via email for tracking your order.
For those in the continental US, your order typically arrives within 3-7 business days.
For international orders, expect your package to arrive within 10-21 business days, depending on your country of residence.
Supergreen Tonik Honest Testimonials
"I like the Supergreen Tonik taste, and the effects of the product seem positive. I wake up excited to start my day with a glass. It definitely helps me feel sharp and energized throughout the day."

- Drew, from California
"I love the taste-super easy; goes into solution very easily. I like the way I feel drinking it every morning."

- Wanderlust, from Virginia
"I like this greens drink mix quite well. I've tried many greens powders and have been using them for several years now and am a believer in the health benefits - and this one might well be better than most."

- Pmb, from Florida
Alternatives to Supergreen Tonik
This Supergreen Tonik review compares three alternatives if you want to test your options.
Don't forget that Supergreen's producer, Human Tonik, produces Red Tonik, which we also reviewed.
Yet, I haven't found a solution that includes organic spirulina powder, ashwagandha root extract, organic spinach powder, garlic bulb extract, bacopa leaf powder, and rhodiola root powder in the same drink.
Green Juice - Organifi
Organifi Green Juice is a dried powder that bolsters immunity, stimulates fat burning and facilitates daily detoxification.
With 11 nutrient-rich superfoods, this blend stands out from the usual mix of common veggies.
The ingredients undergo an extraction and drying process, making it an easy-to-consume daily green powder supplement.
However, the taste may be an issue for some, and too expensive for the benefits offered, especially compared to Supergreen Tonik's 17 superfood ingredients.
Beyond Greens - Live Conscious
Beyond Greens by Live Conscious is a greens powder supplement focusing on immune health, energy, and digestion. It aims to boost well-being through gut health, using a mixture of nutrients and probiotics.
While this green powder offers some benefits, it lacks the ingredient diversity found in Supergreen Tonik.
Some users also report an off-putting taste, making it less attractive than other options.
Supergreen Tonik surpasses Beyond Greens in providing wide-ranging nutrients. Its superior taste and complete formula encourage individuals to drink it regularly, reinforcing its advantage over Beyond Greens.
Supergreens - Plantrise
SuperGreens is a powder blend of 72 ingredients that promises various health benefits.
It can lower blood pressure, reduce anxiety, chronic fatigue syndrome, brain fog, chronic illnesses, vitamins and minerals, and more.
However, this Supergreen Tonik distinguishes through transparency by offering a detailed list of ingredients and their exact doses per serving.
FAQs
What Makes Supergreen Tonik Different from Other Greens Powders?
What makes Supergreen Tonik different from other greens powders is the company's transparency. They make customers aware of what they're ingesting, compared to many competitors that employ proprietary blends, obscuring the precise doses of ingredients. They are also constantly improving their flavors over time.
Is Supergreen Tonik Vegan?
Yes, Supergreen Tonik is entirely vegan-friendly.
Should I Take Supergreen Tonik Daily?
Yes, you should take Supergreen Tonik daily for optimal results and benefits.
Are Green Powders a Meal Replacement?
No, green powders aren't a meal replacement. If you drink Supergreen Tonik or other green juices, you should still eat food to meet daily calorie values. This super green drink is only a dietary supplement.
Supergreen Tonik Review: Is the Right Superfood Supplement for You?
Supergreen Tonik is a must-have for improving your overall health and well-being when using green powders.
Whether you're battling fluctuating energy levels or struggling to strengthen your immune system, my research shows that this powder is your answer.
With plant-based superfoods, adaptogens, a nootropic blend, a brain blend and nutrients in effective dosages, this powder offers a holistic approach to health.
It boosts energy and immunity, enhances mental performance, and promotes quality sleep.
Having personally experienced this supplement's benefits for one year, I've found it to be a practical, no-nonsense approach to holistic wellness.
You can trust this greens supplement, its commitment to quality and its ingredients.
Our Rating
Pros
Supports immunity, energy, mental performance, sleep, stress reduction, and overall health
Includes clear information about the exact ingredient dosage​
One-year warranty
Uses only high-quality ingredients
Get the BEST PRICE until the end of September
Cons
Its effectiveness may vary according to the person using it
Was this article helpful?