When clients come to me for advice on gaining an energy boost for their workouts, I usually have a few trusted pre-workouts to recommend. But as a team of personal trainers, we always look for new products to test out and research.
And when one of my long-term clients asked me to help him figure out if The Curse from Cobra Labs was any good, I jumped on that opportunity.
Like all previous pre-workout supplements that I have researched, I relied on my dietitian to provide insights on the ingredients and a few clients and our team to help test it.
Here's what we found as part of our The Curse pre-workout review.
What Is The Curse?
The Curse is a new supplement created by Cobra Labs in 2020. With its scientifically proven formula, this pre-workout powder promises to deliver huge muscle pumps and promote tunnel vision mental focus.
That set off our alarm bells.
Usually, the more extreme the promises are, the more a company has spent on marketing rather than on real product development.
It is based on natural ingredients like beta-alanine, L-citrulline, caffeine, and olive leaf extract, and we'll get into more detail on those shortly.
What we did like is that Cobra Labs has come up with a wide range of flavors, including blue raspberry, lemon rush, tropical storm, and green apple.
What Are the Benefits of the Curse Pre-Workout?
The benefits of the Curse Pre-Workout are improved muscle pump, enhanced mental and physical performance, and increased fat loss.
We noticed that, unlike many other pre-workouts, the formula is relatively simple with a short list of ingredients.
This includes L-citrulline, which may help with nitric oxide production and a better muscle pump [1].
We liked that it contains some caffeine, which may help both mental and physical performance and trigger some thermogenesis to gain control over fat storage [2].
Based on our tests, users experienced about a 15% increase in their energy levels and a 10% increase in focus.
"If you feel that your anxiety is increasing due to caffeine, or it's making you feel anxious, speak to your doctor about the right amount for you."

- Scott Frothingham, Health Editor
There are many flavors to choose from, with my favorite flavor being the orange mango. And from a price perspective, it works out pretty reasonable per scoop.
Does The Curse Have Downsides?
Yes, the Curse has some downsides, including its proprietary formula. That means you know what's in it, but not the exact amounts.
If you regularly stack your pre-workout with other ingredients and supplements, this becomes very difficult.
While it does contain the Fuel Blend: beta-alanine+creatine monohydrate, it doesn't look like the combined 3,000 mg is enough to make the mind-blowing difference that the company claims.
Typically, we'd like to see at least that amount for beta-alanine alone.
Pros
The formula seems to work well for muscle pumps
It also contains caffeine to help it work as a fat burner
It works out pretty reasonable on a per workout basis
Comes with a great choice of flavors to avoid getting bored of just one
Cons
Cobra Labs has decided to hide the exact formula behind a proprietary blend
The formula doesn't seem strong enough for an intense pre-workout
How Do The Curse Ingredients Work?
Next, for our The Curse pre-workout review, we looked at the active ingredients and researched them with our dietitian. As mentioned above, we can't tell you the exact amounts of each due to a proprietary blend that we generally don't like to see with pre-workouts.
Energizing Muscle Fuel Blend
The energizing muscle fuel blend aims to trigger an increased energy delivery to your muscles. The combination of beta-alanine and creatine is positive, and one study has found a positive impact on body composition [3].
The main problem we see is that the dosage of 3,000 mg looks lower than what studies have shown to be effective [4].
In fact, our tests showed only a 5% increase in muscle pumps compared to a 20% increase when using a competitor's product with higher dosages.
Beta-alanine
Creatine Monohydrate
Citric acid
Blood Flow Amplifier Blend
The blood flow amplifier blend aims to boost your nitric oxide production, and the chosen ingredients here are positive. Both may help improve blood flow, and we did notice some good pumps [5].
L-citrulline
L-arginine alpha-ketoglutarate
Mind Control Matrix
The mind control matrix ups the focus and motivation. There are great studies that confirm the focus effect of caffeine, but we weren't able to get enough evidence for the olive leaf extract [6].
Caffeine Anhydrous
Olive leaf extract
Where Can You Buy The Curse?
You can buy The Curse in a few online stores and on Amazon, the most reliable place to get it.
We ordered a few flavors at different times, and with an Amazon Prime account, they arrived in 2 to 3 days.
That's about normal and good turnaround time.
The problem we did have a few times is that not all flavors are always in stock.
That means you could be running low on your supplies and may need to pick a different flavor.
How Does The Curse Compare To Other Products?
We compared The Curse to other products like 4 Gauge, Gorilla Mode, and Transparent Labs PreSeries. Here's what our data showed.
4 Gauge
This is a pre-workout supplement created by Roar Ambition to help you increase your muscle growth, enhance your physical performance, and increase your mental focus.
For both citrulline and creatine, 4 Gauge has a much higher dose, and it also contains L-theanine, which studies have shown to promote extreme mental focus [7]. And it's that combination that gives athletes that extra edge.
"Creatine is an amino acid supplement often marketed to bodybuilders and dieters to help build lean muscle and reduce body fat."

- Bonnie Singleton, Writer
Gorilla Mode
Gorilla Mode is another pre-workout supplement that we've had good results with.
It is packed with potent ingredients like agmatine, creatine, and betaine to maximize pump and athletic performance. Our pro bodybuilders especially love it because it has the highest citrulline dose we could find.
Transparent Labs Series
And then there's Transparent Labs PreSeries, a pre-workout supplement that increases muscle synthesis and mental energy.
It has some added BCAAs that could be great for muscle growth and getting you prepared for recovery time as well [8,9]. It also has a generous amount of citrulline, allowing you to push your limits during each workout session.
Our client test results just showed that these are quite a bit more effective.
Other pre-workouts we've reviewed:
The Curse User Reviews
The last thing we did for The Curse pre-workout review was look at some online user reviews to see what other people think. Here are two that we found interesting.
Jeff is a big fan of the flavors and likes the solid pumps he got. He still uses this pre-workout supplement because of the favorable price, and when he does need a bigger energy boost, he takes more than one scoop.

- Jeff From Augusta
Alex was looking for some help in bulking phases but had limited results with Cobra Labs The Curse. He just didn't find that his energy levels increased enough, so he eventually switched to a different supplement.

- Alex From San Diego
FAQs
Is The Curse Pre-workout Banned?
No, The Curse Pre-Workout isn't banned. It's entirely based on natural ingredients that aim to create a small but natural energy booster for muscle growth.
When Should You Take the Curse Pre-workout?
You should take The Curse Pre-Workout about 20 minutes before starting your warmup. That gives your body time to absorb the ingredients to get the peak results during training.
Should You Invest In The Curse Pre-Workout?
Our conclusion for The Curse pre-workout review is that it's not quite good enough to make our recommended list. Yes, it is cheaper than most other products, but you'll probably see limited results.
And if you plan to take more than one scoop, then it's no longer going to be that cheap.
If you want to see the best results for muscle mass and to decrease muscle fatigue at the same time, then Gorilla Mode is your best choice.
With theanine, creatine, and citrulline, we find it delivers on its promises with a single serving and gives you great focus as well.
We Recommend This Product Instead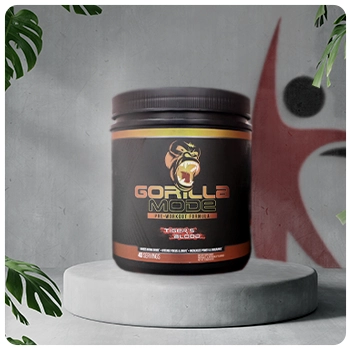 Click For Best Price

Pros
Contains nitric oxide for insane pumps
Many positive comments about good endurance and energy boost
High dose of caffeine may help with mental focus and fat burning
Tastes good
Get 10% off using code:

TOTALSHAPE
Cons
Does not list calorie count
Was this article helpful?