As a certified fitness coach, I've had clients asking about the benefits of muscular endurance training and the exercises that boost endurance.
My research found that muscular endurance training program can help you gain overall strength, enhance your posture, and lower the risk of injury.
In this article, I will provide my findings and experiences on the best exercises for endurance, the benefits of performing these exercises, and tips to improve your muscular endurance.
Quick Summary
Muscular endurance refers to a muscle's capacity to be active for lengthy periods while resisting or recuperating from exhaustion.
Like anything else, the greatest approach to building muscular endurance is to test it with progressive overload.
To increase muscular endurance, you must perform more reps and extend the duration your muscle groups are under tension.
Best Exercises for Endurance

1. Push-ups
Bodyweight workouts such as push-ups are excellent for endurance. One push-up is simple, but 50 and 100 push-ups are challenging, which is where muscular endurance gets into play.
Maintain a firm core throughout the push-up. Also, keep your torso straight without sinking in the midsection or arching your back.
You May Like: Push-Up Alternatives for Your Next Workout
2. Plank
Planks are one of the most fundamental muscular endurance workouts.
They train your core endurance and your legs and arms to a lesser extent.
Increase the time spent in the plank to push yourself toward improvement - start with 45 seconds to 1 minute if you're a novice.
3. Lunges
Lunges are another type of muscular endurance exercise that focuses on the legs.
At the same time, they aid in improving balance and mobility, in addition to the minor stabilizing muscles in the hips, ankles, and knees, which are sometimes overlooked.
Also Read: Enhance Your Fitness Routine With Side Lunge Stretch
4. Jump Rope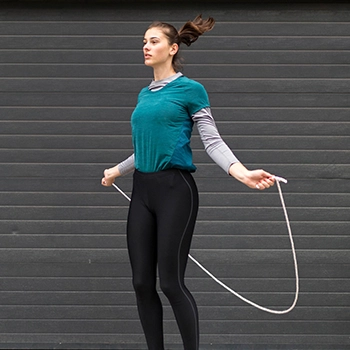 Jumping rope is terrific since it can be done anywhere and provides an excellent workout. They are great to train muscular endurance.
It improves your stamina while being surprisingly low-impact since it requires you to maintain proper form and land on the balls of your feet.
The rope will immediately stop if you lose proper posture or technique.
Take a jump rope and do 10 minutes while pausing if needed. Increase the time and pace as you improve and try more complex versions.
5. Jumping Jacks
Jumping Jacks are great exercises to build muscular endurance. They are full-body workouts targeting the lower, upper, and core muscles.
Jumping jacks are categorized as cardiovascular exercise since they raise your heart rate.
You can also assume a squat position and perform a squat jump.
"Jumping jacks can particularly enhance aerobic capacity, lower resting heart rate, and blood pressure, lower the risk of heart attacks, improve metabolism, and aid in weight maintenance."

- Clara Baini, Doctor of Physical Therapy & Pilates Instructor
6. Crunches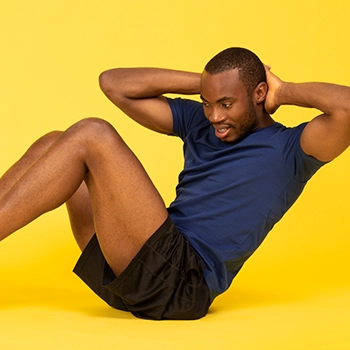 Crunches primarily target the abdominal muscle groups and teach them to perform in a coordinated way.
Crunches assist in strengthening abdominal muscle endurance.
It has been noted that those who conducted crunch a day weekly had enhanced muscular endurance despite being novices in abdominal muscle conditioning activities.
Continue to increase the rep range to produce progressive overload and build endurance.
7. Running
Running is a type of cardio that also serves as an endurance workout.
It's mostly for your legs, and to reap the advantages of endurance, you should run at a slower speed over a greater distance (rather than quick sprints and interval work).
Related:
8. Burpees
Burpees are full-body exercises that include various activities such as the squat, plank, and push-up.
Burpees are frequently used in high-intensity interval training and aerobic exercises.
They are full-body exercises that target the calves, hamstrings, triceps, quads, pecs, abs, and other upper-body muscles.
Instead of just doing one bodyweight power activity, you do three back-to-back fast-paced actions, with a jump in between to raise your heart rate.
How To Improve Muscular Endurance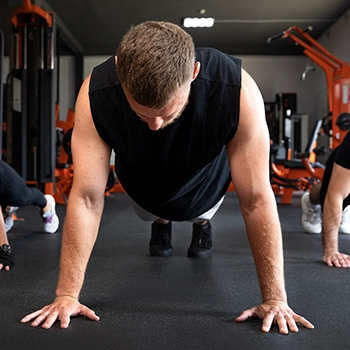 Increasing the duration a muscle is contracted throughout an activity is one way to improve muscular endurance. This might include increasing your reps for a particular activity or muscle group [1].
Similarly, performing high-volume sets may be a proper training method for developing muscular endurance. Just keep in mind that the load may need to be reduced.
For instance, if you regularly bench press for three sets of 8-10 repetitions, you may switch to two sets of 25-30 repetitions.
Another method is to extend the duration you maintain a contraction. Isometric contractions, by definition, develop your muscle groups for endurance [2].
This may be done with a plank. This exercise will primarily target the abdominal and other core muscle groups.
Research indicated that exercising the plank five or more times weekly resulted in the greatest increases in ab endurance [3].
The essential goal, regardless of approach, is to consistently push your muscles as you grow, whether by attempting to accomplish more repetitions or holding a position for a prolonged period.
Benefits of Endurance Exercises

The benefits of exercising and boosting your physical endurance using the abovementioned exercises are listed below.
Reduced injury risk: When muscles perform better, for longer, before hitting a level of exhaustion, you're less likely to incur joint or muscle injuries.
Cardiovascular health: Several endurance activities can also be used as cardio workouts, providing extra advantages for heart health and general fitness.
Weight loss: As previously stated, the nature of many endurance workouts helps you burn more calories than you and lose weight fast.
Athleticism and functional strength:

Having the endurance to sustain power output beyond a few reps makes it simpler to adapt your strength gains outside of the gym, whether for everyday tasks, sports, boxing, or anything else.
FAQs
What Is the Fastest Way To Build Endurance?
The fastest way to build endurance is by regularly performing high-intensity interval training (HIIT) and aerobic endurance training that challenge your heart and lungs.
What Are 5 Muscular Endurance Exercises?
The 5 muscular endurance exercises are the burpee, push-up, squat, plank, and sit-up.
How Do You Train for Maximum Endurance?
You train for maximum endurance by carrying out interval training workouts (for instance, 5 x 4 minutes) or one long session of 15 minutes. Each interval should last at least 3 minutes to guarantee enough aerobic exercise.
Supplementing Your Endurance Exercises
Endurance takes longer to develop than in other areas. That is the nature of the energy system. It all comes down to gradually boosting your capacity through longer exercises with higher repetition ranges.
Stick with your endurance exercises and attempt to have a consistent workout plan, just like any other training type.
And for the energy and pump required to put your muscles into more tension and be active for longer, incorporate these best pre-workout supplements into your workout routine.
Upon testing, we found that they boosted athletic performance, and we could complete our sets and repetitions without much muscle fatigue.
---
References:
https://www.ncbi.nlm.nih.gov/pmc/articles/PMC5615216/

https://pubmed.ncbi.nlm.nih.gov/34250556/

https://www.ncbi.nlm.nih.gov/pmc/articles/PMC4096102/
Was this article helpful?