Remember those juicy, colorful squares or jelly beans from your childhood?
Coming in varieties of different colors, Starburst products are bursting with sugary sweet goodness in every piece. You could even say that they "taste like the rainbow" (sorry, Skittles).
But while our childhood memories may never change, our taste buds and dietary habits certainly will.
That's why today we're turning to our expertise to answer the question of "are Starburst vegan?" and reveal a tidbit of information that just might result in a change of taste.
Quick Summary
Starbust are not vegan bearing in mind gelatin, one of the ingredients used is derived from animal meat.
The ingredients used in Starbust include corn syrup, gelatin, natural flavors, artificial flavors, kernel oil, and coloring, among others.
The best vegan startbust alternatives are airheads, twizzlers, jolly ranchers, dots, and sour patch kids.
Starbust are made in a similar manner like jelly toffee.
Are Starburst Minis Vegan?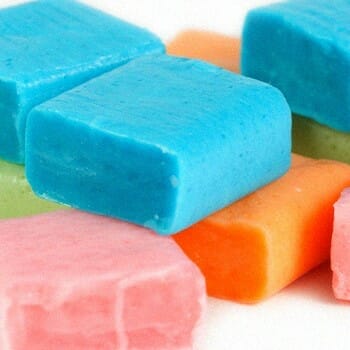 Are Starburst gummies vegan? To answer the question, we turn to the ingredients list:
INGREDIENT LIST: Corn Syrup, Sugar, Hydrogenated Palm Kernel Oil, Fruit Juice from Concentrate (Apple, Lemon, Strawberry, Orange, Cherry), Less than 2% Citric Acid, Tapioca Dextrin, Gelatin, Modified Corn Starch, Natural and Artificial Flavors, Ascorbic Acid (Vitamin C), Coloring (Red 40, Yellow 5, Yellow 6, Blue 1).
Uh-oh! At a closer look, we can see that Starburst candies contain the ingredient gelatin.
Unfortunately, the ingredient is also known as collagen, which is made up of an assortment of animal products like tendons, ligaments, and bone char. This means Starburst candies are not fit as vegan candy.
Also Read:
How Is It Made?
Thinking of making your own homemade Starburst candies? Like how other taffy candies are made, Starburst fruit chews follow a similar process.
Here's the simple 3-step breakdown:
The ingredients that make up Starburst are mixed in a large vat until everything is blended correctly together.
From there, the mixture is stretched and pulled. This allows air bubbles to enter the mix and aerate it, making Starburst candy chewy.
Lastly, the fruit chews mixture is allowed to cool, separated into cubes, and wrapped up in plastic to be shipped to your local supermarket.
All this is done in a factory via robots precisely calibrated to handle these procedures. Produced by Wrigley Company, Mars Incorporated, Starburst is a brand of taffy candy fruit chews with an explosion of flavors.
It comes in various flavorings, which you're probably familiar with.
Original Starburst natural flavors include strawberry, lemon, orange, and my personal favorite - cherry. They also come in tropical flavors for those looking for a more fruitful and exotic taste.
6 Best Vegan Alternatives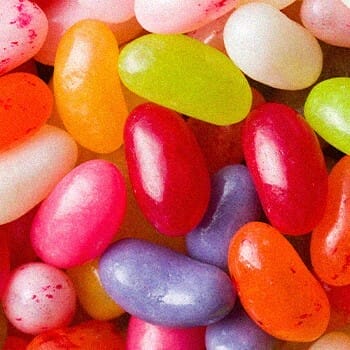 As Starburst jelly beans and chews, Starburst minis and other products contain an animal-based ingredient, they may not be very appetizing to vegans conscious about their diet.
However, that doesn't mean all candies are off the menu - there are other brands of candy that are vegan friendly and safe for vegan consumption.
Let's take a look at the ingredient lists of alternative vegan candy products to Starbursts.
1. Airheads
Ingredients: Sugar, Corn Syrup, Maltodextrin, Dextrose, Modified Food Starch (Corn), Partially Hydrogenated Soybean Oil. Contains less than 2% of: Water, Citric Acid, Artificial Flavors, Blue 1, Red 40, Yellow 5, Yellow 6.
For intellectuals and dunces alike, Airheads offer a taffy-like texture similar to Starburst.
The difference comes down to their ingredients; Airheads do not contain gelatin and, as a result, are fit for vegan consumption. T
The same cannot be said for their soft-filled bites, however, which are not vegan.
2. Twizzlers
Ingredients: Corn-based Syrup, Wheat Flour, Sugar, Cornstarch, Palm Oil, Salt, Artificial Flavor, Glycerin, Citric Acid, Potassium Sorbate, Red 40, Soy Lecithin.
What's twisted, chewy, and has the potential to be made into a makeshift straw?
When you're not playing around with these bendy strawberry-filled licorice sticks, you'll be glad to know that Twizzlers are vegan as they do not contain gelatin or animal testing byproducts.
Even though they are vegan, individuals with gluten allergies should stay away from Twizzlers, as it does contain wheat.
3. Jolly Ranchers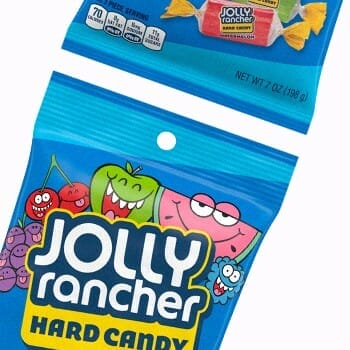 Ingredients: Corn Syrup; Sugar; Contains 2% Or Less Of: Malic Acid; Natural And Artificial Flavors; Artificial Color [Red 40; Yellow 5; Blue 1; Yellow 6]; Mineral Oil; Lecithin (Soy).
Producing hard candies, lollipops, jelly beans, and more comes one of America's favorite candy brands known as Jolly Rancher.
This Starburst alternative contains no gelatin in their original Jolly Ranchers, lollipops, and jelly beans, giving vegans another option when it comes to satisfying that sweet tooth.
However, other products like their gummies and soft chews are quite the opposite and should be avoided.
Additionally, their Jolly Rancher Sour Bites contain lactic acid, which can be derived from dairy milk. Just one more ingredient for vegan-consciousness individuals to be aware of when looking at the label.
4. Skittles
Ingredients: Sugar, Corn Syrup, Citric Acid, Concentrated Fruit Juice, Hydrogenated Palm Oil; Less than 2% of: Tapioca Dextrin, Modified Corn Starch, Natural and Synthetic Flavors, Colors (Red 40 Lake, Blue 1 Lake, Blue 2 Lake, Yellow 5 Lake, Yellow 6 Lake, Red 40, Blue 1, Yellow 6, Titanium Dioxide), Sodium Citrate, Carnauba Wax.
Feel the rainbow; taste the rainbow.
Unlike the pun earlier that stole this trademarked slogan, Skittles candy does not succumb to the same outcome that Starburst does.
This means vegans can rejoice in tasting the fruitful colors of the sky without worrying about violating their dietary habits.
5. Dots
Ingredients: Corn Syrup, Sugar, Food Starch-modified, Malic Acid, Natural And Artificial Flavors, Sodium Citrate, Artificial Colors.
With more than 4 billion Dots produced each year, these uniquely shaped gumdrops can be found in stores and households worldwide [1].
There's no gelatin or gluten trace to be found, making them another great vegan option. Additionally, they're also a kosher and peanut-free product.
Who knew Dots could appeal to such a broad audience?
6. Sour Patch Kids
Ingredients: Sugar, Inverted Sugar, Corn Syrup, Modified Corn Starch, Tartaric Acid, Citric Acid, Natural and Artificial Flavor, Yellow 6, Red 40, Yellow 5, Blue 1.
With no gelatin in these sweet and sour candies, they're yet another enjoyable vegan option. However, don't be fooled into thinking any candy that contains gelatin is non-vegan.
Some Sour Patch Kids candies contain gelatin but are still considered vegan friendly!
How is this possible? Instead of using traditional gelatin derived from animals, this type of gelatin is known as agar.
Agar is derived from algae (which is a plant), making Sour Patch Kids a vegan friendly product regardless of whether it contains gelatin or not.
So don't feel disappointed if your favorite candy brand contains gelatin.
After all, if plant-based meats can be made to look and taste like the real thing, who says you can't do the same thing when it comes to candy?
FAQs
What Kind of Gelatin Is in Starburst?
The types of gelatin found in Starburst candy are beef and pork.
Is there dairy in Starburst?
No, Starburst does not contain dairy or any gluten. While Starburst may not be vegan friendly, it is safe for those that suffer from these types of allergies.
Also read: Is there dairy in Krispy Kreme Donuts?
Are Starburst Jelly Beans Vegan?
Starburst Jelly Beans are not vegan. The same type of animal-based gelatin is used for Starburst gummies, Starburst minis, and Starburst jelly beans.
So, Are Starburst Vegan?
Starburst products, bursting with flavour, are a part of almost everyone's childhood.
But for individuals that have grown up and adopted a vegan friendly lifestyle, it is unfortunately off-limits.
As tasty as it may be, the gelatin that makes up Starburst is derived from animal meat such as beef and pork.
And yes, we know as tempted as you are to recoil in horror at the thought of chewing on animal tendons, not all hope is lost. There are a lot of other vegan candy alternatives.
For those that love the taste of Starburst but want to keep things vegan, opt to simply make them at home! That way, you can control the ingredients that go into your favorite fruit-flavored candy.
Who knows, your batch of Starburst might even taste better than the original. Just make sure to share whether you liked the taste of your homemade vegan starburst candies!
---
References:
https://www.vegknowledge.com/vegan/are-dots-vegan/
Was this article helpful?