Compared to some other mainstream fast-food restaurants, Denny's has quite a few tasty vegan options.
Although most menu items are off-limits to vegans, there is still a plethora of vegan meals - you just need to know how to order them.
So, whether you're craving just a simple snack or a filling lunch, it's likely that you'll find what you need on Denny's menu.
Quick Summary
The Vegan options at Denny's are oatmeal, hearty breakfast skillet, french fries, sweet petite corn, English muffins, toast, and red-skinned potatoes.
Denny's isn't bad for vegans as there are different meals to choose from ranging from breakfast, lunch, dinner, desserts, and sauces.
There are plenty of vegan meals at Denny's that are nutritious and healthy.
Denny's have confirmed that all their vegan options are 100% plant based.
Vegan Options at Denny's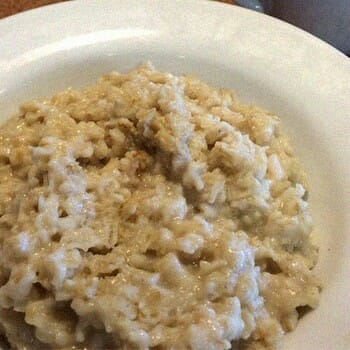 1. Vegan Breakfast
Even the breakfast menu at Denny's has a couple of excellent vegan options to choose from, both sweet and savory ones:
Oatmeal: Make sure they are made with water instead of milk
Grits: Ask that they be made with water instead of milk.
Regular English muffin: Skip the gluten-free one since it contains some dairy ingredients. Instead of butter, ask for jam or jelly.
Hash browns: Adding mushrooms, bell peppers, onions, and avocado can make them extra nutritious
Toast: Ask for multigrain wheat, potato, or seven-grain bread, and use jam or jelly instead of butter.
Red-skinned potatoes
2. Vegan Lunch & Dinner
If you decide to go for one of their juicy sauteed vegetable skillet-choices, request your order to be prepared without butter or margarine before you chose one of these:
Hearty Breakfast Skillet - Ask for it without eggs, sausage, or cheese.
Fit Fare Veggie Skillet: A rich mix of veggies that includes seasoned red-skinned potatoes, mushrooms, fire-roasted bell peppers, onions, and broccoli, served with a side of salsa. The topping is a mix of egg whites scrambled with grape tomatoes and fresh spinach. To make it vegan, ask the staff to omit the egg whites.
Santa Fe skillet: Ask for it without chorizo sausage, eggs, or cheese.
Supreme Skillet: This veggie combo featuring fire-roasted bell peppers & onions, mushrooms, grape tomatoes, and seasoned red-skinned potatoes is topped with Cheddar cheese and eggs, so order it without sausage, eggs, or cheese.
3. Vegan Sides
Broccoli
French fries
Fresh sautéed zucchini and squash (not available in all locations)
Garden salad (with balsamic vinaigrette, French dressing, or Italian dressing)
Sweet petite corn
Whole grain rice
Seasoned fries - A classic plant-based option, these fries are covered in delicious seasoning. If you're looking for something healthier, try a plain baked potato topped with steamed broccoli and salsa.
4. Vegan Sauces
The Bourbon Sauce at Denny's is vegan. The BBQ, Five Pepper, and Mango Habanero Sauce are also vegan.
Also, note that the All-American sauce (egg), Buffalo (milk/dairy) are NOT vegan.
Balsamic Vinaigrette, French dressing, Italian dressing, Barbecue sauce, and other common condiments (ketchup, mustard, etc.)
You can also get some Jellies or Maple Syrup to go with your oatmeal, English-Muffin, or toast - they're vegan, absolutely delicious, and you can get them free of charge.
5. Vegan Desserts
Unlike savory vegan options at Denny's, the list of vegan-friendly sweets and snacks, the list is significantly shorter. It only includes seasonal fruit, a pack of saltines, or a side of tortilla chips (minus the cheese) with salsa.
Can Vegans Eat Denny's Veggie Burger?
Yes! As of January 2020, Danny offers Beyond Burger - a 100% plant-based burger served on a multigrain bun with tomato, red onions, lettuce, and pickles.
However, it also comes with cheese and an All-American sauce by default, which are non-vegan, so make sure to omit those, and you're all set.
Beyond Burger is now available at over 1700 Denny's locations. You can even add fries to your burger!
You Can Build Your Own Burger
If you'd rather skip the Beyond Burger, you can make your own. Choose the whole-wheat or brioche bun and the veggie patty.
You can size up your order by adding an extra patty for $1.50. Order it without cheese and choose some of these toppings: sliced jalapeños, fresh avocado, barbecue sauce, bourbon sauce, sautéed mushrooms, ketchup, mustard, or grilled onions.
Are Their Tortillas Vegan?
Yes! Denny's tortillas are vegan-friendly, and they go great with the veggie skillet meals.
Is Denny's Suitable for Vegans?
See, it's not that bad to be a vegan at Denny's after all!
Denny's vegan menu includes a plant-based burger, super-delicious vegan french fries, an array of sauteed vegetable skillet meals, oatmeal (minus the milk), toast, English muffins, and hash browns, amongst other tasty choices.
Have you tried any of Denny's vegan options? What would be a vegan option at Denny's you would try first?
Let us know in the comments.
Was this article helpful?