Preparing and sticking with a diabetic diet plan is overwhelming, especially if cooking isn't your cup of tea.
Still, the risk is serious if you neglect your health condition and fail to keep your diabetes under control or hopefully prevent it. [1]
Luckily, you can enjoy a diabetes-friendly diet without the hassle.
We've tested and selected the top 10 best meal delivery services for diabetics.
Pick your favorites and start getting nutritious meals delivered straight to your doorstep.
Editor's Choice
Diet-to-Go
Click For Best Price
#2nd Best Choice
Sun Basket
Click For Best Price
#3rd Best Choice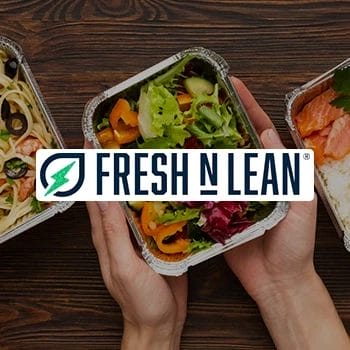 Fresh n Lean
Click For Best Price
The Top Diabetic Meal Delivery Services (June 2023)
1 - Diet-to-Go (Editor's Choice)
Preventing diseases or keeping blood sugar levels in control without hassle can become easier with Diet-to-Go's balanced, fully-prepared diabetes-friendly meals designed by nutritionists.
The company states that their economical and highly customizable Balance-Diabetes plan is in line with the American Diabetes Association (ADA) Guidelines - low in sodium, fat, cholesterol, carbs, and without red meat, unless you want it.
Numerous impressed customers claim that these menus can please the pickiest palates because their tasty and freshly prepared meals include a creative variety of sauces and spices.
You can opt for 2-3 daily meals for 5-7 days a week.
The average cost per meal on their full plan is currently around $8. They regularly offer discounts and exclusive deals via email and social media, as well as a referral award.
Sample meal: Sliced Turkey, Mashed Potatoes, Gravy, Green Beans with Almonds
Pros
Mainly uses local organic produce and ingredients
Sodium levels in their diabetic meal plan average at 2000mg per day as the USDA recommended
No harmful additives or preservatives
Flexible subscription plan without a long-term commitment or hidden fees
Cons
Shipping only to the continental US
2 - Sun Basket
Sun Basket delivers cook-at-home lunch or dinner meal kits with quick and easy-to-follow recipes, as well as a few oven-ready options suitable for diabetics. The recipes are also ADA-approved.
They are high in protein, healthy fats and carbs, with no more than 700 calories and 700mg of sodium per serving.
Their mouth-watering chef-designed meal plans for 2 or 4 people fit various tastes and lifestyles from vegan, vegetarian, paleo, and many others. See our paleo-friendly meal delivery service article for our recommended picks.
But, they aren't shipping to Alaska, Hawaii, Montana, and parts of North Dakota and New Mexico.
Sample meal: Seared Pork with Blueberry-Apricot Sauce and Sautéed Greens
Pros
Organic seasonal ingredients from trusted suppliers
Flexible subscription plan lets you skip weeks, swap recipes, or cancel subscriptions without much hassle
100% money-back guarantee within seven days of delivery
Cons
A limited number of fully-prepared diabetes-friendly meals, and may not be best for people with a serious food allergy or intolerance
3 - Fresh n Lean
Their ready-to-eat meals are not particularly designed for people with diabetes but might help you keep blood sugar levels at bay.
The pre-prepared meals are made for people who want a solid support for their weight loss journey -- low in salt, fat, carbohydrates, and rich in protein and nutrients.
Some users say the portions may not be sufficient if you're active, though.
You can choose one to 3 daily meals from their weekly plans or customize your plan from their A la Carte menu.
So, people with diabetes may need to call the company and customize the order based on the dietitian's advice.
You can also skip, pause, or cancel your meal delivery subscription at any time.
Sample meal: Roasted Cod with Veggies and Brown Rice
Pros
Organic, regional ingredients
Gluten-free without additional colors or preservatives
Meals delivered fresh, not frozen
Cons
You can't choose meals but get what's on your selected weekly menu plan
4 - Magic Kitchen
Magic Kitchen Meal Delivery Services offers a wide array of fully prepared, flash-frozen diabetes-friendly meals designed by chefs and dieticians to meet special diet needs of busy families, seniors, and others.
You can order a reasonably priced meal plan or individual a la carte meals from Magic Kitchen.
Still, some customers reported that reordering your favorites can be tricky because they often run out of stock.
All their diabetic meals include one main dish and 1 or 2 sides, while their fast delivery covers the continental US.
Magic Kitchen has frequent discounts, and you can cancel your subscriptions at any time before your plan renewal.
Sample meal: Grilled Chicken with Florentine Rice, Asparagus & Carrots
Pros
Reliable service tailor-made for individuals with diabetic or prediabetic conditions
Flexible, personalized programs and one-time deliveries
Their dieticians can pick your meals based on your diet needs and preferences.
Cons
Some users found their meals bland, but you can always add extra seasoning
5 - BistroMD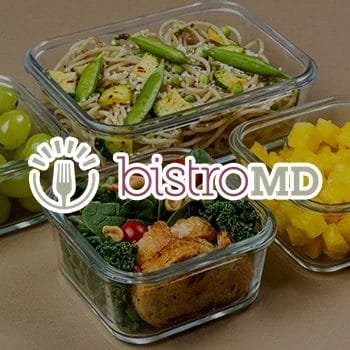 BistroMD Meal Delivery Services almost functions as your personal diabetes-friendly meal planner and chef just without contracts. Cool, right?
They offer science-backed yet tasty meal plans carefully designed by doctors with patients with diabetes in mind to help them regulate weight loss and blood sugar levels.
BistroMD meals are ready to heat up and serve, whereas their subscription plan is pretty flexible. You can choose from over 100 meals and order two or three meals with or without snacks five or seven days a week. Besides their meal plans, you can order one-off meals throughout the US.
Sample meal: Grilled Salmon With Creamy Pesto
Pros
Perfectly balanced and calculated diabetic meal plans customized for men and women
With no nitrates, phosphates, or additives
Their team of registered dietitians provides customers with individual consultations
6 - Martha's Senior Gourmet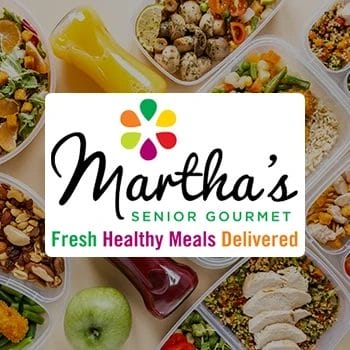 Martha's Meal Delivery Services is designed to help particularly seniors keep their blood sugar in check. But, they also provide different programs adjusted to meet non-dairy, low K, pureed food, and other special dietary requirements.
You can order one to three diverse pre-prepared meals designed by registered dieticians, four to seven days a week for four weeks, plus create some other customized options.
Their moderate-sized diabetic portions include lean protein, whole grain, grilled or raw veggies, and fish at least once a week.
Sample meal: Ginger Chicken
Pros
Fresh seasonal ingredients, no canned veggies
Their subscribers can get a monitoring service for seniors
5-day trial period, no contracts or long-term commitments
Cons
Cancellation fees and delivery restrictions
7 - Mom's Meals
This family-owned company is also mainly focused on offering seniors and disadvantaged individuals diabetes-friendly meals designed by experts, fully prepared and refrigerated in their USDA-approved kitchens.
Their various healthy meal plan options with nine menus and around 60 meals enable you to manage different health conditions and specific nutritional requirements you may have.
Although some users say their dishes aren't the most impressive, others claim they have that "home-cooked" taste and are certainly far healthier and more delicious than any frozen meals from a nearby supermarket.
Sample meal: BBQ Chicken with Potato Medley and Seasoned Green Beans and Whole Wheat Dinner Roll
Pros
High-quality seasonal ingredients
No pre-set packages, you can choose every individual meal and order from their selected menu which meets ADA guidelines
More affordable than other options
Cons
Some ingredients they use may contain preservatives and nitrates
8 - Home Bistro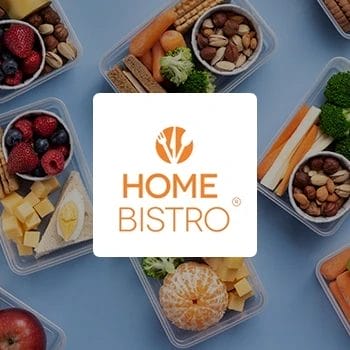 Mediterranean, paleo, vegetarian, heart-healthy, and diabetic-friendly are some of the dietary preferences their menus created by pro chefs meet.
Their restaurant-quality freshly and fully prepared meals are in line with ADA guidelines too. They can be reheated in under 10 minutes following the instructions you get with each item, so it's a great time-saver.
Although their diabetic meal package currently includes only ten meals, many customers say they make it up with their superior taste.
See here for more paleo-friendly meal delivery services.
Sample meal: Spanish Cod with Mediterranean Tapenade
Pros
Highly flexible and customizable subscription without commitments
One-time purchases of individual meals or featured meal combos available
Fast delivery
Cons
A bit pricey, but users say their flavors are unique
9 - SOS Cuisine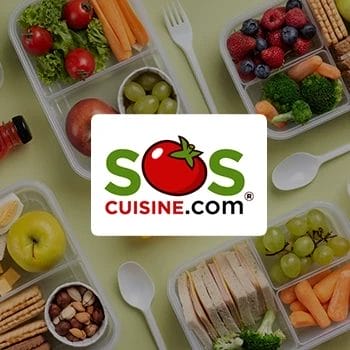 SOS Cuisine Meal Delivery Services doesn't provide ready-made or fully-prepared meals, but various health conditions, lifestyle, or weight loss meal plans and recipes tailored to your specific needs and verified by registered dietitians.
Their meal plans are based on the Mediterranean diet but can easily be customized with pre-defined possibilities to fit a wide range of dietary needs and preferences including diabetes and prediabetes (glucose intolerance/insulin resistance), food allergies, intolerances, etc.
Each recipe provides detailed nutritional information, while personalized meal plans with grocery lists are updated weekly.
You can select your plans, meals, number of servings, and subscription duration.
Pros
Local, fresh seasonal ingredients mostly unprocessed
Grocery lists and action plans available with recipes depending on the chosen plan
One-on-one expert support available to VIP subscribers
Cons
No food delivery, plus not so flexible subscription plan and money-back policy
10 - Nutrisystem
Nutrisystem is actually a weight loss program for people with type 2 diabetes, which provides you with a mix of meal plans, frozen or non-frozen prepared or easy-to-prepare meals, grocery shopping lists, and printed or online resources to learn from.
The current meal plan available for users with diabetes are 3 four-week meal plans for five days with 100+ delicious dishes (breakfast, lunch, dinner, and snacks).
You can choose a diet and menu based on your gender or customize it to your preferences.
Although this meal delivery service tend to avoid artificial colors, sweeteners, or flavors, users say their pre-prepared meals are more processed than you might expect.
Sample meal: Red Beans & Rice
Pros
Gender-specific diet plans focused on weight loss
All their diabetes plans offer unlimited support from Certified Diabetes Educators, dietitians, and weight loss counselors
Free shipping
Buyer's Guide
Now that you're aware of the companies which offer diabetic meal delivery services, here's what else you might need to know before you decide on the perfect meal delivery service for yourself.
The Benefits of Using Diabetic Meal Delivery Services
With the help of a diabetic meal delivery service, it becomes easier to eat well, keep your blood sugar balanced, and maintain your desired weight.
Certified medical and culinary experts do all the heavy lifting for you. They do the calorie and carb counting to create nutritionally-rich diabetic-friendly menus.
Every respectable meal delivery service company typically uses high-quality, fresh seasonal ingredients, and offers controlled portions of well-balanced meals with reduced sodium, sugar, healthy fats, and simple carbohydrates.
In this way, you can get a variety in your diet and don't need to eat the same blunt food over and over again.
If you need better support to manage diabetes, you can also opt for an all-in diabetes management program like MyDiabetes. It doesn't only provide a tailored meal delivery service, but also gives beginner-friendly exercises, detailed activity log, and progress tracker.
In short:
Their main pro of a meal delivery service is enabling you to manage your diabetes diet in convenient, healthy, and delicious ways. Plus, they allow you to make better use of your time and efforts as you break free from constant meal planning, grocery shopping, and cooking.
A diet high in veggies is the secret to good blood sugar control and kicking diabetes.

- Barb Klingler, BSN, CDE
What Carbs Should People With Diabetes Avoid?
People with diabetes should avoid low-quality processed carbs that contain added sugars because they raise your blood sugar quickly but aren't rich in nutrients.
Those unhealthy carbohydrates include:
Refined grains like white bread, pretzels, rice, and other cereals and foods baked with white flour
Candies, other sweets, and foods with added sugar
Sweetened drinks
Sweeteners
But don't worry, not all carbs are bad. They're an important energy source, so just make sure you carefully choose the healthy carbs and spread them evenly throughout the day.
According to The Dietary Guidelines for Americans 2015–2020, most adults should consume 130 grams of carbohydrates each day, of which 22.4–33.6 grams should be fiber. [3]
Related articles for diabetics:
What to Look for in a Diabetic Meal Delivery Service
Below are the main factors you may want to consider before choosing the ideal meal delivery service for you.
Do they provide ready-made diabetic meals or meal kits? - Before you order anything, make sure whether you'll get fully-prepared meals you can heat up and consume (meal program/plans) or a box of ingredients and spices with a recipe for you to follow and cook your own meals (meal kits).
Do they use high-quality, fresh, and organic ingredients? - The diet for people with diabetes should contain all-natural ingredients and whole foods You should avoid highly processed contents and should go for a healthy menu with organic produce and ingredient options.
Are all the nutrients well-balanced? - People with diabetes should mind their intake of carbs, calories, and sodium, so it's critical to pay special attention to the nutritional value of different meals you have at your disposal and ensure they meet all your daily dietary requirements.
Do they engage dieticians and culinary experts to plan their diabetic meals thoughtfully?
Do they offer a variety of meal options? - You may want to know what's included in the meal plan you'd like delivered to your doorstep, e.g. breakfast, lunch, dinner, one or two snacks, how many meals per week you'll have covered, what's the portion size, for how many people are the servings, what dishes they serve to avoid repetitive menus, and choose your favorite dish from Mexican, Italian, French or any other cuisine, and so on.
Can you customize a meal plan/plate to your taste? - Check whether they'd need the specifics of your diabetes diet to tailor pre-prepared meals to your needs, or whether you can customize your meals in case you're allergic to something.
How flexible is their subscription plan? - Ask whether there are any penalties in case you'd like to cancel or pause your subscription, or perhaps to skip a meal delivery.
Pricing - Check the price per serving (on average at least), what exactly is included in the price, the shipping fees, and whether they offer any promotions, e.g. discount coupons, referral codes, promotions for new customers, etc.
Is delivery available to your address? - It would be wise to check whether the company delivers to your area before considering all the previously mentioned determinants.
Consider a meal replacement shake if you're constantly on the go:
What Are the Best Diabetic Foods to Eat?
The best diabetic foods to eat are minimally processed and highly nutritious foods, including:
Various fresh vegetables, preferably non-starchy like lettuce, cucumber, cabbage, spinach, broccoli, garlic, tomatoes, mushrooms, etc.
Whole grains, beans, and other protein-rich legumes including black beans, kidney beans, green beans, chickpeas, lentils, barley, whole wheat bread, brown rice, oatmeal, quinoa, amaranth, chia seeds, almonds, flaxseeds, walnuts, etc.
Low-fat dairy products without added sugar, e.g. cottage cheese, yogurt, milk
Protein from eggs, fish, seafood, chicken or turkey breasts, lean cuts of beef, pork, or diabetic-friendly protein powders.
Fruits with 'low glycemic load' including apples, lemons, oranges, limes, peaches, avocados, pineapple, kiwi, and dark-colored fruits like blueberries, raspberries, blackberries, strawberries, plums, and similar
Spices like turmeric and cinnamon
Olive oil because its high monounsaturated fatty acid amounts help keep your blood sugar levels stable.
FAQs
Are Meal Delivery Services Worth It?
Meal delivery services are worth it because they can save you time and frustration if you're busy and often lack time for grocery shopping or have limited knowledge on the proper diet for diabetics.
These services may also benefit people who can't or don't like to cook but need to follow a well-balanced, healthy diet to check their blood sugar levels.
Do Meal Delivery Plans Save Money?
Meal delivery plans can save you some money, especially if you do your research before picking a program. Some companies offer special deals such as coupons or referral codes for discounts, so make sure to choose those that have them.
However, meal delivery services might not be so budget-friendly if you rely on them solely week after week. What they undoubtedly save is your time and nerves when you're super busy.
In a nutshell:
They can save you money if you're used to eating out, but they're usually more expensive than ordering food. It all primarily depends on your habits, budget, and the number of family members you have to feed.
What Meats Can Diabetics Eat?
Diabetics can eat lean meats cooked, grilled, or baked with little oil. This includes:
Fish - fresh, frozen, or canned in water (salmon, tuna, cod, sardines, trout, haddock)
Seafood (shrimps, scallops, lobster)
Poultry with no skin (chicken and turkey breasts or thighs)
Lean meat like beef, pork, lamb, veal, game, and others. [4]
Experts also advise people with diabetes to eat moderate amounts of red meat, as well as to avoid deli or processed meat products such as sausages, bacon, hotdogs, and fatty meat cuts like ribs.
What Fruits Should Diabetics Avoid?
Diabetics should avoid dried and canned fruits with added sodium, sugar, or syrup. They should also stay away from fruit jam, jelly, sauce, and sweetened fruit drinks.
What Vegetables Should Diabetics Avoid?
Diabetics should avoid starchy vegetables such as potatoes, sweet potatoes, corn, pumpkin, sweet peas, and anything similar because they contain more carbs and calories than the recommended leafy greens.
How Much Water Should a Diabetic Drink?
A diabetic should drink around 2 liters of water daily, equivalent to six to eight average-sized glasses. If it's too hot outside, you're exercising, or your body loses more water in any other way, you should increase your water intake. [5]
Through activities of daily living, the average person loses about 3–4 liters (about 10–15 cups) of fluid a day in sweat, urine, exhaled air, and bowel movement. What is lost must be replaced by the fluid we drink and the food we eat. We lose approximately 1–2 liters of water a day just from breathing.

- Dr F. Batmanghelidj, MD.
What Is the Best Diabetic Meal Delivery Services?
From all the meal delivery services we've just reviewed, I dare say that my top choice would be Diet-to-Go because they offer a wide variety of customizable and affordable delicious meals specifically tailored to diabetics.
Their subscription plan is flexible, and thousands of satisfied customers love them too.
Now it's over to you to figure out which of these delivery services and diabetic meal plans best fits your requirements. Then, you can finally enjoy your delicious meals.
It's time you took full control and adopted healthy eating habits, right?
Hope this thorough guide helps.
Our #1 Recommendation
Click For Best Price
Pros
Mainly uses local organic produce and ingredients
Sodium levels in their diabetic meal plan average at 2000mg per day as the USDA recommended
No harmful additives or preservatives
Flexible subscription plan without a long-term commitment or hidden fees
Get the BEST PRICE until the end of June
Cons
Shipping only to the continental US
Was this article helpful?