As a personal trainer, I have helped many clients to build and expand their home gyms. What surprises most of them is how small your budget can be to get a basic garage gym set up with enough gear to do cardio and strength training.
And to help our readers better understand the budget approach we recommend, I got the team together to share all the tips we've got from other fitness coaches.
From minimum equipment and how to prioritize your research, you'll learn exactly how to make your budget stretch as far as possible.
Quick Summary
You need surprisingly few relatively cheap things to start working out at home, as a yoga mat, jump rope, and a few resistance bands can give you a great basis.
Even for cardio and strength training machines, you won't have to spend thousands of dollars, and you certainly don't have to spend it all at once.
Buying second-hand can also further reduce your costs, but you need to be careful that you don't end up with worn-out equipment.
What Do You Need for a Home Gym on a Budget?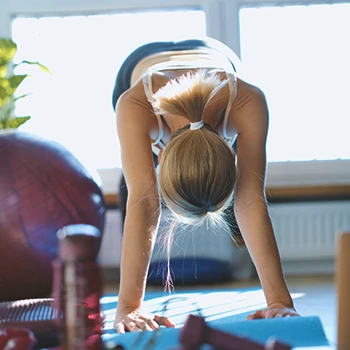 For a home gym on a budget, you need to invest at least in an exercise mat, resistance bands, a jump rope, and possibly a workout bench.
With just these basic items, you'll be able to do effective cardio and strength training workouts at home.
All of these should cost you less than $150, and from there, you can always gradually add more items.
Most people would probably consider some free weights like dumbbells, but if you prefer having more cardio flexibility indoors, then a treadmill or rowing machine might be your next significant investment.
Prioritizing Your Investment

The important thing to remember is that you need to set your own priorities before deciding on what to spend money on.
Minimum Equipment
Even if you have a minimal budget, there are a few things you can buy online and in sports stores that will allow you to start working out at home.
Here is what I would generally recommend focusing on first:
Exercise or yoga mat
Jump rope
Stability ball
Resistance bands
Adjustable workout bench
You'll be able to work on your upper and lower body as well as core muscles. And it's easy enough to do cardio with a jump rope or head outside for a run.
Free Weights
One thing you might find after a while is that the resistance bands will eventually limit your progress.
They are also not an exact science for keeping track of your training data, so I would suggest investing in some adjustable dumbbells.
A large set of 20+ dumbbells can cost almost $1,000, but adjustable ones will be a lot cheaper and easier to store.
And once you're heading for much heavier loads on a bench press, squat, or deadlift, then it will come time to invest in a barbell and some Olympic weight plates [1].
Exercise Machines
The next thing you would possibly consider is a cheap cardio machine like a rower or stationary bike. These also tend to take up less space giving you more flexibility.
The added bonus is that they have very little impact on your joints, making them less prone to cause injuries. In fact, a rower could even improve joint health, as has been shown in studies [2].
"Rowing burns serious calories without putting added stress on your joints. It allows you to control the movement and pace and is a great exercise for active recovery."

- Jake Tipane, CPT, at HealthLine.com
Pre-Owned Equipment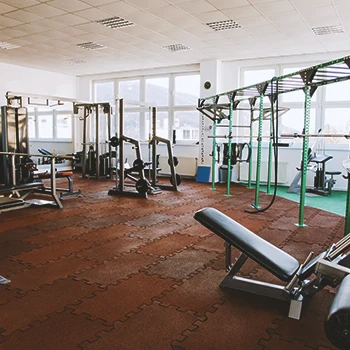 The final thing I would mention is that you need to be careful when it comes to buying pre-owned fitness equipment.
Often, you'll find that someone had great dreams of getting fit, and they spent $1,000 on a machine that was used about five times. These can be a great bargain.
But, if machines have seen some heavy use, then you could be looking at something that won't last too long.
One way to gauge this is by looking at the wear on the machine and also the person selling. If they are extremely fit, then the chances are the machine got a lot of use.
FAQs
What Is the Most Affordable Exercise Equipment?
Resistance bands, yoga mats, and stability balls are the most affordable pieces of exercise equipment. You'll be surprised how many different exercises you'll be able to do with just these few items.
Is It Cheaper to Go to the Gym or Work Out at Home?
It's cheaper to work out at home if you don't need a lot of specialized equipment. Gym memberships can end up costing over $600 per year, and you'll get a lot of equipment for that money.
Take the Affordable Approach to Working Out at Home
It's surprisingly easy and cheap to get set up for workouts at home. And the flexibility you'll have to dedicate 30 minutes a day to an intense cardio or strength session is an added bonus.
Start with the absolute basics mentioned above, and then consider investing in high-quality compact home gym equipment.
Our team has tested out dozens of these to come up with a list of affordable and highly effective machines.
And these often cost less than what your gym membership would burn in your pocket.
---
References:
https://www.livestrong.com/article/1010395-olympic-weights-vs-standard-weights/

https://pubmed.ncbi.nlm.nih.gov/25226943/
Was this article helpful?