Joe Rogan is one of America's most popular podcasters and UFC commentators. Anyone listening to his podcasts knows his love for fitness.
His passion for combat training and functional fitness has driven him to create one of the best home and studio gyms. And being a fitness trainer for over ten years who's given people advice on building their home gyms, I couldn't let this news pass by without informing my readers.
So, we're going to take a quick sneak peek into what lies in Rogan's gym.
Let's begin.
Quick Summary
Rogan has two gyms: a home gym and a studio gym.
While there are many photos of his home gym, the equipment from his studio gym has received more publicity and media attention.
Rogan's fitness routine involves cardio, strength training, flexibility training, combat sports, and functional training.
What Does Joe Rogan's Home Gym Have?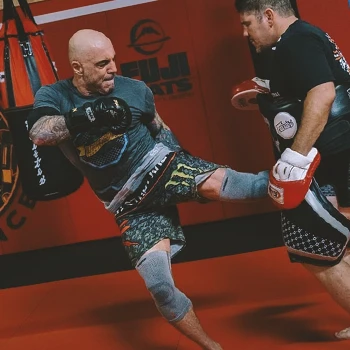 Joe Rogan's home gym has multiple pieces of fitness equipment from the brand Sorinex.
The little that we know about Rogan's home gym equipment comes from his social media posts and photos from the Sorinex website [1].
However, we don't have more details on the exact weights and additional equipment.
In fact, Rogan's JRE studio gym has received more attention than his home gym, and we'll cover exactly what lies there.
JRE Studio Gym Equipment

Rogan's studio gym is part of his 14,000 square feet studio warehouse [2].
It has an incredible setup with the Rogue Monster Rig. This allows him to perform lifts like bench presses and dips, as well as squats, chin-ups, and pull-ups.
Based on our research, here's all the equipment you can find in the JRE gym.
1. Weight Bench
Rogan uses the Rogue AB-3 Bench. It has an adjustable seat, back pads, a removable foot catch, and wheels for easy transport across the gym.
2. Dumbbells
Rogan has a pretty impressive dumbbell setup, with pairs ranging from 5 to 125 pounds. He uses the Rogue Rubber Hex Dumbbells, which are stored on a Rogue storage rack.
3. Kettlebells
Rogan likes bringing real-world movements into his workout, given his love for functional fitness. That's where his kettlebells come in.
"What I like best about kettlebells is, especially in jiu jitsu, I see a direct relationship between the work that I put in lifting kettlebells and my performance on the mat."

- Joe Rogan, UFC Commentator
4. Barbells
Rogan has several barbells from Rogue. He uses the Ohio bar, one of the most popular barbell brands. He's talked about barbells in many JRE episodes, even calling it the best tool for maximizing muscle gains in episode #1399.
5. Barbell Plates
Rogan uses Rogue's barbell bumper plates for his squats, deadlifts, bench press, and overhead presses. He stores his plates on the Rogue 3-Tier Mass Storage System.
6. Clubs and Maces
Rogan has the full set of Onnit steel clubs in pairs of 5, 10, 15, 20, 25, 35, and 45 pounds.
Read More: Indian Club Workout That Will Boost Shoulder Mobility
7. Medicine Balls
Rogan has 10, 14, and 20-pound medicine balls, which he stores on the Rogue 3-Tier Mass Storage System.
8. Resistance Bands
Rogan uses Rogue Crossover Cords for his gym. He especially uses resistance bands for shoulder training.
"I do a whole series of exercises with my shoulders. It's great…you're not really pushing the same as weights."

- Joe Rogan, Former UFC Fighter
9. Glute-Ham Machine
Rogan uses the Rogue Abram GHD 2.0 in his fitness setup to strengthen his hamstrings and glutes.
10. Pulley Machine
This is one piece of equipment that separates Rogan's studio gym from any other home (and some commercial gyms).
His gym boasts the Rogue Monster Lat Pull-Down/Low Row pulley machine for cable action, along with the Rogue Monster Grip Triangle and Rogue Tricep Push-Down Attachment.
11. T-Bar Row
Rogan mixes up his strength training with a T-Bar Row from Rogue Fitness.
This machine has a front post for loading barbells and a multi-grip handle, which allows Rogan to switch between narrow grip rows or wide grip rows.
Here is a step-by-step guide on how to perform t-bar rows.
12. Ply Box
When it comes to box jumps and step-ups, Rogan prefers wooden ply boxes.
His current setup includes the Rogue Games Box, which has three height adjustments: 20, 24, or 30 inches.
13. Combat Sports Gym Equipment
Rogan isn't simply a UFC commentator; he actively practices martial arts. He has a black belt in Brazilian Jiu-Jitsu and Taekwondo.
His gym is equipped with many heavy bags in a bag rack system and mats and wall pads from Fuji Mats. He also uses a PowerKube to measure the force of his strikes.
14. Cardio Equipment
Rogan's gym has a wide range of cardio machines, including an air bike, stair climber, rower, and manual treadmill. They're all capable of delivering an intense and punishing workout.
15. Other Equipment

Rogan's gym features other assorted equipment, most of which are from Rogue Fitness:
Rogue FitnessMonster Flying Pull-Up Bar
Rogue Fitness Monster Safety Spotter Arms 2.0
Rogue Fitness Monster Utility Seat
Rogue Fitness Monster Lever Arms
Rogue Fitness XML-36A Monster Lite 36″ Extension Kit
Rogue Fitness Gymnastic Wood Rings
Rogue Fitness Monster Matador Dip Extension
Rogue Fitness Monster Rope Attachment Anchor
Rogue Fitness Bulldog Ropes / Onnit Battle Ropes
Rogue Fitness Monster Rack Mounted Leg Roller
Hanging Ab Straps
What Workouts Does He Do?
Joe Rogan does workouts like strength training, flexibility training, and high-level recovery.
Based on his gym setup, Rogan appears to also do combat training, plyometrics, and many compound lifts.
Rogan is also known to incorporate yoga and cardio into his routine.
FAQs
Does Joe Rogan Workout Every Day?
Yes, Joe Rogan works out every day. He revealed that he plans his entire week's workout on Sundays. He dedicates three days to lifting, two days to yoga, and two days to running.
How Many Hours a Day Does Joe Rogan Workout?
Joe Rogan works out for about three hours a day. He incorporates free weights, kettlebells, battle ropes, maces, yoga, and cardio in his workout routine.
Does Joe Rogan Lift Heavy?
No, Joe Rogan doesn't lift heavy. While he does lift three times a week, he follows the Pavel Tsatsouline protocol: limiting his reps to around half his one-rep max. Plus, he's more into functional strength, which requires low weights and multiple reps.
Building a Home Gym like Rogan's
Setting up a home gym like Rogan's is a very heavy investment.
While the idea of having a home gym sounds expensive at first, you don't have to buy all your equipment at once.
What we recommend is buying the basics first. And as you slowly progress with your strength and performance, you can begin to add more and more equipment.
We have tested and covered many items from the brand Rogue in the best CrossFit equipment for a home gym, which Joe trusts the most for a reason, so you can check it out and see what you might add to your home gym.
---
References:
https://www.sorinex.com/pages/joe-rogan-home-gym

https://www.givemesport.com/1567109-joe-rogans-huge-personal-studio-gym-is-an-absolute-dream-for-fitness-lovers
Was this article helpful?