Austin Ekeler has made a huge impact on the National Football League ever since joining the Chargers as an undrafted free agent in 2017 once he finished studying at Western Colorado University.
Many fans refer to him as "Pound For Pound," and that's all down to the fact that he's arguably the pound-for-pound strongest player on the Chargers' team right now.
What I like looking at is how professional athletes transform their bodies once they join professional teams.
So, I spent a few weeks researching interviews and social media posts to see if we could come up with an Austin Ekeler workout and diet plan.
Here's what we found.
Quick Summary
Austin Ekeler's workouts comprise leg presses, hamstring curls, back squats, deadlifts, lateral raises, barbell curls, dumbbell curls, and calf raises.
Oatmeal with almond milk, sweet potatoes, lentils, beans, vegetables, fruits, and protein bar are some meals Austin enjoys eating.
Austin Ekeler takes pre-workouts, and plant protein powder.
Austin Ekeler Stats
Born: May 17, 1995
Height: 5'8"
Weight: 195 lbs
What Does Austin Ekeler Workout Routine Include?
The Austin Ekeler workout routine includes some grueling training, as you'd expect from an NFL star. These are not unorthodox workouts, but that doesn't mean they're easy.
Monday: Leg Day
These lower body exercises are three sets of 12 reps unless it says otherwise.
Dynamic warm-up (half an hour)
Heavyweight squats
Walking dumbbell lunges
Leg press
Back squats
Hamstring curls
Tuesday: Back And Shoulders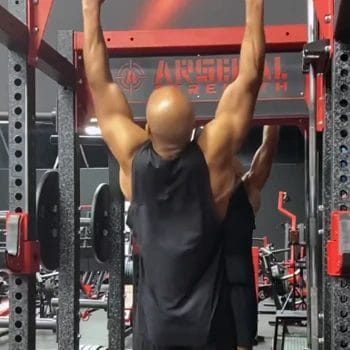 All of these upper body exercises are three sets of 12 reps unless it says otherwise.
Dynamic warm-up (half an hour)
Weighted pull-ups
Barbell rows
Lateral raises
Lat pulldowns
Deadlifts
Wednesday: Arms And Chest
These upper body exercises are three sets of 12 reps, and you want to load up on the weights to make it count.
Light warm-up
Barbell curls
Bench press
Dumbbell chest flys
Dumbbell curls
Thursday: Legs And Core
Running backs need to do a lot of work on their legs for speed and strength [1]. This workout has three sets of 12 reps.
Light warm-up
Leg press
Back squats
Hamstring curls
Calf raises
15-minute high-intensity abs mix
Friday: Running Training
This day is mainly focused on running both for speed and endurance.
This also helps with Austin's reaction times for an amazing vertical leap.
Light warm-up
Three miles of intense running at 12 miles an hour
10-15 sets of 100m sprints
15-minute cooldown jog
Saturday/Sunday: Game Day
During the season, Austin Ekeler will have game days on weekends. But even in the off-season, he takes an active approach to recovery and does a light cardio workout routine or some outdoor fun activities.
"I'm gonna get the ball, I'm gonna make things happen. If you're gonna throw me the ball, I'm gonna make things happen. If you want to get fantasy points, you better have me on your team. That's all I gotta say. If I'm healthy, I'm gonna score you points."

- Austin Ekeler
Austin Ekeler Diet Plan

The Austin Ekeler diet is a bit dependent on whether he does one or two workouts in a day. He also used to be a fan of junk food like chicken wings and Taco Bell.
But his vegan girlfriend has converted him to take a plant-based approach to diet.
Breakfast: Breakfast smoothie, oatmeal with almond milk, fruit, and seeds and brown toast
Snack: Plant protein shake and bar
Lunch: A large portion of stir-fried veggies and sweet potato
Snack: Plant protein shake and bar
Dinner: Mixed bean and lentil curry and a large portion of vegetables
While he hasn't fully converted to veganism, it seems like he doesn't eat meat products anymore.
What Supplements Does He Take?
Austin Ekeler hasn't revealed much about his supplement intake, but judging from his workout routine, we're making an educated guess that he'll heavily rely on these:
Plant Protein Powder
Many athletes have started switching to vegan plant protein powders to get a bit more variety into their supplements.
By combining pea and brown rice protein, you can get the full amino acid profile to support your muscles [2].
Pre-Workout
Pre-Workout supplements aren't magic potions that turn you into The Hulk. Instead, they give you a natural and moderate boost in strength and endurance to help you make each workout more effective.
Are You Ready For Austin Ekeler's Workouts
Even though Austin Ekeler is one of the best NFL running backs and has coaches, dietitians, and support staff, with the right training routine, diet plan, and dedication to lifting weights with the proper form, you have a shot at becoming that strong.
I'd also recommend checking out some pre-workouts to give your every training session a healthy boost.
These won't make you the strongest guy in the weight room overnight, but they work well enough to help you progress through this Austin Ekeler workout routine much more easily and with far less fatigue.
---
References:
https://bleacherreport.com/articles/2730290-gen-z-running-backs-workout-georgia-oregon-alabama-college-football

https://www.ncbi.nlm.nih.gov/pmc/articles/PMC6245118/
Was this article helpful?