We had quite a surprise when one of our readers asked us about the Chris Bumstead workout routine, and we realized that we had never created a dedicated page for the reigning Mr. Olympia.
I've followed this professional bodybuilder for quite a while, and I agree with many others in the industry that Chris is one of the most talented elite classic physique bodybuilders.
So, we spent a couple of weeks looking into his social media profiles and interviews to see what his typical workout routine and diet look like.
Quick Summary
Chris Bumstead's workout routines range from leg presses, back squats, back deadlifts, straight arm pulldowns, lateral raises, hammer curls, and front squats.
High-protein pancakes, oatmeal, almond butter, skinless chicken breasts, steamed fruits, brown rice, and sweet potatoes are examples of meals Chris Bumstead takes.
Chris Bumstead takes the following supplements; pre-workouts, and whey protein shake.
His Stats
Born: February 2, 1995
Height: 6'0"
Weight: 225 lbs
Waist: 30"
Chest: 51"
Those are very impressive stats, and it shouldn't come as a surprise that his exercise routine has given him a body shape very similar to the great Arnold Schwarzenegger.
What's most impressive is that he had achieved the highest competitive results within four years of getting his IFBB pro card when he was 21 [1].
And here's what his training looks like.
Chris Bumstead's Workout Routine
Chris takes a very targeted approach by focusing on specific body parts every day. Unlike other bodybuilders, he doesn't do any full-body days.
Monday: Hamstrings/Glutes
Chris starts the week with his legs, which is something he has kept on from his youth.
When he started lifting weights at 14, it was in his legs that he gained muscle mass the fastest.
​​Single legged glute pushdowns (3 sets of 8 to 10 reps)
Lying leg curls (3 sets of 8 to 10 reps)
Straight legged deadlifts (4 sets of 10, 8, 8, 6 reps)
Leg press (3 sets of 8 to 10 reps)
Back squats (3 sets of 8 to 10 reps)
Tuesday: Back
The important approach here is that Chris Bumstead gradually increases the weight across four sets.
He always tries to push himself to failure and sometimes adds drop sets.
Back deadlifts (4 sets of 10, 8, 8, 6 sets to failure)
Weighted pull-ups (3 sets of 20+ reps)
Wide-grip lat pulldowns (4 sets of 8 to 12 reps)
Bent over barbell rows (4 sets of 10, 8, 8, 6 reps)
Straight arm pulldowns (4 sets of 10 to 15 reps)
Wednesday: Shoulders/Triceps
On Wednesday, Chris switches his attention to keeping his arms and shoulders in proportion.
Lateral Raises (4 sets of 10, 8, 8, 6 reps)
Wide grip assisted pullups (4 sets of 10, 8, 8, 6 reps)
Bench dips (4 sets of 10, 8, 8, 6 reps)
EZ bar skull crushers (4 sets of 10, 8, 8, 6 reps)
Rope face pulls (4 sets of 10, 8, 8, 6 reps)
Single arm cable kickbacks (4 sets of 10, 8, 8, 6 reps)
Thursday: Chest/Biceps
Thursday is all about the glory muscles that are on show with a tight-fitting shirt.
Incline dumbbell press (4 sets of 10, 8, 8, 6 reps)
Smith machine bench press (4 sets of 10, 8, 8, 6 reps)
Dumbbell flys (4 sets of 10, 8, 8, 6 reps)
Weighted push-ups (3 sets to failure)
Reverse barbell curls (4 sets of 10, 8, 8, 6 reps)
Hammer curls (4 sets of 10, 8, 8, 6 reps)
Reverse grip barbell skull crushers (4 sets of 10, 8, 8, 6 reps)
Friday: Quads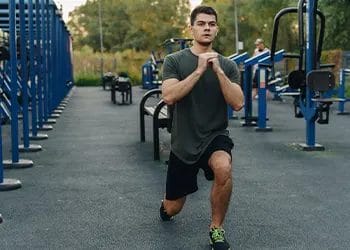 Here's another day dedicated to shaping those leg muscles.
Leg extensions (3 sets of 8 to 12 reps)
Front squats (3 sets of 8 to 12 reps)
Leg curls (3 sets of 8 to 12 reps)
Leg extensions (3 sets of 8 to 12 reps)
Standing lunges (3 sets of 8 to 12 reps)
Saturday/Sunday: Rest
Workout routines like this have to bring rest days to allow muscles to recover fully.
But those rest days should be active with a short run on the treadmill, brisk walk, or some hiking.
His Workout Principles
One advantage Chris has had is that he has been interested in sports since a very young age. He played football, baseball, basketball, and hockey.
He always looked at sports in a competitive way, which made him fall in love with training hard.
"If when you look in the mirror, you don't see the perfect version of yourself, you better see the hardest working version of yourself"

- Chris Bumstead
What we found for his daily routine is that his gym sessions don't work on multiple muscle groups but rather focus on one area.
That has given him much more control to shape his body exactly how he wants it to be for perfect proportions.
He also starts his day with some morning cardio, mainly to keep his BMI under control.
Chris Bumstead's Diet Plan
The Chris Bumstead diet is all about nutritional whole foods and avoiding processed foods. However, we have heard him mention that he allows for some cheat days in the off-season.
Here's what a typical daily meal plan looks like.
Breakfast: high-protein pancakes with almond butter, a bowl of oatmeal
Snack: a fruit salad with seeds, a protein supplement shake
Lunch: skinless chicken breasts, brown rice or pasta, steamed vegetables
Snack: a cup of unsalted fruit, a protein bar
Dinner: a large flank steak with sweet potato fries
Does He Take Any Supplements?
Chris Bumstead's workout routine requires a few supplements to bulk up as consistently as possible. The main ones we've heard Chris talk about are these two.
Whey Protein Shake
Whey protein has the advantage of providing the full range of amino acids in the right combination to support muscles [2]. It's also fast for your body to absorb and process.
Pre-Workout
Pre-workouts help to reduce fatigue and may even boost your peak strength performance. It's not a supplement that will turn you into the Hulk overnight, but even a small 5% boost might make a huge difference over the weeks and months.
Related: Is Chris Bumstead Natural or Not?
Are You Ready For Chris Bumstead's Workout Routine?
This is not an easy routine on the body, but even if you don't have plans to become the next Mr. Olympia, it's the best workout routine to put you into amazing shape.
Try it out for a few weeks, and don't forget to eat as much food as needed for your intensity to avoid muscle wasting in the process.
---
References:
https://barbend.com/chris-bumstead-wins-2020-classic-physique-olympia/
https://pubmed.ncbi.nlm.nih.gov/26317267/
Was this article helpful?