While there's no denying the presence of numerous highly skilled female table tennis players, we also think that the hottest in the sport should include a blend of skill and charm.
So, we embarked on a month-long survey, asking our readers to participate and compile a list of the top 11 female players who stand out not just for their athletic abilities, but also for their captivating presence.
As you read on, you'll learn the reader's choices for the hottest female players, showcasing the unique blend of qualities that make them truly exceptional in the sport.
Top Hottest Female Table Tennis Players
11. Linda Bergström
This Swedish table tennis sensation isn't just making waves at the table; she's also a knockout off of it.
Competing in the 2020 Summer Olympics showcases her incredible skill, but it's her captivating looks that have everyone doing double takes.
Balancing athletic prowess with natural beauty, she's not just a competitor to watch; she's a bona fide heartbreaker.
No wonder she's one of the hottest athletes in the game.
 

View this post on Instagram

 
10. Adina Diaconu
Our readers have ranked Adina Diaconu as one of the hottest women tennis players.
She's a champ with titles like the Romanian National Championships and the International Table Tennis Federation (ITTF) World Tour under her belt.
Diaconu's game is all about quick reflexes and top-notch footwork. Plus, she's got the looks. Adina may not be a big shot on social media, but her pics sure flaunt her fabulous style.
With her winning streak and style, you can bet her popularity will only keep on rising.
 

View this post on Instagram

 
9. Natalia Bajor
According to our readers, Natalia Bajor is another attractive female table tennis player. She's originally from Poland.
Standing at 5'7", she's considered one of the taller players on the professional circuit. She's become known for her powerful backhand.
If you're looking for someone to root for at the next table tennis tournament, be sure to keep an eye out for Natalia Bajor.
8. Georgina Póta
According to our readers, Georgina Póta is among the world's hottest female table tennis players because besides her attractive looks, Póta is a talented table tennis player.
Póta's good looks have garnered her a massive following on social media, where she often posts photos of herself in training or competing.
She's a three-time Olympian and the Hungarian National Champion and her success on the court can be attributed to her hard work and dedication.
 

View this post on Instagram

 
7. Barbora Balážová
Barbora Balážová has won numerous championships and is ranked 48th worldwide, which can be attributed to her hard work and dedication.
But it's not just her athleticism that sets Barbora apart; she is also incredibly stylish, often rocking swimming suits on Instagram.
With her good looks and impressive skills, it's no wonder that the Slovakian beauty is one of the most popular players on the circuit.
 

View this post on Instagram

 
6. Christina Källberg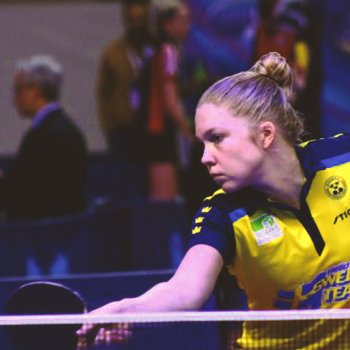 Christina Källberg's recognition as one of the 'hottest' female table tennis players may be attributed to a combination of factors.
Her exceptional skills, unwavering dedication, and the way she carries herself both on and off the table tennis court contribute to her popularity.
Whether it's her playing style, personality, or overall presence, these qualities collectively set her apart in the world of table tennis, making her 'hot' in the eyes of fans and observers.
5. Jenny Ovtcharov
The Swedish player Jenny Ovtcharov's good looks and attractive figure have made her popular on social media, where she often posts photos of herself training or competing.
The 33-year-old German-based athlete started playing table tennis at the age of four and was part of the German national team from 2009 until 2013.
4. Mariia Tailakova
Mariia Tailakova, a 21-year-old Russian, sizzles in the world of table tennis with a substantial fan base, all thanks to her winning skills and stunning looks.
While her table tennis career may not be the most stellar, she's undeniably one of the sport's most beloved figures and also a model who showcases her fit physique on social media.
Globally ranked at #67 by the International Table Tennis Federation, her star is destined to shine even brighter in the years to come.
 

View this post on Instagram

 
3. Daniely Ríos
Rounding out the top three is the Portorican Daniely Ríos. Ríos started playing ping pong when she was eight. She quickly developed a passion for the game and began competing in tournaments.
In 2008, she won her first national championship. Since then, she has gone on to win numerous titles, including the Pan American Championships and the World Cup.
In addition to her success on the court, Ríos has also gained a large following on social media, where she frequently posts photos and videos of herself, thanks to her good looks.
2. Szőcs Bernadette
It is without any surprise that Szőcs Bernadette is on our list. The good-looking ping pong player has a large following on social media thanks to her looks.
She is a good player and has won many tournaments. The Romanian table tennis player has been ranked No. 12 in the world.
Her fans love her, and she always wins new fans thanks to her good looks and excellent playing ability.
1. Soo Yeon Lee: The Hottest Female Table Tennis Player
No doubt about it, the top spot belongs to South Korean ping pong champion Soo Yeon Lee, who's not only a standout in table tennis but is also considered one of the most attractive female athletes globally.
She kicked off her table tennis journey at age four and secured a bronze medal at the 2006 World Table Tennis Championships. Moreover, you'll find her gracing the pages of magazines like Sports Illustrated and Maxim.
Beyond her sporting achievements, Soo Yeon Lee is a successful model with a sharp sense of style, featuring in campaigns for Nike, Adidas, and Coca-Cola.
 

View this post on Instagram

 
Was this article helpful?