Not all good-looking men are action movie stars. Some of them are attractive UFC fighters fighting inside the Octagon.
These handsome UFC fighters got more than their looks. They also have exceptional fighting skills and titles.
I dug through the articles, their social media and videos to find out everything about these 10 most handsome MMA fighters.
Let's take a look.
11 Most Handsome MMA fighters
11. Paulo Costa
Paulo Henrique Costa, a Brazilian professional mixed martial artist, is not only renowned for his skills in the UFC Middleweight division but also for his striking handsomeness. Currently ranked #5 in the UFC middleweight rankings as of October 25, 2021, Costa's chiseled features and confident demeanor make him a standout figure. His attractiveness goes beyond his fighting prowess, and his appearance is as commanding as his presence in the ring.
Costa's blend of physical strength and appealing looks add to his allure, making him one of the most handsome fighters in the sport.
 

View this post on Instagram

 
10. Anthony Pettis
Anthony "Showtime" Pettis completes our list of the most handsome MMA fighters. He fought in lightweight tournaments and is a former UFC Lightweight Champion and WEC Lightweight Champion.
Pettis had a couple of UFC wins and has beaten several big names, such as:
Donald Cerrone
Benson Henderson

Charles Oliveira

He left the UFC with an impressive record of 24 wins and ten losses. To date, he is currently ranked number 13 in the UFC welterweight rankings.
Pettis now fights in the Professional Fighters League.
 

View this post on Instagram

 
Related Articles:

9. Dominick Rojelio Cruz
A two-time UFC Bantamweight Champion, Dominick Rojelio Cruz, is one of the hottest guys in the ring who seems to have figured out the tactics for a sure win.
He first won his Bantamweight Championship in the World Extreme Cagefighting and went on to sign up for the UFC, where he practically became unstoppable.
He made history by winning most of his fights in WEC and UFC and received several awards, including Fight of the Night honor and Performance of the Night.
Cruz's muscular physique and stylish personality earned him recognition and respect.
Later in his career, he even became an award-winning, influential Commentator for the MMA sport.
8. Roger Huerta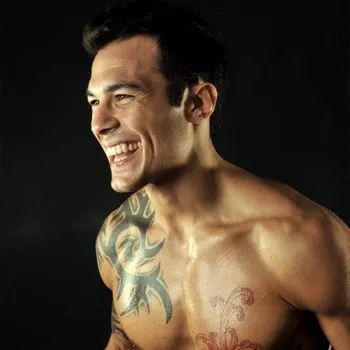 Known by the nickname "El Matador," Roger Huerta is next on our list of the most handsome MMA fighters.
Huerta became a star in the lightweight division of the Ultimate Fighting Championship back in the 2000s, where he won 20 of his 23 fights, with six of the wins via knockout. He is also the first MMA fighter featured on the cover of Sports Illustrated.
However, the second half of Huerta's MMA career didn't go well. He suffered back-to-back losses and ended his contract in the UFC in 2010.
He then fought under Bellator MMA, and on ONE Championship, with not much luck.
Despite all these, Huerta says he's not done fighting and aims to be a world champion.
7. Frank Mir
Frank Mir is one of the most handsome UFC fighters. He is an American mixed martial artist who has won the UFC heavyweight ultimate Championship twice and has recently fought for Bellator MMA in the heavyweight division.
His first UFC fight was in 2001, where he won against Roberto Traven at UFC 34 via armbar submission.
Since then, he has had many notable wins against famous fighters in the Octagon.
Frank Mir now holds an incredible record with 19 wins and 13 losses.
6. Christopher Weidman
Christopher Weidman is next on the most handsome MMA fighters list and is an American mixed martial artist.
His aggressive style in combat, swift moves, and dashing personality earned him the support of many fans.
This Mixed Martial Artist is a famous middleweight competitor and is a former UFC middleweight champion.
The 'All American' holds a stellar MMA career record of 15-5-0.
 

View this post on Instagram

 
5. Stephen Thompson
Stephen Thompson is a former professional kickboxer. Thompson's powerful physique and charming personality earn him a spot on our list of sexiest MMA fighters.
Thompson's father was a fighter and owned a karate school, while everyone in his family traditionally had to train karate from age three to 16.
"I know what martial arts have done for me. They've taught me integrity, self-control, perseverance, and an indomitable spirit."

— Stephen Thompson, Five-time World Champion Kickboxer
This Mixed Martial Fighter became a five-time world champion kickboxer and holds a 6th-degree black belt in Tetsushin Ryu Kempo Karate, 1st degree in Tetsushin Ryu Jujitsu, and a brown belt in RCJ Machado Jiu-jitsu.
Thompson has won undefeated kickboxing matches. He is currently a famous Welterweight Ultimate Fighting Championship fighter and fought several top names in the UFC.
 

View this post on Instagram

 
4. Yoshihiro Akiyama
Next on the most handsome MMA fighters list is the famous Japanese mixed martial artist Yoshihiro Akiyama.
He is also an accomplished judoka, winning gold in judo at the Asian Games and Asian Championships.
He has liked sports ever since he was a kid and started training judo at three.
He practiced many martial arts such as karate, boxing, kickboxing, wrestling, and submission fighting. These early training helped improve his athletic competitive abilities [1].
Akiyama is known as the former K-1 Hero's Light Heavyweight Grand Prix Tournament Champion.
And he has also fought under Ultimate Fighting Championship thrice, where he won Fight of The Night Honors in all of them. He currently holds a record of 15 wins and seven losses.
3. Carlos Condit
Carlos Joseph Condit's fighting skills, muscular body, and charismatic personality made him one of the most handsome MMA male fighters.
The former UFC Interim Worldwide Champion from Mexico had many memorable moments inside the Octagon and classic fights against Georges St-Pierre, Dan Hardy, and Johny Hendricks.
Condit surprised the MMA world by announcing his retirement on September 17, 2021.
Carlos Joseph Condit is known for the nickname "Natural Born Killer" and with no doubt deserving of that title. He had an impressive 32-14 record, where 15 of those wins came by knockout and 13 by submission.
2. Donald Cerrone
Donald "Cowboy" Cerrone is one of the most attractive fighters in the Octagon. He is known for taking fights on short notice for the thrill, and his appealing personality earns him significant support from fans.
Cerrone had his first professional fight in the lightweight division in 2006 and now has earned a striking Pro MMA Record of 36-16-0, 2 NC (Win-Loss-Draw).
He has an incredible UFC record of 23-10 (W-L), with ten wins by knockout, six victories via submission, and seven decision wins.
He was also given several awards, including the MMA Fighter of the Year for 2014, 2015, and 2016.
1. Ryan Bader
Ryan is one of the Bellator Light Heavyweight Champions and reigning Bellator Heavyweight Champion.
He is not an action film star, but he got the first spot on our hottest MMA fighters list.
Bader was a two-time NCAA D-I All-American wrestler and three-time PAC-10 champion.
Now, he is a mixed American Martial artist signed under Bellator.
He also has an incredible MMA fighters record of 27-6-0 (Win-Loss-Draw). He fought in several MMA promotions before fighting in the light heavyweight division in the Ultimate Fighting Championships. He also has an excellent UFC record of 14-5 (Win-Loss).
Ryan Bader is also a wonderful husband and father of three kids.
 

View this post on Instagram

 
Was this article helpful?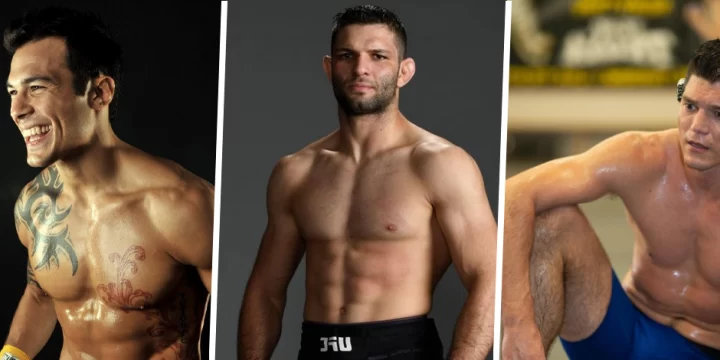 By Lisa Lorraine Taylor, CPT
14 days ago
16 Sexiest Male UFC Fighters (2023 Updated)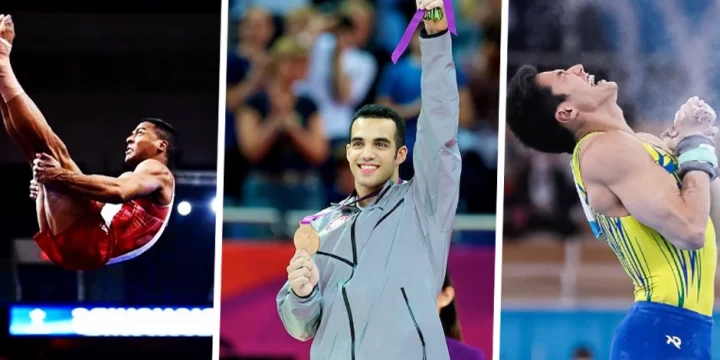 By Lisa Lorraine Taylor, CPT
14 days ago
15 Sexiest Male Gymnasts of All Time/In the World (2023)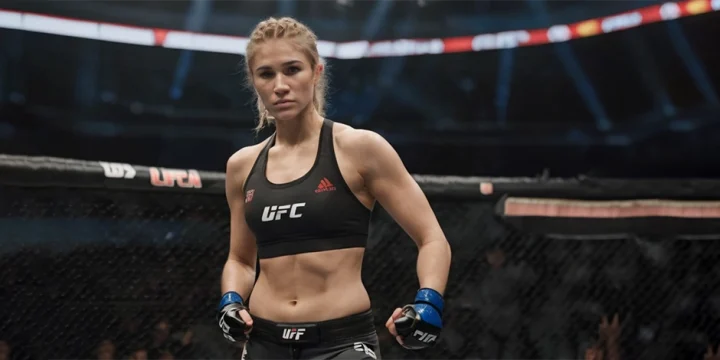 By Christiana Mikesch, CPT
14 days ago
22 Hottest UFC Female Fighters (2023) Sexiest Badass Women