When we had a heated debate at a recent team Zoom meeting about the most handsome MMA fighters, there seemed to be only one way we were going to settle the debate.
As we've done for many other sports, we turned to our readers to tell us who they think is the hottest male mixed martial artist.
What we weren't expecting was the huge flood of responses we got.
So, if you've been wondering what Ultimate Fighting Championship fans think about the looks and appearance of their favorite stars, we now have a definitive list.
Quick Summary
Some of the hottest male UFC fighters include Frank Mir, Jon Jones, Donald Cerrone, Alan Jouban, Roger Huerta, Anthony Pettis, Paulo Costa, and Kelvin Gastelum.
All UFC fighters on this list spend hours in the gym training and perfecting their respective martial arts.
Diet, and supplements also help some of the UFC fighters attain a toned body.
The Most Handsome MMA Fighters
15. Tyron Woodley
And finally, we have another fighter from the USA, and Tyron is unique on this list as his style mainly involves wrestling rather than kickboxing.
View this post on Instagram
14. Thiago Moises
And we're heading back to Brazil, where Thiago entered the Ultimate Fighting Championship arena in 2012. His 15-5-0 stats speak for themselves, and so does his handsome face.
View this post on Instagram
13. Devin Clark
Devin is an accomplished fighter in the light heavyweight division, and it's his chiseled abs that have got a lot of attention from our readers.
12. Makwan Amirkhani
Not only is Makwan Amirkhani our first featherweight MMA, but he's also the first one from Finland on this list.
If you haven't watched it yet, then look up his 8-second knockout against Andy Ogle.
View this post on Instagram
11. Kelvin Gastelum
Here's another American middleweight UFC star who has made quite a name for himself. He's from Arizona and has entered the big stage of UFC events in Las Vegas, Nevada.
10. Georges St-Pierre
For some reason, mixed martial arts isn't as big in Canada, but the country has produced our number ten ranked UFC star.
And his fighting success is as hot as his physical shape and handsome face.
9. A"Sexyama" Yoshihiro Akiyama
This Japanese mixed martial artist has been involved in UFC since 2009, and it's the combination of his looks and physique that have given him the nickname "Sexyama."
8. Paulo Costa
OK, here's our first MMA star from Brazil, and Paulo has had a lot of success as a middleweight fighter.
He's currently ranked #2 in the world and has a deserving spot considering the number of women that follow him.
7. Carlos Condit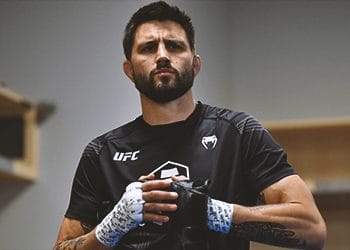 OK, technically, Carlos Condit has retired, but the ABQ native with the nickname Natural Born Killer still has the looks to make it onto this list.
His last UFC event was in July 2021, and it's honestly a shame and loss for the sport.
6. Anthony "Showtime" Pettis
This former UFC champion has some unique fighting skills that have surprised many of his opponents.
That has resulted in 12 KOs and seven submissions with a possibly long career still ahead of him.
5. Roger Huerta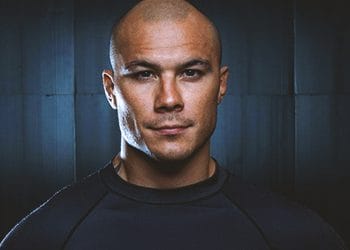 Known as "El Matador," Roger is a household name in UFC and a deserving fighter from the USA.
He has mainly fought in the lightweight division but has also dabbled in movies and modeling [2].
4. Alan Jouban
When you look at pictures of this American fighter, you wouldn't dream of seeing him at a UFC fight.
He has a very innocent boyish appearance but is a force to be reckoned with in the ring.
3. Donald "Cowboy" Cerrone
And speaking of smiles, Donald has probably got one of the most genuine ones I've ever seen at a UFC event.
Add to that the rugged and handsome appearance of a real cowboy, and there's every reason to have him at the top of this list.
2. Jon "Bones" Jones
With a winning streak of 17 consecutive fights, Jon Jones has proven himself countless times on the big stage in Las Vegas, Nevada.
What we heard in many comments from readers is that his smile outside of MMA is what attracts so many women.
"I think it's important to be an absolute believer and have that confidence."

- Jon Bones Jones
1. Frank Mir
Frank Mir is one of the oldest MMA stars in the Ultimate Fighting Championship, but the 41-year old heavyweight seems to have made enough of a visual impression with our readers.
He also holds the record for most UFC submissions in the heavyweight category [1].
View this post on Instagram
Who Is Your Hottest Favorite On This List?
We're pretty impressed with our readers' choices of the hottest UFC fighters, and the fact Conor McGregor isn't on here was also a big surprise.
But you can't argue with an honest voting system based on thousands of our readers and subscribers.
I think that Frank Mir and Jon Jones will likely be in those top spots for quite a few years to come.
Unless there are some young newcomers that might knock them off that spot.
Was this article helpful?