It isn't easy to wade through all the options in a market flooded with products all promising to be the best testosterone boosters.
Centrapeak and Prime Male are two names making the rounds at the gym, so we decided to put them head-to-head with several of my fitness clients, who were willing to commit several weeks for product testing.
After recording their results and feedback and discussing the outcomes with our dietician, I wrote this in-depth Centrapeak vs. Prime Male comparison.
Let's take a look.
Key Differences Between CentraPeak and Prime Male
The main difference between Centrapeak and Prime Male is their approach to boosting testosterone.
Centrapeak targets men's overall health long-term as a testosterone booster and nootropic.
Prime Male looks to boost testosterone and improve vitality and energy more immediately.
Roar Ambition is behind Prime Male and targets men over 30 whose T-levels are declining naturally.
Centrapeak by Peak Nutrition Ltd. is a newcomer to the natural testosterone booster market, launching early in 2019. The company adjusted the formula in 2020 to further improve its cognitive benefits.
Before we dive into the specifics of each product, let's look at how we did our in-depth testing.
Our Test
Many of my fitness clients showed interest in participating in this product review.
But, because Roar Ambition has designed Prime Male to target and raise testosterone levels in men over 30, I chose male clients who met that minimum age threshold.
We divided our 20 volunteers into two groups of 10; one to test Centrapeak and the other to test Prime Male for eight weeks.
Before the participants began taking their assigned testosterone booster, I took detailed body measurements and noted each participant's diet and exercise routine.
Additionally, each participant had their testosterone levels tested.
Both groups reported improvements in testosterone and vitality, but one proved to edge out the other slightly.
Let's get a look at the head-to-head comparison.
Centrapeak vs. Prime Male: Head to Head
The ingredients formula is critical in natural testosterone booster supplements, so here is our head-to-head comparison.
It is worth noting there are a few ingredients shared by both formulas:
Bioperine
Boron
Vitamin D3
Mucuna Pruriens
Zinc
Luteolin
Magnesium
Centrapeak
As briefly stated, Centrapeak is a testosterone-boosting supplement designed to boost T-levels, reduce stress, raise energy levels, and improve men's overall well-being.
Let's take a look at what ingredients Peak Nutrition Ltd. uses to try and accomplish that.
Vitamin D3: Cholecalciferol is a potent and highly bioavailable form of D3, and Centrapeak contains 82.5 mcg.
Research shows that Vitamin D can boost testosterone levels, and I like that it tops the list of Centrapeak ingredients [1].
Vitamin D has several other health benefits, including promoting bone health, immunity, and mood enhancement [2].
According to research, a daily intake of 3300 to 8000 IU is optimal to get the testosterone-boosting benefits of vitamin D3, and Centrapeak comes in with 3300 IU.
Suited for Men & Women
Vitamin B6: B6 can play an essential role in lowering the female hormone estrogen in males, which indirectly means more testosterone. Estrogen can impact a man in several significant ways [3].
These include:
Disrupting the hypothalamus-pituitary axis, negatively impacting erectile function.
High estrogen can cause a decrease in testicular size and reduced sperm production.
A hormonal imbalance between testosterone and estrogen can affect libido.
Additional research shows vitamin B6 can promote androgen production, encouraging testosterone release [4].
Besides the hormonal benefits, vitamin B6 can help reduce stress and improve cognitive function [5].
Users in the Centrapeak group reported feeling significantly better physically and having increased focus and a better mood.
"Vitamin B6 plays an important role in mood regulation. This is partly because this vitamin is necessary for creating neurotransmitters that regulate emotions, including serotonin, dopamine and gamma-aminobutyric acid (GABA)."

- Lizzie Streit, MS, RDN, LD
Ashwagandha: Adding ashwagandha to the Centrapeak formula further promotes Peak Nutrition's goal of enhancing mood and cognitive well-being. Ashwagandha is known for its anti-anxiety and stress-relieving properties [6].
Ashwagandha may also lower the stress hormone cortisol, which is essential because elevated cortisol levels can inhibit testosterone production [7].
Related: Does Ashwagandha Increase Testosterone
Korean Red Ginseng: Also known as Panax ginseng, Korean red ginseng is a herb used in traditional Chinese medicine that many believe to significantly improve sexual health and promote blood flow and cognitive performance [8].
Benefits also include:
Counteracting erectile dysfunction
Improving sexual performance
Increasing sperm count and motility
Increasing sex drive
Enhancing fertility by preserving ejaculated sperm
Additional studies show that red ginseng supplementation can promote muscle recovery and anti-inflammatory responses while improving insulin sensitivity [9].
Users in the Centrapeak group echoed these benefits, mainly regarding cardio exercise, stamina, and muscle recovery, which they felt promoted muscle growth in the long run.
Mucuna Pruriens: Widely known as velvet bean, Mucuna pruriens is an annual climbing legume native to China and eastern India and all parts of the plant contain medicinal properties [10].
These include:
Promoting testosterone production
Improving sperm quality
Lowering stress
Improving cognitive function
Increasing levels of luteinizing hormone (LH), human growth hormone (HGH), and follicle-stimulating hormone (FSH).
Pros
Boron supports free testosterone
Reduced stress hormones to help boost testosterone production
Significantly increased energy levels
A strong sense of overall well-being
Only available on the manufacturer's website to ensure a genuine product
Cons
It can be considered a premium testosterone booster supplement as it's a bit more pricey than some other testosterone boosters
Prime Male
Prime Male is among testosterone boosters on the market that promise to restore healthy testosterone levels in aging men whose levels are declining naturally.
Let's look at the key testosterone-boosting ingredients that may help users up their levels.
D-Aspartic Acid: D-aspartic acid calcium Chelate (DAACC) is in the formula of many testosterone boosters for its impact on the testes to produce more testosterone by triggering the release of luteinizing hormone.
One brief study showed an average 42% increase in testosterone levels [11].
Another study that had participants take a DAA supplement for 90 days found an increase in testosterone levels of 30-60% [12].
"Aspartic acid is an amino acid found in two forms. D-aspartic acid is the form involved in testosterone production and release in the body. Because of this, it is often found in testosterone-boosting supplements."

- Grant Tinsley, PhD
Boron
Boron is another popular testosterone booster ingredient. Most testosterone molecules are bound to proteins, mostly sex hormone-binding globulin (SBGH), which means they are not bioavailable.
Boron may lower SBGH allowing more free testosterone to circulate in the body [13].
The many benefits of boron include the following:
Increasing the metabolism of total testosterone
Increasing free testosterone levels, in some cases as much as 25%
Promoting bone health
Improving wound healing
Preventing Vitamin D deficiency
Reducing the estrogen levels, sometimes by half
Our participants who stopped taking vitamin D supplements for the test period showed no drop in vitamin D levels, likely a benefit of boron.
Suited for Men & Women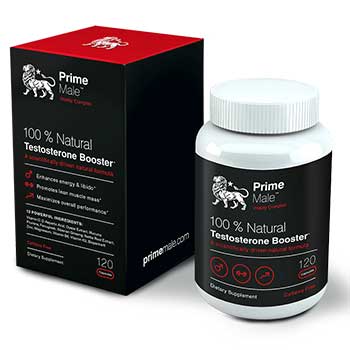 Luteolin
Research shows that luteolin may effectively inhibit estrogen, which can help maintain a hormonal balance [14].
Estrogen imbalance can considerably impact male fertility and body composition [15].
Effects also include:
Swelling breast tissue
Erectile dysfunction
Infertility
Depression
Delayed puberty
Short stature
Increased fatigue
Muscle mass loss
Magnesium
Magnesium is a common ingredient in many supplements because of its benefits to muscles, particularly muscle recovery [16].
Our test groups underscore this benefit by reporting shorter recovery times from intense workout sessions.
Additionally, magnesium can increase testosterone levels in sedentary individuals and athletes, though research shows more of an increase for those who exercise [17].
Bioprene
Bioprene, a black pepper extract, is added to testosterone boosters and other supplements because it can help the body absorb the ingredients [18].
Ideally, this would mean optimal benefit from a testosterone booster, used as directed, with noticeable results within weeks. Our Prime Male test group confirmed this, although to varying degrees.
Pros
Increases sex drive
Manufactured in FDA-approved facilities
Reduces excess estrogen production
Moderate improvement in energy levels
Cons
One capsule four times per day is bothersome for some
Several reviews on third-party sites question receiving the genuine product
Some gastrointestinal discomfort reported
Stand-out Features
Beyond natural ingredients, there are other important factors when deciding which testosterone booster to purchase.
Let's take a closer look.
Where to Buy
You can only purchase Centrapeak directly from its official website.
Ordering from this site, run by Peak Nutrition Ltd, UK, ensures you get a genuine product, eliminating fraudulent transactions and higher third-party costs.
Prime Male is available on the official Roar Ambition website and third-party sites like Amazon.
Cost and Shipping
Ordering a one-month supply of Centrapeak directly from the manufacturer's site will cost you less per serving plus shipping, calculated at checkout.
Ordering the four-month or eight-month option will get you free shipping and significant savings.
For this review, we avoided third-party suppliers and ordered Prime Male directly through the manufacturer's site.
With free shipping, a one-month supply costs much more per serving.
The site offers two and four-month options and combo packs of Prime Male Vitality and Prime Male Enhance.
Money-back Guarantee
Centrapeak allows 60 days from receiving your order to initiate the return process for any product with an unbroken seal and condition suitable for resale.
Refund will be minus shipping and handling, and you pay the return shipping charges.
Prime Male offers a refund for any unopened, unused bottles if you purchased the product within the following time frame:
Within 30 days for Canadian and US consumers
Within 14 days for the UK and the rest of the world
Dosing
Centrapeak directs consumers to take one capsule three times a day. Our Centrapeak test group found the easiest way to remember was to take the capsule with each meal.
The Prime Male instructions say to take one capsule four times per day with a meal or snack.
Our Prime Male group noted it was easy to take with meals but had to make a more conscious effort to get the fourth capsule in with a snack.
Effectiveness
At the end of the testing period, we measured the participants' testosterone levels and body measurements and compared them against the baseline.
Participants in the Centrapeak group had improved vitamin D levels and a significant decrease in stress, giving them a strong sense of overall well-being and contributing to testosterone levels.
Body composition showed improvement for both groups, and users reported more energy and motivation for working out, with the overall results slightly skewed toward Centrapeak users.
Both groups experienced increased testosterone levels though the participants in the Centrapeak saw an average increase of 29%, and the Prime Male group experienced 18%.
FAQs
How Long Does It Take Centrapeak to Work?
It can take Centrapeak about a month to work for most individuals. A sign that its natural ingredients boost testosterone is increased performance, energy levels, and lean muscle growth.
Is Prime Male Good for Building Muscle?
Prime Male can be good for building muscle mass as it supports increasing testosterone and energy levels and decreasing estrogen levels with a formula of all-natural ingredients, all of which makes him a decent muscle-building supplement.
Centrapeak vs. Prime Male: Which Is the Best Testosterone Booster?
Both Centrapeak and Prime Male are good testosterone boosters, but the choice depends on your goals.
However, because Centrapeak proved to be more effective in the long term and focuses on overall well-being, and mental health, we give it a slight edge over Prime Male.
The feedback from our test group provided invaluable insight regarding increased energy, mental clarity, and motivation to hit the gym. The results from the Centrapeak group also showed a reduction in body fat across the board.
To maintain healthy testosterone levels, increase focus, and lean muscle gains, I encourage you to try Centrapeak.
Suited for Men & Women
Pros
Boron supports free testosterone
Reduced stress hormones to help boost testosterone production
Significantly increased energy levels
A strong sense of overall well-being
Only available on the manufacturer's website to ensure a genuine product
Get the BEST PRICE until the end of June
Cons
It can be considered a premium testosterone booster supplement as it's a bit more pricey than some other testosterone boosters
Was this article helpful?