As a personal trainer, I'm always excited to test out new dietary supplements. But the problem is that many brands invest more in advertising the product than the formula.
So when I was looking for new testosterone boosters, I heard a lot about Testogen and Prime Male, so I decided to give them a try.
Both products were put through an eight-week test period with a group of my clients. Then, the results were examined by our dietician.
Here's what we found.​​
Testogen vs. Prime Male: What Are the Key Differences?
The key difference between Testogen and Prime Male lies in the ingredients list, the dosage used, and the price.
While both formulas contain natural ingredients, their quantities vary, which may influence their effectiveness.
While these testosterone-boosting supplements have almost the same ingredients, Testogen has four additional ingredients and a higher amount of a few substances, such as D-aspartic acid (D-Asp), boron, magnesium citrate, vitamin B6, and black pepper.
On the other hand, Prime Male contains more Korean red ginseng extract, zinc, nettle leaf extract, and vitamin D.
The benefits of several of these ingredients have been supported by science, including their ability to boost free testosterone levels naturally after they decline with age. We'll soon go into detail regarding the ingredients in both Prime Male and Testogen.
According to our dietitian, the difference in the amounts of these ingredients may make one product more effective than the other for some users, giving Testogen a slight edge.
In terms of pricing, Prime Male costs around $70 and is more expensive than Testogen, which is about $20 cheaper.
Features Head to Head
Based on my research and my clients' feedback after using Testogen and Prime Male, we will examine some of their features.
Testogen Features
Testogen is an all-natural testosterone booster manufactured by the British company Health Nutrition Limited in FDA-approved facilities.
The company claims that the supplement has clinically backed ingredients that provide your body with natural testosterone support and reverse the symptoms of low T.
Ingredient Formula
Testogen has a list of eleven natural ingredients: six highly efficient food extracts, five vitamins, and minerals.
This content is excellent because these nutrients are essential if you're looking to increase your body's natural testosterone production.
That said, Testogen's ingredients are all clinically backed by more than 25 cynical studies and research.
Let's go over some of the essential components of this product.
D-Aspartic Acid: Studies have shown that D-aspartic acid, the key Testogen ingredient, may help increase the natural production of the testosterone-critical luteinizing hormone (LH) and its release in the body, particularly in inactive men or those with low testosterone [1].
Related: Does D-Aspartic Acid Affects Testosterone Levels
Although past research on D-aspartic acid has focused on men due to its alleged effects on testosterone, it may also play an important role in ovulation in women [2].
Boron: Boron is another Testogen ingredient proven to raise free testosterone levels naturally and regulate your body's production of estrogen levels, particularly in men with low testosterone. According to a study, a 6-mg boron intake for a week is enough to increase your body's free testosterone [3].
Black Pepper: Testogen also contains black pepper, an ingredient with one lesser-known benefit; it may help boost testosterone levels by reducing sex hormone binding globulin (SHBG) [4].
Other Supplements Matched Against Testogen:

Suited for Men & Women
Effectiveness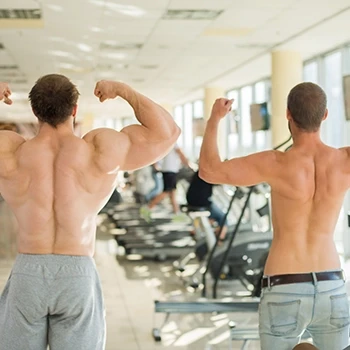 Another good Testogen feature is that this natural testosterone booster can help gym-goers boost performance and enhance blood flow due to the presence of ingredients like Fenugreek, vitamin B6, and black pepper.
In order to test Testogen's effectiveness, we asked a group of my clients who were deficient in testosterone to try it.
They either took a placebo or Testogen capsules for several weeks.
Most users have reported feeling less stressed after using Testogen, which might be explained by testosterone deficiency's relation to increased stress levels [5].
Additionally, some users reported that it helped them accelerate weight loss, which might be explained by the fact that low testosterone production can lead to weight gain.
In the same way, recent findings suggest that long-term testosterone therapy in men with testosterone deficiency reduces body fat, decreases waist circumference, and improves body composition [6]. 
Others reported improved sex drive after three weeks of using Testogen capsules.
Convenience
Testogen is unquestionably one of the safest testosterone boosters for men on the market. In addition, it's easy to consume as it comes in capsules and drops.
Instant Booster Drops can give an immediate energy boost because the substance goes directly into the bloodstream.
Testogen's bottle contains 120 capsules; you only need to take two capsules daily.
The product also comes with a complimentary guidebook on making the most out of the testosterone booster.
Adding to this, you can easily purchase Testogen from multiple third-party websites, unlike Prime Male, which is only available on their official site.
Pros
Packed with ingredients like Fenugreek, proven to increase testosterone levels
Ingredient doses are transparent, unlike many other testosterone boosters
100-day money-back guarantee
Available in the forms of capsules and drops
Prime Male Features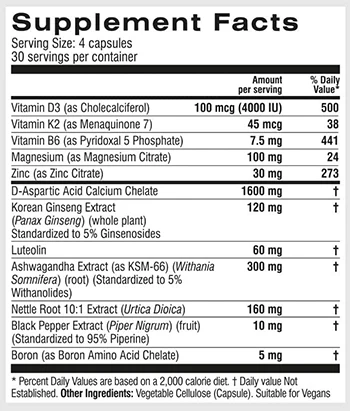 Prime Male is a high-grade test booster produced by the British company Roar Ambition. They claim that their supplement has clinically proven ingredients that work to increase your body's testosterone production.
Ingredient Formula
The main Prime Male ingredients are D-aspartic acid, vitamins B6, Ashwagandha extract, Mucuna pruriens (also known as velvet bean), Nettle root, and Red ginseng.
All of these have been shown to enhance energy levels, lift libido and boost sexual performance.
Compared to Testogen, Prime Male contains more Korean red ginseng extract, zinc citrate, nettle leaf extract, and vitamin D.
Let's go over the most beneficial ingredients in this testog booster.
Red Ginseng Extract: The Red ginseng extract in the mixture is designed to increase serum testosterone levels due to the major active constituent, ginsenoside [7].
Zinc: Zinc is an essential mineral for the human body and is involved in many biochemical reactions, including modulating serum testosterone levels in men and the immune system [8].
"Having a zinc deficiency can lead to low testosterone. Exactly why a lack of zinc impacts testosterone levels isn't fully understood. The mineral may affect the cells in the testes that produce testosterone."

– Mary Ellen Ellis, Editor at Healthline 
Nettle Leaf Extract: The nettle root has been used for centuries as a natural remedy to enhance sexual health and preserve muscle tissue and joints.
Prime Male includes it in their ingredient list because they believe that it can increase your body's own hormone production.
This is because nettle leaf extract may prevent testosterone's conversion into a more powerful form called dihydrotestosterone [9].
Vitamin K2: While Testogen uses vitamin K1, Prime Male offers vitamin K2. Although both substances have the same vitamin type, they may have different impacts on the body.
Research has shown that K2 can increase testosterone production in testis-derived tumor cells, is better absorbed by the body, and circulates in the blood longer [10,11].
Luteolin: Another essential ingredient added to Prime Male is luteolin, which has been demonstrated to increase natural testosterone synthesis by stimulating the conversion of cholesterol to pregnenolone, the hormone that serves as a precursor for testosterone production [12].
Suited for Men & Women
Effectiveness
We asked our customers to follow the same workout and dietary regimen without taking any testosterone supplement to assess the efficacy of Prime Male.
Then, we added Prime Male to the same exercises and nutrition programs.
Our testing data revealed that two weeks after taking Prime Male, our clients were able to spend more time at the gym and perform more reps.
Convenience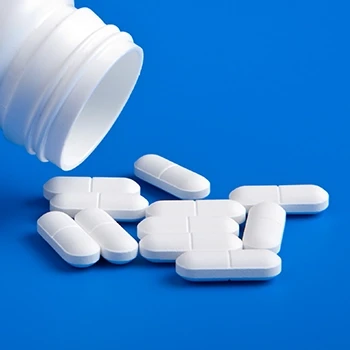 Most of the customers' reviews about Prima Male were positive.
Only a few people complained about the convenience of the product, as they found it challenging to keep track of 4 servings a day.
That said, the testosterone booster offers two bottles: Prime Male Vitality Complex and Prime Male Enhance.
You can pick a product based on your goals; while Enhance may boost your energy levels and treat erectile dysfunction, Prime Male Vitality is used to build muscle growth.
However, neither Prime Male's Vitality Complex nor Enhance offers testosterone booster drops.
Pros
100% natural ingredients
Increases libido and muscle mass due to the presence of ingredients such as D-aspartic acid and nettle root
Enhances focus due to the inclusion of zinc and D vitamins
Cons
Slightly more expensive than other T-boosters
Testogen vs. Prime Male: What Are the Side Effects?
The potential side effects of Testogen and Prime Male are upset stomach due to the presence of DAA and hair loss due to high levels of boron.
The two testosterone boosters are made with natural ingredients, so you typically won't experience these side effects unless you don't stick to the recommended dose.
That said, some of my clients did report stomach upset after taking a double dose of Prime Male.
That's why I always advise my clients to start with the lowest possible amount and increase it based on their responses.
Prime Male vs. Testogen: Unique Features
It's time to highlight features that make each of these natural testosterone boosters stand out from the rest.
Testogen
Testogen is a unique supplement that offers several benefits over other testosterone supplements.
First, Testogen contains some ingredients clinically proven to boost testosterone levels that are missing in Prime Male and many other similar brands.
The most important one is Fenugreek, which has been shown to raise testosterone levels significantly and improve cholesterol and blood pressure.
In a 12-week experiment with 50 men, it was found that those who took a daily dietary supplement with protodioscin-rich Fenugreek experienced up to 46% increase in 90% of participants' testosterone production [13].
Second, Testogen is backed by a 100-day money-back guarantee, so you can try it out and decide if it works for you.
Finally, Testogen offers free shipping on orders over $99, so you can save money on your purchase.
Prime Male
Prime Male contains Ashwagandha extract, a missing ingredient in Testogen, which has been used in traditional Indian medicine for centuries.
Modern science has begun to validate its many potential overall health benefits, including boosting testosterone levels and sperm count.
Prime Male also contains Mucuna pruriens, an ingredient rarely found in testosterone supplements.
This plant may boost testosterone production and overall hormonal balance because it contains amino acids, minerals, and many other nutritional components [14].
As mentioned above, Prime Male offers two types of boosters: Prime Male Vitality Complex and Prime Male Enhance.
While Enhance may improve your energy levels and treat erectile dysfunction, Vitality Complex is used for muscle growth.
Males of any age can benefit from Prime Male's products, but our testing showed that it had the best results for those older than 30.
What Do Testogen and Prime Male Have in Common?
Both Prime Male and Testogen are made in FDA-approved facilities, so you can be sure that the formula originated within a secure environment.
The majority of the all-natural components that have been proven to increase testosterone levels are present in both products.
However, Testogen has a higher concentration of some important components, including the amino acid D-aspartic acid,  boron, and magnesium citrate.
How Do Testogen and Prime Male Work?
Prime Male's ingredients have been expertly chosen to work together and create a powerful synergistic effect.
The result is a testosterone booster that can help men experience the benefits of optimal testosterone levels.
The company states that you can get the most out of their product after taking three Prime male capsules daily with water for at least two to three months.
With that in mind, my clients reported experiencing some benefits within the first few weeks of use.
Similarly, the company behind Testogen claims their product can boost testosterone production and, as a result, increase your lean muscle mass and strength and improve your mood and cognitive function after using it for at least two months.
I advise my clients to use it consistently and stack it with other supplements to enjoy all the benefits that come with increased testosterone levels.
FAQ
Who is Prime Male Formulated For?
Prime Male is formulated for men over 30 to combat low testosterone effects like mood swings, increased belly fat, and reduced bone density.
Yes, Testogen is safe because it contains pure, natural ingredients. It's manufactured in FDA-approved facilities and backed by a 100-day money-back guarantee.
Prime Male vs. Testogen: Which Product Should You Invest In?
I never recommend anabolic steroids to any of my clients because of the severe side effects they may cause. Instead, testosterone supplements can be great alternatives.
Based on our research and our testing results, I believe that Testogen is the best testosterone booster for men.
Although both Prime Male and Testogen have worked wonderfully for my clients, the second product has an advantage.
It contains more efficient ingredients, has fewer side effects than Prime Male, and is also more affordable, especially when you get a two-three months supply.
Suited for Men & Women
Pros
Packed with ingredients like Fenugreek, proven to increase testosterone levels
Ingredient doses are transparent, unlike many other testosterone boosters
100-day money-back guarantee
Available in the forms of capsules and drops
Get the BEST PRICE until the end of September
Was this article helpful?