Kamaru Usman, also known as the Nigerian Nightmare, is a former freestyle wrestler who has swiftly risen through the welterweight division to become a multi-time UFC champion.
He currently holds the top spot in the men's pound-for-pound rankings.
As a fitness coach, I find Usman's unwavering dedication to his training, evident in his relentless hours at the gym and meticulous focus on his diet for optimal nutrition, to be truly inspiring.
He serves as a motivating example for me to emphasize the importance of consistent training and proper nutrition in helping clients achieve their fitness goals.
Quick Summary
Kamaru Usman is a Nigerian-American marathon fighter and mixed martial arts expert who competes in the UFC welterweight division.
Usman's training regimen consists of rigorous sessions for five days a week, with lighter training on the remaining two days with exercises such as deadlifts, push-pull movements, medicine ball punches, and sled sprints.
Usman emphasizes water as his core dietary component; he also consumes eggs and spinach at least four times a week and fruits later in the day for added nutrition.
Kamaru Usman Stats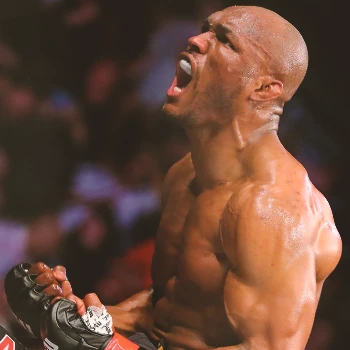 As the reigning UFC Welterweight Champion, the MMA fighter Kamaruddin (Kamaru) Usman has successfully defended his title on multiple occasions.
Following his initial success in MMA, Usman received an invitation to compete in The Ultimate Fighter, a platform designed for emerging fighters in the UFC.
His lifelong aspiration of winning an Olympic gold medal in wrestling was thwarted by injuries, leading him to shift his focus to mixed martial arts.
He sought guidance from UFC Hall of Famer Rashad Evans to further build up his wrestling foundations in his transition to MMA.
Date of birth: May 11, 1987 (35 years)
Height: 6'0'' (182.9 cm)
Weight: 195 lbs (88.5 kg)
Waist: 33 in (83.8 cm)
Chest: 42 in (106.7 cm)
The Kamaru Usman Training Routine
The long training sessions of the UFC welterweight champion consist of deadlifts, push-pull exercises, explosive medicine ball punches, and sled sprints.
Usman works out 2-3 times every week, and he follows the following training regime:
L-sit pull-ups: 5 reps x 5 sets
Assault bike sprints: 10 sec. x 10 sets
Landmine punches: 15 reps x 5 sets
Explosive medicine ball punches: 15 sec. x 5 sets
Kettlebell farmer's carries: 10 reps x 5 sets
Sled sprints: 40 yards
Usman revealed that he is very particular about his workout patterns, especially when preparing for championships.
To prepare for his fight against Covington, he brought in sparring partners who could replicate the wrestling style of the former freestyle wrestler.
Related Articles:
Carb-Based Diet Plan and Supplements

Usman collaborates with Clint Wattenberg, the director of nutrition at the UFC Performance Institute, to ensure he meets all his dietary requirements.
He emphasizes that his body requires food with an excessive amount of carbs and proper hydration to make up for the lost fluids during training [1]. 
His daily nutrition includes eggs, spinach, and various fruits such as apples, blackberries, and blueberries for a well-rounded diet that prevents injury [2].
Here's what his everyday meal plan looks like:
Breakfast: oats, mushrooms, spinach, and eggs
Mid-day snacks: Greek yogurt, almonds, protein bar
Lunch: Grilled chicken/steak, brown rice, sauteed vegetables
Evening snack: Protein shake
Dinner: Grilled chicken, sweet potato, asparagus
"For someone like myself, I'm extremely lean, and my body requires food that fuels the high level of endurance that fits my fighting style."

- Kamaru Usman
To perform at his best, Kamaru Usman also takes the following supplements:
BCAAs
Glutamine
Creatine
Multi-vitamins
Usman advocates the use of pre-workouts to enhance training performance and has even launched his own pre-workout powder.
What Does He Avoid?
Usman avoids all sorts of junk food and chemical ingredients that may slow down his growth and recovery.
He steers clear of artificial additives, fried foods, and refined sugar in his diet.
FAQs
Does Usman Train at Altitude?
Yes, Usman trained at an altitude of 6800 feet above sea level with his training partners in Colorado. Usman explained that training at high altitudes presents challenges for recovery as the body has fewer red blood cells, requiring additional effort to compensate.
How Much Does Kamaru Usman Naturally Weigh?
Kamaru Usman naturally weighs about 195 pounds, though he usually fights at 170 pounds.
How Is Usman So Muscular?
Usman is muscular, as he follows a rigorous workout routine every day with a strict diet focusing on healthy carbohydrates. His training revolves around pushing, pulling, and deadlifts, which increase muscle hypertrophy.
What Cardio Does Kamaru Usman Do?
The cardio Kamaru Usman includes skipping, aqua jogging, and assault bike sprinting. He performs heavyweight cardio sessions to build muscle endurance.
---
References: 
https://www.ncbi.nlm.nih.gov/pmc/articles/PMC8336541/

https://www.ncbi.nlm.nih.gov/pmc/articles/PMC8746600/
Was this article helpful?