If you love watching mystery-crime drama TV shows, then you probably binge-watched Veronica Mars as I did.
I hadn't seen Kristen Bell's movies before Veronica Mars, but I could immediately tell from her figure that she takes her wellbeing seriously.
After some initial research, I was pretty surprised about how she approaches her exercise routine. So, we dug deeper to get the details of what Kristen Bell does at the yoga studio and gym.
And in this Kristen Bell workout and diet review, we'll give you the details to follow Kristen's approach.
If you need a reliable workout mat for yoga, you may want to check out the exercise mats we recommend based on 194 hours of research.
Quick Summary
Kristen Bell's workout routines range from wall squats, burpees, mountain climbers, side planks, walking lunges, leg raises, yoga, and a minimum of 10,000 steps walk.
Plant-based protein, vitamins, and minerals are the supplements Kristen Bell takes.
Kristen Bell is a long term dedicated vegan, and she eats different vegan healthy recipes.
Kristen Bell's Stats
DOB: July 18, 1980
Height: 5'1"
Weight: 106 lbs
Waist: 24"
Chest: 34"
As you can tell, Kristen isn't the tallest celebrity we've researched, but wait until you see how she trains.
However, her small physical size certainly hasn't made Bell shy away from pushing to the limits.
Kristen Bell Workout Routine
Kristen Bell stays healthy and fit with a dedicated daily approach to remaining active.
What we like about it is that it doesn't require hours of commitment.
Bell has a busy schedule for her acting career, and by sticking to 30-minute workouts per day, she's managed to stay in great shape.
Monday: Circuit Training
For this, her workout routine provides some high-intensity interval training [1].
It's a short circuit, but you'll be pretty sore after just half an hour.
Complete 3 rounds of these:
Burpees - 20+ reps
Wall squat - 45 seconds
Forearm plank - 90 seconds
Inchworms - 20+ reps
Mountain climbers - 20+ reps
Tuesday: Yoga Studio
Sometimes she'll also switch to pilates, but Kristen makes sure that it's a low-impact but straining form of workout.
Wednesday: Circuit Training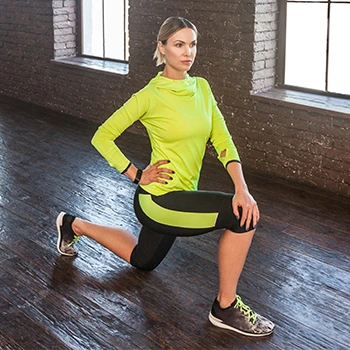 Bell will step things up a bit from Monday to make this a stricter routine
Complete 3 rounds of these:
Burpees - 25+ reps
Wall squat - 60 seconds
Side plank - 60 seconds each side
Leg raises - 15 reps
Walking lunges - 90 seconds
Thursday: Outdoor Jog
It's time to get outside for a jog, with the aim being to run at a modest pace for about 30 minutes. It seems like 30 minutes is the magic number for Bell, and it's ideal for people who may not be able to dedicate many hours to their fitness routine.
Friday: Yoga Studio
It's another trip to a yoga class, and these shouldn't be the simple poses. Instead, make sure they are yoga poses that physically challenge your body and get your heart rate up.
Saturday: Minimum 10,000 Steps
On Saturdays, Bell takes a step away from workouts intending to relax outdoors. Kristen Bell's goal is 10,000 steps through several leisurely walks.
Sunday: Optional Yoga Studio
This is technically a rest day at the end of the week, but it doesn't mean that Bell sits on the couch all day. Some optional yoga or a light workout would be part of active recovery.
Kristen Bell's Workout Principles
Kristen Bell's super transparency about her physical and mental health struggles is commendable.
And she has commented a few times that her focus on a fit body through workout and dieting is what had some of the most significant impacts on her mental health.
Her weekly focus is a combination of circuit training, pilates, and trips to the yoga studio, where she also takes advantage of breathing techniques as a form of mindfulness.
Now, Bell doesn't spend hours at the gym or on any particular exercise, but she aims for some form of activity every day.
Even on her rest day, she'll aim for a minimum of 10,000 steps to keep her body active.
"I pushed myself way too hard during the first year of Veronica Mars, and I got moody and run-down. So now I'll go to bed early instead of going out with friends. It's not always the most fun option, but I know I need at least eight hours of sleep to feel balanced."

- Kristen Bell
Kristen Bell's Diet Principles
As you can see in the above meal plan, Bell avoids junk food and puts a heavy focus on veggies. And at the core of her approach is a long-time dedication to a vegetarian diet.
Vegetarian Diet
While Kristen Bell's meal planning often goes all the way to the vegan side, on most days, she will add some dairy like Greek yogurt, cream cheese, and egg whites for a more rounded diet.
She also eats and enjoys something she calls "garbage disposal" salad, where she tosses greens like spinach, tomatoes with olive oil, and a fig-glaze dressing.
Kristen Bell's not a stranger to her kitchen, where she prepares simple but delicious meals like Banza chickpea pasta with cherry tomatoes and olive oil for her family.
But Kristen Bell's main focus is to get as much plant-based protein as possible and limit the simple carbs.
Kristen Bell's Supplements

Unlike many other celebrity workout and diet plans, she seems to limit her supplements to just these two.
1. Vitamins and Minerals
The actress adds a high-quality multivitamin supplement for women to her daily intake, especially during the winter months, to boost her immunity. But those micronutrients also play a crucial role in staying in shape, especially with a busy schedule for filming.
2. Plant-Based Protein
A great option is a pea protein powder, as it may be easier to digest [2]. Pea protein is also highly sustainable, provides a good range of amino acids and vegan protein powde
---
References:
https://www.menshealth.com/fitness/a25424850/best-hiit-exercises-workout/
https://jissn.biomedcentral.com/articles/10.1186/s12970-014-0064-5
Was this article helpful?