One of the top client requests for celebrity workouts I get is for sure Nikki Bella's.
This WWE diva works very hard and follows a strict diet with regular workout sessions.
I've spent countless hours studying her workout regimen, so now you too can follow Nikkie's exercises, meal plan, and supplement intake.
Quick Summary
Nikki Bella's workout examples include lunges with medicine balls, mountain climbers, push-ups, squats with medicine balls, crunches, barbell twists, and planks.
Bella also performs yoga classes once a week for both mental and physical health.
Protein Shakes, green tea extract, and creatine are supplements Nikii uses to boost her results from workouts.
Nikii Bella also engages in Pure barre classes to maintain her weight and fat-free belly.
Her Stats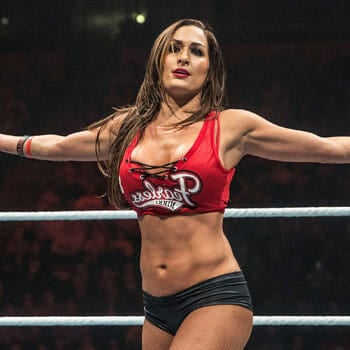 Height: 5' 6"
Weight: 131 lbs
Measurements: 35-24-34
Part of the Bella Twins duo, Nikki is a retired professional wrestler. Ever since making her debut in WWE in 2008, Nikki Bella has been an inspiration for fans.
She won the WWE Divas Championship twice, which makes her the longest-running champion.
Rolling Stone named her Diva of the year, and Pro Wrestling Illustrated ranked her #1.
Nikki retired from the wrestling world in 2019 and now focuses on the TV show Total Bellas with her twin sister Brie.
Although she describes herself as a tomboy, she's not one to suffer from a lack of confidence.
Nikki's curvy body is the envy of girls everywhere. She works hard to maintain her body and follows a strict diet. Check out how Nikki stays in shape below.
Nikki Bella's Workout Routine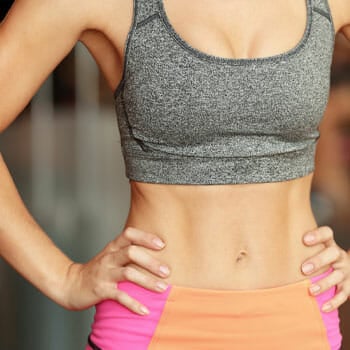 A San Diego native, Bella grew up playing soccer and other sports, which gave her an athletic build even before she started hitting the gym.
Apart from regular gym workouts, I also advise my clients to play sports as this is a great way to develop inner strength.
Although she's now retired from the WWE, Nikki still goes to the gym five times a week, for an hour and a half.
Daily Training

Start with a 30-minute cardio session which includes running on the treadmill and sprinting

4 lunges with 10-pound medicine balls

Do mountain climbers for one minute for a full-body exercise

3 sets of 20 pushups 

20 squats with a medicine ball to work out the arms and butt

3 sets of 15 reps with a 5-10 pound dumbbell for capped delts

3 sets of 12 push presses for upper body strength

End with abs, 50 regular styles, follow with 50 bicycles — alternate the legs and hit the legs with the opposite elbow
 "When I'm feeling the burn and dripping with sweat, doing all those abs takes me to the next level."

- Nikki Bella, Retired Pro Wrestler
Although she used to lift heavy weights to burn fat in the past, she says it made her uncomfortable, and she found pumping iron boring.
Nowadays, Nikki likes:
Barbell twists
Planks
Russian twists
Crunches
She does these and more to keep her waistline fat-free and spine muscles strong.
Diva is a huge fan of core work. I've also found having a strong core is important to keep healthy and safe when working out.
Both Nikki and her sister are yoga fans, and they go to a yoga class at least once a week for both physical and mental health.
 

View this post on Instagram

 
Pure Barre Class
One of the most common search query questions is what's Nikki's secret to being in top shape.
I've got the answer for you. It's Pure Barre class. It's been made popular by ballet dancers, and it's now the rage on the fitness scene.
Barre class is a combo of ballet and pilates, and both twins are huge fans. In fact, Nikki says her sister got her into it.
Nikki especially likes plies to work thighs, shoulders, and posture.
She usually goes to barre class 2-3 times a week and does 3 sets of 15 plie squats with a 20-30 pound kettlebell.
This is a great way to maintain her weight and have that chiseled, fat-free belly.
On the days when she doesn't go to Barre class, Nikki does the elliptical machine because it's easier on her knees, which took a beating during her wrestling career and playing soccer with her sister when she was younger.
Check out a youtube video of the wrestling stars' workout.
You want to know how she recovered after an intense workout session or a match? Her #1 recovery tip is sleep. She puts an eye mask on, and after 8 hours of sleep she's a whole new person.
Nikki Bella's Diet Plan

Another popular search query question is about Nikki's diet. Yes, she does like her red meat and vegetables, but that's not all.
Now that she's a mom, Nikki's diet and lifestyle have changed a lot since her wrestling days, but her meal plan is athlete-worthy. Here's everything Nikki eats in a day.
Breakfast
Black coffee with cinnamon
Two scrambled eggs with multigrain toast
Snack
Apples, grapes, or fresh cucumbers
Lunch 
Sandwich with pickles and chicken breast
Veggies like broccoli
Afternoon snack
salad or celery with peanut butter or carrots and fresh guacamole
Dinner
Chicken or steak
Vegetables
Nikki uses fresh produce from her garden. She likes to cook them with some rice and an egg with olive or avocado oil.
Whenever I have a client that struggles with their food, I tell them to count calories.
This is also what Nikki does. She says it has helped her keep her weight stable knowing when to indulge and when not to. She uses the My fitness pal app for counting calories.
Both Nikki and her sister believe in the motto "everything in moderation." Twins allow themselves cheat meals occasionally, and they think not depriving themselves is the best way of staying in good condition.
If she feels like eating an avocado or a dessert, she'll have it. Then, the athlete will make sure her other meals are healthy, with low calories.
Nikki is a self-proclaimed doughnut queen and loves carbs and sweets, such as sushi, pasta, pizza.
When she was a pro-wrestler, she stayed clear of junk food when she had an important performance and let up a little once it was over.
"It's how God made me. I see traits of my body in my mother and grandmother, and it makes me proud. This shape isn't going anywhere."

- Nikki Bella, Retired Pro Wrestler
Ultimately, Nikki says she's a latina with curves and a generous butt, but she doesn't starve herself to lose pounds. Instead, she follows a balanced diet recommended by a dietician.
What Supplements Does She Take?

Protein Shake
When professionally wrestling, Nikki was often on the go. This meant being very active and not having enough time to eat. Something that's a great meal substitute is a glass of protein shake.
Pro tip:
This is a healthy option that'll give you energy and strength for lifting weights.
Green Tea Extract
Nikki uses Green tea extract when she needs help to lose weight.
I also often advise my clients to use green tea, as it's full of benefits such as:
Helps heart health — Green tea antioxidants can decrease inflammation and help lower blood pressure. (1)
It's good for the brain — Protects brain cells from oxidative stress, which can lead to mental diseases
Good for the skin —It can help treat skin problems, such as dermatitis and rosacea
Creatine
Creatine is a common supplement wrestlers use, as it helps have more strength and energy.
Creatine benefits include:
Muscle functions — Creatine helps in adding muscle mass
Improves brain function — The brain requires a significant amount of adenosine triphosphate (ATP) when performing difficult tasks. Creatine can increase phosphocreatine stores in your brain to help it produce more ATP. (2

)
---
References:
https://pubmed.ncbi.nlm.nih.gov
https://www.healthline.com/nutrition/10-benefits-of-creatine
Was this article helpful?