Maggie Q has become a renowned and badass action movie star. And she's showing no signs of slowing down or stepping away from those stunts and fighter roles she plays.
Our team has followed her social media accounts for a few months to find out what her secret to a slim body is. Fortunately, she's shared a lot of information on her exercise and diet.
So, we gathered up all that info and put together this Maggie Q workout routine and diet guide that has become a big hit with our clients.
Quick Summary
Examples of Maggie Q's workouts are yoga, spinning as a cardio workout, swimming, running, martial arts, and boat rowing.
Maggie is a strict vegan and she has maintained a plant-based diet for more than 20 years.
Cashew milk, almond milk, flax seeds, salad, smoothies with fruits, unsalted mixed nuts, mung beans, and basmati rice, are examples of meals Maggie consumes.
Maggie also takes the following supplements; protein powder, super greens, multivitamins, and minerals.
Her Stats
Born: May 22, 1979
Height: 5'6"
Weight: 110 lbs
Maggie Q has starred in action films like House Of The Dragon, Mission Impossible III, Designated Survivor, Nikita, Gen Y Cops, and Rush Hour 2, where you can see that she has a passion for action stunts.
Before her Hollywood career, she worked as a model in Hong Kong, Taiwan, and Japan.
And it was at an event in Hong Kong that a member of PETA showed her what the fashion and beauty industry and meat production do to animals.
She immediately converted to a plant-based diet cold turkey and became an outspoken animal rights activist.
Maggie Q's Training Approach
Maggie Q's workout plan is all about staying as active as possible and combining many different types of exercise.
The first thing we noticed is that she does some form of exercise every single day.
That might surprise a lot of readers because you're meant to have a rest day, right?
Not for Maggie, but she has planned out a workout routine that is fun and still allows her body to not be pushed to the limits without recovering enough.
One central factor for her is that even with a busy work schedule, she blocks out time for exercise.
Even if it's just a short yoga or pilates session. And that's why she's in such amazing shape.
Maggie Q's Workout Routine
The Maggie Q workout routine is probably one of the most mixed-up types I've ever seen, but I also totally get why it works so well for Q.
Normally, action stars base their workout routine entirely on a gym workout 3 to 4 days a week with some added cardio sessions.
But Maggie Q almost seems to have an aversion to a gym setting, which makes her rather unique in the world of Hollywood stars.
Monday: Yoga
Maggie Q is a big fan of Katonah yoga, which is a unique practice of teaching students the how and the why of each yoga pose.
It involves linking the physiological benefits of yoga with psychological ones to create a more conscious connection between body and mind.
Tuesday: Cardio (Swimming)
Maggie Q loves swimming and will favor the open waters of the Ocean over a pool any day.
The great advantage of swimming is that you can make it as intense as you like and still avoid unnecessary strain on your joints.
Wednesday: Yoga
Through years of practicing, Q has managed to master advanced poses like the forearm stand and crow pose.
I would certainly not advise you to practice them until you've gained enough strength and balance.
But it's these types of poses that explain why Maggie Q doesn't have to battle weight loss.
Thursday: Cardio (Spinning)
Maggie Q doesn't have a bulky physique, but there's plenty of lean mass.
While most people use spinning as a high-intensity cardio workout, the right modifications can make this an ideal class for gaining some muscle.
Friday: Yoga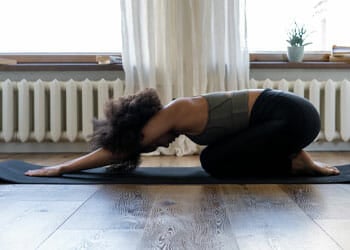 Yes, Maggie Q hits a yoga class or a home routine three times a week, and it's why her body is in such good shape.
Q is also able to take advantage of the flexibility she has gained in many of her fight scenes.
Saturday: Cardio (Running & Rowing)
To avoid getting bored with the same types of cardio, Maggie Q will spice up her routine with some running or rowing.
If she's preparing for a new movie shoot, then she sometimes adds more spinning classes to help her gain some additional strength.
Sunday: Active Recovery
Maggie Q doesn't seem to be a fan of spending a rest day on the couch with Netflix.
Instead, she goes for walks and hikes or does some low-intensity water sports.
It's all about boosting the blood flow to repair muscles [1] and maintaining balanced blood sugar levels.
Martial Arts
Maggie Q also goes through regular martial arts training, including Taekwondo, Muay Thai, and boxing.
Boxing also serves as a cardio and strength routine, and you can see in movies like Nikita that she's well able to throw a punch.
"I'm just totally into being strong. There's something about wanting to get a jar or whatever out of a high cupboard, or moving a sofa over because my dog's bone rolled under it, and not having to call anyone for help. There's comfort in that."

- Maggie Q.
Maggie Q's Diet Plan
Maggie Q's diet is strictly vegan, and she's stuck with a plant-based diet and lifestyle for more than 20 years. Fortunately, she's shared enough posts about diet recipes for us to put together a Maggie Q diet plan.
Breakfast:
Acai bowl with coconut meat, goji berries, coconut oil, and mixed fruit
Cashew milk with mint leaves
Snack:
Smoothie with fruit, maca powder, flax seeds, and almond milk
Lunch:
Large bowl of salad with lettuce leaves, spinach, kale, mustard seeds, and sea salt
Whole grain bread with almond butter
Snack:
Handful of unsalted mixed nuts
Dinner:
Kitchari with vegetable stock, mung beans, basmati rice, and coriander powder
Low-carb dairy-free dessert
Maggie Q is big into food science and researching all types of foods she considers adding to her vegan meal plan. And if she can't buy it at a fresh food market, then it likely won't become part of her diet.
Since Q spends most of her time between LA and New York, it's a lot easier for her to stick with very strict vegan diet plans.
But that shouldn't be an excuse to source low-quality and processed foods for your diet.
Do a bit of homework about what's available in your city, and you'll notice a big difference in your health, weight, and workout endurance.
Does She Take Any Supplements?

With workout routines that span seven days, there's no surprise that Maggie has a few supplements that she relies on.
1. Protein Powder
The majority of common vegan protein powders don't include the full amino acid profile. But if you pick a blend of rice and pea protein powder, you'll have everything your muscles need to speed up recovery.
2. Super Greens
Maggie co-founded the supplement brand ActivatedYou with Dr. Edison De Mello, and one of their most popular products is called Morning Complete.
It combines pre and probiotics with green superfoods [2] that claim to keep the gut healthy and digestion working at optimum levels.
3. Multivitamin & Minerals
To supplement her vegan diet, she makes sure she gets enough B12, zinc, and iron. With an active workout plan and an action star schedule, those are important to keep energy levels up.
The more active you are, the more important micronutrients become.
Are You Going to Try Maggie's Diet & Workout Routine?
Now, I would say that you don't have to switch to a plant-based diet or even force yourself to train like a boxer or MMA fighter to get the body of a model like Maggie.
With the right combination of healthy foods and plenty of physical activity, including yoga, pilates, and cardio, you'll get in top physical form and health within a few months.
Try it out, and then report back to us how it changed your life
---
References:
https://www.ncbi.nlm.nih.gov/pmc/articles/PMC5051742/
https://www.medicalnewstoday.com/articles/303079
Was this article helpful?