If you're struggling to meet your fitness goals by hitting the gym every week, maybe it's time you tried a home fitness DVD.
Now I know what you're thinking, and this isn't one of those jump-around aerobic dance lessons.
The Beachbody P90X workout and its sequel, P90X2 include rigorous training, meal plans, and other resources that help remove the guesswork from getting in shape.
Below, I'll go over the benefits of the original P90X vs P90X2 so that you can get started on improving your physique, all from the comfort of your living room.
I'll walk you through the difference between P90x and P90x2 so you can decide which workout is right for you.
*Keep reading to see why we don't recommend P90X and what alternative we suggest...
What is P90X?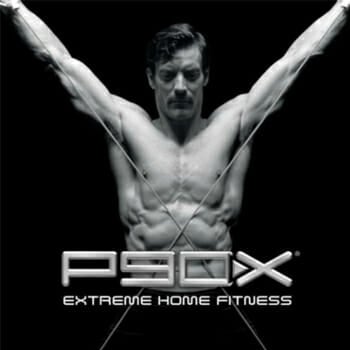 The P90X program is a total body home exercise routine that aims to give you a more sculpted look. Developed by Tony Horton's Beachbody, P90X uses the concept of "muscle confusion" to help you avoid plateaus.
Muscle confusion works by implementing short workout cycles that switch up which muscles you're using and the intensity required. By using this technique, P90X combines exercises that focus on endurance and muscle gain.
By avoiding plateaus, the P90X regimen can be used effectively over long periods of time.
Although the P90X workouts are intense (X does stand for extreme, after all), anyone can complete the routines with persistence and some standard home gym materials.
Using their schedule options, you can choose between focusing on fat loss and building lean muscle. The variety of exercises combined with Horton's famous motivational techniques keep people on track.
Related Articles:
What is P90X2?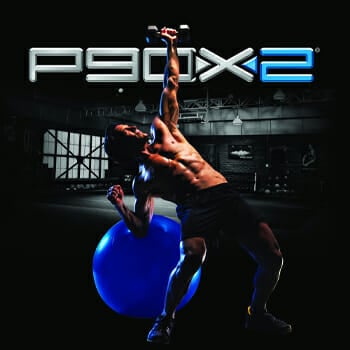 The P90X2 workout is a home exercise workout designed to be the athletically-focused sequel of the original P90X. By taking advantage of "post-activation potentiation" or PAP, P90X2 may help you generate explosive power and improve athletic muscle performance.
P90X2 is designed around the same 90-day goals in the P90X.
The difference between the two lies in the P90X2 three phases:
Foundation - focuses on your general flexibility and strength so that you can improve your range of movement and make the most of the upcoming phases.
Strength - aims to build up your strength through a variety of intense weight-lifting workouts.
Performance - works to maximize the long term benefits by improving your core strength, stability, explosive power, and locking in the progress you've made.
P90X2 has just as much direction and guidance as P90X but with a much bigger focus on achieving goals and making serious progress. If you're willing to commit to the program and you want to see definite results it is a more advanced and improved option to the original workout.
P90X and P90X2 Comparison Chart
To motivate yourself to enter and remain in your exercise environment, make it pleasant and inviting.
- Mark H. AnshelSports Psychologist PhD
So regardless of what you choose, following these regimens closely will likely result in positive health impacts.
To summarize the highlights of these fitness programs, here are two charts that review general information on P90X vs P90X2 as well as more specific differences in the workouts.
| | P90X | P90x2 |
| --- | --- | --- |
| Audience | Improve Overall Health for Beginners or Intermediates | Further Improve Athletic Performance for Experienced |
| Workout Styles | Muscle Confusion, Cardio and Yoga | Same as P90X except adds in Post Activation Potentiation |
| Schedule | 6 days a week, 1 rest day | 5 days a week, 2 rest days |
| Equipment Needed | Dumbbells/lightweight resistance bands, and a pull-up bar | Dumbbells/Resistance bands, and a pull-up bar |
| Price | $119.85 | $119.85 (with options to buy upgraded packages) |
| | P90X | P90x2 |
| --- | --- | --- |
| Range of Motion | - | ✅ |
| Endurance | ✅ | - |
| Cardio | ✅ | - |
| Weight Loss & Fat Loss | ✅ | - |
| Muscle Building | ✅ | - |
| Core Strength & Stability | - | ✅ |
| Workout Length | 40-60 minutes | 50-60 minutes |
P90X vs P90X2
Now that you've seen the overview of P90X vs P90X2 – I'll go into more detail about the several most important aspects of each so you can determine which workout is best for you.
1. Equipment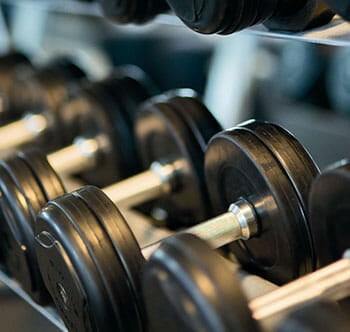 Both P90X and P90X2 require you to have some basic home exercise materials to follow their workouts effectively. P90X workouts are generally more straightforward and require little to no equipment.
For P90X, you will need a few pieces of basic equipment such as a floor mat, dumbbells, and a pull-up bar.
For P90X2, you'll need the same items, as well as a medicine and stability balls. Since P90X2 focuses on muscles that stabilize, it has a heavy focus on core exercises.
2. Workout Length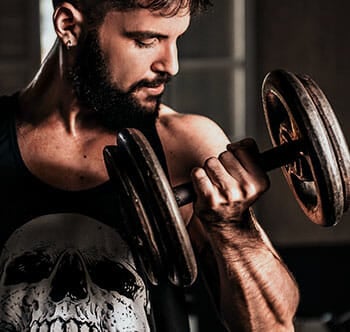 Both of these fitness programs include resistance and body-weight training, cardio conditioning, plyometrics ("jump training"), core exercises, stretching, and yoga.
Tony Horton will coach you through both workout programs. When choosing between P90X or P90X2, take into account what intensity you're ready for.
The P90X follows a 6-day on, 1-day off schedule. Exercises are generally 40-60 minutes in duration.
The P90X2 workout lengths are more challenging and quicker progression because of that.
It follows a 5-day on, 2-days off schedule, with the additional rest day to make up for the high intensity of the program.
Workouts are usually between 50-60 minutes in duration, and more strenuous than the P90X.
3. Intensity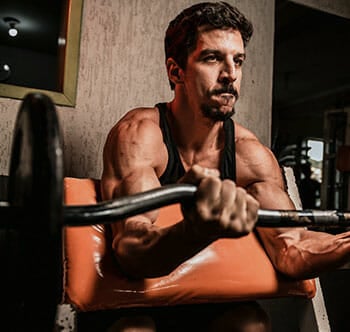 When comparing P90X vs P90X2, the intensity is the defining difference. To choose correctly, you'll need to have a good understanding of your fitness abilities.
P90X is aimed toward those who want a straightforward but challenging workout. It builds muscle, improves endurance, and conditions your cardiovascular system.
P90X2 uses sports science to boost strength and stamina for pro-athletes or those with advanced regimens. It focuses on strengthening muscles associated with stability and provides more variety.
When weighing P90X2 vs P90X, keep in mind that the routine in P90X2 is meant to further squeeze additional strength and power out of people who are already in great shape.
4. Diet Plan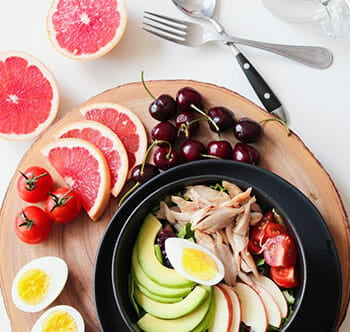 Both the P90X and P90X2 programs come with diet plans, but the plans differ since the intensity, and therefore the caloric and macronutrient needs will vary.
P90X comes with a diet plan designed by nutritionists who aim to provide the physique with the necessary balance of macronutrients to complete each task.
The P90X2 meal program uses the latest science in sports nutrition to inform their recipes. The meals also include variations and options that include vegan and grain-free options.
5. Cost
The cost of each is very similar or the same, depending on where you purchase it. Depending on where you live, these prices are comparable or better than most gym memberships, and you receive more resources and support.
Overall, the cost shouldn't be the deciding factor in which you choose. The programs have different audiences, so be sure that you choose the right approach for you.
P90X costs around $119.85 for the full package. The package includes 12 DVDs, a diet plan with nutritional suggestions, a workout calendar, and other materials.
P90X2's starter kit is the same cost as P90X at $119.85. There are additional options such as the deluxe kit for $239.85 and the ultimate kit for $299.85.
If you're unsure where to start, you can watch this video below by Youtuber Tim Heinrich to know which program is better for you.
FAQ
Can you do P90X at the gym?
You can't do P90X at the gym. Instead, the program aims to make home exercise just as, if not more, effective as your normal gym routine.
By providing everything you need at home, you can fit it into your busy schedule or into weeknight evenings.
Can you do P90X and weight lift?
You can do P90X and weight lift, but you might risk overtraining. Overtraining has been shown to cause muscle atrophy – or the loss of muscle mass. The P90X aims to target your entire body, so you won't lose any progress if you follow the workout program closely.
Is P90X considered circuit training?
P90X is considered a mix of circuit training, repetitions, and high-intensity interval training (HIIT). By combining the two, the program gives different parts of your body a chance to rest while keeping your heart rate up.
How many calories does P90X burn?
P90X burns approximately 500 calories an hour. However, this number will vary depending on which exercise you do, and current health factors such. Typically, you only need a 500 calorie deficit a day to start seeing results.
Can you gain muscle with P90X?
You can gain muscle with P90X through consistent cardio and resistance training. In contrast, P90X2 results in increased stability and the maintenance of muscle mass.
Both programs estimate that you'll see a difference in 12 weeks, but results may vary based on your efforts, genetics, and other aspects.
P90X vs P90X2 Review: Which is Better?
Overall, more people find success with P90X. Although intense, the program is easier to keep up with and remains challenging for both beginners and more advanced trainers.
P90X2 has its benefits, but only a handful of truly committed athletes and gym-goers can reap the benefits without risking strain or injury.
If you're looking for something more unique and involves discipline, then watch our Free "Saiyan Unleashed" Masterclass.
In this video, Total Shape coach Benedict Ang reveals exactly how to get incredibly shredded and insanely muscular without being a slave to the gym or restrictive diets.
Discover a regimen that promotes muscle growth, weight loss, and both beginner and advanced exercises for people who want to push their bodies further.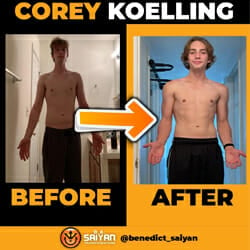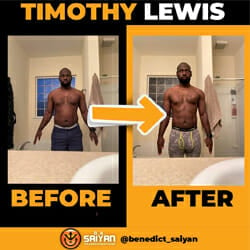 Our #1 Recommendation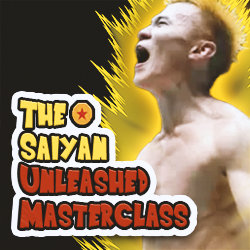 The Anime Physique Mastery Program
CLICK TO WATCH NOW

Was this article helpful?