Out of all the home exercise programs that I have analyzed and tried out, P90X is my top pick when recommending it to my clients. Setting up P90X means you no longer have to struggle to get to the gym.
I honestly believe what Tony Horton has put together in the P90X program for strength training stands out from everything else because it uses a wide range of exercises in a high-intensity interval fashion. In short, it allows you to perform different compound exercises.
Today, we are going to look at the P90X equipment list in order to set yours without straining.
Quick Summary
The Pull-up bar is one of the P90X equipment you should have.
Resistance bands are a must when setting up P90X as it is a good alternative for weights.
Yoga Mat is one of the affordable P90X requirement equipment.
You should also have a full P90X DVD set for a variety of exercise routines.
Can I Do P90X With Just Household Items?
Yes, you can do P90X with just household items, but you will struggle quite a bit with some of the exercises. This also very much depends on what you want to get out of the P90X workout.
For example, if you just want to lose some weight and not bulk up, you can use bottles of water instead of dumbbells. It's a simple solution and will work.
But, if you want to bulk up a bit, then you won't get around investing in some P90X accessories.
The biggest problem you might have is a pull up bar. It's not something a normal household will have, and with pull ups being such a central focus point of the exercises, you could end up struggling a lot.
The Minimum Equipment You Need

OK, let's start with some minimum recommended P90X workout equipment that you should invest in. These are all relatively inexpensive, and most of them you can get at Amazon or in a local sports store.
But one thing is for sure, they will make a difference to your weight loss and fitness levels, and will get you in really good shape.
1. The Full P90X DVD Set
When I first got introduced to this fitness system, it was only available as a set of DVDs.
However, you can get it online through a streaming subscription as well now. Either way, you'll need to get access to the physical or online P90X workout base kit.
This includes 12 different DVDs with a variety of health and fitness exercises, a nutrition plan, as well as an overall fitness guide.
This will give you all the instructions you need to do the workouts from day to day, and start seeing some results in your body.
2. Pull-Up Bar
This is probably not something you'll just have around the home, but you can get a decent pull up bar that fits onto your door frame for less than $30.
There are several DVDs that focus on back, shoulders, and chest strength that will require a variety of different pull ups.
3. Resistance Bands
Resistance bands are a really good alternative to working with weights.
They can target the exact same muscles, and with some of the thicker bands combined, you'll create a significant amount of resistance.
Also, if you're only getting started with this type of fitness training and you struggle with doing pull ups, then resistance bands attached to the top of a door frame will be a great alternative.
4. Yoga Mat
You can get a yoga mat very cheap, and it doesn't need to be a very thick one. While one of the workouts is a set of yoga exercises, you'll also need it on pretty much every other day.
From warming up to stretching, and especially the ab ripper workouts, you'll be glad to have something soft on the ground. You can also opt for an eco-friendly yoga mat which is better for the environment. (1)
Read: 10 Best Exercising Mats
Will The Minimum Equipment Limit What Exercises You Can Do?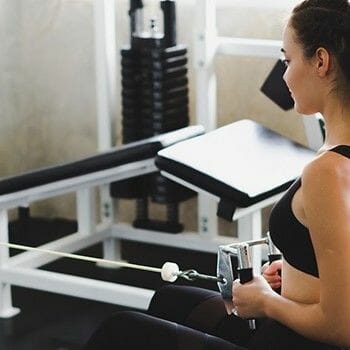 No, you will be able to do all of the routines from cardio to advanced fitness moves by having just the above equipment needed for P90X.
Even with just the resistance bands, you'll be able to follow along just fine and achieve the same results.
You'll even find that on quite a few of the days you don't need anything other than the DVD from the P90X equipment list.
For example, plyometrics uses just your body weight, and without any gear, you'll get some excellent fitness results.
What Equipment Will Help Improve Your Workouts?

Now, if you're not an absolute beginner and want to get the best outcomes from the time you spend doing this strength training, then you should consider spending a bit more on some other P90x equipment needed.
Just let me remind you, these are not necessary but will give you a bit more flexibility.
1. Adjustable Dumbbells
A full dumbbell set is going to cost you several hundred dollars for a good one, and they will take up a load of space. It's not a bad investment if you have some very high fitness goals and want to achieve a fully ripped body.
But a really good alternative is to get some adjustable dumbbells.
Just make sure that they can be adjusted quickly without the need for complicated tools, as you don't want to waste time between sets.
2. Push-Up Stands
Once you're able to keep up with doing more push-ups and you can get the full range of motion, then the next thing on your P90X equipment list should be some push-up stands.
They make it a lot easier on your wrists, and you can get an extra 4 inches in the down-move. That will add up over time and make a big difference in your strength and fitness.
3. Yoga Block
A lot of people aren't a fan of yoga, but the DVD included with P90X is actually really good.
It includes enough for beginners to get started, and even for advanced people, it's not going to get boring.
A yoga block will help with some of the moves, as well as with a few of the stretching routines on the rest day.
4. Pull-Up Rack
Once you've improved your fitness levels and you can do some actual unassisted pull ups, then you might want to replace your pull up bar with an actual rack.
It'll be a lot easier to get your feet off the ground, and you'll have more flexibility for your hand placements.
5. Heart Rate Monitor
Finally, I would add a heart rate monitor to the list. You can get these as simple chest straps that can be linked up to your phone. This device will really help to get you into the right intensity level.
And, if you monitor your heart rate over time, you should have measurable data about how your fitness levels are improving.
The core idea behind the P90X workout is what Tony calls "muscle confusion." By doing a different type of workout every day you'll keep your muscles guessing, which means you'll keep them working hard.

- Charlotte Anderson, Shape.com
How Much Space Will You Need?
I think I saw in some of the online advertising that 6 feet square is all you need. However, from my own experience, I would increase that to about 8 or 10 feet.
For the most part, you really won't need to be able to move around much, but that little bit of extra space will just make you feel more comfortable.
Also, for the plyometrics and Kenpo X routines, you could quickly bump into your furniture without the extra space.
Once you have set up everything you need you can watch this video below to start your own P90X workout at home!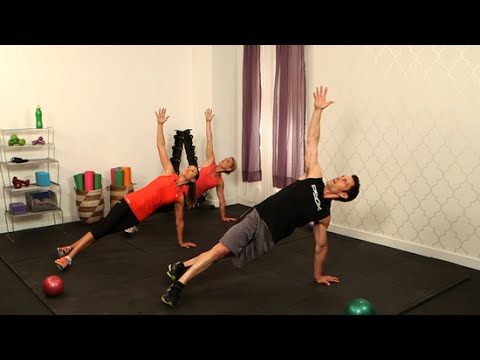 Was this article helpful?