As a personal trainer, I'm always interested in helping people choose alternatives to gym and fitness classes.
And I totally get it.
Heading to a gym after a tough day at work with only a few hours of free time isn't an option for many people.
So, when many people started raving about P90X, I decided to look into it a bit more.
So, let's dive right into my findings in this P90X review
What is P90X?
P90X is a 90-day home fitness program created by Beachbody Super Trainer Tony Horton. It includes exercises that challenge different muscles to help you get leaner. With just an hour a day, an exercise mat, and some home equipment, P90X can help improve your overall strength and enhance your core.
The principle of muscle confusion takes a healthy and balanced approach to weight loss, muscle growth, and overall strength.
It also offers a workout schedule to help you power through the routines while minimizing injury and a nutrition plan to bring your efforts closer to your goal.
But from the name itself, this extreme workout program may not work for everyone who wants to get lean and ripped.
Who is P90X For?
P90X is designed for men and women who have already developed their base level of strength and endurance. The program may seem simple, but the workout routines could be challenging for beginners.
You need lots of motivation and dedication to push through each session to achieve your desired results.
Based on the P90X review comments I've read, people who have never worked out before probably shouldn't start with P90X.
I agree with this. So if you're a total beginner, it might be best to start with a less intense workout program before trying P90X out.
P90X Benefits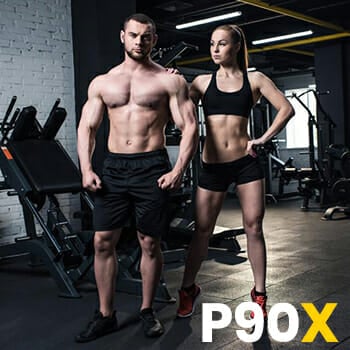 The first positive I have to note is that this is not some hastily put-together video of a few people doing some exercise routines.
There are a total of 12 different sets of exercises that cover everything:
All big muscle groups (from calves to shoulders)
Cardio
Yoga workouts
Warm-up before workouts
Cool down after workouts
Stretching
The bottom three options might sound unimportant to some people, but it's one of the best ways to prevent injury, especially for beginners.
Many people commented that this gave them a clear picture of what they had to do, just as if they had an instructor lay things out for them.
The instructions are very easy to follow, which many users appreciate since you don't have someone checking what you're doing.
With the package, you will also get a clear 90-day plan of action on which sets to do on any given day.
What I thought should be highlighted as good is that you don't need much space at home.
So, if you live in an apartment or a small condo, you don't have to worry about missing out on some exercises.
Having gone through all of them myself, I would say you only need about a 6 or 7-foot square area of free space.
Overall, the mix of high-intensity and cardio workouts provides tremendous weight loss and toning results.
All the feedback points to good results.
Any Downsides?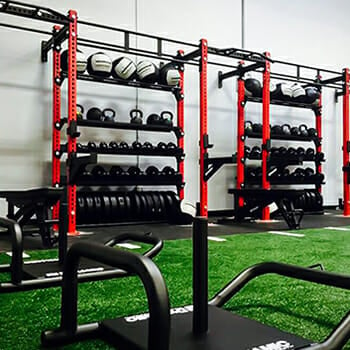 After all the P90X review comments I read and from my own experience, the overall opinion is highly positive, but there are a few minor things to consider.
First of all, to get the results that P90X promises in many promotional materials and videos, you will have to dedicate a lot of time.
How much time? The average video is about 60 to 70 minutes long, and there are 6 of these to do each week with one rest day.
Most people we've worked with can't take that much time out of their day, 6 times a week.
You can spread things out more, but this will delay your results.
Secondly, while most of the routines rely on bodyweight exercises like push-ups and squats, there are some extra pieces of gear you may need to buy, such as dumbbells, yoga mats, pull-up bar, and resistance bands.
One option is to buy one of the package kits available, though, which I'll get to shortly.
"The best unforeseen consequence of punishing myself with P90X, a project inspired by fitness fiend Paul Ryan, is the return of an appetite I haven't felt since pimples were an adolescent reality." - Eric SullivanContributor at GQ
What Do I Need to Know Before Starting P90x?
If you're considering P90X, here are some important things you should know:
1. You're not going to be motivated every day
Yes, even with the DVDs and the instructors guiding you from your screen, you sometimes won't feel like working out—and that's okay, as long as you still do it.
Keep persevering through the program, and always do your best. If you feel like you didn't give your all today, just get back on the horse the next day.
2. The workouts aren't going to be easy
There will be days, especially in the beginning, when you are incredibly sore and would want to quit.
If you feel like the workouts are too hard for you, modify them if needed, but never stop.
3. You're going to spend a lot of time making your meals
The P90x Nutrition Plan is an indispensable part of the P90X program, so you would want to follow it to a T. This means spending more time than you usually do on meal preparation.
Healthy cooking requires more effort because you're making food from scratch, but as overwhelming as it may be, remember that it's ultimately for your own good.
4. Track the weights you lift and the rep number
Writing down the dumbbell weight and the number of reps you did for the exercise will allow you to see progress and know what to pick next time for a good challenge.
Knowing what you did the previous workout will also help you work out more efficiently and choose the most effective dumbbell weight for your fitness level.
Pros
Obvious and easy to follow instructions suitable for beginners
Total of 12 different exercise routines covering all muscle groups
Diet plan included
Great combination of cardio and high-intensity toning exercises
You can do all the at home with very little space needed
Significant cost savings compared to joining a gym or fitness classes
Cons
To get fast results, you have to commit a lot of your time
You may need some additional gear
What P90X Burns the Most Calories?
The P90x Plyometrics workout burns the most calories, with an average of 14.7 calories burned per minute. Next in line is the Legs and Back workout, which burns around 12.4 calories per minute.
However, note that these numbers are merely estimates. The number of calories you burn during any activity will still depend on your age, gender, weight, and level of exertion.
How Do You Get The Best Results?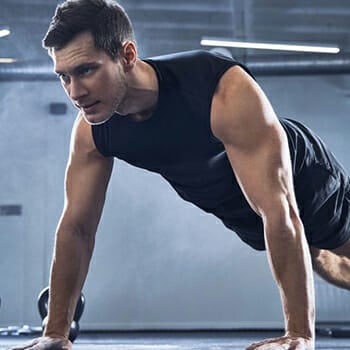 You will get the best results from P90X by committing 1 hour a day and making some changes to your diet as recommended by the included P90X diet plan.
I always remind my clients that their weight loss goals are 70% diet and only 30% exercise.
But, no matter what shape you're currently in, you need to have a starting baseline.
The other recommendation I would make is that you start with the fitness test included in the guide.
This test involves:
Pull-ups
Push-ups
Squats
Biceps curls
Heart rate maximizer
Once you've completed this, you're ready to start some workouts.
Before you do, though, we recommend that you print out the workout sheets and make sure you keep detailed track of what you do.
Finally, don't be disappointed if you struggle with some workouts.
If you stick with them, you will get better, and you'll notice changes to your body shape in a matter of weeks.
What Are The 12 P90X Workouts?

The P90X home fitness program provides various combinations of 12 different routines covering the lower and upper body.
Here is a quick overview of what you will receive:
Chest & Back: Heavy focus on pushing and pulling movements.
Plyometrics: This is all about jumping and bodyweight exercises for heavy and intense cardio training.
Shoulders and Arms: The focus here is activating these muscles by using dumbbells or resistance bands.
Yoga X: A surprisingly effective combination of yoga moves.
Legs & Back: Get ready for squats and lunges using just your body weight.
Kenpo X: A lot of fun with punching and kicking exercises based on martial arts.
X Stretch: This is great for muscle recovery and preventing injuries.
Core Synergistics: Heavy focus on core muscles.
Chest, Shoulders & Triceps: The focus is on the beach muscles (chest, abs, and arms).
Back & Biceps: Combination of pull-ups and curls to activate the back muscles and biceps.
Cardio X: Cardio workouts with a constant but lower heart rate.
Ab Ripper X: A quick ab ripper routine that you do multiple times a week.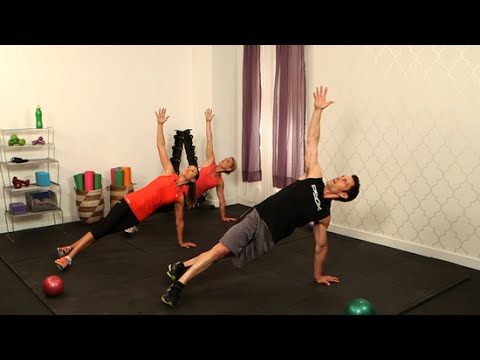 Should I Do P90X Lean or Classic?
If you want to start slow and work on the basics, you should do the P90X Classic workout schedule. It involves three days of resistance training and three days of yoga and cardio workouts.
These Classic exercises won't necessarily be easy, but they will allow you to build up as you go and work at a steady pace.
But if you want to focus more on your cardio and conditioning and less on weight resistance training, you should do P90X Lean.
The Lean schedule consists of four days of yoga and cardio and two days of resistance training. This will help you build lean muscle and burn fat quicker than the Classic schedule.
Our #1 Recommendation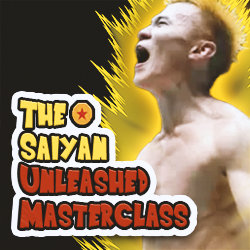 The Saiyan Unleashed Masterclass
Any Equipment Needed?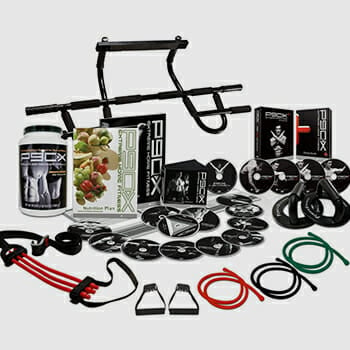 While a lot of the workouts will rely on just your body weight, there are a few pieces of equipment that you will probably need:
Exercise or yoga mat
Pull-up bar
Dumbbells or resistance bands
Push-up bar
Heart Rate Monitor (optional)
Based on the reviews I've read and having gone through the workouts in detail, the above list will give you everything you need.
A few extras like yoga blocks and additional weights can be helpful, but if you're starting and want to lose weight or build lean muscle mass, we recommend you spend the extra money on some supplements instead.
P90X Nutrition Plan
The P90X Nutrition Plan is designed to be used in tandem with the P90X workout routine.
It includes a three-phase eating plan that delivers the optimal food combination that your body needs to keep your energy levels high as you work through each step of the program.
The first phase is the Fat Shredder, where you'll be eating a high-protein diet to strengthen your muscles and help you quickly shred unwanted body fat.
Energy Booster, the second phase, will introduce a balanced mix of carbohydrates and protein with a lower amount of fat. This diet is meant to increase your energy levels for maximum performance.
The third phase, Endurance Maximizer, will have you consuming complex carbs and lean protein with a low amount of fat. This step delivers the fuel your body needs to complete the final few weeks of the program.
User Testimonials
"The P90X Workout is nothing short of amazing! If you're serious about getting in shape and bettering your body at home, this is the ideal solution!"- Erin Fitzwater
"The P90X system works. If you follow it, you will get results. Get up and get moving! The workout is easy to follow and fun and they include modified exercises for those who need it."-Crystal
"P90X is definitely great if you prefer working out at home. I was very happy with my purchase and results." -Jay Ci
Is P90X Really Effective?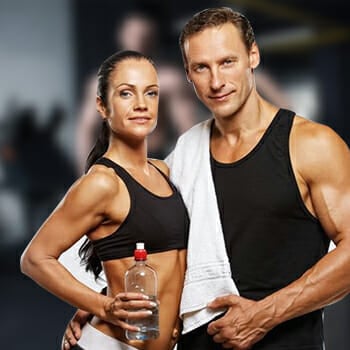 Yes, P90X can be effective provided you commit to the exercise program and diet plan. A lot of people don't get the full potential results because they only take a half-hearted approach to changing what they eat.
If you listen to Tony Horton and a lot of the advertising material, this program works because of "massive muscle confusion."
The constant switching of muscle groups and exercise routines can make your muscles become "confused" and react better to the stimulating effects.
I think this  "muscle confusion"  thing is a little bit of a marketing gimmick, and it's more down to the fact that you will be doing a lot of compound exercises that target groups of muscles rather than individual ones.
When you're doing strength training, and you work on multiple muscles at the same time, you will:
 Get more out of every minute you work out
The result is enhanced body fat burning and bigger muscles.
''So what's the secret or technique that P90X claims make it so effective? Constant manipulation. Your body is highly adaptable, and when you go into the gym day after day after day and perform the same workout over and over again, it's going to get used to it.'' - Shannon Clark, Personal Trainer
Is P90X Better Than the Gym?
P90X is better than the gym if you have these four things: space, equipment, time, and most of all, commitment. Many of my clients who are also gym-goers say they prefer P90X because it involves no further costs other than purchasing the DVDs.
It's also super convenient because they can do it at home; they don't have to drive anywhere to get the workout they need.
If you're confident that you can motivate yourself without personal trainers, then P90X is definitely a better choice than the gym.
P90X vs P90X2 vs P90X3

This is something that confuses a lot of people, but the explanation of these 3 programs is quite simple.
You already know what P90X is all about, so let's move on to X2.
This is essentially a graduate program to be done after completing the first one.
It intensifies the workouts even more, focusing more on muscle building than weight loss, so we recommend it to some of our more experienced clients and those who have already completed P90X.
X3, on the other hand, is made up of workouts that are "just" 30 minutes long.
They are still very intense but designed for people who are a bit strapped for time in their day.
This is the best option for people who are doing long hours at work or have a lot of things to care of during the day, so they can only separate a small portion of their time for working out.
The first one helps with weight loss and looking fitter, the second builds on that to look more athletic, and the third one is for those short of time.
You can see a more detailed comparison between P90X vs P90X2 here.
Other workout programs we reviewed:
How Much Does P90x Cost?
At the time of writing this review, the P90X cost was between $120 and $330, depending on the package you choose to buy.
And let me start by saying that the base package is excellent to get you to your goals, but you will have to budget for some extra gear.
Let me break it down by package.
| Item | Price | Inclusions |
| --- | --- | --- |
| P90X Base | 3 payments of $39.95 plus shipping and handling | 12 workouts, a detailed nutrition plan, fitness guide |
| P90X Deluxe | 3 payments of $79.95 plus shipping and handling | Base kit plus additional P90X3 Elite Workouts, Energy & Endurance Pre-Workout Formula, and P90X3 Pro-Grade Resistance Bands |
| P90X Ultimate | 3 payments of $109.95 | Deluxe kit plus 5 workout DVDs, a set of push up stands, and a more fully-featured chin-up bar |
From all the reviews I've read and looked at the price to value ratio of the different packages, I suggest that the Deluxe one is probably the best value for money.
It will get you started with the essential gear needed, and many users were quite happy with the quality of the equipment.
I should also say that this is quite reasonably priced compared to other programs I've looked at.
FAQ

How Long Is a P90X Workout?
A P90X workout is on average 60 to 70 minutes long. On three of the days, you'll be adding the Ab Ripper set along with another DVD, meaning the total exercise will take about 80 minutes.
What's better, P90X or CrossFit?
P90X is better than CrossFit if you prefer working out at home and don't want to spend a fortune on membership fees. For the price of one month's CrossFit membership, you'll have the Deluxe package paid for. We also did an article comparing Insanity vs P90X.
Is P90X Good for Losing Weight?
Yes, P90X is good for losing weight as long as you stick to the daily plan and follow the diet tips in the nutrition guide. I can't say it enough: if you keep eating crap, you won't achieve much from working out.
Is P90X Suitable for Beginners?
Yes, P90X is suitable for beginners as all the exercises are easy to follow. Start with the fitness test to get a picture of where you're currently at and use it as motivation as you gradually improve.
Yes, P90X can help you build muscle, and you will notice a significant change if you stick to the 90-day program. How much you build depends on the intensity and weights you choose, and you can always graduate to P90X2 to get even more ripped muscles.
Some of the exercises inside the P90X program include HIIT as well as strength, cardio, and yoga workouts.
Is P90X Worth It?
Yes, P90X is well worth the investment for anyone from a total beginner to an advanced athlete. If you set some clear goals and stick to the program and nutrition plan, then you will see some very good results.
If you are just beginning your fitness journey, you may think that P90X is just too challenging for you.
If you're still looking for that ideal physique and want a program that is ideal for beginners and experienced fitness enthusiasts, watch our Free "Saiyan Unleashed" Masterclass.
In this video, Total Shape coach Benedict Ang reveals exactly how to get incredibly shredded and insanely muscular without being a slave to the gym or restrictive diets.
For a limited time, claim your free access to this all-in-one video with both nutritional and workout solutions to help you reach your fitness goals.
Other users have also found the Saiyan Unleashed Masterclass to be effective for getting that toned body. These images shows: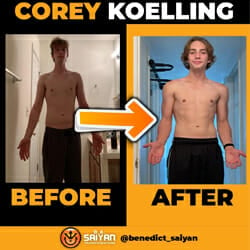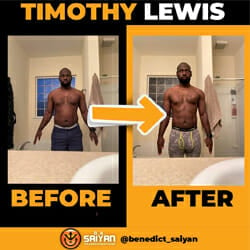 We Recommend This Instead
The Saiyan Unleashed Masterclass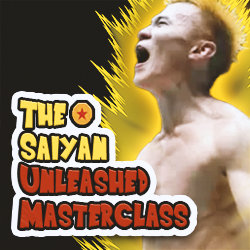 CLICK TO WATCH NOW

Pros
More than 50 masterclass videos
Nutrition-based food intake
Great for beginners
Will only need 3 days a week
Can proceed without any equipment
Get the BEST PRICE until the end of September
Cons
Uses anime-based marketing that might turn some people off
Was this article helpful?