Billy Joel made his first appearance in Madison Square Garden recently after a two-year hiatus, and he shocked the fans with his weight loss transformation.
The "Piano Man" was almost unrecognizable.
As a fitness trainer, I was curious about how Billy Joel lost weight, given that he's had a history of back problems.
So, I spent quite a few hours going through his interviews and evaluating celebrity gossip to find out how exactly Billy achieved his weight loss.
Here's what I uncovered.
Quick Summary
Billy Joel claims that his 50-pound weight loss journey was an unintended side effect of his surgery.
Billy Joel's fat loss journey took place over the course of 21 months, starting in early 2021.
Billy Joel underwent a double hip replacement back in 2010 due to a genetic problem called hip dysplasia.
How Did Billy Joel Lose Weight?
Billy Joel lost weight due to continual appetite loss, which may have been a side effect of his surgery.
 

View this post on Instagram

 
However, he seems to have maintained his weight loss well.
In my experience with training older clients with fat loss, this is usually a sign that he's maintaining a healthy diet and doing some form of exercise to keep the fat off.
Based on his interviews, Billy Joel stated that he didn't intend to lose weight after his surgery.
He added that the pain from his back surgery was so bad that it heavily impacted his appetite.
"I had back surgery early this year and the pain afterwards was so bad I lost my appetite. I embraced that. I said, 'Okay, I won't eat as much,' and I ate less and less and less and less, and then there was just life aggravation and that tends to, you know, impact your appetite too."

- Billy "The Piano Man" Joel
So, as a result of eating less every day, he burned more calories than he ate, which led to a 50-pound weight loss.
While this was unintended, Billy mentioned that he was still happy with the results, meaning that he feels healthy with his new weight.
Billy Joel's Stats
Date of Birth: May 9, 1949
Age: 73 years old
Height: 5'5" (166 cm)
Weight: 146 pounds (66 kg)
Did Billy Joel Go On a Diet to Maintain His Current Weight?
No, Billy Joel did not go on a diet to maintain his current weight. He was never on a controlled diet, to begin with.
He's never publicly shared anything about his previous or current diet. As far as we know, he eats normally to maintain his weight loss.
Weight loss transformations are often achieved through healthy eating, regular physical activity, and lifestyle changes.
While specific details about Billy Joel's weight loss journey remain undisclosed, it is likely that he adopted a balanced approach to achieving and sustaining his desired weight.
Incorporating nutritious food choices, portion control, and regular exercise can contribute to successful weight loss and long-term weight management.
Did He Have an Exercise Routine?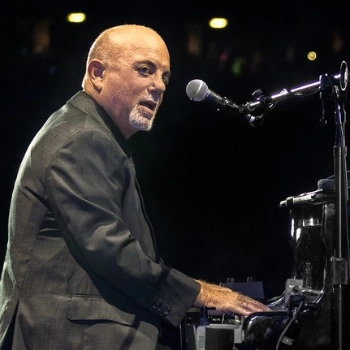 No, he did not seem to have an exercise routine as far as we know.
However, our educated guess is that he probably gets some form of exercise every day, at least a higher step count, to maintain the weight he lost after his surgery.
However, this is most probably just about health for the music icon.
He has mentioned on several occasions, including in an interview with Rolling Stone, that he doesn't care that much about his looks.
The Grammy winner added that he doesn't intend to conform to the trends among celebrities, desperately trying to stay looking young forever.
"This is a Peter Pan kinda job. You start out, and you're young, and you're rockin' and rollin'. You become a little myopic about how old you actually are. I was never a matinee idol to begin with. I've always been a schlubby-looking guy, and I ain't about to change. Plastic surgery, wigs, I don't know. It has nothing to do with music."

- Billy Joel
Why Did His Back Surgery Affect His Appetite?
His back surgery may have affected his appetite because big procedures can lead to stomach reservoir reduction, and they can prevent the formation of ghrelin, a hunger hormone [1].
There is a decent body of scientific literature suggesting that appetite loss can be a side effect of major surgery [2].
There's also a study that revealed that 6% of patients lost weight following lumbar surgery [3].
However, the findings of the study also revealed that the fat loss took place over the course of 34 months.
Healthy Ways To Keep the Weight Off

While Billy Joel's 50-pound fat loss was unintended, we don't recommend losing weight by jeopardizing your appetite.
It's healthier to take a more balanced approach to lose weight. Here are some of the healthiest ways to lose weight quickly,  effectively and safely.
Eat a Healthy Diet
Most fitness experts agree that eating a well-balanced diet is the first step towards losing weight.
Eat a diet high in protein and fats and low in carbs for the most effective fat loss.
You'll also need to avoid empty calories like overly processed junk foods. They'll only add more pounds with little to no nutritional value.
Drink Plenty of Water
Staying amply hydrated throughout the day is one of the easiest ways to lose weight.
Water can help you lose fat in two ways:
Cardio and Weight Training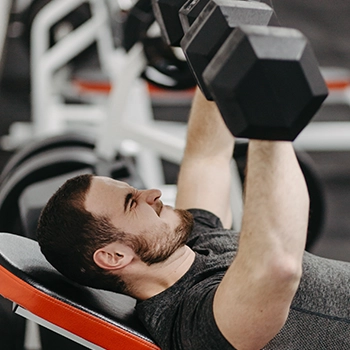 You don't have to do an insane amount of exercise to lose weight.
Research shows that 150 minutes of moderate aerobic exercise a week is enough to help you lose weight safely [6].
To give you an extra push, we also recommend adding weight training to your fitness routine to help you build lean muscle, burn extra calories, and lose weight quickly.
Natural Fat Burners
Natural fat burners are one the best ways to supplement your fat loss. They help you safely burn fat using only natural ingredients.
They also enhance your workouts, boost energy levels, and burn stubborn fat.
---
References:
https://www.fdime.org/loss-of-appetite-after-major-abdominal-surgery-the-best-therapy-is-chewing-gum/

 

https://www.ncbi.nlm.nih.gov/pmc/articles/PMC5226160/

https://www.ncbi.nlm.nih.gov/pmc/articles/PMC3623100/

https://www.ncbi.nlm.nih.gov/pmc/articles/PMC3809630/

https://www.ncbi.nlm.nih.gov/pmc/articles/PMC6209729/

https://www.ncbi.nlm.nih.gov/pmc/articles/PMC3925973/
Was this article helpful?