My years in the fitness industry have taught me there is no pill, cream, food, or other product that will magically melt body fat.
Losing weight comes down to hard work and a straightforward formula; consume fewer calories than you take in.
Our dietician and I discussed how my clients could rethink their diet strategies to maximize weight loss.
After much discussion and extensive research, we have packed some healthy lunch ideas into this quick read.
Quick Summary
To lose weight effectively with lunch meals, focus on incorporating fruits, vegetables, whole grains, and lean proteins into your diet.
Plant-based diets, whole wheat veggie wraps, and low-carb options are among the various healthy lunch ideas recommended for weight loss.
According to a 2020 study published in the National Center for Biotechnology Information, following a plant-based diet has been successful in meeting weight loss goals for many individuals.
In my opinion, preparing a balanced and nutritious lunch is a key step in maintaining a healthy weight and improving overall well-being.
What Can You Eat for Lunch to Lose Weight Fast?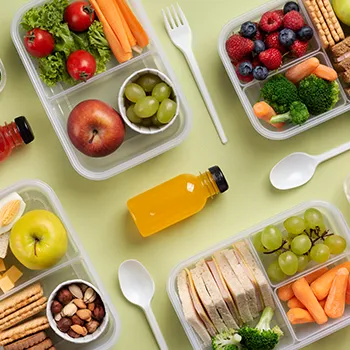 According to Forbes, cut calories and become more active to maintain a calorie deficit, which you need to lose weight; however, eating too few calories can do more harm to our bodies than good [1].
Based on the article published by the National Heart, Lung, and Blood Institute (NHLBI), it is also important to limit the consumption of foods that are high in calories and fat, such as fried foods, pastries, and sugary drinks [2].
Per the article published in the National Institute of Diabetes and Digestive and Kidney Diseases (NIDDK), incorporating regular physical activity into your routine and staying hydrated are also crucial for maintaining a healthy weight [3].
Here are some diet-specific healthy lunches we have tried, found delicious, and highly recommend.
Plant-Based

According to a 2020 study published in the National Center for Biotechnology Information (NCBI), some people have successfully met weight loss goals following a plant-based diet [4]. Lentil soup tends to be a popular go-to for a filling, healthy, plant-based midday meal.
There are countless other options, but getting all the nutrients you need may take a little more planning on a plant-based diet.
As stated in Healthline's article, for instance, protein is essential for weight loss because it can boost metabolism, suppresses appetite, and benefits many hormones that regulate weight [5].
When following a plant-based diet, it is crucial to find good protein sources like beans, lentils, seeds, nuts, quinoa, and brown rice.
Grain Bowls
A grain bowl packed with protein and fiber makes a filling, nutritious meal that will fuel your afternoon.
Here is a delicious one with Greek flair:
Cooked quinoa: 4 cups (about 1 cup dry)

Cherry tomatoes (halved): 1 cup

Red onion (diced): ½ onion

Cucumber (chopped): 1 cup

Chickpeas (garbanzo beans): 1 14 oz can

Kalamata olives (pitted and sliced): 1 cup

Fresh parsley (loosely packed): ¼ cup

Fresh dill (chopped): 3 tablespoons

Juice of one large lemon

Salt and cracked black pepper to taste

Drizzle of extra virgin olive oil (optional)
Combine cooked quinoa, tomatoes, onion, cucumber,  chickpeas, olives, parsley, and dill. Mix well—season with lemon juice, salt, and pepper.
Pepperoncinis can be a great addition or some lemon zest. A drizzle of olive oil is also delicious.
Whole Wheat Veggie Wraps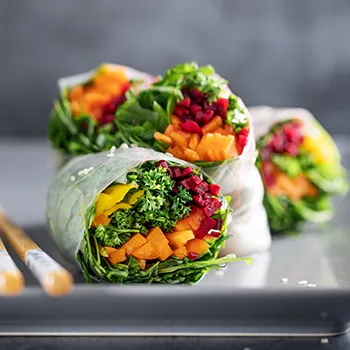 I've found that whole wheat veggie wraps are a game-changer for lunch.
Personalizing them with my favorite veggies and a protein source like grilled chicken or tofu makes them both delicious and weight-loss-friendly. I always opt for whole wheat tortillas for that extra fiber.
Hummus makes a healthy "sauce" for any veggie wrap. You can mix it up by trying different flavors like roasted red pepper or cilantro jalapeno.
Pack the wrap full of edamame, spinach, avocado, carrot, and cucumber. Sprinkle with freshly ground pepper.
You can make variations using your favorite vegetables or try something new.
These are great options:
Alfalfa sprouts

Tomato

Radish

Corn

Lettuce

Cabbage

Beets

Bell Pepper
Loaded Sweet Potatoes
If you are looking for a fiber-filled, energizing lunch with loads of beta carotene to give you vitamin a and an immune system boost, build your lunch around a sweet potato [6].
Slice a whole roasted cooled sweet potato in half and spread some coconut yogurt on each half.
Top with nuts, seeds, and fresh herbs of your choice; toasted pecans, pumpkin seeds, and sesame seeds make a great combination.
Mint, dill, chives, or whatever fresh herbs you have will work just fine to add some freshness.
Avocado, red onion, and cilantro with a sprinkle of salt also make another nutrient-packed option.
Avocados are high in fat but monosaturated ones, widely considered "good" or healthy fats. 
Avocados are also rich in fiber, potassium, folate, and vitamin E, which can greatly benefit mental health, inflammation, blood pressure, digestion, heart, and vision [7].
Low-Carb

Our investigation demonstrated that low-carb diets not only aid in weight loss but also support the transition to a healthier lifestyle for maintaining weight loss. Some carb intake is necessary because glucose is our body's primary energy source.
Studies show that low-carb diets can suppress appetite leading to reduced calorie intake, which significantly aids weight loss [8].
Beyond weight loss, low-carb diets can be effective at reducing blood pressure, blood sugar, and triglycerides and improving both LDL "good" and HDL "bad" cholesterol levels [9].
Keto and other low-carb diets emphasize protein and healthy fats like chicken and avocado and limit foods with a high carb content like whole grain bread and starchy vegetables [10].
One great way to cut carbohydrates is to replace regular rice with cauliflower rice which is widely available in stores, or you can make your own at home. Make a low-carb rice bowl with cauliflower, grilled chicken, and roasted veggies.
Combine the following ingredients for a delicious "rice" bowl with a Mexican flair for your next healthy lunch.
Mexican Low-Carb Rice Bowl
Riced cauliflower 

Ground beef, turkey, or chicken

Taco seasoning

Olive oil

Diced onion

Garlic

Bell peppers

Zucchini

Black beans (omit for strict keto)

Fire roasted tomatoes

Lime juice (you can substitute lemon juice)

Cilantro (fresh)
Cauliflower rice bowls offer a lot of freedom to add or omit ingredients based on your preference.
Other Low-carb Lunch Ideas
Egg or tuna salad offers great high-protein options that keep you full long after lunch.
Following a low-carb diet will require you to ditch bread, even whole grain bread, but you can opt to use lettuce as a wrap or stuff a bell pepper.
Zucchini noodles or "zoodles" mimic pasta. Add grilled chicken and roasted non-starchy veggies with your favorite sauce to fill up and curb a pasta craving.
"The optimal carb intake varies between individuals, depending on activity levels, current metabolic health, and many other factors."

-Kris Gunnars, BSc
Diabetes-Friendly

Controlling blood sugar levels adds another challenging element to weight loss.
Watching carbohydrate intake can help keep blood sugar levels manageable and help you eliminate belly fat, resulting in weight loss.
Remember, we need some carbs as they fuel our body, and pairing them with other macronutrients, like protein and healthy fat, during meals helps maintain blood sugar and energy levels throughout the day [11].
If you have diabetes, lunch is essential, like breakfast and dinner, and part of maintaining a healthy diet. Skipping meals can lead to dangerously low or high blood sugar levels for some people [12].
Here are some creative and delicious options that provide a balanced plate that can help get you to a healthy weight while keeping your blood sugar levels stable.
Quinoa is once again the dish's star, offering tons of fiber to fill you up. Paired with chicken for protein and a bunch of non-starchy vegetables, it's a great diabetes-friendly meal.
Lemon Chicken Quinoa Salad:
Chicken (breast, cooked) 

Quinoa (white, red, tri-colored, your preference)

Cucumber 

Grape or Cherry Tomatoes

Fresh Parsley

Green Onions (scallions) 

Olives (kalamata or black, your choice)

Feta Cheese (crumbled)

Mozzarella 

Olive Oil 

Lemon Juice
Cook the quinoa per instructions. Cut the chicken, vegetables, parsley, olives, and mozzarella into bite-size pieces. Mix all these ingredients with quinoa. Whisk lemon juice and olive oil and toss with salad to combine.
Avocado Toast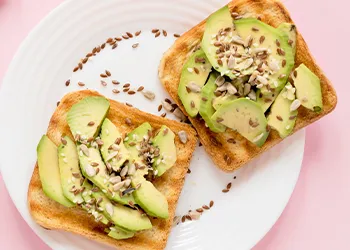 Avocado is great for weight loss and making a toast with red onion, cottage cheese, and fresh tomato on whole grain bread slices is a simple, delicious, and nutrient-packed lunch.
Spread the cottage cheese on a slice of whole grain bread hearty enough to withstand some weight—top with the avocado, tomato, and red onion.
Add a bit of salt and cracked black pepper to taste, and your lunch is ready.
"Opting for whole foods as opposed to processed items and eating carbs mixed with protein and fat will help mitigate overeating by making you feel fuller longer and keeping your blood sugar on an even keel."

- Katherine Marengo LDN, R.D.
Other Great Lunch Ideas to Lose Weight

One of the most helpful things we can do when planning healthy meals is to keep food fresh, new, and exciting.
That is why I like to make a grain bowl, salad, or wrap that I don't have to make the same way twice unless I want to.
Here are some other ideas to combat food boredom that can lead to junk food cravings or overeating [13].
Salads
Whether it's a salad as a meal or a side salad served alongside protein and healthy grains, there is no arguing salads are a nutrient-packed addition to any meal. They are easy to make as a lunch option and offer an endless variety so that you can eat more to lose weight.
A bed of leafy greens makes an excellent base for any of your favorite non-starchy vegetables. Add things like egg, chicken, tofu, tuna, or shrimp to ensure you are consuming adequate protein.
Shredded carrots are a common salad topping; they are starchy vegetables, so some diets may discourage eating them frequently because of their carb content.
Cobb salads typically include lettuce, bacon, hard-boiled eggs, and avocado, offering a good amount of protein from the bacon and eggs and healthy fats from the avocado.
Egg Roll in a Bowl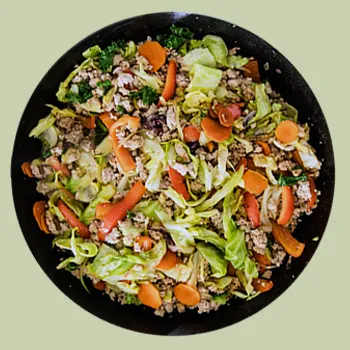 Egg roll in a bowl offers a deconstructed version of this Chinese takeout favorite, and omitting the wrapper makes it low carb.
Loaded with cabbage, ground protein (turkey, pork, chicken), shredded baby carrots, garlic, ginger, and onions, you can serve it over riced cauliflower to keep it filling and low-carb.
With a sauce that includes toasted sesame oil (or tahini), apple cider vinegar (or rice vinegar) and fish sauce, this bowl mimics the flavor of a takeout classic without jeopardizing your fat-burning efforts.
Eggplant Pizza
Eggplant is one of the most fiber-filled non-starchy vegetables there is and makes a delicious, healthy alternative to the refined grains in a pizza crust.
The possibilities are endless here, so get creative with protein, cheese, and vegetables for the toppings.
You can ditch traditional red pizza sauce for pesto or a white sauce to add variety.
Pack Your Lunch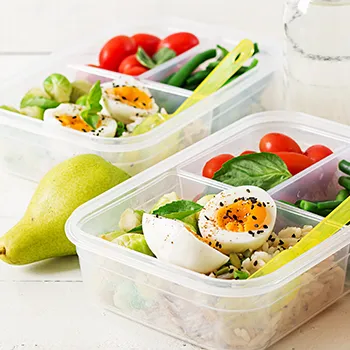 Occasionally, going out to lunch with a friend or co-workers is okay and can offer benefits socially.
However, if you make a habit of eating lunch out, that can hinder your weight loss in the long run.
Eating out can make healthy decision-making challenging as there are more temptations like sugary condiments and desserts, as well as fried foods.
The best approach is to avoid fast foods and make the healthiest choice concerning carbs, protein, and fats when you go out.
Green Tea
Besides a midday boost from caffeine, green tea provides many health benefits, including promoting fat burning, particularly during exercise [14].
Studies suggest green tea supplementation is particularly good at helping people get rid of harmful belly fat [15].
Green tea can be a great metabolism booster that helps the body burn more energy even at rest, significantly impacting weight loss efforts [16].
You can experience the benefits of green tea by consuming just one or two cups per day, but three to five is optimal [17].
You can also consider fat burners if you want to fast-track your progress.
"Compounds in green tea increase levels of hormones that tell fat cells to break down fat. This releases fat into the bloodstream and makes it available as energy."

-Kris Gunnars, BSc
FAQs
Will I Lose Weight If I Skip Lunch?
It is unlikely you will lose weight if you skip lunch. In fact, skipping meals may hinder weight loss. Skipping meals slows down metabolism, negatively impacting weight loss efforts, and may even cause weight gain.
What Foods Should I Avoid At Lunch If I Am Trying To Lose Weight?
Foods you should avoid at lunch if you are trying to lose weight include highly processed foods, refined carbohydrates like white bread, pasta, cookies, candies, and sugary drinks and sodas.
---
References:
https://www.forbes.com/health/body/foods-to-eat-to-lose-weight/

www.nhlbi.nih.gov/health/educational/lose_wt/eat/shop_lcal_fat.htm
https://www.niddk.nih.gov/health-information/weight-management/adult-overweight-obesity/eating-physical-activity

https://www.ncbi.nlm.nih.gov/pmc/articles/PMC7533223/

https://www.healthline.com/nutrition/how-protein-can-help-you-lose-weight

https://www.ncbi.nlm.nih.gov/pmc/articles/PMC3139236/

https://www.webmd.com/food-recipes/all-about-avocados

https://www.ncbi.nlm.nih.gov/pmc/articles/PMC4873405/

https://www.ncbi.nlm.nih.gov/pmc/articles/PMC3595318/

https://www.mayoclinic.org/healthy-lifestyle/weight-loss/in-depth/low-carb-diet/art-20045831

https://www.ncbi.nlm.nih.gov/pmc/articles/PMC5426415/

https://health.clevelandclinic.org/how-to-monitor-your-diabetes-when-youre-not-eating-well/

https://health.clevelandclinic.org/heres-the-deal-with-your-junk-food-cravings/

https://pubmed.ncbi.nlm.nih.gov/18326618/

https://pubmed.ncbi.nlm.nih.gov/19597519/

https://pubmed.ncbi.nlm.nih.gov/10584049/

https://www.healthline.com/nutrition/how-much-green-tea-per-day
Was this article helpful?