Your electrolyte balance is a critical part of your workout performance and recovery. But as a personal fitness coach, I still encounter many people at the gym who never consider taking electrolyte tablets or powder.
So, our team decided to take a proactive approach and find the best electrolyte supplements that we could recommend to clients and readers.
We spent seven weeks with 13 clients and a nutritionist to research and test the best electrolyte products available.
Here's what we found.
Editor's Choice
Kaged Hydra-Charge
Check Current Price
#2nd Best Choice
Huma Plus Chia Energy Gel
Check Current Price
#3rd Best Choice
Pedialyte Electrolyte Solution
Check Current Price
Our Top Electrolyte Supplement Products (September 2023)
1 - Kaged Hydra-Charge (Editor's Choice)
Based on our research and extensive testing, the best electrolyte supplement we would recommend to clients and readers is this Kaged Hydra-Charge.
It has the ideal balance of sodium, potassium, and magnesium to help you replenish after a tough workout [1].
And unlike many other electrolyte supplements, clients loved that it comes in very tasty flavors with an electrolyte powder that mixes fast and easily with cold water.
You can also get some great discounts by signing up for the subscription offer, which you can cancel at any time.
Sodium : 115 mg
Potassium : 107 mg
Magnesium : 15 mg
Phosphorus : 37 mg
Pros
Delivers a well-balanced dose of essential minerals to help you rehydrate
Offers great discounts with subscription options to save money
Available in many flavor options that are refreshing and tasty
Includes some antioxidants to help remove toxins
Cons
Only available on the official website at the moment
2 - Huma Plus Chia Energy Gel
The next electrolyte supplement that we'd recommend is from Huma, and this is a great option if you want something a lot more convenient than an electrolyte powder.
I noticed that this supplement was noticeably gentler on my stomach. It particularly helped me alleviate cramping issues during my longer workouts.
I know a few athletes and marathon runners who rely on these for their endurance days.
Because they come in small gel packs, you can keep one in your pocket to get a shot of electrolytes at an ideal time to help with your hydration levels [2].
Our clients loved both the convenience and the effectiveness of this one.
Sodium : 245 mg
Potassium : 80 mg
Calcium : 30 mg
Magnesium : 15 mg
Pros
Comes in small gel pouches that are ideal for taking during a training session
The available flavors are tasty and not too sweet, especially the fruit punch
Seems to be easy on the stomach, and the nutrients absorb quickly
Cons
It's quite an expensive option that might not be suitable for everyday
3 - Pedialyte Electrolyte Solution
Here is another convenient electrolyte supplement that many from our testing team have continued using.
It offers a good dose of potassium that you tend to lose through sweating during exercise [3].
Rather than having to measure out an electrolyte powder, I was simply able to pick up a bottle on my way to the gym and have it ready during or after training.
The main downside I found is that it's not a sugar-free option, and that could interfere with a strict diet regime.
Potassium : 280 mg
Zinc : 2.8 mg
Chloride : 440 mg
Pros
Focuses on potassium as the main electrolyte
Works fast and doesn't require pre-mixing before a training session
Available in flavored and unflavored options to suit your taste
Cons
It contains quite a bit of sugar that might not be suitable for certain diets
4 - Zico 100% Coconut Water Drink
Our next recommended electrolyte supplement is from Zico, which is based on pure coconut water.
That means it's not a concentrated electrolyte powder mixed with water but a completely natural drink.
Our team found that it was a great quality option, and it worked very well for taking during gym sessions.
You get a total of 12 bottles in each pack, which should keep you going for a few weeks of training.
Potassium : 390 mg
Calcium : 30 mg
Magnesium : 15 mg
Phosphorus : 10 mg
Pros
Base on pure coconut water and not from concentrate
Comes in a pack of 12 bottles to cover a few weeks of training
Has a subtle taste and doesn't contain added sugar or flavors
Cons
It's a 16-ounce bottle that might not be ideal for carrying on a run
5 - UCAN Hydrate Electrolyte
Here is another electrolyte powder, and UCAN has created one that is very easy to mix with water. The advantage of this is that you can measure the ideal amount for each training session.
It's also a sugar-free option that's ideal for low-carb dieters or people who need to avoid blood sugar spikes.
I just wish there were a few more flavor options to choose from, as I tend to get tired of the same one every day.
Pros
Easy to mix powder for a precise amount of electrolytes
It's a sugar-free option that is ideal for low-carb diets like keto
Comes in a nice berry flavor that's not too strong or sweet tasting
Cons
Some more flavor options would be great to avoid getting bored with the same one
6 - Pure Encapsulations Electrolyte Energy
This Pure Encapsulations electrolyte supplement comes from a leading company in the sports supplement space.
This one is specifically formulated to help athletes with an electrolyte imbalance from training.
Our testing team also highlighted that they felt this was the best electrolyte powder for boosting your mental alertness. This seems to be due to the added tyrosine that scientists have linked to brain activity [4].
Just keep in mind that it'll cost you quite a bit more than the above ones.
Potassium : 50 mg
Calcium : 50 mg
Magnesium : 50 mg
Chloride : 75 mg
Pros
Delivers key nutrients in the right dosage to help your rehydration efforts
Claims to deliver the purest forms of electrolytes with no contaminants
Contains some essential amino acids, including tyrosine, for cognitive performance
Cons
It's quite an expensive product compared to the others above
7 - Nuun Sport: Electrolyte Drink Tablets
Our next electrolyte supplement recommendation comes from Nuun Sport, and it comes as a tablet that you mix with plain water.
It fizzes up and doesn't require stirring like a regular electrolyte powder.
It doesn't just deliver key nutrients to help with electrolyte depletion and creates a tasty and refreshing drink. Our favorite one is the lemon-lime option, which is tangy and natural tasting.
Sodium : 300 mg
Potassium : 150 mg
Calcium : 13 mg
Magnesium : 25 mg
Pros
Comes as dissolvable tablets that are ready to drink within minutes
Available in four tasty flavors that are natural, especially the lemon-lime
With only one gram of sugar, it shouldn't mess up your sugar intake
Cons
You will need to prepare this ahead of time to have it ready during training
8 - Skratch Labs Hydration Drink Mix
This Skratch Labs electrolyte powder also received a lot of positive feedback from our testing team.
They highlighted that it mixes very easily, and having a powder allows you to measure out an exact amount easily.
It has all the key nutrients to regulate fluid balance, but I have to highlight that it has quite a bit of sugar. That wouldn't make it suitable for keto or other low-carb diets.
Calcium : 44.3 mg
Potassium : 39 mg
Magnesium : 39 mg
Pros
The powder mixes easily with water and doesn't require a shaker
Vegan-certified option for people on a plant-based diet
We liked the strawberry lemonade flavor the best
Cons
It contains quite a lot of sugar that's not ideal for a balanced diet
9 - Liquid I.V. Hydration Multiplier
What we liked about this electrolyte supplement from Liquid I.V. is that it comes as a pre-measured electrolyte powder in small sachets.
You simply open it and add it to water, and it's ready to drink in seconds with a great flavor.
The reason it's lower on this list is because of quite a high sugar content, and the convenience can work out quite expensive.
Potassium : 380 mg
Sodium : 510 mg
Pros
Comes in small sachets of pre-measured powder to get the right amount
Mixes quickly into a refreshing drink that's ideal for workouts
Contains some added vitamin C as an antioxidant
Cons
Contains both cane sugar and dextrose making it quite sweet
10 - Ultima Hydrating Electrolyte Powder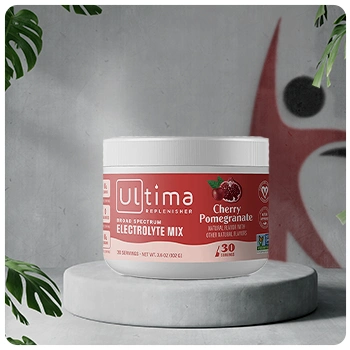 The final one of our best electrolyte supplements comes from a company called Ultima.
This company has created one of the widest ranges of flavor choices of any electrolyte powder we tested.
It delivers key nutrients to help deal with an electrolyte imbalance, and because it doesn't have any sugar, it's also ideal for people on the keto diet.
And while most of them are tasty, we did find some of them quite sweet, like traditional electrolyte drinks.
Potassium : 250 mg
Calcium : 65 mg
Magnesium : 100 mg
Vitamin C : 100 mg
Pros
Comes with added vitamin C for immune health and detox
Contains no sugar or carbs making it suitable for many different diets
Also available in large tubs for a 90-day supply
Cons
Some of the flavor options are quite sweet tasting
What to Consider When Choosing an Electrolyte Powder?

When choosing an electrolyte powder, consider factors like the dosage, flavor, brand reputation, ingredients, and price.
Let me highlight a few points you need to consider In your process.
Who Should Take Electrolyte Supplements?
Performance athletes and people who spend quite a bit of time sweating at the gym should take electrolyte supplements.
And just replenishing that fluid loss with water isn't going to replenish some of the essential nutrients you lose fully.
See, while you're sweating, you also lose electrolytes. And the lower your electrolyte levels run, the higher your risks of moderate dehydration and muscle cramps [5].
And that's why electrolyte supplementation during and after training can be such an important factor for your overall performance.
And with simple electrolyte powders, you can sip away during your training session to replenish these important nutrients.
Related Articles:
Who Shouldn't Take Electrolyte Supplements?
People who suffer from high blood pressure or cardiac issues shouldn't consider taking electrolyte supplements without getting medical advice first.
It is possible that electrolyte powders could raise your blood pressure, which could counteract any medication you're on. 
It might also not be a good idea to take these supplements if you suffer from chronic muscle cramps.
While essential electrolytes like magnesium can help, it's better to get the dosage right and be advised by a medical doctor [6].
Electrolyte Ingredients For Fluid Balance
Here are the key nutrients to look out for.
1. Potassium
One of the most important ingredients to look out for in an electrolyte powder is potassium. It's also one of the most common ones you find and easy for the body to absorb and process [7].
As one of the important electrolytes, it then helps to create the right salinity of body fluids to support everything from heart to skeletal muscle functions [8].
It's also an ingredient that you typically won't find in sports drinks that just aim to provide you with a sugar rush.
And if you want to take in a natural source of high-potassium food, then consider eating a banana before training.
"This sweet, tropical treat [bananas] provides a ton of potassium. And that's a good thing, because almost every body part needs it, from your heart and kidneys to your muscles and nerves."

- Christine Mikstas, RD, LD 
2. Sodium
You should also look out for sodium in an electrolyte powder.
It might sound familiar as sodium chloride is what we commonly call table salt. And it's one of the easiest electrolytes to naturally get into your diet. 
At the same, it's also one of the easiest ones to end up taking too much of. The result can be blood pressure and cardiac issues if it's not properly controlled [9].
But for athletes, a small dose of sodium can be a great way to ensure you remain fully hydrated during and after a workout routine where you sweat a lot.
3. Magnesium
Most athletes should be taking a magnesium supplement to help them with muscle function and recovery [10].
It can be particularly helpful for relaxing muscles before you go to bed, but this trace mineral is also an important ingredient for rehydration [11].
Some of the best electrolyte powders contain about 15 mg per serving, which can be an ideal amount for athletes and one that you'll find in the Kaged Hydra recommendation above.
"Magnesium deficiency is common in developed countries and is associated with diabetes and other conditions. A prolonged lack of magnesium in the diet can lead to muscle cramps, raised blood pressure, and reduced insulin sensitivity."

- Mike Murray, RDN, CSCS
4. Calcium
Most people just think of calcium as an important mineral for their bone health [12]. But it's also one of the key electrolytes for endurance athletes to consider.
It's one that you find less often in electrolyte powders, but my dietitian mentioned to me that it's often better to get a small dose of multiple different electrolytes than focusing on just one of them.
It's also something that you won't find in traditional sports drinks, which don't have the same benefits for hydration.
5. Phosphorus
While phosphorus is one of the key electrolytes, you don't often see it in supplements. However, research has shown that it also plays a role in the growth and repair of all body cells, including muscle tissue [13].
"Phosphate helps build/repair bones and teeth, stores energy, contracts muscles, and enables nerve function. The body needs vitamin D to absorb phosphorus."

- Faith Addiss, RN
Dosage
You'll often see some products that advertise having "three times the electrolytes of other supplements." And while that can be tempting, you often don't need that high a dose.
While it's important to avoid electrolyte imbalances during and after training, you take in a lot of these through your diet as well.
So, you will have some reserves, meaning that you don't always need a huge dose.
I would generally advise that you buy an electrolyte powder that has a moderate dosage that you can increase if and when needed.
It's also best to get a nutritionist or dietitian to advise you on the ideal amount based on your training routine and overall body size.
Flavor
There are two things that I have to say about flavor when it comes to electrolyte supplements.
First of all, don't let flavor dictate your final choice. Yes, you don't want it to taste like crap, but it's more important to get the right hydration multiplier electrolyte ingredients than the right flavor.
Secondly, when you find something that tastes great, check out the nutrition label for the sugar content.
Many companies try to make their products more appealing by adding a load of sugar, which isn't a great choice.
That being said, I personally like having a range of flavor choices so that I can avoid getting bored with the same flavor all the time.
Brand Reputation And Price
You also need to pay careful attention to the reputation of a supplement brand.
There are many companies that spend more money on advertising and celebrity endorsements than on the actual product formula.
Fortunately, we vetted all the above brands, and our nutritionist confirmed that they have a solid formula with quality ingredients.
That also means that if you're paying a bit more than average, it's due to the quality and not to pay for celebrities to endorse it.
FAQs
What Is The Most Effective Electrolyte?
Kaged Hydra is the most effective electrolyte available at the moment. It delivers a broad range of electrolytes that give athletes the right mix to ensure hydration levels stay optimum.
Is It Ok To Take Electrolytes Every Day?
Yes, it is OK to take electrolytes every day in order to maintain the ideal fluid balance. However, you should carefully monitor your dietary salt and electrolyte intake with a food journaling app in order to avoid taking an excessive dose.
What Is the Healthiest Source of Electrolytes?
Spinach is the healthiest source of electrolytes, making it an ideal choice to provide you with a revitalizing boost during or after exercise.
What Is the Fastest Way to Replenish Electrolytes?
The fastest way to replenish electrolytes is with a hydration multiplier electrolyte like Kaged Hydra. It comes as a powder that you mix with water, and it absorbs very quickly for your body to process.
Stay On Top of Your Hydration Needs
Out of all the best electrolyte supplements that we tested in the past two months, the one that we keep going back to is Kaged Hydra. It has the ideal mix of ingredients and comes in a powder form that makes adjusting the dose even easier.
It also tastes refreshing, which makes it ideal for taking during a tough workout session.
Our testing results also showed that performance levels during training remained higher when sipping away at this product.
Order your first supply today and see how much of a difference it will make for you.
Our #1 Recommendation
Check Current Price

Pros
Delivers a well-balanced dose of essential minerals to help you rehydrate
Offers great discounts with subscription options to save money
Available in many flavor options that are refreshing and tasty
Includes some antioxidants to help remove toxins
Cons
Only available on the official website at the moment
Was this article helpful?