Pre-workouts seem to appear every week with new formulas, new branding, new celebrity endorsements, and most of all, more of the same lack of real benefits.
But what attracted us to do some research into Big Noise comes down to the fact that it claims to be a non-stimulant pre-workout. That is rare, and we haven't seen many of these that actually worked.
So, I teamed up with some clients and my dietitian to research the ingredients and test out the product.
Here's what we found out about Redcon1 Big Noise.
What Is Big Noise Pump?
Redcon1 Big Noise is a pre-workout supplement that claims to be heavily focused on delivering maximum muscle pumps. As a non-stim supplement, it seems to rely on a few other ingredients that we usually don't see in combination.
More on those shortly.
The company claims that it has formulated Big Noise to boost nitric oxide and reduce premature fatigue so that you may be able to push out a few more reps in your workout session.
And the formula looks unchanged since the product was launched in 2020.
It comes as a powder that you mix with cold water and drink about 20 minutes before starting your warmup routine.
Benefits Of Big Noise Pump
The main attraction with Redcon1 Big Noise is that the company has decided not to rely on stimulants like caffeine. Most similar products we reviewed are not intended for training later in the day so having such an option is definitely positive.
At the same time, it contains some L-theanine, which has been shown to improve brain function and concentration [1]. That's never a bad thing on a fitness journey.
And the use of betaine seems to help with some energy boosts that don't come with the tingling sensation you could get from beta-alanine.
Does Big Noise Pump Have Downsides?
Our main observation was that a single serving size didn't seem to boost nitric oxide production enough for massive muscle pumps. Yes, there was an improvement, but it wasn't as much as expected for a pump product.
The other issue we had was that the flavors like strawberry kiwi and rainbow candy were sweet and fake tasting. That's mainly down to artificial flavors and sweeteners that may also cause an upset stomach.
Pros
Doesn't rely on stimulants making it suitable for evening trips to the gym
Simple formula uses safe ingredients that don't seem to cause tingling
Added L-theanine may help to focus your mind with fewer distractions and more motivation
Cons
The chosen ingredients for pumps don't seem to work as well as advertised
The flavors taste a bit fake and very sweet
Big Noise Pump Ingredients
These are the main ingredients, and we had our dietitian do some research into them.
Betaine Anhydrous
According to the official marketing materials, the formula includes betaine anhydrous to improve muscle endurance. But all the evidence we could find didn't include muscle performance as a benefit [2].
Acetyl L-Carnitine HCL
There is some evidence that carnitine supplementation may improve brain health, and it's more common in the supplement market these days [3]. My dietitian just pointed out that 500 mg might be a bit low to make a significant difference.
Citrapeak
This is a branded version of glucosyl-hesperidin, and it's claimed to boost nitric oxide to widen your blood vessels [4]. It's one of the main ingredients to give you pumps, but we couldn't find conclusive evidence to support this claim.
Choline Bitartrate
We've seen choline in weight loss supplements, but this product has it to improve circulation according to the label. There is some evidence of this [5], but I personally prefer training with citrulline to enhance pumps.
L-Theanine
This might be a positive ingredient for brain performance and focus [6]. It's the kind of stuff you see in nootropics, and that focus may help you stay motivated in fitness workouts as well.
Schisandra
We found a few reports that this extract may help with muscle endurance and strength [7]. It could be a good option for a non-stimulant pre-workout where you don't want to get a similar effect from caffeine.
Taurine (100 mg)
This is another reason why this is a high-stim supplement. Taurine is common in energy drink products like Redbull and Monster [7]. While it might be one of the more interesting ingredients, it's tough to say how well it works because you're getting such a massive boost of caffeine.
Vitamin B12 (100 mcg)
And finally, there's some vitamin B12 that should help keep your red blood cell count up [8]. That, in turn, should deliver more energy and oxygen to muscles. But I'm not sure I'm convinced of the "eternal endurance" claim that DAS Labs make about it.
Where Can You Buy It?
Big Noise is sometimes available on Amazon, but I found it's mostly out of stock, making keeping a resupply difficult.
For a pump product and any other supplement, Amazon is generally the safest way to ensure you don't end up with a fake product.
Delivery takes about four days, which is a bit longer than we've experienced with other products.
How Does It Compare To Other Products?
We compared the individual results we got with Redcon1 Big Noise to the pre-workout products we recommend due to pretty solid results.
First of all, there's Gorilla Mode, which has a long list of proven ingredients that seem to combine better pump formulas.
It does have stimulants, but they aren't too strong, and the overall dosage of betaine is stronger, with added citrulline for nice pumps.
4 Gauge is another product we've had pretty solid results with, and what sets it apart from Big Noise is that it also has some creatine that may help with strength levels.
And then, we also saw better pumps with Transparent Labs PreSeries that also has a strong dose of citrulline for pumps. And it doesn't have any artificial flavors and colors to mess your stomach up.
Other Pre-Workout We Have Reviewed:
Big Noise Pump User Reviews
We also took a look at what other Big Noise users had to say in online reviews.
"I had pretty high expectations, and most were met. The product is a good pump product. Not the best I've had, but it works alright. Flavor was pretty good after you get past the small beads of mixture that doesn't seem to dissolve. I'd like to give it higher stars but just didn't live up to the hype." - Adam B. 
"Honestly, the taste was there, and I love the taste of rainbow candy; I just didn't really notice any differences unless I took two scoops of it. I previously have taken other pump supps that I only need one, yet with this, I always need two or more for a good one." - Chandler
FAQs
When should you take Big Noise Pump?
You should take a Big Noise Pump about 20 to 30 minutes before a workout. This should give your body enough time to absorb and activate the ingredients for the best results.
Should You Stack Big Noise Pump With Other Pre-workout Products?
No, you shouldn't be stacking Big Noise with other pre-workout products. If it's not giving you the results you need, consider a different product. Stacking would only make sense with a fat burner to maintain a certain BMI.
Should You Invest In Big Noise By Redcon1?
Our conclusion for this Big Noise review is that it's not one of the better pre-workout supplements.
Many online reviews agree with this and have found limited effects on strength and pumps.
For ideal results, I would suggest switching to Gorilla Mode.
With a combination of citrulline and low-dose caffeine, we just think that the impact for a bodybuilder will be much more positive.
We Recommend This Instead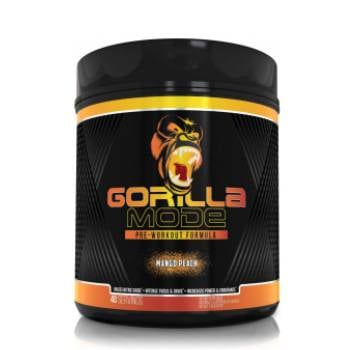 Click For Best Price

Pros
Contains nitric oxide for insane pumps
Many positive comments about good endurance and energy boost
High dose of caffeine may help with mental focus and fat burning
Tastes good
Get the BEST PRICE until the end of May
Cons
Does not list calorie count
Was this article helpful?
About The Author