As a team of fitness coaches here at Total Shape, I think we've encountered all types of crazy marketing names for pre-workouts. But when one of our clients turned up with a product called I Am God, we were quite surprised.
See, based on many years of researching and testing many different pre-workout supplements, it has become clear to us that those with the fanciest marketing usually spend the least on a working formula.
But we kept an open mind and recruited a few clients and our dietitian to help out with the research and testing for this Insane Labz I Am God pre-workout review.
What Is I Am God?
I Am God is a pre-workout supplement that uses natural ingredients like beta-alanine and creatine monohydrate to increase focus and motivation. It's also a pretty new product that was only released in 2020.
Insane Labz I Am God also seems to be a high-stim product with two different types of caffeine and taurine.
While that should help with mental focus, it might not be the best option if you tend to get jittery.
And you'd want to avoid it later in the day to not mess with your sleep.
Insane Labz claims that it's one of the strongest pre-workouts on the market. But as you'll see shortly, that's not possible to confirm due to a proprietary blend formula.
Tailored for Men and Women
Insane Labz I Am God Pre-Workout Benefits
First, there seems to be truth to the claim that it provides insane focus. It has caffeine citrate and taurine, and that combination seems to help with motivation [1].
We also liked the thou shalt not covet (orange) and fruit punch flavors which didn't taste too sweet like many other pre-workout supplements.
And we also found that despite being a strong formula, it didn't cause stomach issues during or after a trip to the weight room.
Does I Am God Have Downsides?
I Am God has downsides, including its proprietary formula and high dose of caffeine.
The first complaint I have is that Insane Labz hides behind proprietary blends. That means you don't know exactly how much each ingredient is in one scoop. And that further complicates things for stacking with other products.
Secondly, with such a high caffeine dose, you wouldn't want to take it after 4 pm; otherwise, it could mess up your sleep [2]. You could also avoid taking other supplements and other products containing the ingredient to avoid the jitters.
And while we did get a good focus boost, the promised energy and a reduction in fatigue weren't so noticeable.
Pros
A strong dose of stimulants should help with focus and motivation
It comes in tasty flavors, and the powder is easy to mix with water
It's easy on the stomach and starts working in about 30 minutes
Cons
A proprietary blend makes it difficult to stack with other supplements
The very high caffeine dose should be avoided for evening workouts
We didn't get a huge boost in energy or strength as promised
Our Overall Rating
Overall, we found that the ingredients were a bit heavy on the stimulants, and taking half a scoop didn't do much. The taste was good, but for this price, you can get better supplements.
I Am God Ingredients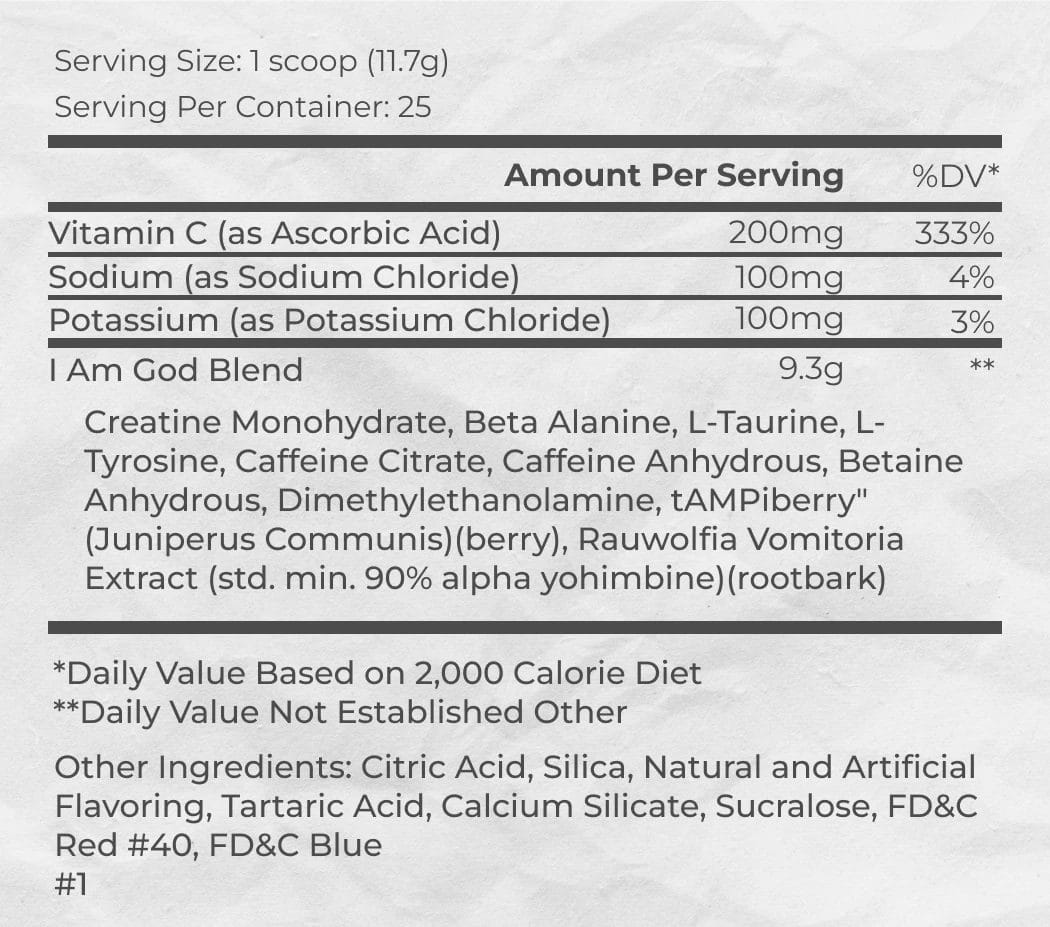 So, from an initial analysis of the ingredients, the list looks good. There is plenty of evidence to support using creatine monohydrate [3] and beta-alanine [4].
"​​Your muscles then convert creatine into creatine phosphate, which is then generated into adenosine triphosphate (ATC), which your body uses for explosive exercise."

- Brittany Risher Englert, Writer at MensHealth.com
But looking at our measured performance results with a few clients, we came to the conclusion that the dosage probably isn't strong enough.
As mentioned above, because of the proprietary formula, we can't say whether there's a good clinical dose or not.
Here is the full list of ingredients:
Creatine Monohydrate

Beta-Alanine

L-Taurine

L-Tyrosine

Caffeine citrate

Caffeine anhydrous

Betaine

DMEA

Rauwolfia Vomitoria Extract

Vitamin C

Sodium

Potassium
How Does It Compare To Other Products?
So, despite claiming to be one of the strongest pre-workouts, looking at our test results from our three favorite pre-workout products tells us a different story.
First of all, Gorilla Mode is the one product we've seen the best results for performance and fatigue.
It has less caffeine, and with 2.5 grams of creatine, we can say that it's given all of our clients a boost.
We also have seen good results with Transparent Labs which also provide a stim-free pre-workout supplement. That allows you to get a boost even for evening trips to the gym.
And there's also 4 Gauge which some of our professional bodybuilder clients like because of the strong dose of citrulline for pumps.
Where Can You Buy I Am God?
You can buy I Am God on Amazon.
We used a Prime account to order and received the package within two days.
However, the problem we had was that it's constantly out of stock in the flavors we like.
You don't want to become accustomed to a supplement for energy levels only to end up waiting for weeks for a new delivery once you run out.
Tailored for Men and Women
Other User Reviews
When you search Insane Labz reviews online, you'll find a mix of comments, but we found two on the official site that stood out as confirming our results.
"Great product when nothing is cutting it anymore. High caffeine pushes you through. I do recommend starting with the half scoop just because you'd be surprised at how much it will do."

- Anna S
"Great Pre-Workout! Felt fantastic during my workout and had a crazy pump. I always felt motivated to work out after taking just a quarter scoop or half a scoop of this stuff. Only complaint is that the flavor was a little harder to stomach than most pre-workouts."

- Joshua B
FAQs
No, I Am God doesn't have DMAA. It contains DMAE, which may help with athletic performance and mental focus [5].
Does I Am God Make You Jittery?
Yes, I Am God can make you jittery, especially if you're also a coffee drinker. That said, it's important to time your coffee intake if you plan to use this supplement.
Should You Buy I Am God?
Overall, our test and research results are not in favor of making this one of our recommended products. We have had much better results with other pre-workouts that have all chosen a clinically proven and fully published formula.
The one we've seen the best results with is Gorilla Mode, which is one of the best muscle builders that combines ingredients for cognitive function and motivation as well.
It has a strong dose of citrulline and creatine, and our results have shown significant effects on pumps and fatigue. It seems easier to keep going for tougher reps, and you still feel motivated towards the end of your training session.
Find out more about it in our full Gorilla Mode review and see test results.
Our #1 Recommendation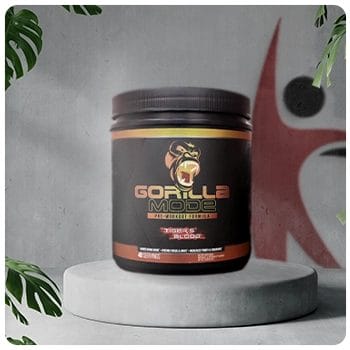 Click For Best Price
Pros
Contains nitric oxide for insane pumps
Many positive comments about good endurance and energy boost
High dose of caffeine may help with mental focus and fat burning
Tastes good
Get 10% off using code:

TOTALSHAPE
Cons
Does not list calorie count
Was this article helpful?