As a personal trainer, I've worked with dozens of advanced weightlifters who want unstoppable energy, intense focus, and massive strength to build muscles fast.
Given that many pre-workouts on the market today fail to deliver on their promises, our team of experts spent six weeks researching and testing Dark Energy as a pre-workout with a few clients to see if its formula lives up to its claims.
I've compiled my research data and client feedback in this Dark Energy Pre-workout review, so let's dive in.
What is Dark Energy Pre-Workout?
Dark Energy pre-workout is a controversial pre-workout supplement that contains high levels of potent stimulants, including the banned substance called "DMAA" (1,3 Dimethylamylamine) [1].
The addition of this amphetamine derivative to this pre-workout may have caused the closure of its manufacturing facility in 2021.
Nonetheless, Magnitude Life Sciences, the company that produced dark matter pre-workout, was able to reintroduce this pre-workout to the market with the same formula but in a different package.
How Does Dark Energy Help Improve Athletic Performance?
The Dark Energy Pre-workout may help improve athletic performance by increasing muscle oxygenation, providing an energy boost, and improving mental clarity.
Magnitude Life Sciences has incorporated a variety of powerful stimulants, amino acids, nootropics, and amphetamine derivatives for athletes in an attempt to maximize their physical performance.
When I first tried this Magnitude Life Sciences product, I found it way too strong for my system because I have never been able to tolerate high levels of stimulants.
Dark Energy Pre-Workout Ingredients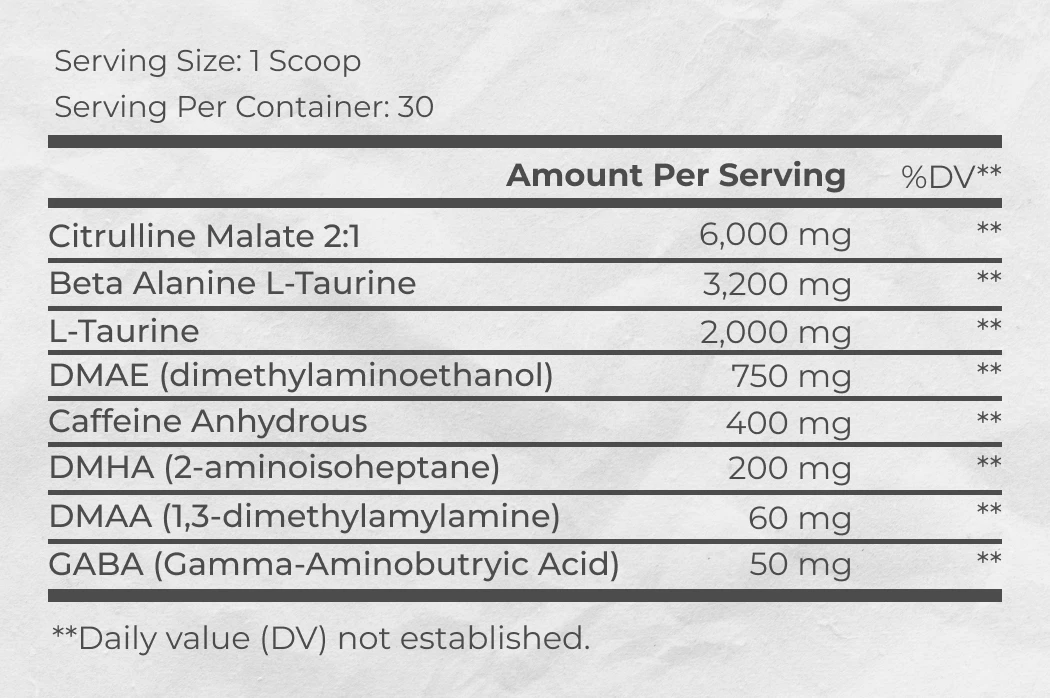 Dark Energy pre-workout contains more potent stimulants than most pre-workout supplements, such as 200 mg of DMHA (Dimethylhexamine), 60 mg of DMAA, and 400 mg of caffeine anhydrous.
As a result, Dark Energy has the potential to be highly effective at increasing energy and stamina levels, at least on paper [2].
Additionally, this "research product" contains 6000 mg of L-citrulline malate, 3200 mg of beta-alanine, and 2000 mg of taurine, which have been studied by the Research Centre for Life and Sport Science for their ability to increase blood flow, reduce lactic acid accumulation, and stimulate muscle growth, respectively [3] [4].
Finally, this pre-workout contains 750 mg of DMAE (Dimethylaminoethanol), which may help increase acetylcholine production, which is required for optimal brain function [5].
It also has 50 mg of GABA (Gamma-aminobutyric acid), which is known to naturally promote calming of the body by crossing the blood-brain barrier, blocking signals, and decreasing activity [6].
What Are The Dark Energy Benefits?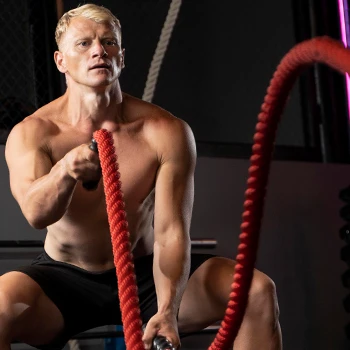 Dark Energy may provide you with a burst of energy by stimulating the central nervous system (CNS), therefore allowing you to increase your workout intensity.
Also, taking this supplement might provide you with sharp mental focus by enhancing your mood, so you can complete a full training with less mental fatigue.
My clients did experience focus-enhancing effects and a moderate increase in strength.
However, some of them did report feeling jittery. When I took this supplement 30 minutes before hitting the gym, I felt such a surge of energy that I couldn't stop moving, even between sets.
Dark Energy Side Effects
As with any high-stim pre-workout supplement, Dark Energy as a Pre-Workout may cause jitters, palpitations, restlessness, and difficulty sleeping [7].
"Caffeine-sensitive people or those with compromised heart functioning are at a higher risk of experiencing heart palpitations."

- Marilyn Cornelis, Ph.D., Associate Professor at Northwestern University
Furthermore, some users report a "crash" or fatigue after taking this pre-workout for several hours.
It could be because the caffeine in the blood peaks after an hour and then fades after about five hours, whereas amphetamine derivatives subside after about 12 hours [8] [9].
I had to discontinue the use of this product after two weeks because I noticed that my blood pressure was unusually high.
It also has 50 mg of GABA (Gamma-aminobutyric acid), which is known to naturally promote calming of the body by crossing the blood-brain barrier, blocking signals, and decreasing activity [10].
Pros
May significantly increase energy and muscle strength
Helps in the reduction of post-workout muscle soreness
Promotes better concentration and mood elevation
Allows you to train for more extended periods
Cons
The flavors don't taste good
May cause irregularly fast heart rate
Contains banned stimulant
How Does It Stack Up To Other Pre-Workout Supplements?
There are many pre-workout supplements that help accelerate muscle building, but we believe the three most similar to Dark Energy pre-workouts are Gorilla Mode, 4 Gauge, and Transparent Labs Pre-workout.
The main difference is that Dark Energy contains the illegal substance DMAA, whereas the other three pre-workouts mentioned contain all naturally sourced, high-quality ingredients in clinically safe dosages.
Gorilla Mode has 2.5 grams of creatine and less caffeine anhydrous than Dark Energy pre-workouts, and it constantly performs best for my clients.
Quite diametrically different from Dark Energy pre-workouts, Transparent Labs is actually a stim-free pre-workout supplement, which despite the lack of stimulants, reliably gives us good results in the gym.
And lastly, 4 Gauge also contains a very high dose of citrulline, which is why my clients often report some great pumps with this product. However, as we've already mentioned, unlike Dark Energy hardcore pre-workouts, it does not contain any banned substances.
How Much Does Dark Energy Pre-workout Cost, And Where Can I Buy It?
You can buy Dark Energy Pre-workout from a variety of online shops like Muscle Factory SC.
The advantage of purchasing Dark Energy online is that you can compare prices and purchase it from the seller who offers the best deal.
I purchased the pre-workout tri-pack deal online for a discount, which allowed me to pay for only two Dark Energy bottles and get the third bottle for free.
Does It Provide Consistent Effects?
Dark Energy Pre-Workout's effects are notably inconsistent among users, and our testers reported the same.
While it's designed to boost energy and mood, its GABA content can induce calmness in some individuals, diverging from typical pre-workout expectations [11].
This variance in response means that while some may find it elevates their workout intensity, others might experience an unexpected tranquility, making it less predictable as a performance enhancer. This inconsistency is crucial to consider for those seeking a reliable and uniform pre-workout experience.
Consumer Feedback
While conducting my research online, I came across some mixed reviews from people who had taken Dark Energy pre-workouts. Let's hear what some of these customers have to say about this pre-workout.
"I'd only slept for five hours before taking this in the morning, and my entire body felt numb for the first hour until I threw up two hours later."

- Ricardo from Youtube
"I can confirm that this is not the best-tasting supplement I've tried, but it is one of the most insane pre-workouts I've tried, giving me a solid two-hour workout."

- Stanley from Youtube
"I'm worried after taking this for the first time because I lifted for three hours straight and still feel jittery and tingly when I get home."

-Gloomyvast9090 from Reddit
FAQs
Does Taking Dark Energy Pre-Workout Make You Fail A Drug Test?
Taking Dark Energy pre-workout can make you fail a drug test because it contains amphetamine derivatives that can remain in your system and show up in your urine drug test. Furthermore, if trace amounts of these substances are not detected during screening, they may still be found during confirmatory testing.
That's why it's important to disclose your Dark Energy pre-workout intake before your drug test. Otherwise, avoid taking them within a few days of the testing date to avoid inconvenience.
How Long Does Dark Energy Pre-Workout Stay In Your System?
Dark Energy Pre-Workout can stay in your system for varying lengths of time, depending on your body's tolerance to potent stimulants. Caffeine can remain in your bloodstream for up to ten hours before being eliminated entirely. Moreover, research has shown that dmaa pre workout can stay in your system for up to 105 hours after a 40 mg dose.
Our Verdict on Dark Energy Pre-Workout
Our analysis led us to conclude that this supplement is not safe due to the illegal DMAA it contains and a slew of reported side effects like restlessness, palpitations, and abnormal blood pressure.
Therefore, I would recommend using a legal alternative like Gorilla Mode, which contains safe and natural stimulants in clinically proven doses to increase physical performance and mental alertness.
Our team has found that Gorilla Mode is able to charge our high-intensity training sessions with faster recovery and longer training hours, ultimately leading to significant gains in muscle mass.
We Recommend This Instead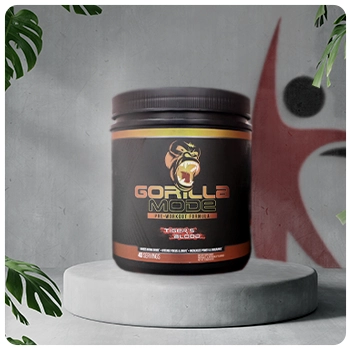 Pros
Contains nitric oxide for insane pumps
Many positive comments about good endurance and energy boost
High dose of caffeine may help with mental focus and fat burning
Tastes good
Get 10% off using code:

TOTALSHAPE
Cons
Does not list calorie count
Was this article helpful?