Pretty much every bodybuilder I work with has a favorite supplement brand, and they often stick with it religiously without doing much testing. And trying to convince these people about other products is very difficult unless you have some clear test results and research.
For that reason, our team at TotalShape got together with a few clients and a dietitian to make a detailed head-to-head comparison between currently very popular pre-workouts Gorilla Mode and Bucked Up.
It took a few weeks to get the data and results, but we found some interesting details.
Here's what it's about.
Key Differences Between Gorilla Mode And Bucked Up
The main difference between Gorilla Mode and Bucked Up is that the first one has a more carefully selected formula.
When our dietitian finished her research and analysis of the nutritional labels, this was the first thing she pointed out.
Pretty much all the Gorilla Mode ingredients are backed by scientific studies and have been shown to boost energy levels and stamina during training.
With Backed Up, there were a few ingredients that had inconclusive studies.
We'll have more on these shortly.
There's also a much better selection of flavors to choose from with Gorilla Mode. That might seem like a minor thing, but having a choice of flavors helps to not get bored with the same one every day.
Features Head to Head

Here are five important features that we carefully compared between the two products.
Ingredients
I'll start by highlighting that both products contain caffeine anhydrous and citrulline.
The dosage of caffeine is about the same and not so strong to cause jitters after taking the pre-workout. More importantly, both products contain a good dose to support thermogenesis [1].
This is a natural metabolic process that burns off more fat.
Both also contain citrulline, but the type they use is different. Gorilla Mode uses L-Citrulline, and our dietitian pointed out that studies have shown better results for nitric oxide levels and pumps with this type [2].
Not surprisingly, our testing revealed the same results.
Effectiveness
To see how these products performed, we had nine clients help us out. They went through one week of training without any pre-workout to have a control set of data.
Then they went through a week of training with each product, and we compared how they thought they felt and what their training data was.
In the weeks where we used either of the products, we saw a noted improvement in either the amount of weight in each set or the number of reps.
But training details revealed more.
In the week where we tested Gorilla Mode, the amount of weight and number of reps improved more than in the week where we used Bucked Up.
That seemed to confirm the expectation from our dietitian, who found more of the Gorilla Mode ingredients had scientific proof.
Supplement Form
Both products come in powder form, with the main difference being that Bucked Up has a smaller scoop size per dose.
That does mean it seems to dissolve faster in water than Gorilla Mode.
What we found is that they both dissolve easily and don't leave a lumpy mess to try and force down before training.
Flavor
Gorilla Mode is available in a large range of flavor choices, which is always a great option to have. When you're taking a supplement on a daily basis, then switching the flavors can help you avoid getting bored with them.
However, we all agreed that some of the Bucked Up flavors were just a bit more natural and not as sweet-tasting as the Gorilla Mode ones.
Price
Gorilla Mode costs $49 per tub, which is pretty good value.
And you can also get bulk discounts to save even more. If you intend to commit to using Gorilla Mode, these deals could help you save some serious cash in the long run.
Bucked Up is cheaper per tub, but you get fewer servings. It probably works out about the same price-wise, but there are currently no bulk order discounts available. Even with the lack of these savings, never buy from platforms other than the official ones. That way, you don't run the risk of buying counterfeit products and wasting your money.
Unique Supplement Features
The next thing we did was take a closer look at the unique ingredients in each formula to see if there's something that stands out.
Gorilla Mode
These are the ingredients that our dietitian highlighted for us:
"Creatine is among the most well-researched and effective supplements. It can help with exercise performance by rapidly producing energy during intense activity. Creatine may also provide cognitive benefits, but more research is needed in that area."

- Kamal Patel, Editor, & Co-founder at Examine.com
Suited For Men and Women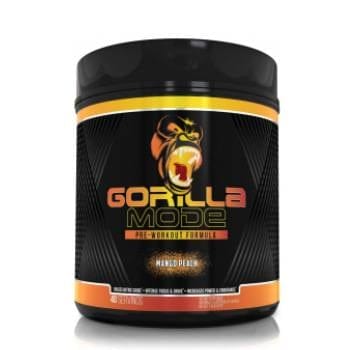 Gorilla Mode

Get 10% off using coupon code: TOTALSHAPE
Click For Best Price
Bucked Up

Beta-Alanine: This is a positive ingredient that has been linked to improved performance levels, but I would like to see a higher dose [8].
Taurine: This ingredient is often included in energy drinks as it may have stimulating effects, but there's not enough data to confirm an impact on workouts [9].
Alpha GPC: Regular intake of GPC can impact lower body performance, but this wasn't reproduced for upper body strength [10].
Himalayan Rock Salt: While this may be a good form of salt for your overall health, it's unclear what benefits it provides over regular table salt as a pre-workout ingredient.
Suited For Men and Women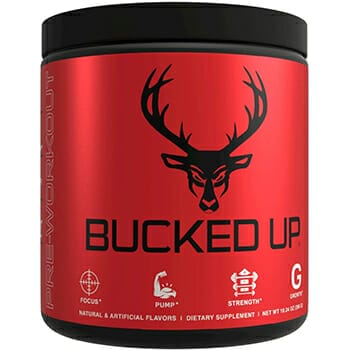 Bucked Up
Check Current Price
Which Product Should You Invest In?
Based on our research and feedback from a dietitian and a few clients, we came to the conclusion that Gorilla Mode is the better pre-workout supplement.
The formula seems to have taken a lot more scientific research to pick the ideal ingredients and dosage. The result is a better workout with either higher weights or more reps in each set.
And when you order it in a bulk package, it works out very affordable for each workout, which means you can get to your health and fitness goals considerably easier and faster.
Order your first supply today and see how much of a difference it can make.
We Recommend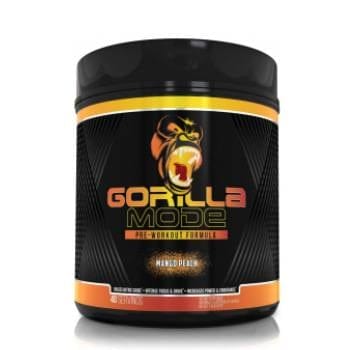 Click For Best Price
Pros
Contains nitric oxide for insane pumps
Many positive comments about good endurance and energy boost
High dose of caffeine may help with mental focus and fat burning
Tastes good
Get 10% off using code:

TOTALSHAPE
Cons
Does not list calorie count
Was this article helpful?