As a team of personal trainers, we're always looking for supplements that will give our clients and readers an edge during training. And one of the most difficult situations is when you need to decide between two products from one very reputable company.
Gorilla Mode and Gorilla Mode Nitric are two such supplements that caused a heated debate at a recent team meeting.
So we decided to spend a few weeks testing them with 12 of our clients to see if we could gather discernable data to recommend one over the other.
Here's what three weeks of research have revealed.
What Are The Key Differences Between Gorilla Mode And Gorilla Mode Nitric?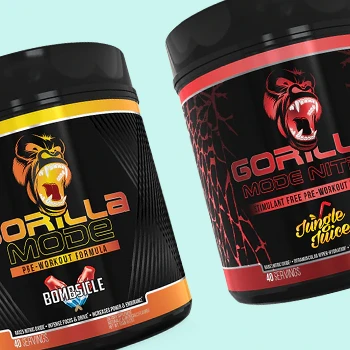 The main difference between Gorilla Mode pre workout supplement and Gorilla Mode Nitric is that the second one has a few more ingredients and a slightly stronger dosage.
Gorilla Mind chose those additional ingredients specifically to promote nitric oxide production for vascularity and muscle pumps [1].
That is particularly interesting for bodybuilders, and we'll find out shortly whether this formula works.
The other thing to highlight right here is that Gorilla Mode Nitric has a slightly higher standard dosage per scoop for some of the overlapping pre-workout ingredients.
In theory, that should trigger better muscle performance, and it was an area we focused on during our testing.
Features Head to Head
Here is a closer look at five key areas that should influence your choice.
Ingredients
In this section, I want to show you the overlapping ingredients and how these pre workouts differ in strength.
To achieve that, I completed a full pre workout review and tested both supplements to determine their strengths and weaknesses.
Both pre workout supplements contain L-Citrulline, Creatine Monohydrate , Glycerpump, Malic Acid, Betaine, and Agmatine.
But Gorilla Mode Nitric has 10% more L-Citrulline, 30% more Glycerpump, and 50% more Betaine and Agmatine.
There's great potential in the higher betaine dosage, as this has been linked to better muscle performance and muscular endurance [2]. And the higher dose of Glycerpump can improve blood flow and muscle pumps a lot more [3].
Effectiveness
This is the key part where we did some testing with the team and clients. We started with one week of training with no pre-workout to establish a baseline. Then we spent one full week training with each product and compared the maximum weights, sets, and reps.
The great thing is that both products showed a 10% to 50% improvement, but the average improvement with Gorilla Mode Nitric was slightly higher.
We also heard from the majority of clients that they felt better pumps and found they had more popping veins during training with this stim free pre workout.
Supplement Form
Both products come in powder form, and there's a slight difference in the size of the scoops.
Gorilla Mode has 15.425 g, and Gorilla Mode Nitric has 17.75 g.
It's not a big difference and is fully explained by the additional ingredients. More on those shortly.
We also made a comparison to see how quickly a scoop of each powder dissolved in water.
After a few test runs, it seems like Gorilla Mode is just a bit easier to mix.
Flavor
You have the same great choice of flavors with both products. I like it when companies offer many different flavors for a product that you tend to take on every training day.
It just gives you the opportunity to buy a few different ones and not get bored with the same drink before training every day. However, the best part is that the flavors taste natural—not too sweet, not too bland.
Price
Gorilla Mode is available for $49, and Gorilla Mode Nitric costs $59. But you have to factor in the higher dosage, additional ingredients, and overall effects.
If you're on a very tight budget, then Gorilla Mode will still give you excellent results. But if you want to push yourself even further, then don't let $10 turn you off.
It could be money well spent.
Related Articles:
Gorilla Mode Pros And Cons
Pros
Positive test results for increased power and endurance
Carefully chosen formula with scientifically proven ingredients
Great flavor options and powder mixes fast with water
Cons
You might not always get your favorite flavor
Gorilla Mode Nitric Pros And Cons
Pros
Great choice of nitric oxide boosters for pumps
Solid boost in strength, endurance, and vascularity
Comes with added electrolytes to help you stay hydrated
Cons
It's more expensive but worth the extra boost you get
Unique Supplement Features
Next, we got our dietitian to help out with researching the unique ingredients.
Gorilla Mode
These are the important unique ingredients we need to highlight in Gorilla Mode.
L-Tyrosine: This is a common pre-workout ingredient that has been tied to improved mental and physical performance levels [3].
Caffeine: Many studies have shown that caffeine has a direct impact on exercise performance and focus [4].
Huperzine: This is another scientifically proven ingredient that has shown improvements in muscle strength [5].
"L-Tyrosine is an amino acid that is used to produce noradrenaline and dopamine; it appears to reduce stress during exposure to acute stressors (which tend to deplete noradrenaline) and may help to prevent stress-induced memory and attention deficits."

- Kamal Patel, Editor at Examine.com
Suited for Men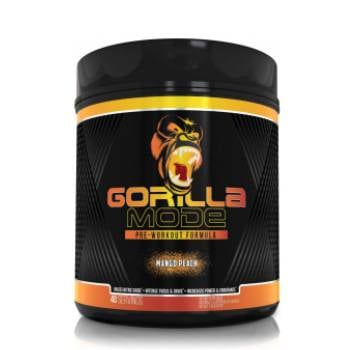 Gorilla Mode

Get 10% off using coupon code:  TOTALSHAPE
Gorilla Mode Nitric
Gorilla Mode Nitric also has some interesting additional ingredients.
Electrolytes: With added sodium and potassium, athletes should find that they can stay hydrated more easily [6].
​​Nitrosigine: There is evidence that Nitrosigine combined with citrulline can lead to better blood flow and vascularity [7].
VasoDrive: This is an interesting ingredient based on lactotripeptides from milk casein, and it has been linked to improved blood flow and pressure [8].
Suited for Men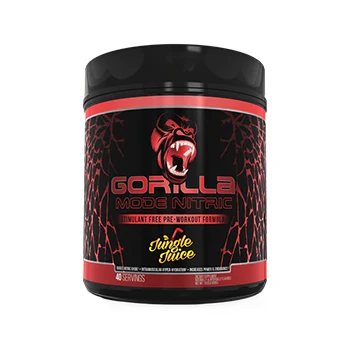 Gorilla Mode Nitric

Get 10% off using coupon code:  TOTALSHAPE
FAQs
Can You Take Gorilla Mode With Gorilla Mode Nitric?
Yes, you can take Gorilla Mode with Gorilla Mode Nitric. However, consulting with a healthcare professional before combining them is essential.
What Is the Difference Between Nitric and Mode?
The difference between Nitric and Mode is that Gorilla Mode focuses on pre-workout benefits. In contrast, Gorilla Mode Nitric emphasizes enhancing nitric oxide production and blood flow.
Is Gorilla Mode Nitric Healthy?
Yes, Gorilla Mode Nitric is healthy. However, reviewing the ingredient list and consulting a healthcare provider is crucial.
Which Supplement Should You Add To Your Stack?
Based on our Gorilla Mode Nitric review and additional testing results which definitely weren't decisive, we are inclined to advise our clients and readers to invest in Gorilla Mode Nitric. It just has that slightly stronger dosage of key ingredients and a few extra ones that seem to make the difference.
Everyone in our testing team recorded solid improvements in weight loads and reps during training, so you won't make a mistake with either of these products.
But Nitric might be worth the extra $10, especially if you're heading into a long-term fitness routine where you want to get to your goals a bit faster.
Order yours today and find out how much of a difference it can make.
Suited for Men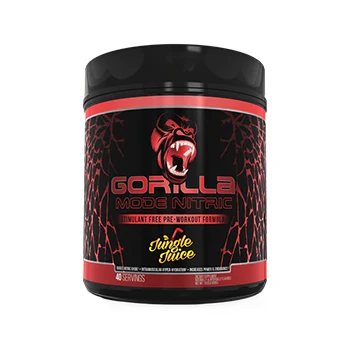 Pros
Great choice of nitric oxide boosters for pumps
Solid boost in strength, endurance, and vascularity
Comes with added electrolytes to help you stay hydrated
Get 10% off using code:

TOTALSHAPE
Cons
It's more expensive but worth the extra boost you get
Was this article helpful?