B vitamins play a critical role in the health and performance of all athletes. And while the right healthy diet can be enough, there are still times when you simply can't afford to become deficient.
One of our readers asked us a few weeks ago about this Nature Made B complex product. And because we hadn't used it before, we decided to team up with a few clients and our nutritionist to do some research and testing.
It took a few weeks and two blood tests to find out whether it worked as well as promised.
What Is Nature Made B Complex?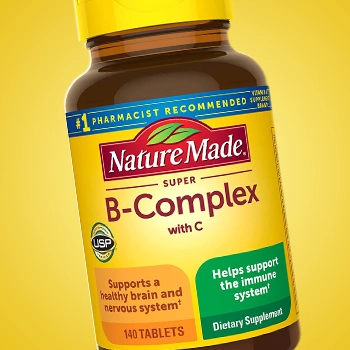 Nature Made B Complex is a dietary supplement that is designed to support your immune system and energy metabolism.
It delivers a wide range of B vitamins that impact many different parts of vital bodily functions.
What sets it apart from other B vitamins is that the company has formulated it with added vitamin C that aims to give you added benefits for immune function.
It comes in tablet form that you take once a day, which is a convenient way to make it part of your daily routine.
And comparing the formula to when it was first introduced, there don't seem to have been any major changes in the dosage or ingredients.
Ingredients
Here is a list of the key ingredients that Nature Made has added:
Vitamin C
Thiamin (B1)
Riboflavin (B2)
Niacin (B3)
Pantothenic acid (B5)
Vitamin B6
Folate (B9)
Vitamin B12
As you can see, this covers all of the critical B vitamins from B1 all the way up to B12. And the formula is strong enough to provide more than your daily requirement for each of them [1].
"While most people get plenty of vitamin B12 benefits in a varied, balanced diet, if you are on a vegan or vegetarian diet, you are at risk for vitamin B12 deficiency."

- Jennifer J. Brown, PhD
Related: What Is a Multivitamin?
Benefits
The first thing I would highlight is that it's great to see vitamin C added to the full list of B vitamins.
This can have a positive effect on your immune system as well as provide for better brain health and function [2].
It's also a great option for vegans, as none of the ingredients are animal-based. And it will deliver a good dose of vitamin B12, which is very important for vegans [3].
Does It Have Downsides?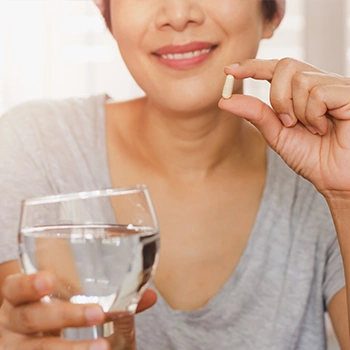 Yes, we did find that Nature Made B Complex had some downsides.
While it doesn't cause any significant side effects, as part of our testing, we did a before-and-after blood test to check for vitamin concentrations.
Unfortunately, we didn't see as large a boost in vitamin levels as with some other products that we've tested.
More on those below.
Also, in our experience, the tablets are a bit more difficult to swallow than other products we've tested before.
Pros
Includes all the important B vitamins plus vitamin C in more than 100% of the daily requirement
Suitable for vegans providing the important vitamin B12
Available in large bulk-order bottles for good discounts
Cons
The tablets are not the easiest to swallow
The absorption rate seems to be a bit low
Who Should Take Nature Made B Complex?
People who are not getting enough B vitamins from their diet and vegans who need to take B12 should consider taking Nature Made B Complex.
However, this would mainly be suitable for people who have a minor deficiency as it doesn't seem to provide a large boost like other products.
Who Shouldn't Take Nature Made B Complex?
People who have a significant deficiency of B vitamins shouldn't consider taking Nature Made B Complex.
Based on our test results, where we had a blood test done before and after taking this for four weeks, the increases were not as significant as expected.
Where Can You Buy It?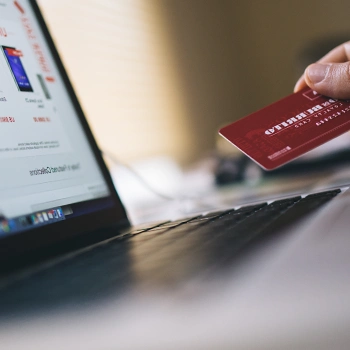 You can buy Nature Made B Complex directly on the official company website and at Amazon.
My experience at Amazon was that it shipped fast and arrived within three days.
But it's often out of stock at Amazon, so you'd want to order a bulk order bottle.
We also ordered it from the official website, where it took about five days to arrive.
Also, note that you'd have to buy four bottles or other products to qualify for free shipping.
Other User Reviews

Here are some online reviews that we found that show a similar experience to ours.
After taking them for a few weeks, he thought they worked well for him and his wife, and he particularly liked that it has added vitamin C for immune system support.

- Hank from NY
This customer had been diagnosed with vitamin B deficiency. And after trying Nature Made and several others, he found that this one didn't provide the same level of a boost as the others.

- Thomi from Miami
FAQs
Is It Good To Take B Complex Every Day?
Yes, it is good to take vitamin B complex every day. Even if you're not significantly deficient, it can always be a good idea to get a boost as your body isn't able to store B vitamins.
What Are The Benefits Of Taking B Complex?
The benefits of taking vitamin B complex include developing red blood cells, physical and brain energy, proper nerve function, and even eyesight. It's why many dietitians recommend taking a supplement to get an ideal boost.
Should You Buy This Vitamin B Supplement?
Based on our research and testing results, we wouldn't recommend buying Nature Made B Complex. While it does have a great selection of micronutrients, including vitamin C, it seems like it doesn't provide an optimum absorption rate.
We'd advise you to take a gender-specific product with a specifically calibrated dosage of vitamins. We have found two products that have provided us with the best test results and benefits.
Order your first supply today and find out how much of a difference it can make.
Our #1 Recommendation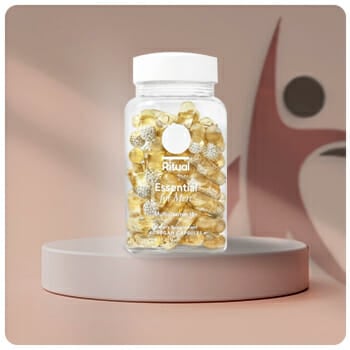 Ritual Multivitamin 18+ for Men
Click For Best Price

Our #1 Recommendation
Ritual Multivitamin 18+ for Women
Click For Best Price

Was this article helpful?