To this day, it surprises me how many athletes don't pay enough attention to their intake of vitamins and minerals.
Even with a great diet that focuses on healthy and proper nutrition, you might become deficient in certain vitamins, making it difficult for your body to function properly.
Multivitamins are an ideal solution, but if you hate to swallow pills or have a sensitive digestive system, a patch could be a great solution to avoid developing a chronic deficiency.
So, we took a look at the PatchMD multivitamin patches with a dietitian and put them to the test.
Here's what we found.
What Is The PatchMD Multivitamin Patch?
PatchMD Multivitamin is a daily mineral and vitamin patch that aims to deliver vital micronutrients through a slow-release mechanism. This product is designed to provide the right amount of nutrients over an 8-hour period to boost vitamin intake.
And several online reviews highlight that regular bloodwork has confirmed this boost.
By bringing a multi-nutrient layer in contact with your skin, the water-soluble vitamins and minerals slowly make it into your system to gain a continuous release throughout the day.
The health and wellness company has a long history of successful topical skin patches, which is why we highly recommend this product.
The result should be improved immune system strength and a reduction in free radicals.
And because it covers 25 essential nutrients, it seems to be a great way to bridge any nutrient gaps you might have.
PatchMD Multivitamin Patch Pros And Cons

The first thing we want to highlight is that the PatchMD multivitamin patch has one of the broadest ranges of minerals and vitamins, even when you compare it to typical supplement pills.
And we found that it has a great dose of vitamin D to support a healthy immune system [1]. Increased vitamin D3 intake may be particularly important during winter months when limited sun exposure reduces your skin's daily production.
"Vitamin D is both a nutrient we eat and a hormone our bodies make. It is a fat-soluble vitamin that has long been known to help the body absorb and retain calcium and phosphorus; both are critical for building bone."

- Harvard School of Public Health
We also found that the broad range of nutrients may function well together to protect healthy cells from damage.
And for people with very low vitamin levels, the company claims that wearing multiple patches doesn't pose any additional risk.
Pros
Provides a broad range of nutrients including vitamin D and K2 to support bone health
Uses a natural adhesive to make it suitable for sensitive skin
May support joint health, cognitive function, and colon health
Comes with a money-back guarantee for a risk-free trial period
Cons
Patches are not waterproof, so plan to attach them to avoid swimming or showers
The only downside is that the patches come off easily in water or under the shower
Are There Any Side Effects?
One side effect of using PatchMD Multivitamin is slight itching if the patch is always applied to the same area, but those people mentioned that they had extremely sensitive skin.
But the good news is that PathMD uses a very mild adhesive that seems to leave no mark or cause reactions.
Other patches we've reviewed:
Vitamin Patch Alternatives
We tested PatchMD against three other competitors to give you a comprehensive review.
Let's take a look.
Thrive
The Thrive patch by Le-Vel offers a multivitamin patch to target fat burning. It contains common ingredients in traditional fat burners, like green coffee bean extract and Garcinia Cambogia. Still, unfortunately, the amount is hidden behind a proprietary blend, making it difficult to know if the ingredients are at effective doses.
PatchMD and Thrive include B vitamins, though Thrive's dosing is slightly higher. Additionally, both contain vitamin D3, though PatchMD contains more Selenium.
Many in our test group didn't experience remarkable results after several weeks of use. Others had moderate success taking it alongside our diet and exercise plan. Mild skin irritation was a common complaint among our users.
PatchAid
PatchAid claims its patches contain more nutrients than the competition, so we decided to look closer. Our dietitians and I looked at the label; we found PatchAid loaded with vitamins, some 4000% over the daily value.
Our dietitians and I agree that anyone interested in taking such megadoses should first consult their doctor. PatchAid contains heavier doses of ingredients than PatchMD across the board, including B vitamins, Vitamin K, zinc, magnesium, and vitamin D3.
Like PatchMD, PatchAid recommends keeping the patch on for eight hours; having it on longer provides no additional benefit.
PatchAid is vegan-friendly and, like PatchMD, is sugar and gluten-free, which appealed to many in our test group. Some of our users had trouble with it sticking to the skin and found this to be a common complaint among online reviews.
Like PatchMD, you can purchase directly from the official website for the best pricing. Both manufacturers offer significant discounts when you join their subscribe and save programs.
Sculpt
Immediately something didn't sit right with me about the Sculpt Patch, and that was its ingredient label. As a fitness trainer, I am always disappointed when manufacturers choose to hide the ingredient dosing behind a proprietary blend so that my clients or I don't know what we are putting in our bodies.
We decided to test it anyway as it contained familiar ingredients like B12, also found in the PatchMD multivitamin. Additionally, Garcinia Cambogia is for appetite suppression, and echinacea can boost your immune system.
Some users in our test group experienced dry mouth and headaches while using the Sculpt Patch but reported mild symptoms.
After speaking to our dietitians, we concluded that there are likely better options out there with researched-backed ingredients if you want to lose weight.
Where Should You Buy PatchMD Multivitamin?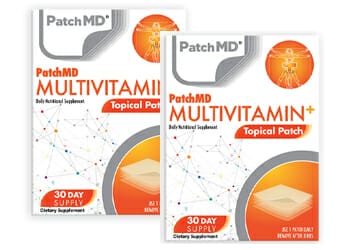 You should buy PatchMD Multivitamin from the official website.
The health and fitness supplement industry has been plagued by fake and counterfeit products that even sell on reputable online stores [2].
In a best-case scenario, you might end up with a patch that doesn't contain vitamins and does nothing for your overall health.
In a worst-case situation, you might have severe reactions because of chemicals in adhesives and the contact layer.
FAQs
Are Vitamin Skin Patches Effective?
Yes, some vitamin skin patches are effective and ideal for people who struggle with taking vitamin pills. It's an easy way to get a continuous boost of vitamin C, D, E, and B complex to boost your immunity, joint, and skin health.
Where Is the Best Place to Put a Vitamin Patch?
The best place to put a vitamin patch is on the upper arm or on your back, but the location shouldn't affect absorption rates as long as body hair doesn't interfere. As such, consider attaching the patches on the least hairy areas of your body to get the most out of their effects.
Have You Ordered PatchMD To See Results For Yourself?
Based on our research, trial period, and reading through hundreds of PatchMD reviews, we would recommend this vitamin booster in patch form to our readers.
Whether you've been advised to use a vitamin patch by a medical professional or you don't like taking large pills to boost your levels of vitamins, these patches could be your best option.
Order your first batch today and see how much of a difference they can make to your health.
We Recommend
PatchMD Multivitamin Patch
Pros
Provides a broad range of nutrients including vitamin D and K2 to support bone health
Uses a natural adhesive to make it suitable for sensitive skin
May support joint health, cognitive function, and colon health
Comes with a money-back guarantee for a risk-free trial period
Get the BEST PRICE until the end of June
Cons
Available only through company's website
Was this article helpful?