After reading good reviews regarding Prevail pre-workout, I decided to try the pre-workout over the course of 5 months to verify if the effects are as portrayed on the website.
I solicited the help of my dietitian and other gym-goers to learn more about Prevail and how it keeps you concentrated during your workout. The information I gathered is discussed in this article.
Let's get into it.
What Is Prevail Pre-workout?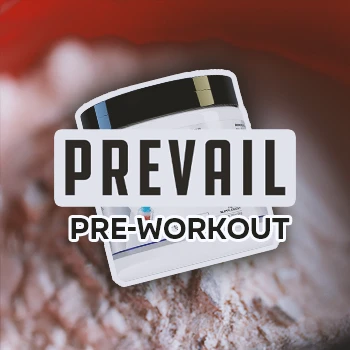 Prevail pre-workout is a scientifically crafted and rigorously tested supplement that contains a unique balance of nootropics and stimulants.
It differentiates from other supplements by not falling into the inferior strategy of filling you with ridiculous dosages of caffeine and other stimulants in crazy amounts that increase your heart rate or make you break out in a pool of cold sweat.
With Prevail, the pumps are efficient, the power is stable, and the concentration is great.
I have to point out that it's wonderful to see Prevail upped their level and start releasing researched doses and clear formulae that won't break you up, which wasn't the case in the past.
Suitable For Men And Women
How To Use Prevail Pre-workout

There are several reasons to use Prevail. However, grabbing the product and hoping for the best without knowing how to use it is not a smart idea.
The following are some pointers on how to use Prevail to get the greatest effects.
Take your Prevail supplement 30 minutes before your exercise: It takes about 30 minutes for the supplement to kick in for the caffeine to integrate into your body.
Examine the caffeine content of the pre-workout: According to research, an adult person's recommended daily caffeine intake is 400mg [8]. A serving of pre-workout contains around 125 mg, and it's best to start with a lower amount.
Mix your pre-workout powder with water and consume it:

Consuming dry powder might cause choking. However, combine one scoop of the pre-workout with one glass of water, as the manufacturer directs.
Who Should Take Prevail Pre-workout?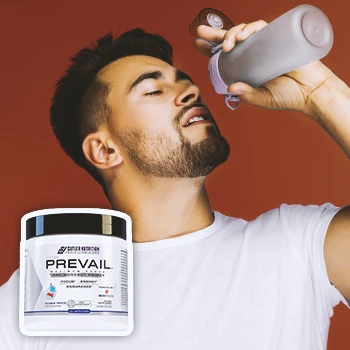 Bodybuilders, weight lifters, and athletes searching for a physical and mental boost throughout their exercise should take Prevail pre-workout.
It also gives them maximum focus providing them with the required energy for training.
Prevail pre-workout supplement might be what you're seeking if you usually manage modest quantities of stimulants effectively and want a "cleaner" bump in training performance.
As previously said, you may consume one or two scoops based on your mass and desired benefits.
Who Shouldn't Take Prevail Preworkout?
People who shouldn't take Prevail pre-workout are those who are severely susceptible to caffeine, who just work out to obtain a modest sweat, and who have certain health issues that might produce a harsh reaction.
Where to Buy Prevail Pre-workout?
You can buy Prevail pre-workout at their official website.
The cost of Prevail is around $35. However, the price may vary depending on your plan and the site you choose to buy from.
How Does Prevail Pre-workout Work?
Prevail pre-workout works by providing you with regulated energy and utmost focus, resulting in the ideal combination of physical and mental alertness.
It has a unique blend of stimulants, like NeurofctorTM, which promotes enhanced attention and mental focus, allowing you to complete even the most strenuous workouts.
What I liked most was the fact that it didn't leave me cracked out after gym sessions. A big bonus, compared to some other caffeine-based pre-workouts I used.
Benefits

One key feature of Prevail pre-workout is that it increases tunnel vision focus. There are other benefits that you will get from using this supplement. These benefits are:
Enhanced Energy: The usage of a unique caffeine combination, in particular, is marketed to provide a surge of power without the wreck.
Pumps that work better: Cutler nutrition Prevail also contains the traditional l-citrulline component, which boosts blood flow, muscular pumping, and endurance [7].
Enhanced Mood: Certain substances here may increase mood, like caffeine and Theobromine, which makes working out more fun.
Come in different flavors: Prevail comes in different flavors, such as Rainbow Freeze, Sour Rainbow Candy, Peach Mango, and others.
What I didn't like about Prevail was the lack of beta-alanine. I like seeing pre-workouts with this amino acid as it gives me just the right tingle and reduces muscle tension after intensive workouts.
Despite the variety of tastes, I also found the majority to be quite sour and not exactly pleasant to the palate.
Pros
Enhanced energy
Enhanced performance and recuperation
More satisfaction when exercising
Very economical
Cons
Doesn't contain beta-alanine
Suitable For Men And Women
Does It Have Downsides?

Prevail contains ingredients that have been generally regarded as safe, although the following are some probable adverse effects.
Sleeplessness - Caffeine dominates most pre-workout pills. This might range from 200 to 400mg per serving. Prevail serves 125 mg of caffeine per serving, which might be hefty for caffeine-sensitive people. If used at night, it may cause insomnia, too.
High blood pressure - All stimulants increase blood flow and raise blood pressure. That is simply the nature of the component (like caffeine). When combining HIIT and pre-workout supplements, use care. High-intensity weight exercise might raise your blood pressure.
"If you are new to pre-workout supplements you should focus on those with a single active ingredient from a respected manufacturer. Anyone trying a new supplement should consult their doctor–especially if they are taking prescription medication."

-  Susan Kerrigan, MD
Migraine - A migraine can occur when your system gets dehydrated. An insulating layer of water flows around the brain. Dehydration causes the fluid around the brain to become thin, which may cause the brain to collide with the skull. This may result in a migraine.
Prevail pre-workout has ingredients that aid in vasodilation. Most of these compounds are arginine or citrulline malate derivatives.
Once vasodilation happens, blood vessels in your system, including those in your brain, enlarge. This growth might result in migraines.
Shipping And Delivery
Prevail has an auto subscription service. This implies that once you set up your subscription, you don't have to go on and purchase the product every time. You will receive your product automatically every month.
They also ship the product all over the world. Shipping costs and delivery time depends on the state you are in.  I received my package after 3 days of ordering, which is close to the average delivery time.
It may take 13 to 24 days if you are outside the UK and US.
The item cannot be returned. You are eligible for a refund or replacement if it is defective or damaged.
Conjugating Prevail with a healthy diet and a good exercise plan is essential. This will ensure you reap the most out of its benefits.
Prevail Pre-workout Ingredients

The composition of Prevail is made up of a quality mix of known and unique key ingredients.
Caffeine: Cutler nutrition Prevail contains two caffeine components: caffeine anhydrous and dicaffeine malate. Generally, research indicates that 3 - 6mg/kg body mass is useful for enhancing exercise performance indicators like strength, stamina, tolerance, and numerous cognitive factors like mood, concentration, awareness, and full focus [1].
According to the standards, one may require between 150 to 600 mg of caffeine anhydrous and dicaffeine malate based on body mass and other factors.
However, there are hazards associated with greater doses [2].
Theobromine 99%: It is a neurotransmitter from dark cocoa seed extract. This cocoa seed extract interacts effectively with caffeine inside the body, resulting in significantly stronger effects regarding physical stamina and the time required for the benefits to wear off.
L-Theanine: This is comparable to Theobromine in that it interacts with caffeine to enhance the benefits. Not just that, it may enhance nootropics' benefits [3].
NeurofactorTM: A patented form of coffee fruit extract, NeurofactorTM promotes greater attention and increased alertness, allowing you to complete even the most strenuous workouts. Because of the combination with a high dose of Alpha-GPC, tunnel-vision concentration in Prevail is evident from the outset [4].
Huperzine-A: A combinatorial component that boosts the potency of Alpha-GPC. Huperzine-A prevents an enzyme from disintegrating acetylcholine, resulting in increased attention [5].
"Huperzine-A may inhibit an enzyme called acetylcholinesterase, which breaks down a neurotransmitter called acetylcholine. More acetylcholine in the brain may increase focus and improve memory."

- Ryan Bucki, ISSA-CFT, Fitness Informant
Alpha-GPC 50%: Another substance that promotes mental attention and reaction time. A dosage of 750mg of Alpha-GPC is uncommon in several supplements [6].
Suitable For Men And Women
Other User Reviews
Users are expressing various things regarding Prevail. However, the following stand out as similar to our experience.
"I was a bit disappointed with the taste because I figured they'd be more pleasant. I've tried almost all flavors, but they're all kind of sour."

- Alexandra, Florida
"I had good motivation with this one. I just wish there was beta-alanine. Even if there is, it's just not enough for my goals."

- Stephen, Michigan
How Does It Compare To Other Products?
I've been a big fan of pre-workout energy supplements for years. Needless to say, I've tried and tested quite a few. Here's how some of my favorites compare to Prevail.
4 Gauge
4 Gauge is considered to be a natural product that improves exercise performance and allows you to train harder than before.
It's a 4-in-1 supplement that will deliver raw strength, sharp concentration, long-lasting power, and explosive muscle pumps since it contains theanine [9]. It is, however, only offered in one flavor, unlike Prevail, which comes in various flavors for you to choose from.
Gorilla Mode
Gorilla Mode has been optimized for the performance and pump categories and the power and focus classes.
Huperzine, Kanna, and L-Tyrosine cognitive boosting component significantly increase controlled energy, concentration, and mental clarity [10].
Transparent Labs
The main components are incorporated at clinically acceptable concentrations and include no colored pigments, sweeteners, or flavors, all of which are supported by documented scientific studies, unlike Prevail, which comes in a variety of flavors that you can choose from.
Transparent Labs' pre-workout also contains a high amount of beta-alanine, proven to improve endurance [11].
FAQs
How Much Caffeine Does Prevail Have?
Prevail has 125 mg of caffeine per scoop.
You take Prevail by simply opening the sachet and mixing it with 500 ml of water.
Is Prevail Pre-Workout Worth It?
Even though Prevail pre-workout increases your focus and provides a good pump to keep you going with your workout, it has some serious shortfalls for a dietary supplement that's advertised to be one of the top on the market.
If you want to be sure you're getting something that's worth the extra buck,  Gorilla Mode is a much better option.
This product contains a high concentration of betaine, GlycerPump, L-citrulline, agmatine, and creatine, filling your muscle tissue with blood and cellular hydration.
It also contains a powerful stimulant compound that includes a high concentration of N-Phenethyl Dimethylamine Citrate and caffeine to help you focus [12].
Our #1 Recommendation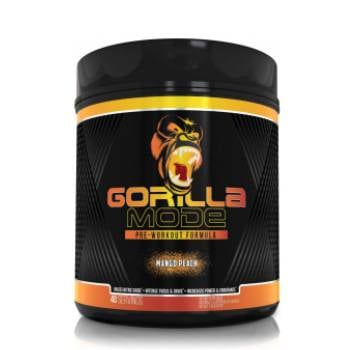 Click For Best Price

Pros
Contains nitric oxide for insane pumps
Many positive comments about good endurance and energy boost
High dose of caffeine may help with mental focus and fat burning
Tastes good
Get 10% off using code:

TOTALSHAPE
Cons
Does not list calorie count
Was this article helpful?