If you're not sure whether Bang pre-workout is what you precisely need to get charged up for your next gym session, you've come to the right place.
I spent months testing Bang pre-workout, researching, and rounding up online customer reviews of the product.
Today, I'll share my experience in this comprehensive Bang Master Blaster review and my opinion on its ingredients and health benefits.
Let's get started.
What Is VPX Bang Pre-Workout Master Blaster?
VPX Bang Master Blaster is a pre-workout drink manufactured and distributed by Vital Pharmaceuticals (VPX).
Jack Owoc established the Bang Master pre-workout (BMP) brand in the early 1900s.
This specially formulated pre-workout is the leading sports nutrition supplement in VPX's diverse line of supplements.
How Does Bang Master Blaster Pre-Workout Work?
Bang Master Blaster pre-workout works by increasing energy production, athletic ability, and circulation. After that full spoon scoop, your efficiency and vigor are fully optimized.
It comprises massive doses of sports supplementation ingredients that blend and work well to amp you up and improve endurance.
Suited for Men and Women
VPX Bang Pre-Workout Master Blaster
Check Current Price

Master Blaster Pre-Workout Ingredients

Here are key ingredients that make Bang Master Blaster pre-workout supplement an incredible energy drink.
Branched-chain Amino Acids (7500mg)
Branched-chain amino acids (BCAAs) augment muscle protein synthesis by activating the cell cycle pathway [1].
However, BCAA consumption alone may not maximize muscle protein synthesis, and evidence to support their utilization as a stand-alone energy booster is lacking. 
However, combining essential amino acids with an optimal dose of whey protein has been shown to boost muscle hypertrophy rates to levels seen with at least 3x higher protein intake [2].
Caffeine (350mg)
Caffeine provides quick energy that can be used for both intense exercise and short-duration, high-intensity workouts like lifting or sprinting. It improves muscular endurance, power, stamina, and even tissue soreness [3].
"Repeated studies have shown that caffeine can boost alertness, sharpen focus, optimize tolerance for exercise-induced pain, aid in fat loss, and help athletes do more work for longer periods in the gym and sport,"

- Robert Wildman, Ph.D.
I noticed that this caffeine dose sent my energy skyrocket, although I did experience some jitters on days when I had my morning coffee, suggesting it won't be the best option for caffeine-sensitive people.
Creatine Monohydrate (5000 mg)
The molecule super creatine monohydrate can generate energy when stressed, mainly when hitting the gym. It's so popular because it's been shown to improve strength and flexibility during workouts [4].
One serving of Bang Master Blast gives you a whopping 5,000mg of creatine compound.
However, even with the great benefits, this specific serving could be an issue if you're just getting started on pre-workout supplements.
Large amounts of super creatine can have adverse side effects such as nausea, abdominal cramping, and indigestion [5].
Beta-Alanine (2400mg)
Beta-alanine is a common pre-workout ingredient with a single purpose: to help you endure that "burning" sensation and complete a couple more reps, reaping the most of each set.
When you do high-intensity training, the acid content in your body can build up, raising muscle fatigue and lowering performance.
Beta-alanine glues with histidine to increase the amino acid carnosine concentrations, which slows down the hydrogen ions responsible for the acid build-up [6].
This element helps your body buffer lactic acid allowing you to exercise for more extended periods.
Benefits

Here's what impressed me about this pre-workout.
Rapid Weight Loss
If losing weight is one of your main fitness targets, taking Bang Master Blaster paired with an adequate protein diet and a consistent workout regimen can help you lean out easily.
During my trial period with Bang Master Blaster, I was planning to go on a cut, and I lost a few pounds with the help of this supplement.
Pre-workout raises your heart rate and allows you to shed more pounds while exercising.
Bang dietary supplements can improve both your metabolism and keep you satiated for longer, assisting you in curbing cravings for junk foods.
Enhanced Mood
Bang master blaster makes getting to the gym and hopping on that treadmill easier.
On top of that, you'll also benefit from the natural mood-enhancing hormones like endorphins that are actively produced when you exercise [7].
Stamina Boost
Bang Master can boost your stamina, too.
It is one of my best pre-workouts because it has ingredients that enhance steady blood flow and distribute more nutrients and oxygen to my muscle fibers while you're lifting weights.
It got me through intense sets and helped me lift more weight while maintaining proper posture.
Better Focus
Any energy supplement can boost your energy levels, but Bang Master Blaster also helps you stay focused through your sets.
As official VPX sports nutrition additives, caffeine, TeaCrine, L-Theanine, and amino acid leucine compounds in Bang pre-workout supplements lift physical and mental fatigue at bay.
This perfect workout combo keeps my head in the game and wades off any distractions.
Pros
Helps to build lean muscle mass after consistent use
Boosts muscle strength
Contains adequate electrolytes to prevent dehydration
Has super creatine for faster muscle growth
Has 0g of sugars, perfect for lean body mass
Cons
Nitric oxide levels are too low
Side-effects

Here are a few side effects that you might expect:
The beta-alanine compound can cause itching in certain parts of the body (chest and hands) [8].
If you're new to pre-workouts, its strong caffeine content can cause you to have a caffeine crash.
Using less water to mix your Bang Master Blaster can cause some digestive issues; drinking the concentrated liquid might cause osmotic diarrhea due to the malabsorption of magnesium found in pre-workouts [9].
The citrulline compound, which increases blood pressure flow to the brain, can cause some people to have a rapid heartbeat, migraines, and headaches.
How Does Master Blaster Pre-Workout Compare To Other Products?
Now, with myriad pre-workout supplements out there, let's see how Bang compares to other products in the pre-workout market.
Gorilla Mode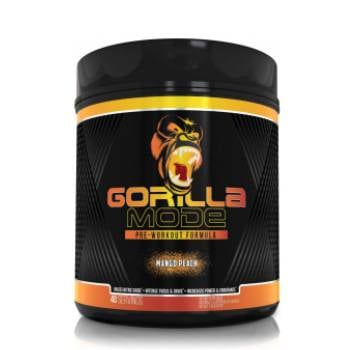 Gorilla Mode has a few similar ingredients to that of Bang, except for Malic acid and Glycerpump.
Malic acid helps boost the absorption of supplement compounds like Creatine monohydrate while promoting cardiovascular endurance and reducing muscle fatigue [10].
With Gorilla Mode, the key supplement Glycerpump gives you extra explosive power specifically for anaerobic exercises like weight lifting [11].
In my experience using it for over a year, this pre-workout supplement also has a better nitric oxide pump compared to Bang Master Blaster pre-workout.
4 Gauge
Unlike VPX Bang with many flavors, 4 Gauge comes in only one flavor known as 'Fruit Blast' with an overall strong fruity taste.
Regarding ingredient comparison,4 gauge has added beetroot extract, coconut water powder, and Rosea root powder contents.
It's great to see top common ingredients like DL-Malate, L-Citrulline, creatine, and caffeine used in the formula, and it's also encouraging to see the serving dosage for each component.
4 gauge contains about 5 calories and 4g total carbs, which is way less than Bang Master Blaster, which has roughly 10 calories and 3g carbs.
This energy drink is a bit expensive compared to Bang pre-workout and might not be a good fit for you if you're on a tight budget.
Also, it's not sold anywhere online apart from their official website.
Transparent Labs Bulk
Transparent Labs BULK is an energy supplement focusing more on augmenting muscle mass by boosting testosterone (T) production.
Overall, it proved to be a valuable pre-workout complement to add to your weight loss routine, but there is little scientific proof for some of its ingredients, like the Boron compound boosting T levels.
Unlike Bang, Transparent Labs is vegan friendly as it contains BCAAs sourced from vegan elements.
Taking Bulk with other caffeinated drinks puts you at risk of excessive caffeine consumption because each Bulk serving already gives you two forms of extra concentrated caffeine.
It's a touch more expensive than Bang but worth the money, considering it gives you about 30 servings per bottle.
Where To Buy It?
You can buy Bang Master Blaster from trusted and verified suppliers like Amazon or directly from their official website, which offers a 15% discount on your first order.
Since they deliver globally, shipping varies depending on your geographical location.
But if you're in the US, it takes between 3 to 7 days, depending on your state. I received my package 3 days after placing the order.
Suited for Men and Women
VPX Bang Pre-Workout Master Blaster
Check Current Price

Who Should Take Bang Pre-workout?
People who should take pre-workout include:
Body Builders: Bodybuilders should use Bang to replenish their muscles and connective tissues. Bang contains nutrients for muscle building and mass retention.
People Who Want to Lose Weight: For new gym members starting their weight loss journey, using Bang before exercising is one of the steps in the right direction. Bang pre-workout includes ingredients that aid in fat loss. Its caffeine, Yohimbine, and creatine supplementation also have thermogenic implications, which suggests they boost your body's ability to burn fat quickly [12].
People Who Practice Yoga:

With increased focus and energy, it's evident that you'll function better during your yoga class and be able to zone in. And great yoga workouts result in excellent physical and mental outcomes.
Who Shouldn't Take Bang Pre-workout?

Even with the great benefits that Bang pre-workout brings, it's not for everyone. You shouldn't take Bang Master Blaster if:
You're a pregnant or breastfeeding mom because the compounds you ingest from the pre-workout can easily pass on to your baby, which is harmful.
You're under the age of 18.
You have allergic reactions to Bang ingredients.
You're just starting your gym training; seek professional help to know what works for your body system.
If you have any underlying illness and are under some prescriptions, mixing meds with bang master blaster can cause adverse health complications.
Other Users' Testimonials
Online users find Bang helpful in their fitness journey, although some weren't exactly pleased. Here's what some of them had to say.
"This pre-workout seemed like a better and cheaper option than their energy drink. However, it didn't live up to my expectations as my focus was a little bit down and not as long-lasting as with the can version."

- Dexter from Florida
"There was no pre-workout crash from stims in this product. My favorite feature is mental clarity, which I often lack in the late afternoons. I'd say it is well worth the money."

- Matt from Australia
FAQs
Is Bang Pre-workout Effective?
Yes, Bang pre-workout is effective because it has ingredients that help with an energy boost, mental clarity, and weight loss.
How Long Does It Take Bang Pre-workout to Fully Kick in?
It takes about 30 to 45 minutes for Bang pre-workout to fully kick in and absorb into your bloodstream.
How Long Does Bang Pre-workout Last?
Bang pre-workout lasts for about 6 hours, enough to take you through your workout and other post-workout activities.
How Much Caffeine Is in Bang Pre-workout?
There's about 350 mg of caffeine in one serving of Bang pre-workout.
Does Bang Pre-workout Make You Gain Weight?
No, Bang pre-workout doesn't make you gain weight. On the contrary, it boosts your athletic performance and muscle strength and helps you lose weight faster.
Should You Buy Bang Master Blaster Pre-workout?
Even a good pre-workout like Bang cannot give you 100% effectiveness in your workouts. The strong caffeine can leave you feeling jittery, anxious, and nauseous.
If you've experienced such effects, you should try the Gorilla Mode supplement instead. Having used it for over a year, I've seen a major paradigm shift in my fitness journey due to Gorilla Mode's incredible potential to increase nitric oxide levels.
This is the perk I didn't notice with Bang; hopefully, the brand will pay more attention to this aspect in the future.
Our #1 Recommendation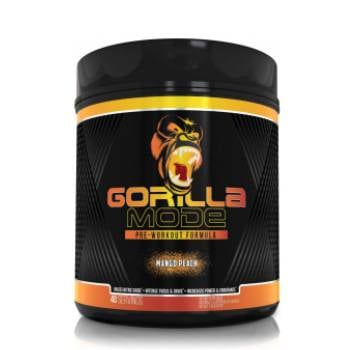 Click For Best Price

Pros
Contains nitric oxide for insane pumps
Many positive comments about good endurance and energy boost
High dose of caffeine may help with mental focus and fat burning
Tastes good
Get 10% off using code:

TOTALSHAPE
Cons
Does not list calorie count
Was this article helpful?