80% of Americans lack Magnesium without realizing it.
Even worse:
You typically absorb only 30-40% of this mineral critical for supporting your main body functions and health from your diet.
Not all Magnesium supplements available for topping up your diet are created equal.
This review reveals why Transparent Labs Magnesium is better than many other similar products.
What Is Transparent Labs Magnesium Bisglycinate?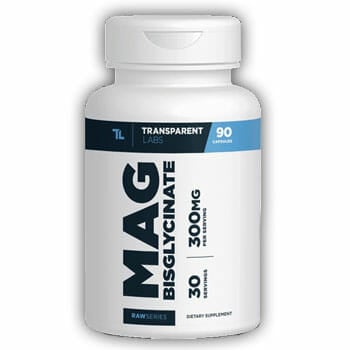 Transparent Labs RawSeries Magnesium Bisglycinate is a high-quality dietary supplement made from premium ingredients with non-laxative properties (unlike commonly used lower-quality Magnesium Oxide and other types of Magnesium).
It's budget-friendly, highly bioavailable, and effective in preventing Magnesium deficiency in male and female athletes and active people of all ages.
It claims to cover 70% of your daily needs, allowing you to avoid cramps during/after tough training, speed up muscle recovery, increase energy levels, improve performance, mood, and health.
Get 10% off using coupon code:  TOTALSHAPE
It's produced by one of the most reputable brands widely known for offering top-rated protein powder, pre-workouts, fat burners, and various other weight loss and health products with 100% transparent labels (as the company name suggests).
Pros
Pure, third-party tested formula excellent for high-performance athletes
Non-GMO, gluten-free, without artificial flavors, sweeteners, coloring, or preservatives
Highly bioavailable and easily absorbable form (better than commonly used Magnesium Oxide)
Easy to swallow and easy on the stomach
Great value for the money
Cons
You may need to remember to take three capsules per day
Pricier than Magnesium Oxide
Transparent Labs Magnesium Ingredients
This is one of the natural Raw Series products without any artificial ingredients, but purest Magnesium content.
It primarily contains sophisticated and highly absorbable Magnesium Bisglycinate Chelate (300mg per serving) and a few other ingredients which are all safe to consume [1]
Magnesium Stearate
Veggie Capsule
Rice Flour
Silicon Dioxide
Its key ingredient can improve your mood, sleep, digestion, nerve and cell functions, immune system, and overall health. Plus, it reduces the risk of migraines, thyroid disease, and genotoxicity.
"Magnesium is important for many processes in the body, including regulating muscle and nerve function, blood sugar levels, and blood pressure and making protein, bone, and DNA." National Institutes of Health
Side Effects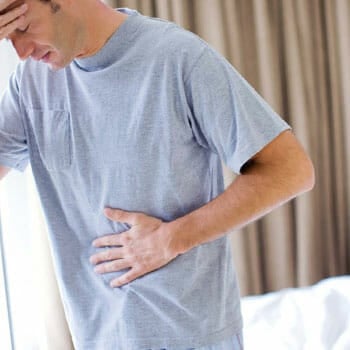 The benefits of Magnesium far outweigh any rare risks of potential side effects, especially if your Magnesium levels are too low (which is quite common).
However, if your body gets an excessive amount of Magnesium, you might experience:
Stomach cramps
Diarrhea
Nausea
Vomiting
Irregular heartbeat
Flushing

Headache
Low blood pressure
Fatigue
Muscle weakness
Breathing difficulties, etc. [2]
But, no worries. In healthy people, kidneys eliminate the excess amounts. [3]
Supplements also contain inactive ingredients, which can trigger allergic reactions like rash, itching, face swelling, dizziness, and similar, so read the product label carefully.
Magnesium supplements might interact with certain medicines like antibiotics, diuretics, drugs for treating osteoporosis or heart disease and interfere with the absorption of other supplements like Zinc or Calcium.
People with diabetes, intestinal, cardiovascular, kidney disease, or any other serious medical condition shouldn't take Magnesium supplementation without consulting a health care professional first.
You can also check out other best magnesium supplements, or opt for a good ZMA supplement.
Where Can You Buy Transparent Labs Magnesium?
You won't find this supplement via Amazon, GNC, Walmart, or other stores.
The genuine Transparent Labs Magnesium Bisglycinate supplement is available only through the company's official website (and perhaps via their Affiliates).
That's also where you'll be offered fantastic bulk discounts.
Get 10% off using coupon code:  TOTALSHAPE
Customer Reviews
Numerous raving user reviews and mainly 4-/5-star customer ratings have proven that Transparent Labs has been committed to their products and customer service quality.
No wonder it's been among the leading supplement providers on the market nowadays.
Many online reviews rave about how it helped their digestion issues, and the effects are easily noticeable in just a few weeks.
Some of my athlete clients also mentioned how it works in preventing leg cramps during intense training and gym days.
It's also worth noting that our resident dietitian recommends this magnesium product for regulating a healthier sleep-wake cycle.
Should You Buy Transparent Labs Magnesium?
I'd give this amazing product a loud and clear - YES!
Based on mainly positive user experience and expert opinions, it contains the most easily absorbable and digestible form of this vital mineral in a highly effective dosage to help you keep Magnesium deficiency at bay.
It's ideal for high-intensity athletes who want to avoid cramps and enhance muscle relaxation and recovery after strenuous workouts or for those who fight high stress levels while preparing for competitions.
Plus, it's the best bang for your bucks.
Check it out and contact us to share your impressions.
Our #1 Recommendation
Transparent Labs Magnesium
Click For Best Price

Get 10% off using coupon code:
TOTALSHAPE
HAVE QUESTIONS OR COMMENTS?
Join the discussion here on Facebook.
About the author
You may also like