Whether or not you agree with Joe Rogan's opinions or topics on his podcast, there's no denying that the man is super fit and healthy.
And one reason for that is the amount of effort he puts into getting maximum value from his diet.
That means starting off his day with kale shakes to get the maximum dose of vital nutrients and cover most of his 5-a-day greens.
Now, I have to say that a green smoothie might sound like punishment.
But as someone who has added one every day for 3 months, I can tell you how great they make you feel as long as you get the recipe right.
Quick Summary
Joe Rogan's kale shakes recipe mainly comprises kale leaves, cucumber, stalks of celery, pineapple slices, garlic, and ginger.
The goal of Rogan's shakes is to cover the recommended daily vegetable intake.
Joe's different kale shakes recipes are packed with nutrients ranging from protein, iron, calcium, magnesium, and vitamin C, among others.
What Are Joe Rogan's Kale Shakes?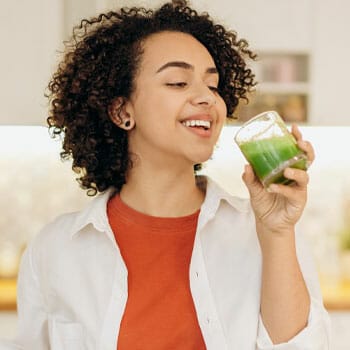 Joe Rogan's kale shakes are smoothies that include super greens as the dominant ingredients.
The goal is to provide you with a simple shake recipe that will cover your daily recommended intake of vegetables.
And by carefully choosing specific vegetables, Joe has come up with combinations that provide maximum nutritional benefits from as small a smoothie as possible.
When you consider that making some of the most nutritional greens tasty is rather difficult, then these recipes become even more valuable.
Related Articles:
Nutritional Benefits
The main health benefit of a Joe Rogan shake is that it combines a great macronutrient profile with low calories and very high nutrient density.
A typical shake will have about 300 calories, which is less than most light breakfasts.
These calories come from 60 grams of carbs (predominantly fiber [1]) and 13 grams of protein, which is great for athletes.
Then there are the high levels of minerals like iron, magnesium, and calcium before we even get to your daily dose of natural vitamin C.
So, what you can expect to gain is to feel full thanks to the fiber, with a low volume of calories and most of the minerals and vitamins you need each day.
Let's take a closer look at Joe Rogan's kale shake recipes.
Joe Rogan Shake Ingredients
Joe Rogan has regularly shared different kale shake recipes on social media, and we've picked the 4 most common ones.
1. Original Kale Shake
This is the original kale shake recipe, and I have to tell you upfront that it's heavy on the garlic. So if you spend a lot of your day in close contact with people, then you might want to skip this one.
Ingredients:
4 kale leaves
4 stalks of celery
1 cucumber
1 chunk of ginger (twice the size of a thumb)
4 cloves of garlic
4 slices of pineapple or 2 pears
I find it makes no difference what order you put them in a blender. Just keep blending it until it looks smooth. You should find that the spicy ginger hides some of the other flavors.
2. "Infamous Hulk Loads" Kale Shake
The Infamous Hulk Loads kale shake recipe is slightly different as it contains less ginger. Some people agree with Joe Rogan that the ginger is too intense, but it still packs a load of garlic.
Ingredients:
4 kale leaves
4 celery stalks
1 cucumber
4 cloves of garlic
1 piece of ginger (about the size of a car key fob)
1 apple
You should find that this is a bit sweeter and less spicy, but the taste of garlic will be more noticeable.
3. "Angry Hulk Loads" Kale Shake
Another version of his kale smoothie is one that I now take most often. It adds some beets to neutralize the flavors a bit, and the garlic is optional.
Ingredients:
4 kale leaves
4 celery stalks
1 cucumber
4 cloves of garlic
1 small chunk of ginger root (about the size of 1 thumb)
1 apple
1/2 beet
Coconut oil
You should also find that the oil provides some beneficial MCTs to help with brain activity [2].
4. Hulking Onnit Kale Shake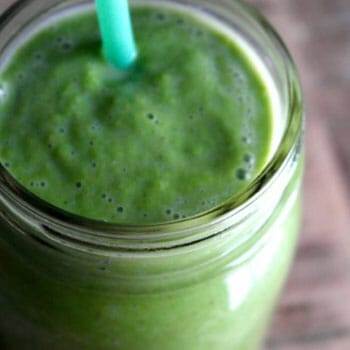 The final one of his green smoothies is another slight variation.
Ingredients:
4 kale leaves
4 celery stalks
1 cucumber
3 garlic cloves
1 small chunk of ginger root (about the size of 1 thumb)
4 slices of pineapple
4 tablespoons of coconut oil
8 ounces of coconut water
This will make a large shake because of the added water, which might make it a good option to rehydrate after a morning run.
What's Your Favorite Joe Rogan Kale Shake?
I know it might not sound like the most enjoyable breakfast, especially if you're not a fan of adding a clump of kale to your daily food plans.
But believe me, adding one of these kale shake recipes to your morning for a few weeks will transform how well you feel and can save you the hassle of preparing a large salad for lunch or dinner.
Try them out, and then let us know which one you liked best.
---
References:
https://www.mayoclinic.org/healthy-lifestyle/nutrition-and-healthy-eating/in-depth/fiber/art-20043983
https://blog.designsforhealth.com/node/1020
Was this article helpful?