Bodyweight training at home can be crucial for your strength training and weight loss ambitions. But like many gym tools, there is plenty of equipment that can let you down in the long run.
As an online health  and fitness coach, I've received too many complaints from clients who experience these problems.
So, to help them make better choices, I teamed up with friends and colleagues here at TotalShape to test over 30 different bodyweight equipment pieces for home use over 5 weeks.
Together, we narrowed down to ten durable tools for home use, so let's dive in.
The Best Bodyweight Home Gym Equipment
Editor's Choice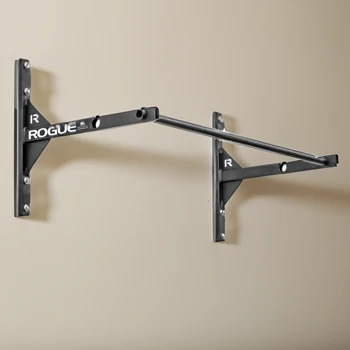 Rogue
Click For Best Price
#2nd Best Choice
Pull-up & Dip
Check Current Price
#3rd Best Choice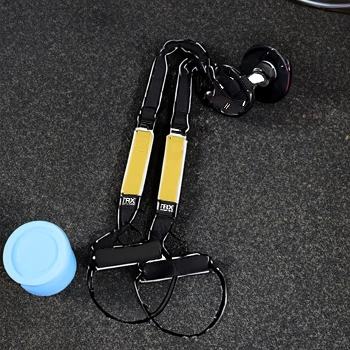 TRX
Check Current Price
10 Best Bodyweight Home Gym Equipment (December 2023)
1 - Rogue P-5V Garage Pull-up System
(Best Overall)
Based on our experience and testing, the top-grade sturdiness and durability of the Rogue P-5V pull-up bar are second to none.
The bodyweight training equipment comes with 1x2" 11-gauge steel brackets that can be mounted on walls or ceilings and fit in any training space, including a small home gym setup.
We also loved that Rogue offers it in bracket pairs or as a complete system with a 52" pull-up bar to aid in more customization and versatility.
The only discrepancy is that it did not come with mounting hardware.
Pros
A solid steel construction
Excellent grip
Offers ceiling and wall mounting options
Adjustable pull bar
Cons
Mounting hardware not included in the purchase
2 - Pull-up & Dip Portable Pull-Up Dip Bar
(Best Portable)
The Pull-up & Dip portable pull-up bar is an extremely versatile tool for bodyweight training that you can use to build your biceps, chest, shoulder, and middle back muscles, according to the study found on the ResearchGate website [1].
According to the product description, there are over 35 exercises for varied full-body workouts, including pull-ups, muscle-ups, dips, and leg raises, all of which are beneficial for lower and upper body development.
We also found through our testing that it is quite sturdy. The description specifies weight support of up to 330 pounds.
Pros
Solid structure that can sustain any bodyweight
Easy to set up
Portable
3 - TRX All-in-One Suspension Trainer
(Best Suspension Trainer Kit)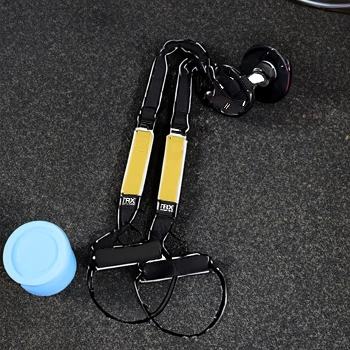 The TRX suspension trainer is based on TRX training, which researchers have found to be more beneficial for core endurance, balance, and flexibility than traditional training [2].
Based on our tests, we found it an effective and fun way to do a bodyweight workout if you want to spice up or take a break from your regular yoga, cardio, and weight lifting.
Most importantly, it's portable—you can take, carry, and fit it anywhere.
"Whether it's moving your body weight or with external weights, resistance training is a great way to help your body stay functional and healthy in the long run."

- Sivan Fagan, ACE-Certified Personal Trainer
Pros
Easy to set up
Durable and reliable
Offers a variety of whole-body workouts
Cons
Challenging for beginners
4 - BangTong & Li Power Tower
(Best Pull-Up Bar System)
Doing dips with unstable equipment can be frustrating. But the BangTong&Li Power Tower's two auxiliary rods on its base and the non-slip end caps and skid handles ensure it remains stable and steady.
There are up to four workstations on this beast to perform exercises such as pull-ups, dips, etc. So you have no excuse not to achieve the upper-body strength you've always wanted.
Based on our first-hand experience, we found the thick elbow padding of about 40 mm (1.57 inch) thickness quite useful in regard to comfort when doing leg raises.
Related Article: The Best Power Tower
Pros
Can support up to 330 pounds of weight
Comfortable armrests
6-level height adjustment
Cons
Relatively small backrest pad
5 - One Two Fit Multifunctional Power Tower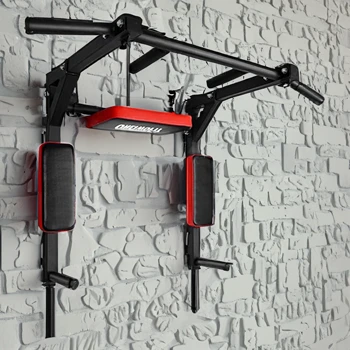 This power tower features a multifunctional smart design that allows it to be wall mounted and transformed into a leg raise, dip, and pull-up station without taking up much space.
A unique feature of this power tower is the heavy-duty steel construction with a maximum weight capacity of 440 pounds, which speaks volumes about its durability.
Based on our tests, we found the armrest cushion quite comfortable, and the tear-resistant padded back support is also quite rugged, which is good for durability.
Pros
It can be mounted at any height
Saves lots of space
Heavy-duty steel construction
Cons
Does not come with hardware for installation
6 - Double Circle Wood Gymnastics Rings
First, I must commend how fast this product was shipped. It arrived just two days after shipping.
That was fast compared to other products, which arrived 4–7 days later.
Our tests indicate that the 1.25-thick wooden gymnastic rings are helpful for someone who sweats a lot since wood absorbs moisture and doesn't slip.
Thanks to the convenient and sturdy 1.5-inch straps with four carabiners attached, we didn't experience any difficulties installing it.
Pros
Four extra carabiners for strap length adjustment
A free book for exercises included
Wooden rings, double later straps for extra durability
7 - Rubberbanditz Parallettes Bars
(Best Parallettes Bars)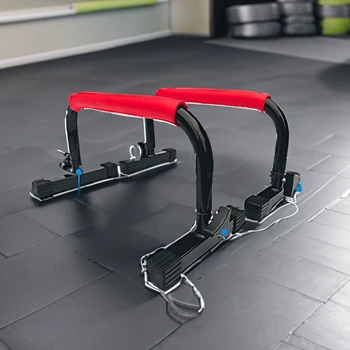 The Rubberbanditz parallettes bars present some of the most inexpensive workout gear for home workouts.
The pieces are compact and sturdy, courtesy of the industry-grade 1-inch steel tube diameter with which the bars are made. This guarantees durability and performance.
The testing team loved the non-skid feet on the unit, which are good for stability and ensuring the station is not wobbly when performing a bodyweight workout.
Pros
Affordable
Relatively light, hence easily portable
A Wide, non-slip base to prevent injuries and sudden movements
Cons
Low weight capacity of 200 pounds
8 - EnterSports Ab Rollers Wheel Kit
(Best Ab-Roller)
The ab roller, according to the study titled "Muscle Activation Pattern During Isometric Ab Wheel Rollout Exercise in Different Shoulder Angle-Positions," found on MedicalExpress, is a great bodyweight workout tool for strengthening the core and upper body strength [3].
As a fan of the ab wheel exercise, I love the combination of the roller and resistance band (it comes with two of these).
It means the upper body workouts are more challenging, which translates to more gains.
From the many tests we conducted, the unit seemed pretty solid and able to sustain heavy pressing (600 pounds, according to the product description).
Pros
A good package if you're looking to build a home gym
Ability to advance workouts
Reasonable price
Cons
Quality control issues with the handles
9 - Perfect Fitness Rotating Push-Up Handles
(Cheapest Option)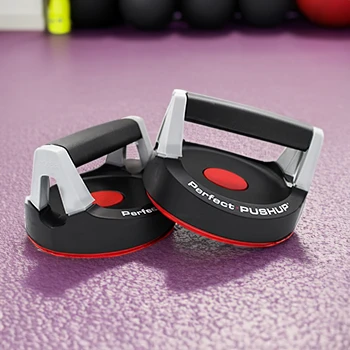 Push-ups are not a cinch for me. However, the Perfect Fitness Rotating push-up handles might have changed my experience.
Push-ups can be painful if your wrist joints are not strong enough.
But we determined through our testing that these handles are designed to reduce the pressure on hands and wrists and help you focus on the right muscle groups to enable you to do perfect push-ups.
What's more? The ball-bearing system design enables the handles to rotate smoothly for a natural alignment of the arms and wrists.
Pros
Comfortable handles and foam hand grips
Comes with a pamphlet guide
Suitable for people with arthritis and joint problems
Cons
Some units have bearing issues
10 - Black Mountain Products Resistance Band Set
(Best Resistance Bands)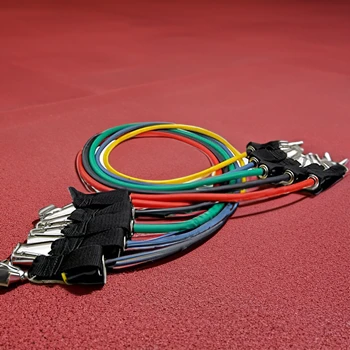 The Black Mountain resistance bands are made of natural latex material, which, after conducting experiments, was found to not tear easily.
The unit comes in a set of five different resistance bands, each in its own color.
Each band is approximately 48", a pretty decent length for both tall and short people, at least according to our tests.
Now, although you can buy a single band, acquiring a set is more economical.
Pros
Lifetime warranty on band breakage
Lightweight, therefore easily portable
Multiple bands for varying resistance
Cons
The package contains only one ankle cuff
How We Tested Best Bodyweight Home Gym Equipment
As an experienced online health and fitness coach, I understand the importance of having reliable and effective equipment for bodyweight exercises at home.
To provide the best recommendations for bodyweight home gym equipment, I conducted thorough testing based on several key criteria.
Here's an overview of my approach.
Durability
The longevity and resilience of bodyweight equipment are crucial, especially considering the varied and often intense nature of bodyweight exercises. I examined the construction quality, materials used, and the sturdiness of each piece of equipment.
Products that could withstand regular, rigorous use without showing signs of wear or instability were rated highly.
Weight Capacity
It's essential that bodyweight equipment can safely support the user's weight. I tested each item for its maximum weight capacity, ensuring that it can accommodate a range of body types and sizes without compromising safety or performance.
Price
Cost is a significant factor for home gym equipment. I evaluated the price of each product in relation to its features, durability, and overall quality. The aim was to find equipment that offers great value for money, balancing affordability with quality.
Ease of Installation and Setup
For home gym equipment, ease of installation is a key consideration. I assessed how simple it was to assemble and set up each piece of equipment, including the clarity of instructions and any additional tools required.
Versatility for Different Exercises
The versatility of bodyweight equipment is important for a comprehensive home workout. I tested each product for its ability to support a variety of exercises, targeting different muscle groups and catering to various fitness levels.
Space Efficiency
In a home environment, where space can be limited, the size and storage efficiency of the equipment are important. I evaluated how much space each item occupies and whether it can be easily stored or needs permanent space.
Buyer's Guide

Here are a few factors I'd advise you to keep in mind when buying home bodyweight equipment.
Budget
Unless you're training for a competition, staying within your budget and not going overboard is important.
Remember, you're only buying the tools for home use, not to produce income.
This is especially true when you're starting your very own home gym.
Begin with basic bodyweight workout equipment such as pull-up bars, ab rollers, resistance bands, and push-up handles, which are less costly.
Related Article: Best Budget Home Gym Equipment
Ceiling Space
Basement gyms tend to have height constraints.
And as you've seen, some bodyweight exercises, especially those involving pull-ups and power towers, tend to take up vertical space.
So, consider shorter models if you have a height or space issue in your basement gym.
Durability
The last thing you want is a model that keeps breaking at every hint of force.
While more durable gear may not make sense cost-wise, remember that cheap is expensive.
FAQs
Are Home Bodyweight Workouts Effective?
Yes, home bodyweight workouts are effective in building muscle and improving muscle endurance and aerobic capacity. They are even more potent with added resistance from exercise equipment such as ankle and wrist weights, resistance bands, and weighted vests.
Can You Get Ripped With Just Bodyweight Exercises?
Yes, you can get ripped with just bodyweight exercises. The workouts are good not just for building muscle but for burning fat as well. For a ripped physique, focus on exercises that burn calories while building muscle.
Is It OK to Do Home Bodyweight Exercises Every Day?
Yes, it's OK to do home bodyweight exercises every day as long as you're not punching yourself too hard while focusing on the same muscle group. Still, you need to take time to recover. About 3-6 days of home bodyweight workouts are recommended.
How Does the Environmental Impact of Gym Equipment Manufacturing Affect My Choices?
When choosing bodyweight home gym equipment, considering the environmental impact of their manufacturing can be crucial. Look for products made with sustainable materials and eco-friendly production processes to ensure a lower environmental footprint.
What Are the Latest Innovations in Space-Saving Designs for Home Gym Equipment?
Recent innovations in home gym equipment focus on space-saving designs, ideal for small living spaces. These include compact, foldable, or multi-functional equipment that provides a full workout without taking up much room.
Can Bodyweight Gym Equipment Be Integrated With Digital Fitness Platforms?
Yes, some modern bodyweight gym equipment can be integrated with digital fitness platforms and apps. This integration offers enhanced training experiences with features like workout tracking, virtual coaching, and personalized exercise routines.
How Adaptable Is Bodyweight Gym Equipment for Different Fitness Levels?
Bodyweight gym equipment is often highly adaptable, catering to a range of fitness levels from beginners to advanced users. Equipment with adjustable resistance or modifiable exercises allows for scalability in workouts, suiting various strength and skill levels.
What Role Do Community and Support Play in Using Home Gym Equipment?
Community and support are significant factors in maintaining a consistent workout routine with home gym equipment. Many brands and platforms offer user communities, forums, or guidance, providing motivation, advice, and a sense of belonging to users.
Our Verdict on Best Bodyweight Home Gym Equipment
The best equipment for an all-over body workout is the Rogue P-5 Garage Pull-Up System, based on our research and tests on dozens of bodyweight pieces of equipment, which we found to be effective and durable.
The commercial-grade machine is also super affordable and can fit even in small home gym spaces by mounting it on the walls or ceiling.
Many of my clients recently purchased one and found it more sturdy and stable when doing pull-ups than other models they have used before, so make sure to check it out for yourself.
Our #1 Recommendation
Rogue P-5V Garage Pull-up System (Best Overall)
Click For Best Price

Pros
A solid steel construction
Excellent grip
Offers ceiling and wall mounting options
Adjustable pull bar
Get the BEST PRICE until the end of December
Cons
Mounting hardware not included in the purchase
Was this article helpful?